Have you ever seen Victoria Beckham in a pair of tan spring wedges?
Betcha the answer is a no, right? Or if you have, then you probably have been stalking her every single day. Victoria rarely wears wedges. In fact, the last time we saw her in this style was spring of last year. Most often than not, she's in sky-high heels, whether it's pumps, booties, or strappy sandals.
Yesterday, however, was different. Yep, the fashionista decided to put on some buttery brown wedge sandals for the plane ride she and her family were catching at LAX. She wore her tan spring wedges with an all-black outfit, so the shoes really stood out. Victoria was joined by her cute sons Brooklyn, 14, Romeo, 10, and Cruz, 8.
Victoria Beckham arriving at LAX with her family on April 15, 2013
A closer look at Victoria's tan spring wedge sandals

How do you like Victoria's tan spring wedge sandals? What about the outfit? How do you like the mix she put together? Black separates and tan wedges — it's not exactly the best combination, but would you try it?
Victoria wore a pair of tan leather Chloé wooden wedges from the brand's 60th anniversary Heritage collection that you can buy at Barneys New York. She also sported a black knit sweater and a high-waisted mini skirt from her eponymous Spring 2013 collection.
Chloe Leather and Wooden Wedge Sandals, $820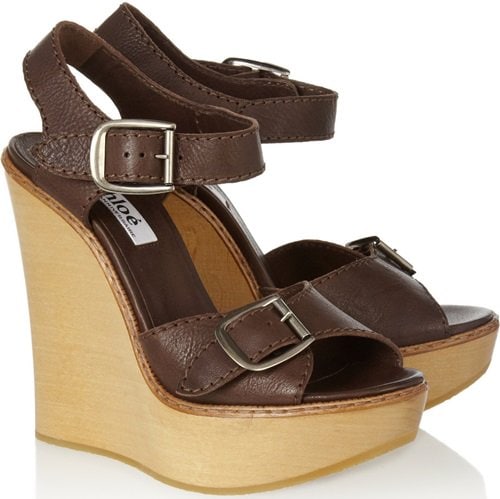 We've also found some pretty alternatives you can grab instead.
Pedro Garcia Vega Sandals, $495
Rachel Zoe 'Katlyn' Snake Wedge Sandals, $375
Joie 'Blair' Wedge Sandals, $245
Credit: WENN