Like clockwork, celebrities — from the young to the not-so-young — flock to the yearly music festival held in Indio, California. We can't remember when they started making Coachella a two-weekend run (was it last year?), but judging from the volume of people who have been attending the event these past two weeks, the decision made sense. Who wouldn't want to go to an event that celebrates music and draws out a very fashionable celebrity crowd?
Aside from the Coachella regulars, such as Alessandra Ambrosio, Vanessa Hudgens, Kate Bosworth, and Diane Kruger, this year's gathering also attracted a new set of young and famous fans — namely, the Jenner sisters, Kendall and Kylie, their new best bud, Selena Gomez, and Nickelodeon's and Disney's prized princesses — Victoria Justice and Bella Thorne.
The two TV darlings were spotted enjoying the festival last Sunday with their respective companions. Bella looked like a flower child in her brown fringed top and patterned shorts, while Victoria channeled a more Cali-cool vibe by slipping into a cropped crocheted tank and a pair of white denim shorts. Bella unexpectedly finished her outfit with monochromatic lace-up sandals, while Victoria went Western with a pair of fringed boots. Check out the two young ladies below, and then tell us who looks better.
Bella Thorne wearing a sexy bohemian ensemble with black-and-white lace-up sandals at the Coachella Music Festival in Indio, California, on April 20, 2014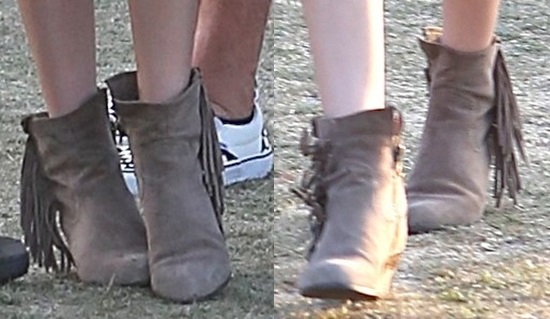 Victoria Justice giving her classic California look a little bit of boho-Western flavor by capping it off with a fringed vest and some fringed suede boots at the Coachella Music Festival in Indio, California, on April 20, 2014
Well, whose camp are you on? Which of the outfits would you wear yourself, Bella's or Victoria's?
Bella looks really nice, but once you see her shoes, you kind of wonder what went through her head when she decided to use that pair instead of some classic brown sandals. Somehow, her two-tone open-toe lace-ups seem out of place. Do you agree?
That said, we can't deny that the shoes look interesting — like a pair of oxfords and sandals rolled into one. Any idea where she scored them?
We tried searching for them online but came up with nothing. We did, however, find a slightly similar pair from Miu Miu. These sandals feature 1-inch-tall square heels, crisscross straps at the toes, and lace-ups near the ankles.
Miu Miu Lace-Up Sandals, $590
As for Victoria's fringed boots, our hunch is that they're from Sam Edelman. Check out the "Louie" boots below. They're exactly the same color as V's boots. They also have the same details, such as the scalloped paneling at the vamps and the fringes that cascade down the sides. Victoria wore her pair with the cuffs undone.
So, what do you think? Is our hunch correct?
Sam Edelman "Louie" Fringe Boots, $160
Credit: WENN