Most of us pay incredibly close attention to the beautiful faces, toned abs and pretty lingerie of the Victoria's Secret Fashion Show models. Short of wondering "how does she walk in those?", there isn't a lot of attention paid to the shoes on the runway.
This year, Victoria's Secret put together a video series on the brand's journey to the highly-anticipated runway show, showing a behind-the-scenes look at what went into creating the show we all see on our TV sets.
This year's show consisted of six sections, three of which are called "Nomadic Angel," "Porcelain Angel" and "Winter's Tale."
1. Nomadic Angel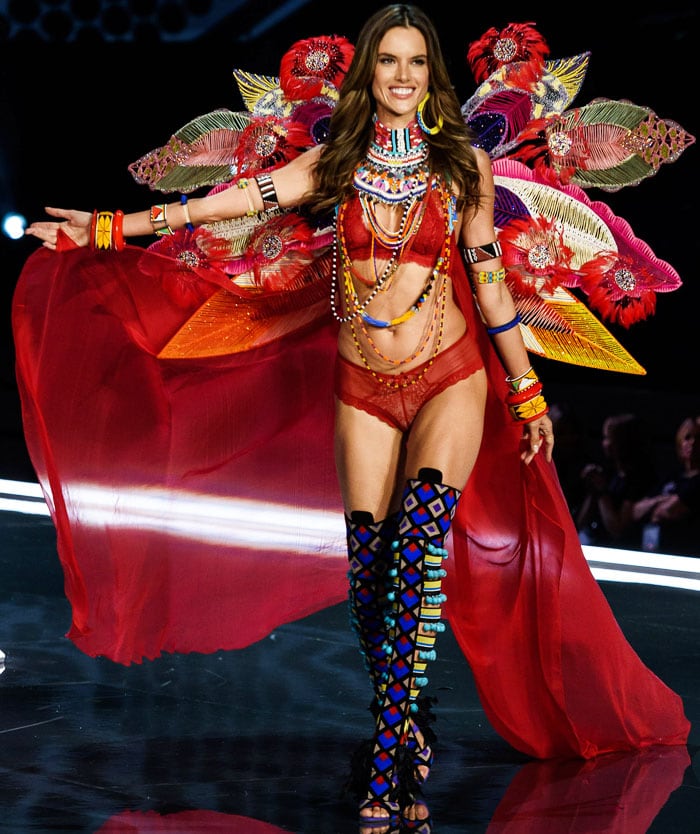 Alessandra Ambrosio takes her final walk after 17 years on the Victoria's Secret Fashion Show runway.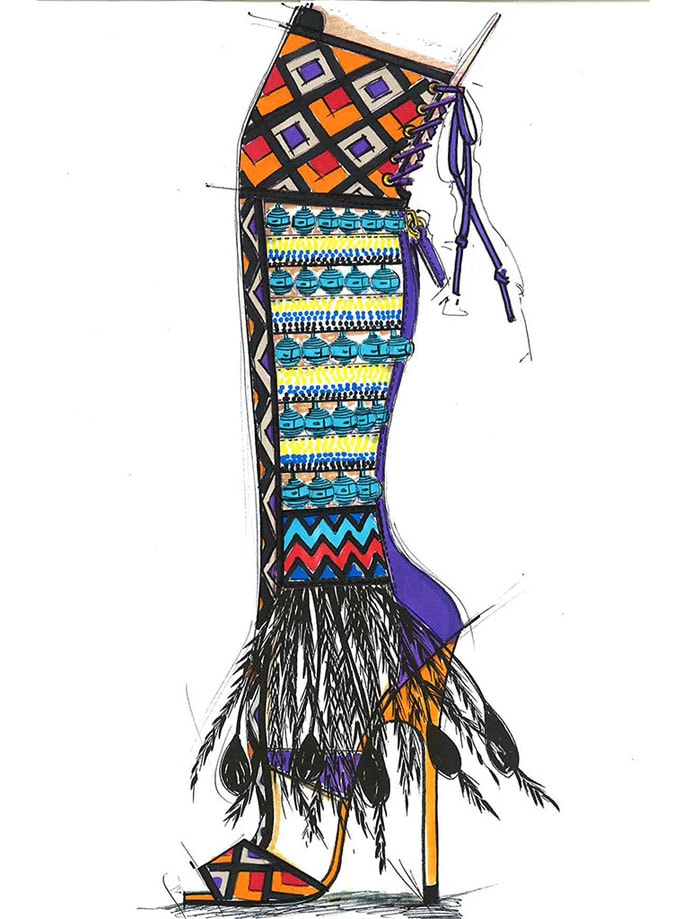 Brian Atwood reveals a sketch for the "Nomadic Angel" collection.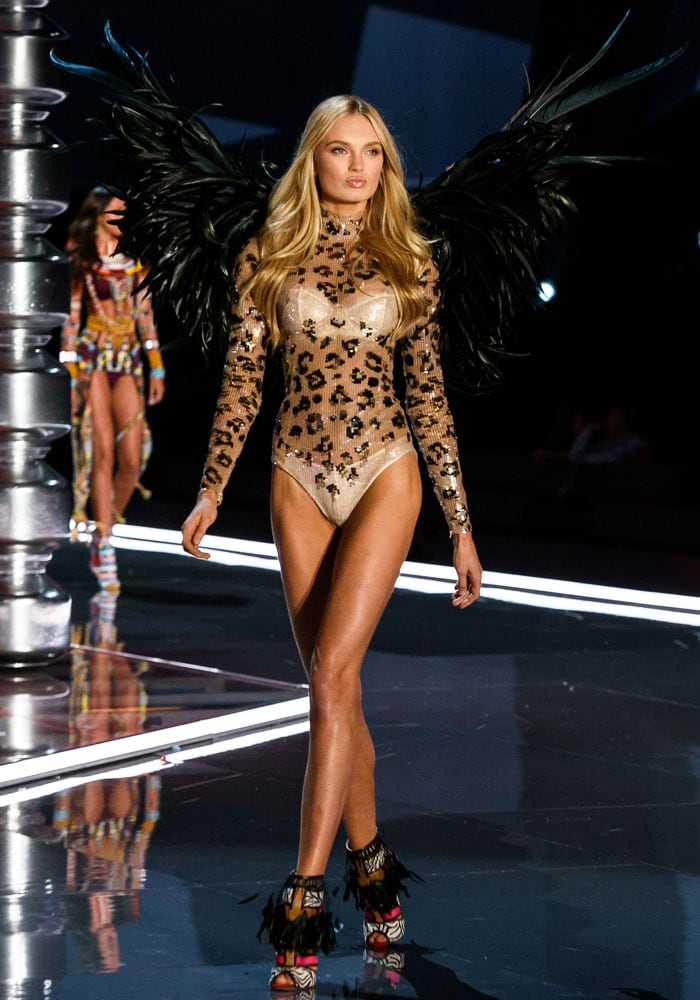 Romee Strijd is a leopard print-clad Angel with black feather wings.
This year was Brian Atwood's third consecutive year designing the shoes for the Victoria's Secret runway. And, he said, this year was all about the boots.
For "Nomadic Angel," we saw a variety of African-inspired looks which included colored beads as body pieces. A lot of feathers were also used with colorful pieces as a tribute to their culture.
The show also sadly saw Alessandra Ambrosio in her last outfit on the Victoria's Secret Fashion Show. The model announced her retirement after 17 years of walking on the runway.
Taylor Hill shows off gorgeous colorful beaded accessories and pom pom sandals.
2. Porcelain Angel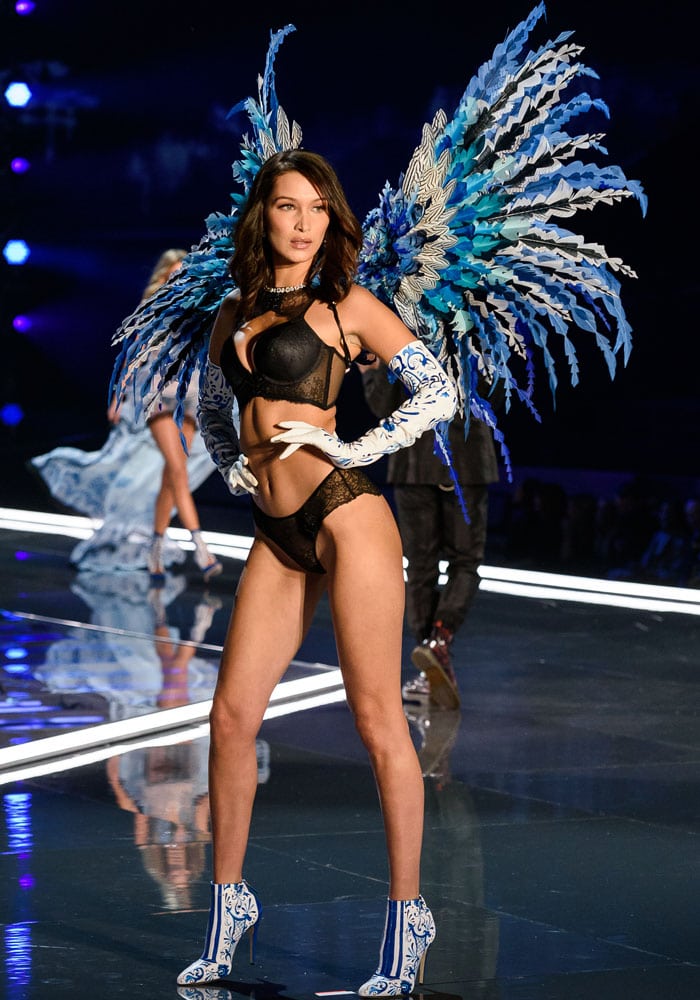 Bella Hadid receives her first pair of wings as a Victoria's Secret Angel.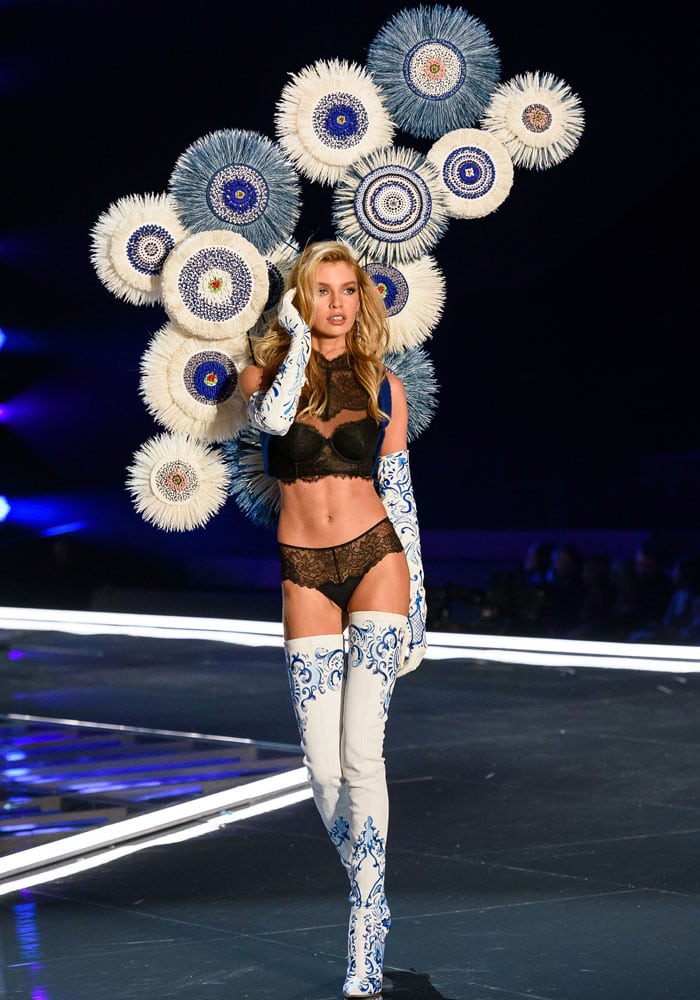 Stella Maxwell shows off one of the more creative wings in the show.
The "Porcelain Angel" collection was the lingerie brand's way of paying homage to China's world famous porcelain wares. The talented Jeff Fender came up with different porcelain designs on sheer cloth and shoes using around 40 shades of blue.
All the pieces from the Jeff Fender Studio are hand painted. The artist made sure to create unique patterns for each piece in the collection.
Model Bella Hadid slayed the runway with her first set of wings ever. Unfortunately, big sister Gigi Hadid and BFF Kendall Jenner were not around to celebrate the milestone with her.
Daniela Braga and Frida Aasen walk in China porcelain-inspired Brian Atwood shoes.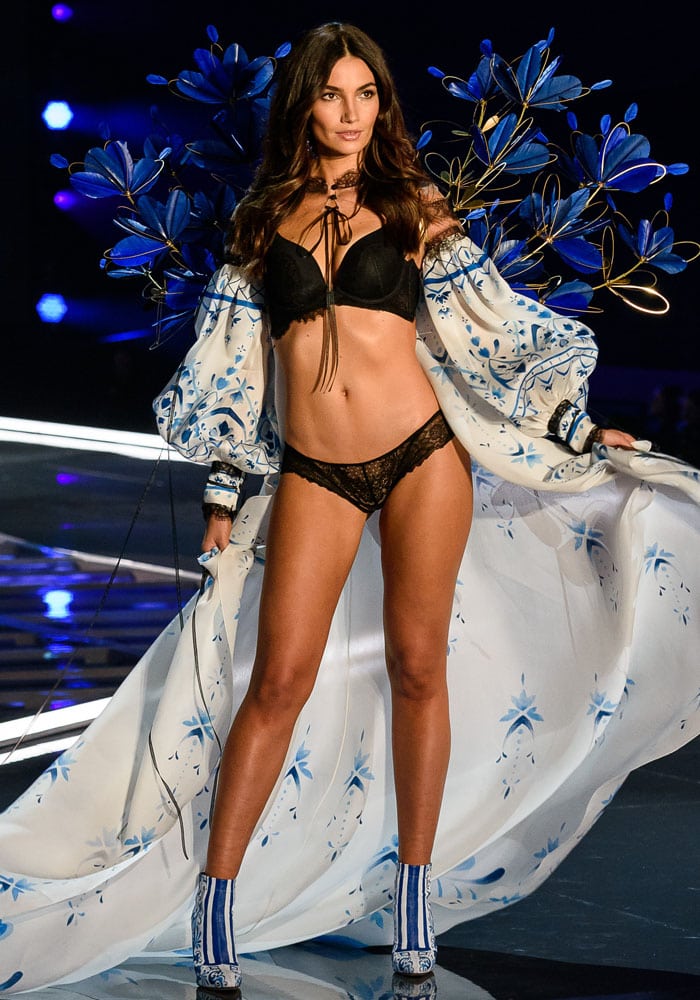 Lily Aldridge sports an elaborate pair of feather and metal wings with a flowy cover up.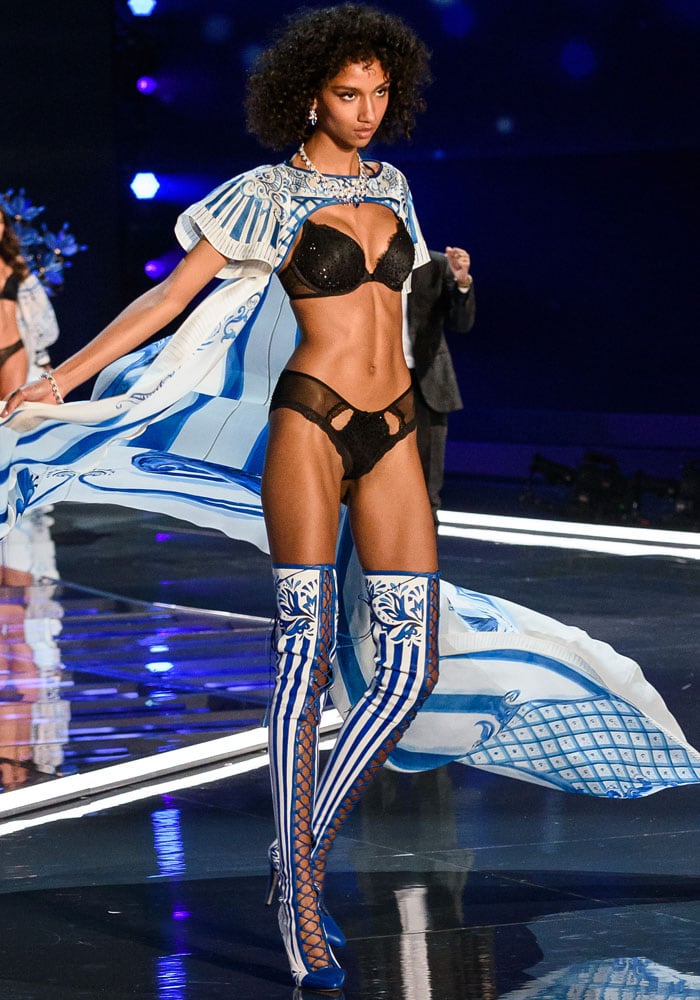 Aiden Curtiss shows off a gorgeous hand-painted pair of thigh high boots.
3. Winter's Tale
Karlie Kloss makes a return after three years of hiatus as an Angel.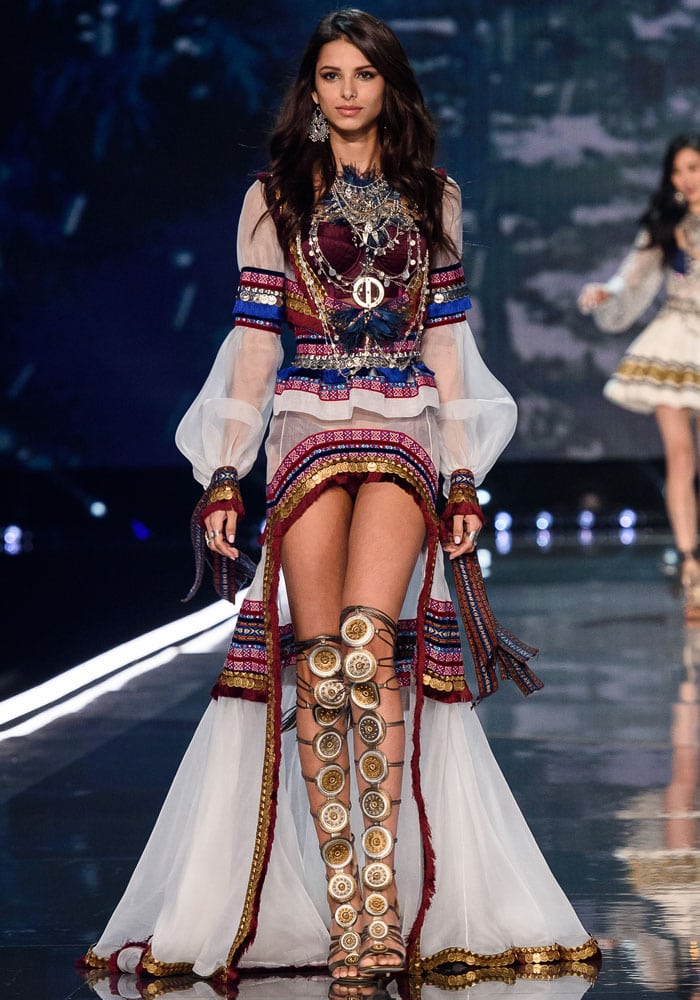 Bruna Liria wears a sheer cover up embellished with bronze and colorful patterns.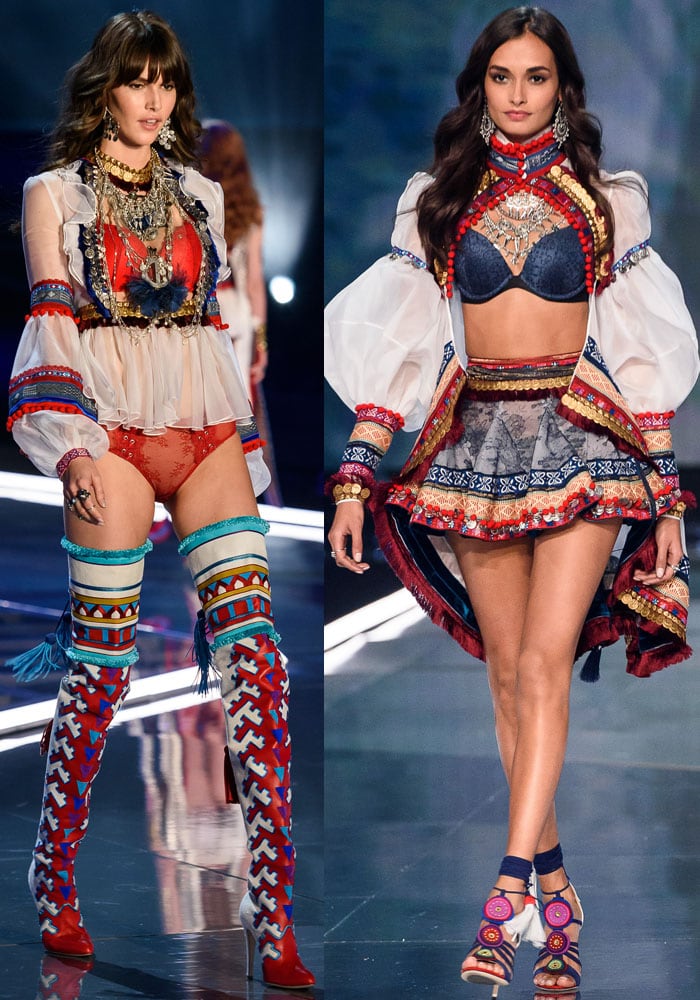 Vanessa Moody and Gisele Oliveira sport the more colorful shoe pieces from the "Winter's Tale" collection.
The "Winter's Tale" drew more from a wider cultural inspiration. Designer Serkan of Serkan Cura Couture created most of the pieces outside of the Balmain collection.
A generous serving of geometrical patterns, sheer fabrics, colors, tassels, feathers and metallic jewelry dominated the collection. The whimsical wings inspired by all things winter (think fur and cherry blossoms) completed the breathtaking lineup.
The show also saw the return of Karlie Kloss, who had remained on Angel hiatus for the past three years. Karlie also walked for the Victoria's Secret x Balmain collection.
Martha Hunt struts in a cherry blossom-inspired pair of wings.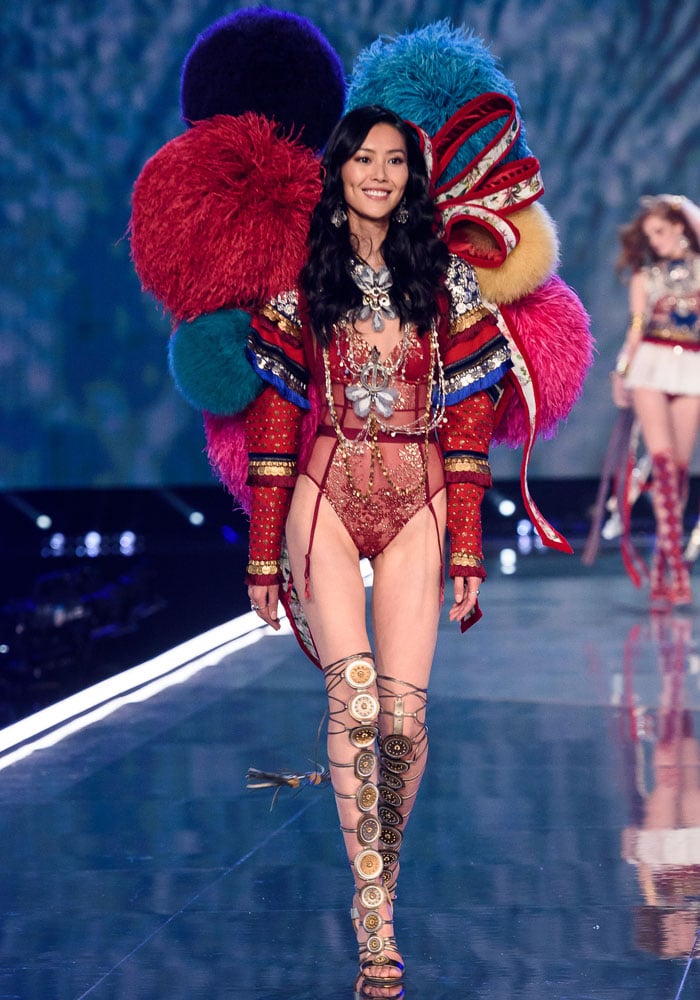 Liu Wen dazzles in a pair gigantic pom pom wings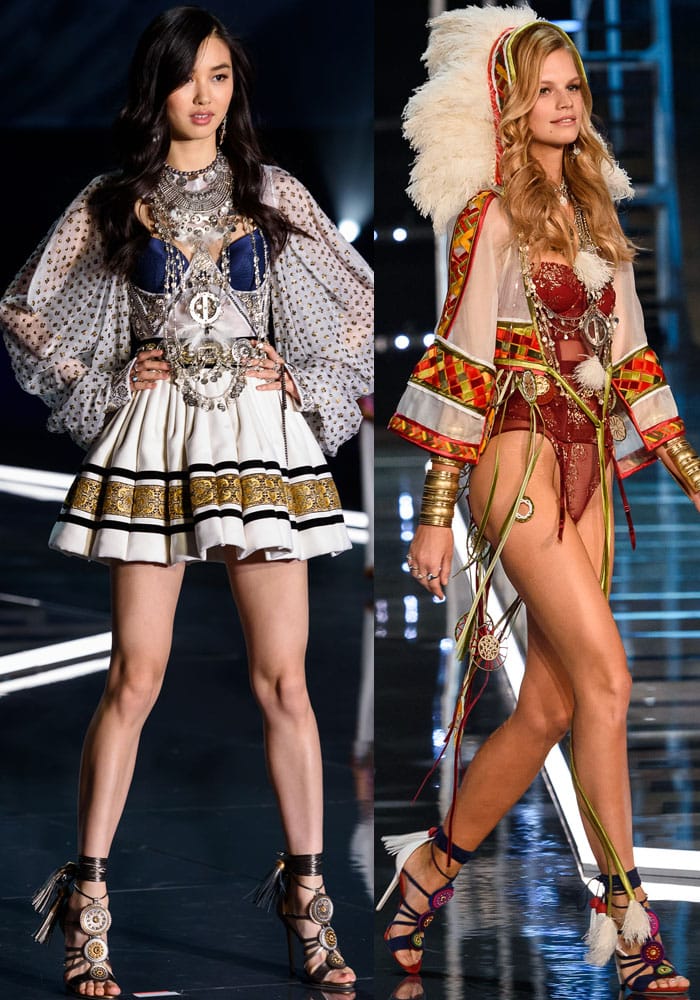 Estelle Chen and Nadine Leopold are about the ankle wraps and tassels.
Sara Sampaio looks like a winter glamazona in her fringe and feather outfit.
A set of gold cage sandals — both thigh and ankle high — made up the footwear collection for "Winter's Tale." Colorful tasseled versions gave variety to the lineup.
The spectacular design work was done by Collection Creative Director Sophia Neophitou. The series shows the director traveling and working hard to ensure a seamless collection, even making changes at the final meetings.
We can't wait to see what the show will have to offer next year. Since we've been seeing lace-up boots for two years now, maybe we'll be treated to fresh new footwear at the next Victoria's Secret Fashion Show.
Credit: Brian Atwood / WENN