Much like wearing black stockings with white shoes, wearing socks with sandals used to be a no-no. Of course, a lot has changed over the decade. In fact, wearing socks with your sandals (or black stockings with your white or light-colored pumps) is now considered a fashion statement — a trendy one at that.
Socks with sandals debuted on the runways several seasons back, although we certainly did not expect this trend to have staying power. Interestingly, not only is the trend still here, but it seems to be picking up the pace. These days, we see fashion-forward women — from bloggers to magazine editors and from socialites to celebrities — slip into their strappy heels with socks on as if the combination is nothing new (or unusual) and certainly nothing to be frowned upon.
Wearing socks with sandals is a tricky trend that has a lot of us wondering whether we can actually pull it off. It's a great way to extend the use of sandals way past spring and summer, but we're not going to deny that a bunch of us here at Your Next Shoes are still a bit wary of the idea simply because we are too scared to take that bold sartorial step.
For those of you who are adventurous enough to give this trend a try, do know that you can be chic and stylish in socks and sandals as long as you wear them right. Look to fashion-savvy celebrities and bloggers for guidance and inspiration. Of course, self-confidence and personality play a huge role in enabling you to carry the "look," so you must have both.
You also need to take note of a few very important things. For starters, you must consider the occasion. If it's a black-tie event, forget wearing the socks and just stick to the sandals. The second thing to consider is the outfit. Can your outfit accommodate such a trendy pairing? Perhaps, or perhaps not. The third point is to pick the right sandals to go with your outfit and socks. We prefer heeled sandals. They're dressier and offer more chic appeal.
Jeffrey Campbell 'Giula' Sandals, $155 / Shoe Cult 'Laurena' Heels, $68 / Jeffrey Campbell 'Abdul' Sandals, $135 at Nasty Gal

The most important thing to consider would be the type of socks to wear. After all, they're the key item you'll need to rock the trend. You have to pick socks that will give you the best form factor — a pair that will complement your legs and give you a proportionate appearance (ankle socks work best if you have long legs or if you're wearing above-the-knee outfits; similarly, thigh-high socks work best with micro-mini hemlines).
Hot Spot Ankle Socks, $12 / Sunflower Ankle Socks, $10 / Barf Socks, $16 at Nasty Gal
Once you've got those figured out, you can move on to more styling options. Here are five ways you can wear socks with your sandals. Read on, and tell us which style you're willing to try.
1. Go Pattern Pretty
A great way to rock the combo is by wearing it with a patterned outfit. You can do floral, plaid, geometric or what-have-you. Then, finish off your garb with footwear (read: socks and sandals) in the same color palette. The outcome should be a perfectly color-coordinated look like the outfit Sarah Jessica Parker wore to the launch of her SJP shoe line at Amazon.
Sarah Jessica Parker wearing black hosiery and red sandals to match the colors of her floral coat as she attends the launch of her SJP shoe line at Nordstrom in New York City on February 28, 2014.
15-year-old actress Malina Weissman looked older than her age in an Alcoolique Pre-Fall 2017 floral dress with lace ruffle detailing for the premiere of the second season of "A Series of Unfortunate Events." She toted a white box clutch and completed her quirky outfit with pink platform sandals and white socks.
Malina Weissman at the premiere of the second season of 'A Series of Unfortunate Events' at Metrograph in New York City on March 29, 2018
Malina Weissman in an Alcoolique Pre-Fall 2017 floral dress with lace ruffle detailing.
Malina Weissman's quirky white and pink box clutch.
Malina Weissman's pink platform sandals and white socks.
To steal the style, wear socks that extend beyond the hemline of your dress or coat (thigh-high socks will do) and choose sandals in a color that contrasts your socks but matches your outfit.
2. Go Monochromatic
Going monochromatic with your socks and sandals is actually the quickest way to try the trend. With the matching colors, you get the illusion that you're wearing booties (or boots) from a distance. Plus, you can't deny that monochromatic is also flattering — it makes you (and your legs) look leaner.
Rihanna demonstrated this flawlessly when she attended the Miu Miu show in Paris last week while decked in thigh-high socks paired with matching black ankle-strap sandals. She wore the combo with a catchy fur-trimmed jacket and a micro-mini dress.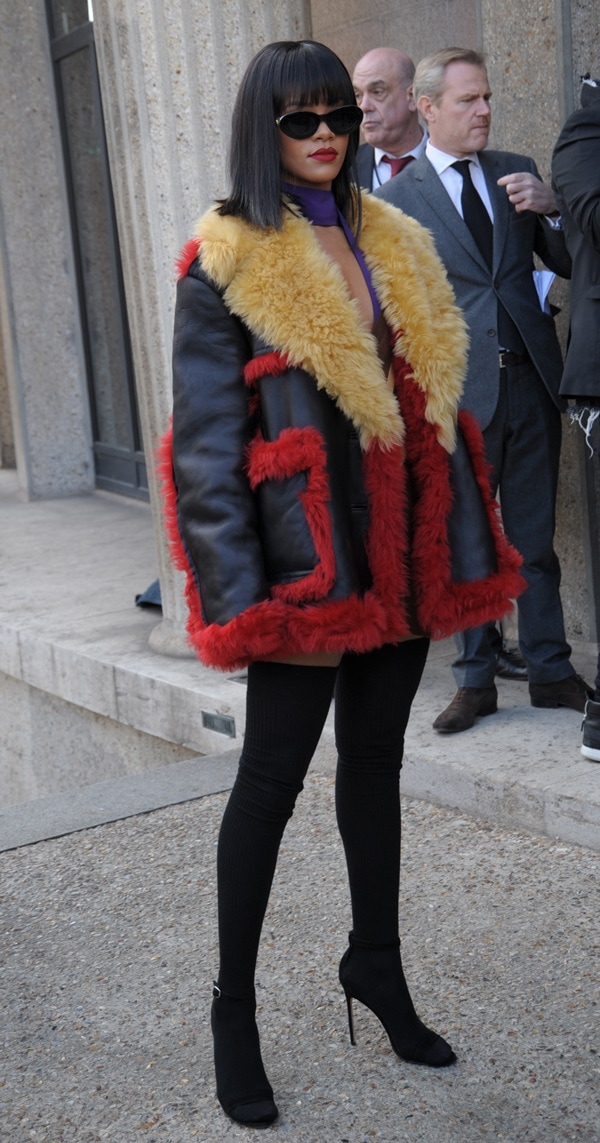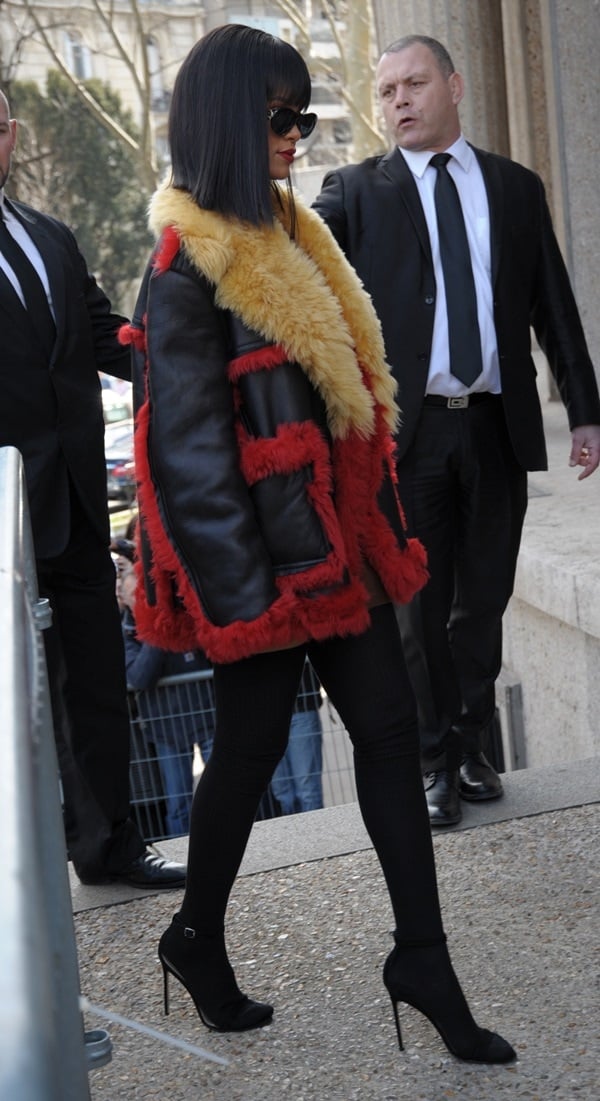 Rihanna wearing thigh-high socks with matching black sandals for the Fall 2014 Miu Miu presentation during Paris Fashion Week in Paris on March 5, 2014.
Another way to fashion the monochromatic look is to simply go the whole nine yards. Ergo, rock one color from head to toe. Check out fashion blogger Cristina Surdu and her take on the socks-and-sandals trend below. Notice how the whole outfit looks very streamlined and elegant yet refreshingly trendy as well.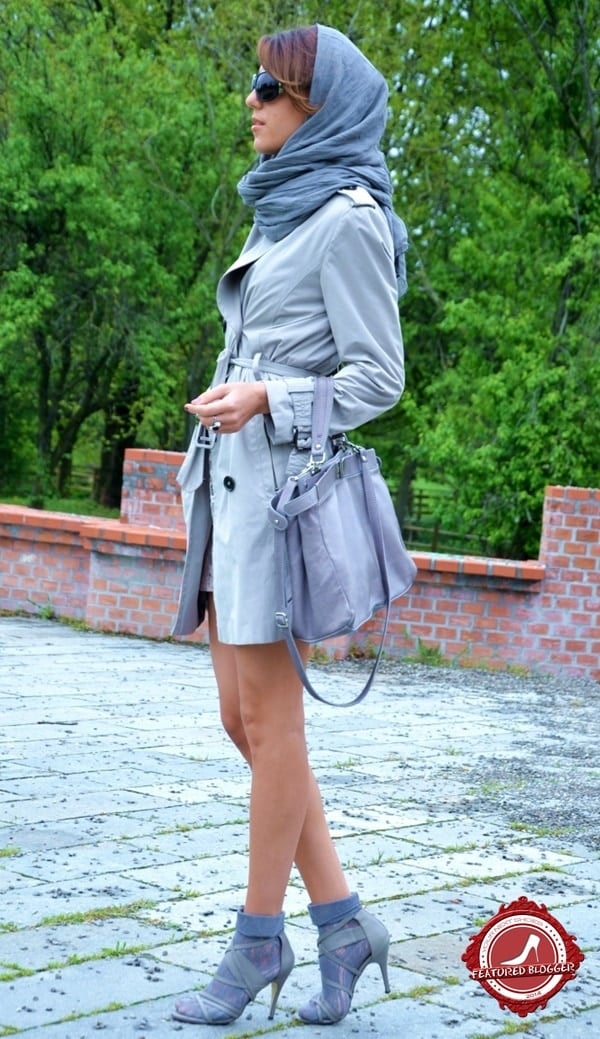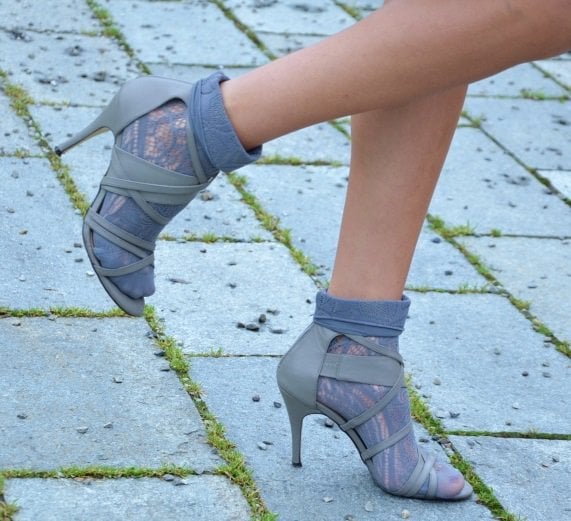 Cristina Surdu wearing the socks-and-sandals look in monochromatic powder blue from head to toe.
3. Do the (Micro) Denim
Micro-mini hemlines — such as extra-short denim shorts — always work great with over-the-knee socks. Pair them with sky-high platform sandals, and you instantly transform your outfit into something infinitely sexy and fashion-forward. Just check out the stunning combination put together by Emma Roberts. She amped up her style factor even further by wearing bold animal-print heels.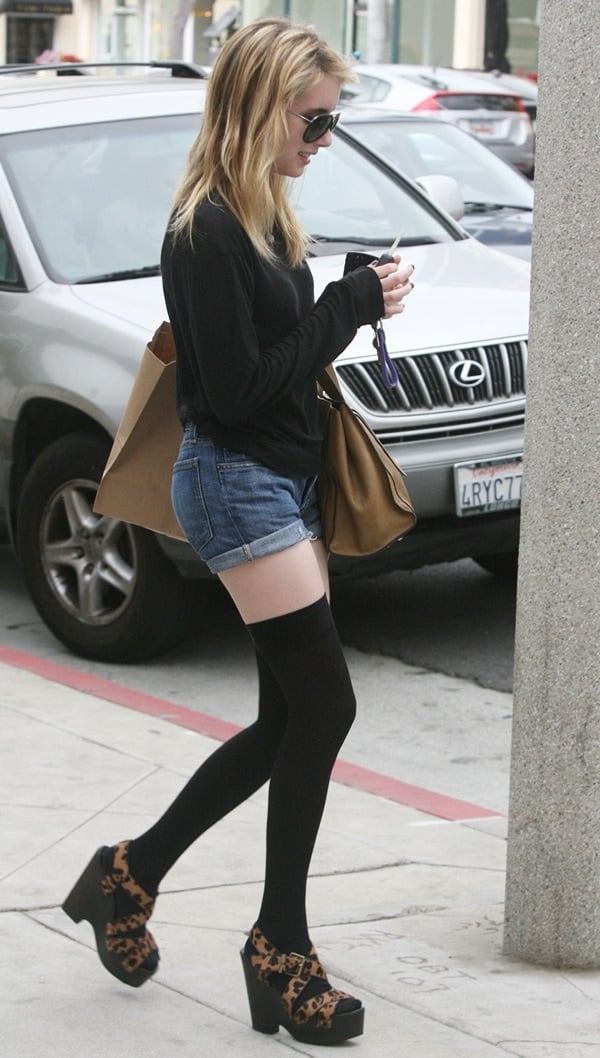 Emma Roberts visiting a salon in West Hollywood on April 2, 2o11.
Ankle socks (or long socks bunched at the ankles) will also look great with short denim looks. For added drama, go with printed ones in a different color (or set of colors). A great example of this mix would be the outfit put together by fashion blogger Paanie Pho. Her blog is unfortunately no longer available online.
Paanie Pho sporting platform sandals and contrasting striped red socks with her sexy denim shorts to give the look a school-girl spin.
4. Try the Tailored Treatment
Just because you're wearing an elegantly tailored or structured outfit doesn't mean you have to do away with trendy treatments (like wearing socks with sandals). Wearing the trend will actually give your look a different flavor — a chic but more dressed-down vibe that will surprisingly offer more impact.
Just remember to color coordinate, or at least choose socks and sandals with colors that complement each other as well as the outfit. Once you have that figured out, the rest shouldn't be too hard. Check out three fashion bloggers demonstrating this style with ease: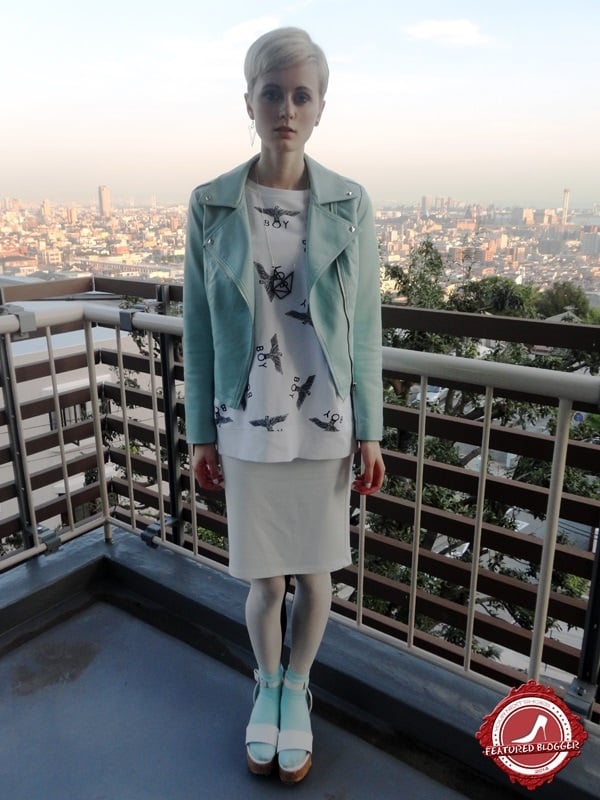 Haru Wilde of Becoming Wilde keeping her structured garb cute by wearing socks with her sandals.
Iren of "Living in a Kitten's World" giving her polished outfit a casual yet girly treatment by capping it off with socks and strappy sandals.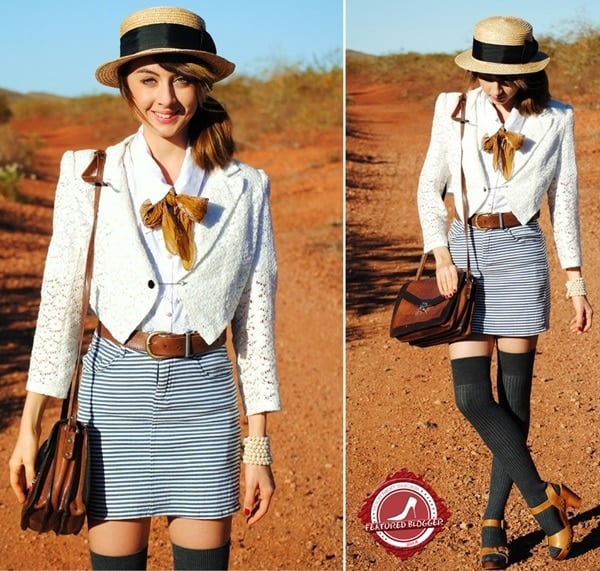 Autilia Antonucci  giving her tailored outfit a casual spin by pairing it with gray over-the-knee socks and brown platform sandals 
5. Trust Your LBD
Yes, your trusty little black dress can get the socks-and-sandals treatment, too. It's a trendier approach to wearing your LBD for days when you want your colorless frock to look a little more interesting.
Don't worry because this look is easy to pull off. Just slip into your dress, and then pick socks that come in a contrasting hue. We also recommend that you wear sandals that come in another color to keep things a little more exciting. However, if you prefer to finish the pairing with black strappies, that will work just fine, too.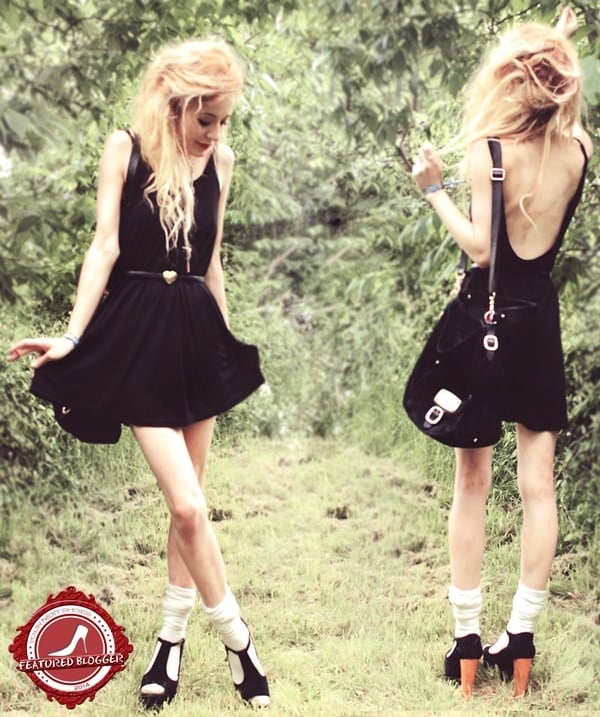 Alissa of "La Vagrant Belle" sporting socks and sandals with her little black dress to give the frock a fresh spin.
So, are you ready to wear socks with sandals? Now is actually the best time to try the trend while you can still use the chilly weather as an excuse. Have fun dressing up!
Credit: TNYF / WENN / Joseph Marzullo / Dennis Van Tine / Future Image