When we first saw the pictures of Angelina Jolie at 'The Normal Heart' premiere in NYC on Monday, we thought, "wow, her diamond earrings are so shiny."
So shiny that they're reflecting light across her entire jawbone.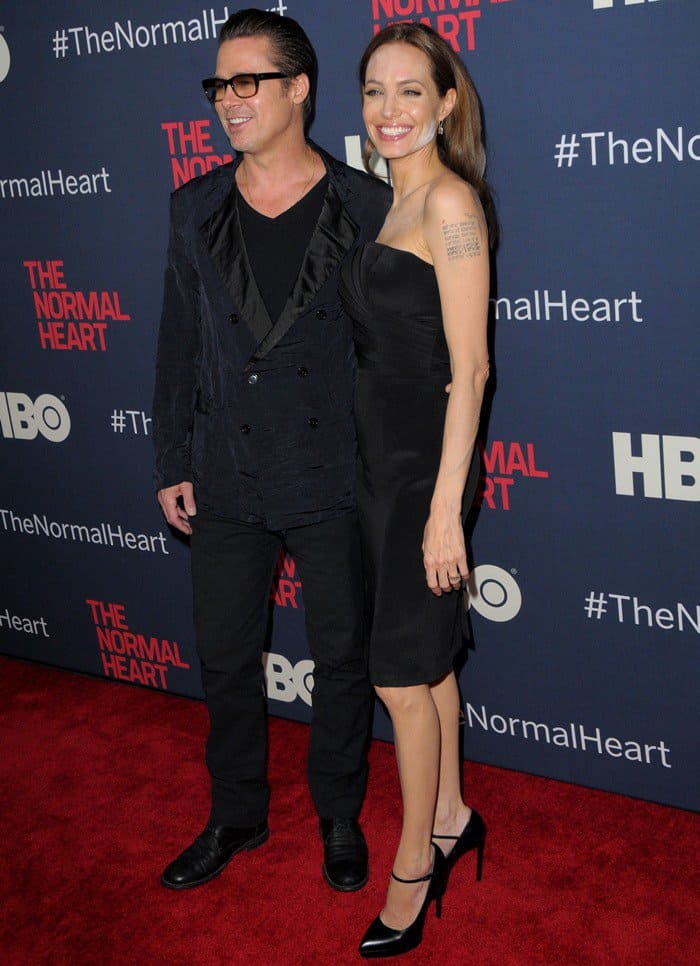 Brad Pitt and Angelina Jolie on the red carpet at 'The Normal Heart' premiere held at the Ziegfeld Theatre in New York City on May 12, 2014
Then, we saw her close-up photos. Angie's face does have reflected light on it, alright, but it's not from her diamond earrings — it's from the white powder splotchily applied all over her face, chest, and shoulders!
It's as if Angie was flour-bombed a la Kim Kardashian.
Angelina Jolie suffering a white powder makeup malfunction
The culprit has been identified to be translucent powder. Celebrity makeup artists love to use it as it "blurs" the face and hides imperfections all while being invisible.
It's great for HD film and photo shoots, but in an uncontrolled situation like a premiere where camera flashbulbs go off all at the same time, it can reflect light like crazy.
That's what happened here to Angie who was blissfully unaware that her white powder makeup was malfunctioning while she posed on the red carpet.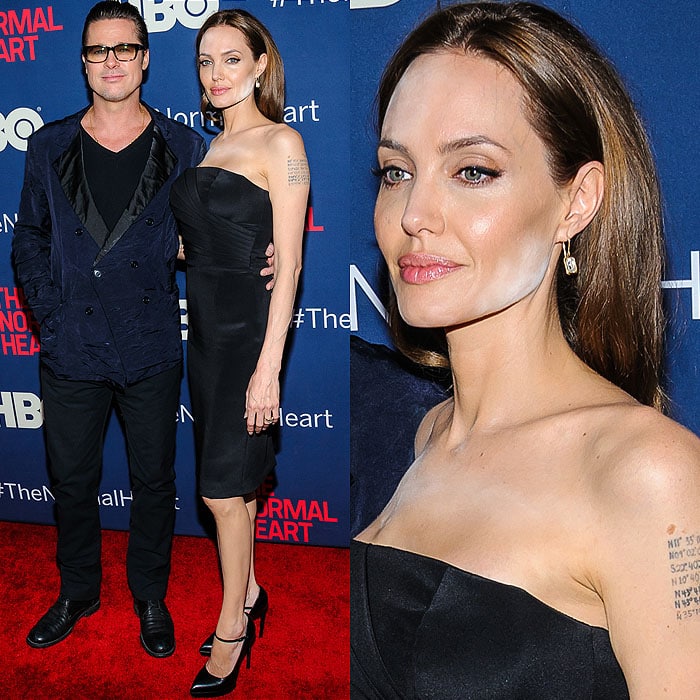 Brad Pitt and Angelina Jolie posing on the red carpet together at 'The Normal Heart' NYC premiere
To be fair, Angie's makeup did look flawless sans the harsh glare of flashbulbs. And, actually, not even the splotchy white powder could mask her perfect bone structure.
However, we can't say the same for Brad Pitt whose lousy V-neck t-shirt and wrinkly double-breasted jacket just cannot be excused.
Angelina Jolie's makeup looking flawless and Brad Pitt's jacket looking even more wrinkly without the flash photography
After a run of experimental shoe styles, Angie returned to her classic roots in these Saint Laurent classic "Janis" Mary Jane pumps: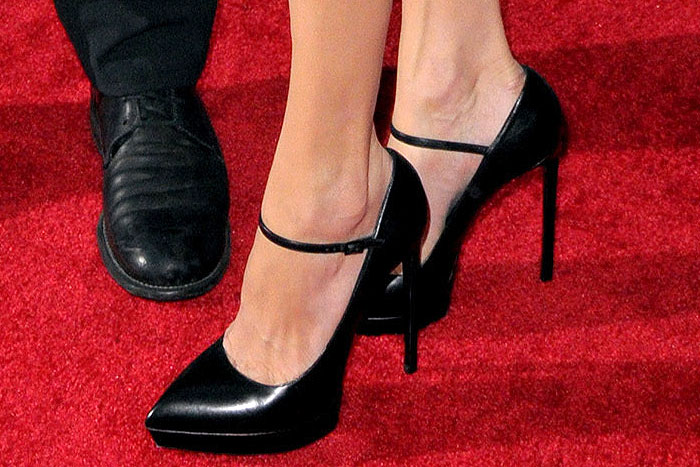 Angelina Jolie's hot feet in Saint Laurent classic "Janis" Mary Jane pumps
It's humbling to see that even a famous movie star with a battalion of stylists, makeup artists, and personal assistants can still make rookie mistakes from time to time.
Saint Laurent Janis Platform Mary Jane Pumps, $795 at Nordstrom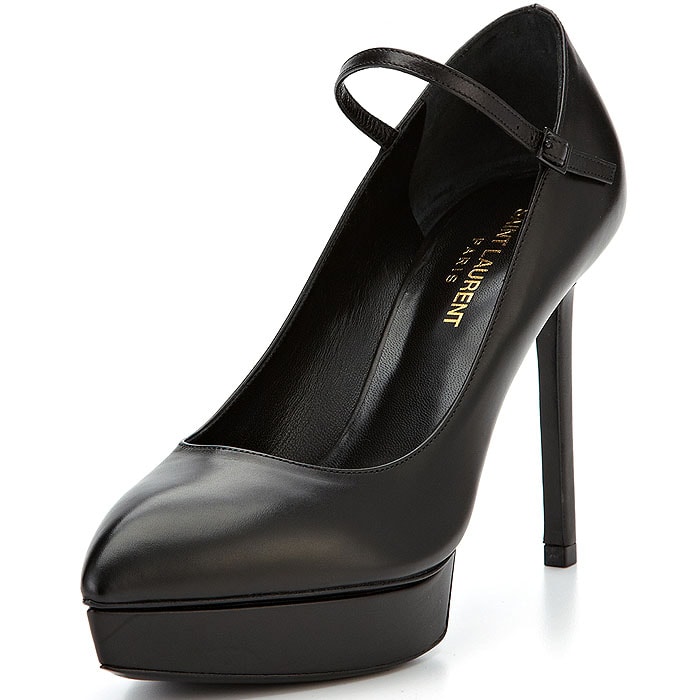 Would you say this is one of Angelina Jolie's worst red carpet moments?
Credit: Joseph Marzullo / Ivan Nikolov / C. Smith / Andres Otero / WENN