Earlier this year, Giuseppe Zanotti teamed up with the young brilliant British designer Christian Cowan to create several shoes for the latter's Spring / Summer New York Fashion Week show. Some of the classic sandals were modeled after a Rolex watch.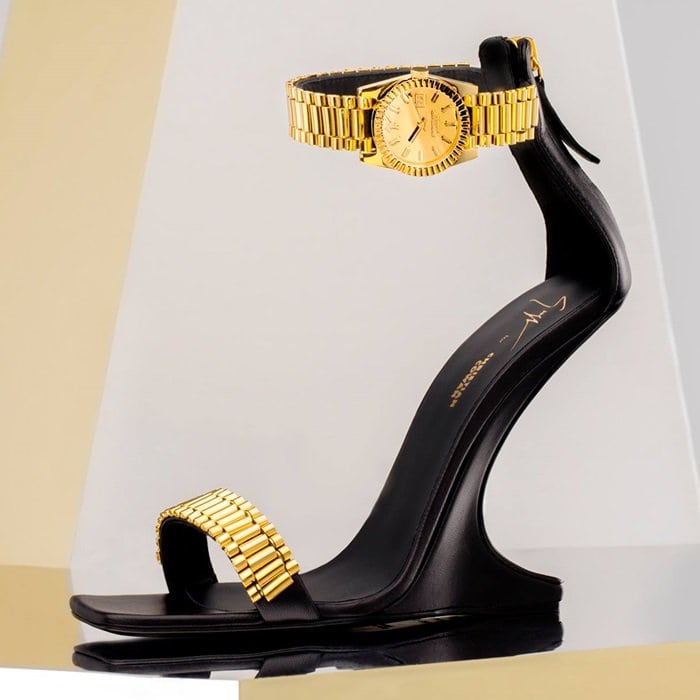 This sleek sandal combines the distinct visions of two masterful designers into one covetable style
Some of the shoes feature gold wristwatch detailing and can be described as "the 'fil rouge' of this capsule," according to Giuseppe Zanotti and commented, "It was pretty hard to find good-quality watch embellishments that are comfortable when you wear them. It was a challenge, but we are very happy with the final result."
A sensual illusion heel and unexpected wristwatch buckles define this see now-buy now style
The two designers met in New York, the metropolis which saw the debut of both designers.
"Christian and I met in New York through a fashion stylist and common friend. I immediately loved his fresh and cool outtake and vision. He is an extremely talented young designer. He reminds me of myself when I started," said the Italian footwear designer.
"For a collaboration to be successful, there must be some common ground between the two brands. I must like the [ready-to-wear] to be able to design the shoes. I always try to captivate the DNA of the other brand, while staying true to my own aesthetic."
Classic sandals modeled after a Rolex watch
"Working with Giuseppe Zanotti has been a dream. Not only does he have the true creative flair of an artist, but he is also incredibly kind and so supportive of our combined vision. As a young designer, the opportunity to be able to partner with Giuseppe has been invaluable, his advice and vision have been so helpful and I couldn't be happier with what we have created together. The opportunity to look back at signature Giuseppe silhouettes and add my own spin on these was one I'll always treasure. Our maximalist styles married together have created a line of shoes that will be sure to keep you watching," said Christian Cowan.
Black Sandals With Metal Watch Buckle-Fastening, $1,995 at GZ Design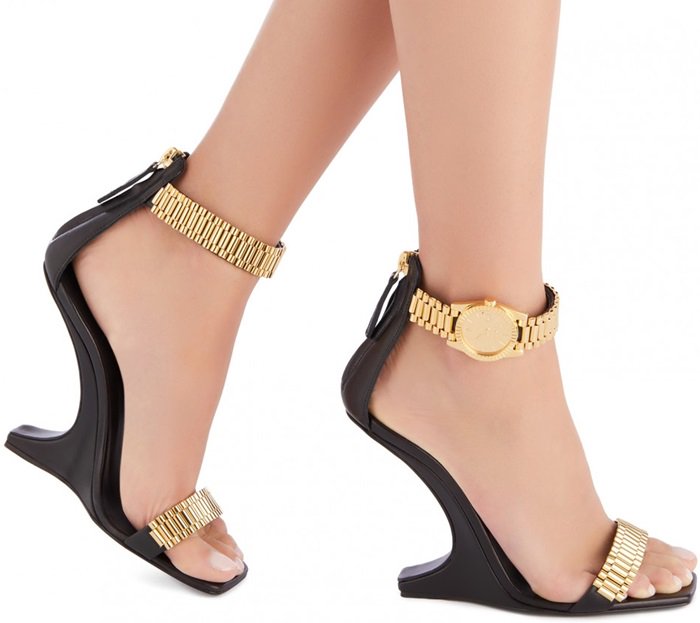 Gold Sandals With Metal Watch Buckle-Fastening, $1,995 at GZ Design