Depending on whom you ask, Zoe Saldana was either one of the best or the worst dressed at the 2014 Golden Globe Awards on Sunday.
The Dominican-American actress donned a dress in ballet pink and black from Prabal Gurung's Spring 2014 collection that features off-shoulder accent straps and graphic crystal embroidery.
Zoe Saldana poses at the 71st Annual Golden Globe Awards held at The Beverly Hilton Hotel in Los Angeles on January 12, 2014
While some fashion critics loved Zoe in this strapless cocktail dress, others thought she looked like a mess in the rather provocative and futuristic ensemble. What do you think?
Zoe Saldana in a strapless cocktail dress
Zoe's shoe choice was not particularly original. She wore the pointy-toe Christian Louboutin "So Kate" pumps, which we've been seeing on a daily basis recently. You may still be able to find a few versions left at Barneys.
Zoe Saldana wearing a dress in ballet pink and black from Prabal Gurung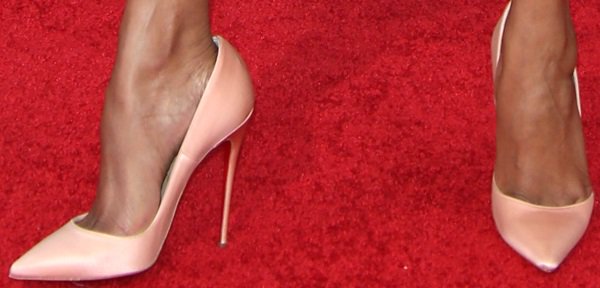 Zoe Saldana shows off her feet in Christian Louboutin pumps
Do you think Zoe deserves to be on the best or the worst dressed list? Don't miss Lupita Nyong'o's Ralph Lauren gown, which many consider the best of the evening.
Credit: WENN