Zooey Deschanel had the support of plenty of her famous friends at the launch of her collaboration with Tommy Hilfiger at The London Hotel in West Hollywood, California, on Wednesday. Even though the fashion was a sea of reds, blues, and whites, it was still pretty easy to tell who was dressed in the collection and who was not.
All we had to look for was the touch of Zooey's signature retro-vintage style. Zooey, of course, had it, along with Hannah Simone in a mod shift dress with buttoned shoulders and Kaitlyn Dever in a geo-print shirtdress.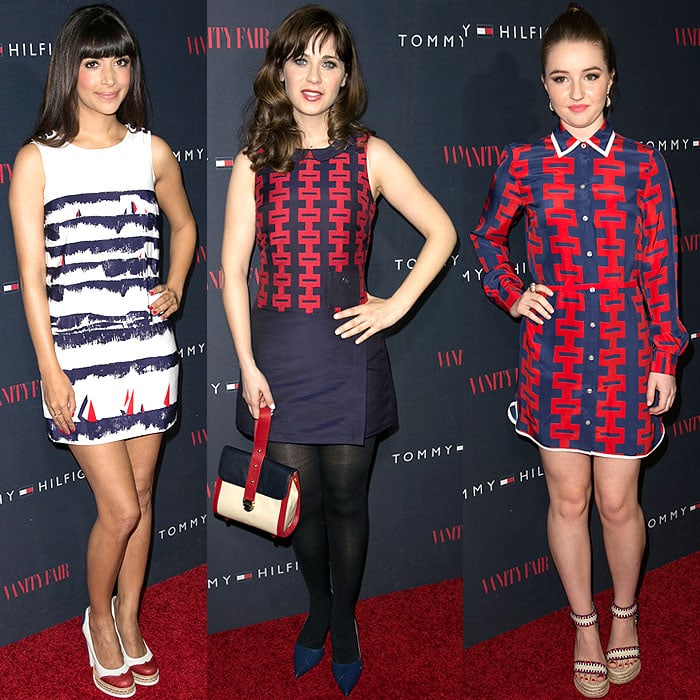 Hannah Simone, Zooey Deschanel, and Kaitlyn Dever in To Tommy, From Zooey dresses at the Zooey Deschanel for Tommy Hilfiger Collection launch at The London Hotel in West Hollywood, California, on April 9, 2014
Many of the attendees chose to wear the floral-print dresses from Tommy Hilfiger's own Spring 2014 collection, while others chose pieces from earlier collections. Yet, no matter the season, the red-blue-and-white color theme was still dominant.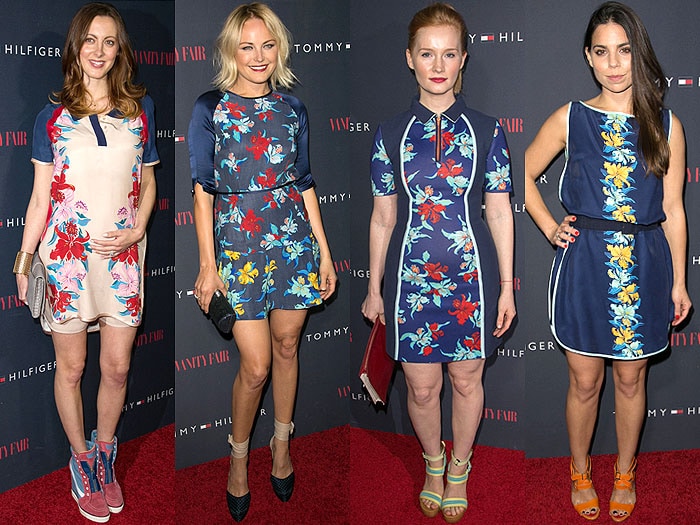 Eva Amurri Martino, Malin Akerman, Kimberly Brook, and Ally Hilfiger wearing pieces from the Tommy Hilfiger spring 2014 collection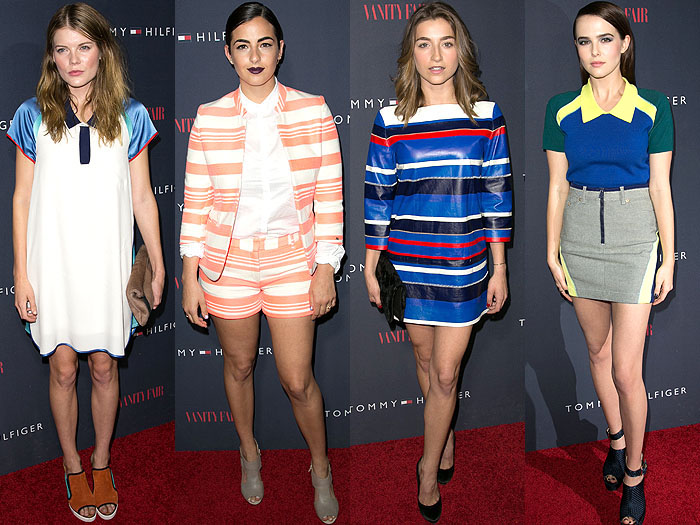 Emma Greenwell, Alanna Masterson, Ava Deluca-Verley, and Zoey Deutch wearing pieces from past Tommy Hilfiger collections
Their choice of shoes is where it gets interesting. Colors weren't limited to Americana anymore, and the styles went beyond the vintage-prep dress code. The shoes below are the ones we've identified as Tommy Hilfiger's. We're loving the color-block wingtip platforms on Hannah Simone the most. The neon-strap sandals on Kimberly Brook need to make their way into our summer shoe closets!
Tommy Hilfiger "Faye" Pumps on Hannah Simone
Tommy Hilfiger Spring 2013 whip-stitch espadrille wedges on Kaitlyn Dever
Tommy Hilfiger Spring 2014 sneaker wedges on Eva Amurri Martino
Tommy Hilfiger Spring 2014 buckle-and-velcro-strap sandals on Kimberly Brook
Tommy Hilfiger Spring 2014 color-block wedges on Emma Greenwell
Some, including Malin Akerman, Zoey Deutch, and Ally Hilfiger, wore other labels. Although they're not by Tommy Hilfiger, cute shoes are always welcome.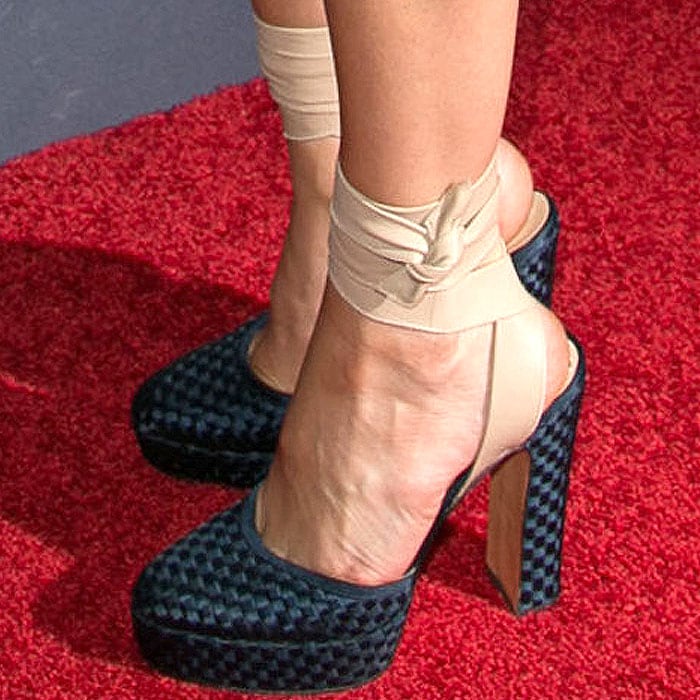 Bionda Castana "Valentine" Woven Satin Ankle-Tie Sandals on Malin Akerman
Bionda Castana "Christa" Woven Satin Open-Toe Sandal Booties on Zoey Deutch
Paul Andrew "Lucia" Buckled-Front Clear-Strap Sandals on Ally Hilfiger
There's always bound to be one oddball at any fashion event, and at this collaboration collection launch, it was British singer Neon Hitch. Coming out of left field in a floral headwrap, a bra-revealing knotted shirt, rose-embroidered hot pants, and star heel-less shoes, Neon completely broke the event's retro-preppy dress code.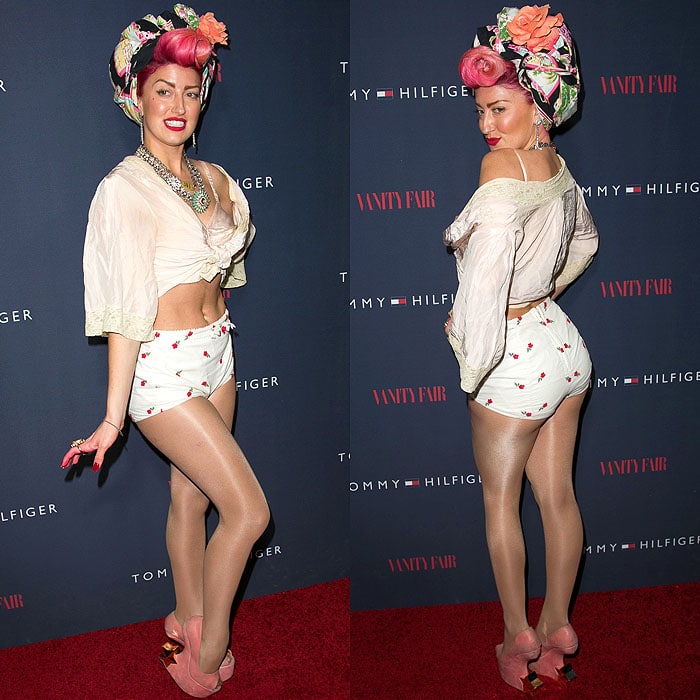 Singer Neon Hitch arriving at Zooey Deschanel and Tommy Hilfiger's debut of their new capsule collection at The London Hotel in West Hollywood, California, on April 9, 2014
Liliana "Krissy 1-A" Metallic Star Heel-Less Platforms on Neon Hitch
Who's your own choice for best dressed and best heeled?
The "To Tommy, From Zooey" collection is set to launch at Macy's stores on April 14.
Credit: Brian To/WENN