According to a scientific study published in 1907 by physician Duncan MacDougall, the physical weight of a human soul is 21 grams.
Referring to the idea that the incorporeal essence of a living being has a physical weight, Alejandro González Iñárritu's American crime drama film 21 Grams was released in 2003.
Naomi Watts starred in director Alejandro González Iñárritu's 2003 drama 21 Grams (Credit: Focus Features)
Portraying recovering drug addict Cristina Peck, Naomi Watts was 35 years old when the film was released in the United States on November 21, 2003.
Born on September 28, 1968, in Shoreham, United Kingdom, she turned 35 on September 28, 2003.
For her performance as a grief-stricken mother in 21 Grams, she received a nomination for the Academy Award for Best Actress.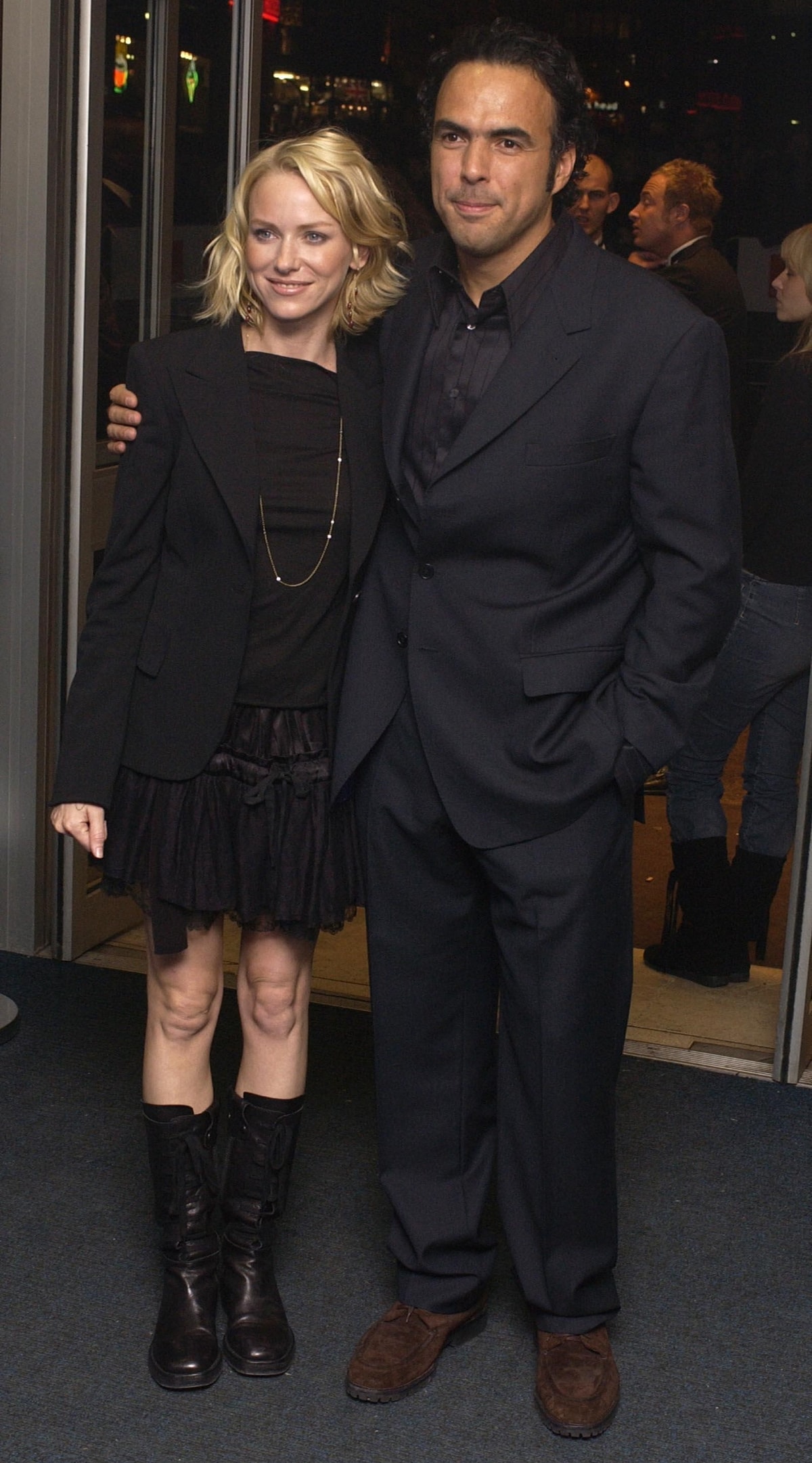 Naomi Watts and Alejandro Gonzalez Inarritu attend the premiere of "21 Grams" at the London Film Festival at the Odeon West-End on Leicester Square in London on October 31, 2013 (Credit: WENN)
"As soon as I read the script, I liked it," Watts said in an interview with The Morning Call at the Toronto Film Festival.
"But for the first 20 pages or so, I was lost. You hang with it, and you hope it all comes together, and it does, at the exact point you want it to."
She was cast in the first English-language film by Alejandro Gonzalez Inarritu while she was shooting the 2002 supernatural horror-thriller film The Ring.
Naomi Watts at the premiere of 21 Grams on the closing night of the New York Film Festival on October 19, 2003
We're used to seeing Naomi Watts rock classic ensembles that at just a little bit off-beat. She tends to pick unconventional silhouettes and mix them with the most unexpected accessories.
For example, check out the look she pulled off for her appearance on the "Late Show with David Letterman" in December 2012.
Naomi Watts wears her hair down as she heads to the Ed Sullivan Theatre in New York on December 20, 2012 (Credit: C.Smith / WENN)
For her appearance, Naomi wore a tea-length, drop-waist leather Calvin Klein coat over a little black dress from Stella McCartney.
She completed the outfit with zip-trimmed peep-toe Christian Louboutin ankle booties.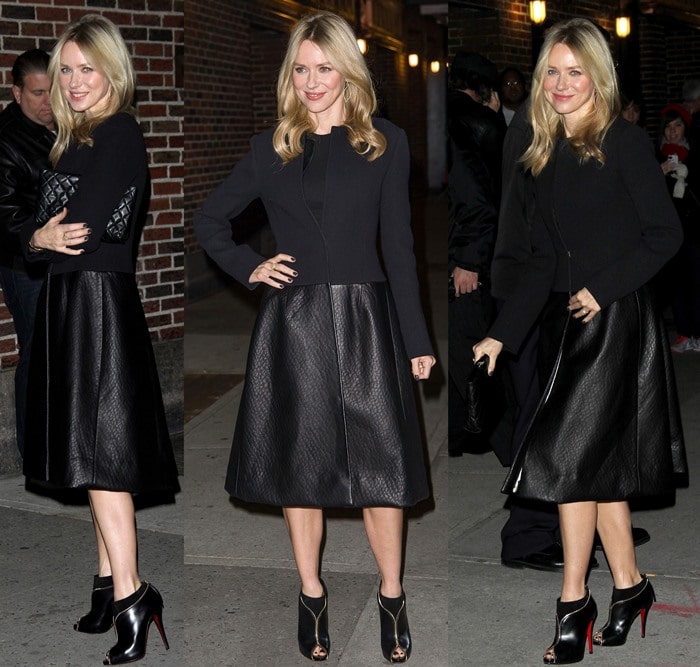 Naomi Watts wears a black leather Calvin Klein coat over a Stella McCartney dress (Credit: HRC / C.Smith / WENN)
What do you think of Naomi's David Letterman style? Hit or miss?
Naomi Watts's feet in black zipper-accented Christian Louboutin booties (Credit: WENN)
The British actress wore a pair of Christian Louboutin "Col Zippe" ankle booties. These leather-on-suede zipper-trimmed shoes featuring five-inch heels and half-inch platforms.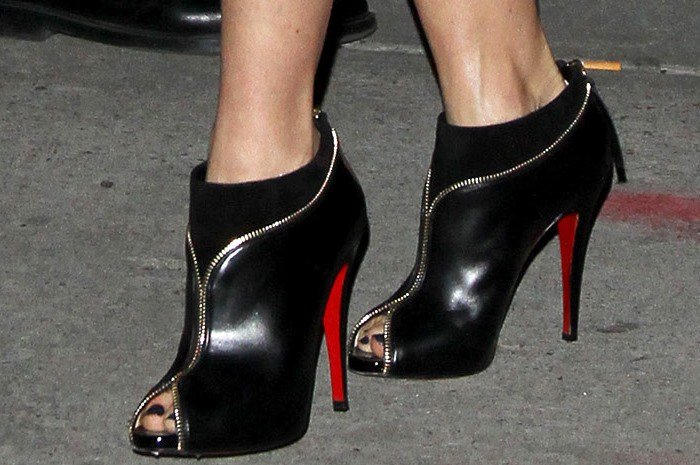 Naomi Watts's feet in black leather "Col Zippe" ankle booties (Credit: WENN)
Below is a black all-leather version.
Christian Louboutin Col Zippe Ankle Booties in Black, $1,048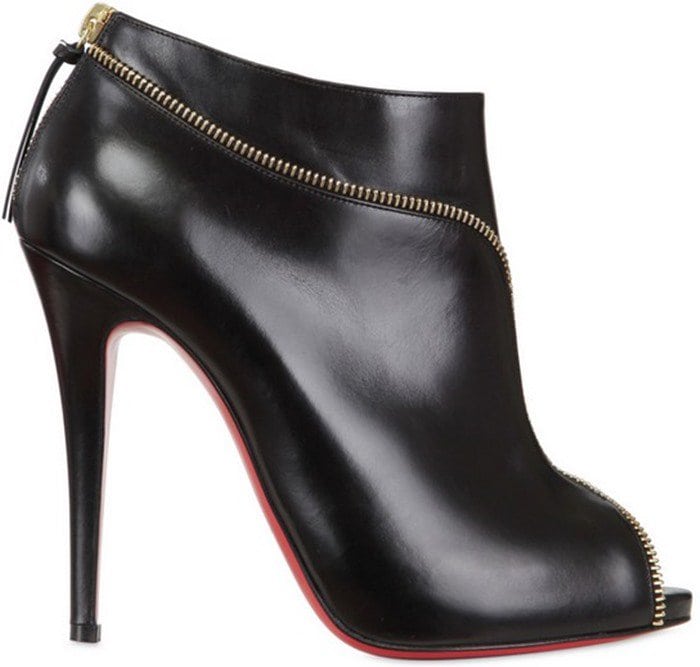 Unfortunately, Naomi's exact leather-and-suede version of these booties isn't available online. The equally stunning watersnake version has also sold out.
Christian Louboutin Col Zippe Watersnake Leather Ankle Booties, $1,395