Best known as a member of the pop girl group The Pussycat Dolls, in 2016 Jessica Sutta entered The Beach House Malibu, an addiction treatment center, to deal with her alcoholism.
"I didn't realize how destructive alcohol was," she said in an interview with Billboard in 2017. "I was confused and broken, and it was like I had to kill that part of me and be reborn."
View this post on Instagram
Sober since 2016, she connected with drummer Mikey Marquart over their sobriety journeys while undergoing addiction treatment. Engaged in December 2018, they married in Malibu on September 14, 2019.
Kimberly Wyatt, Max Rogers, Ashley Roberts, Melody Thornton, and Nicole Scherzinger did not attend the reception held at the groom's parents' house.
The Pussycat Dolls' Jessica Sutta met Mikey Marquart in 2016 at the Beach House sober living facility in Malibu
"Honestly, when I met him, it was like a ray of sunshine in a dark, stormy haze," Jessica Sutta told Us Weekly.
"We both have dealt with struggles that [have] connected us on a deep, emotional level. And over time, with a lot of self-healing, we fell in love with the most authentic versions of ourselves."
Singer J. Sutta attends her album release party for "I Say Yes" at a private residence on March 3, 2017, in Studio City, California
"The lifestyle is not normal," Jessica told The Sun about her alcohol consumption while touring with The Pussycat Dolls.
"You're drinking champagne in the morning on these private jets. You get really unhealthy habits which, for an alcoholic, is the worst thing that could ever happen to you."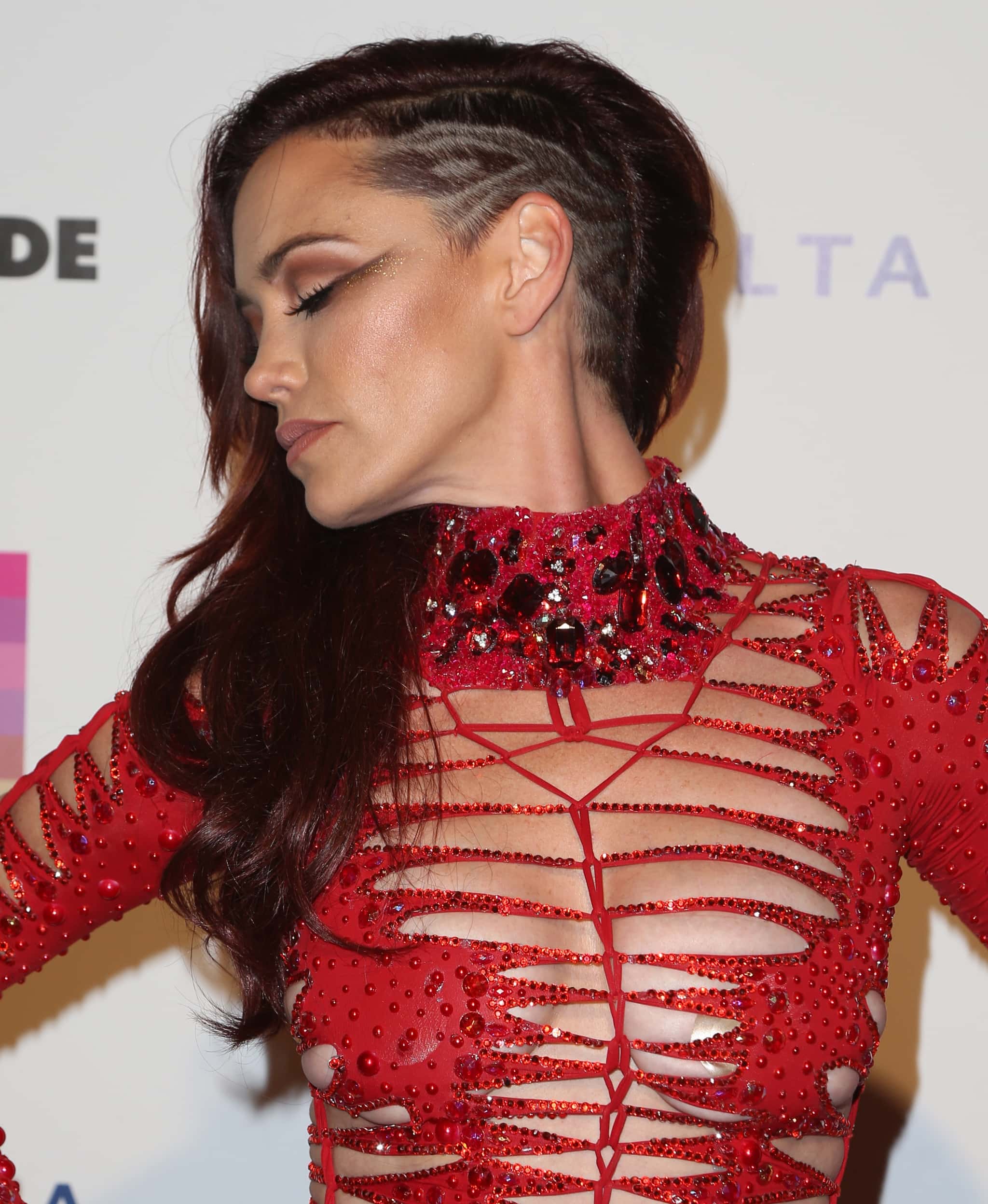 Singer Jessica Sutta attends the 2016 LA PRIDE Music Festival Day 2 on June 11, 2016, in West Hollywood, California
In February 2013, Jessica Sutta showed up at a party in Hollywood wearing an incredibly wild pair of pumps.
Jessica Sutta wears her hair in a low ponytail at the OK! Magazine pre-Grammy party held on February 7, 2013, at Sound in Hollywood
The former Pussycat Dolls singer rocked a pair of "Chiquita" shoes from Gasoline Glamour. Her shoes retail for a hefty $2,850.
Not only that — the price increases with the shoe size! That lower-level figure is for sizes 6 and 7, but these specific pumps can cost up to $4,000 for a size 12.
We'd guess that the extra crystals and detailing add up with the shoe size, which accounts for the increase in price as well.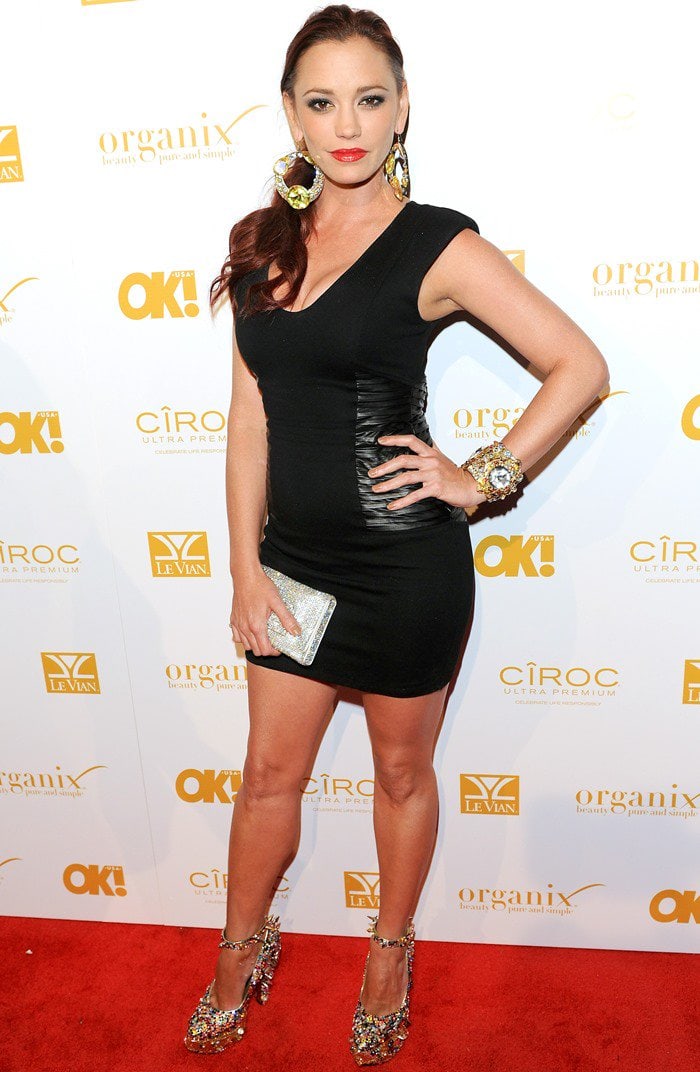 Jessica Sutta wears a little black dress and a pair of heavily embellished statement pumps on the red carpet
Jessica paired her multicolored pumps with a little black dress and a pair of big gold earrings. She also added a shimmery clutch and a gold bracelet for an extra dose of glam.
The American singer, dancer, songwriter, and actress could have opted for a black pair of pumps or sandals, but we're really glad she went with her statement-making heels.
They're very edgy but have a fun candy-like look that any girl could fall for.
Jessica Sutta's feet in heavily-embellished Gasoline Glamour pumps
See what we mean by "statement-making heels?" These shoes are ideal for turning heads and heating up a simple little dress as Jessica did.
How would you style these punk-rock-meets-princess-inspired shoes from Gasoline Glamour?
Gasoline Glamour "Chiquita" Pumps, $2,850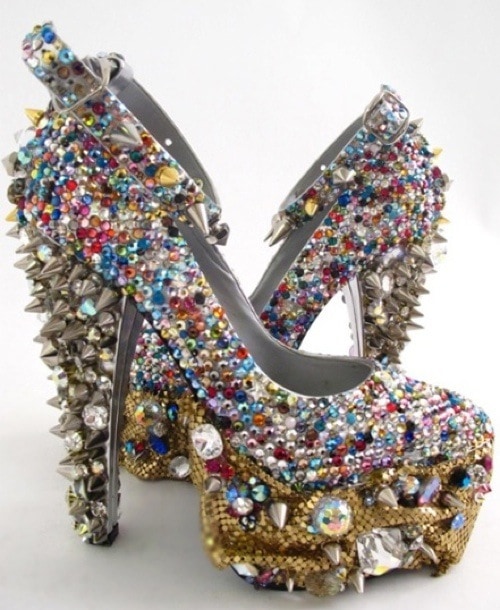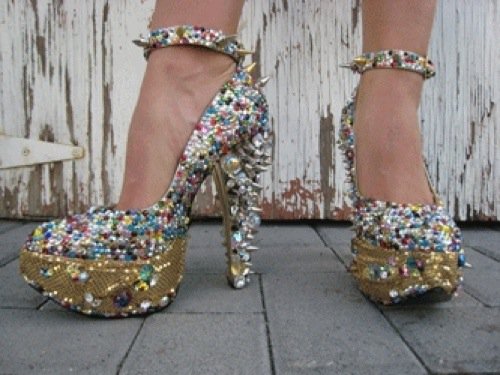 Would you wear them? More importantly, what do you think about their outrageous price tag?
Credit: Try CW / WENN / Daniel Tanner / FayesVision / Guillermo Proano