Seryl Kushner went for a stroll with her daughter-in-law Karlie Kloss and her grandson Levi Joseph in Manhattan's Soho area on Wednesday afternoon. The first child of Karlie and her husband Joshua Kushner was born on March 11, 2021.
Rumored to have a complicated relationship, the Kushner family initially did not approve of Kloss and Kushner's romance.
Karlie Kloss looks stylish while out shopping with her baby Levi Joseph and mother-in-law Seryl Kushner in New York City on June 2, 2021 (Credit: Mega / WENN)
Born in 1955 to father Morris Stadtmauer and mother Marilyn Felsen Stadtmauer, Seryl Kushner brought up her children in an Orthodox Jewish community in Livingston, New Jersey.
The Talmud, the central text of Rabbinic Judaism, holds that a marriage between a Jew and a non-Jew is prohibited. Karlie converted to the Jewish faith to marry venture capitalist Josh Kushner.
Seryl Stadtmauer's husband is American real estate developer Charles Kushner, a convicted felon who received a federal pardon issued by President Donald Trump on December 23, 2020.
Seryl Stadtmauer is the wife of Charles Kushner and the mother of Jared Kushner, Joshua Kushner, Nicole Kushner, and Dara Kushner (Credit: Mega / WENN)
Attending a meeting earlier in the morning, the American supermodel donned a gray Max Mara suit consisting of Mozart wide-leg high-rise linen-blend pants and a Baschi herringbone single-breasted linen-blend blazer. You can buy her stylish tweed suit at Selfridges.
She styled her herringbone suit with a white bodysuit, a pair of black Gucci Jordaan horsebit-detailed leather loafers ($730 at Nordstrom), a black Gucci Horsebit 1955 small textured-leather shoulder bag ($1,650 at Farfetch), tortoiseshell Celine sunglasses, and a gold Alison Lou necklace.
Karlie Kloss styled her Max Mara suit with a bag from Gucci's vintage-inspired '1955' collection (Credit: Mega / WENN)
In February 2016, Karlie had a busy month with the Elle Style Awards and the BRIT Awards on top of London and Milan Fashion Weeks to attend.
Perhaps in order to have a clear demarcation between all of her engagements, the then 23-year-old supermodel decided to wear all-white and all-black outfits at each event. Clever idea.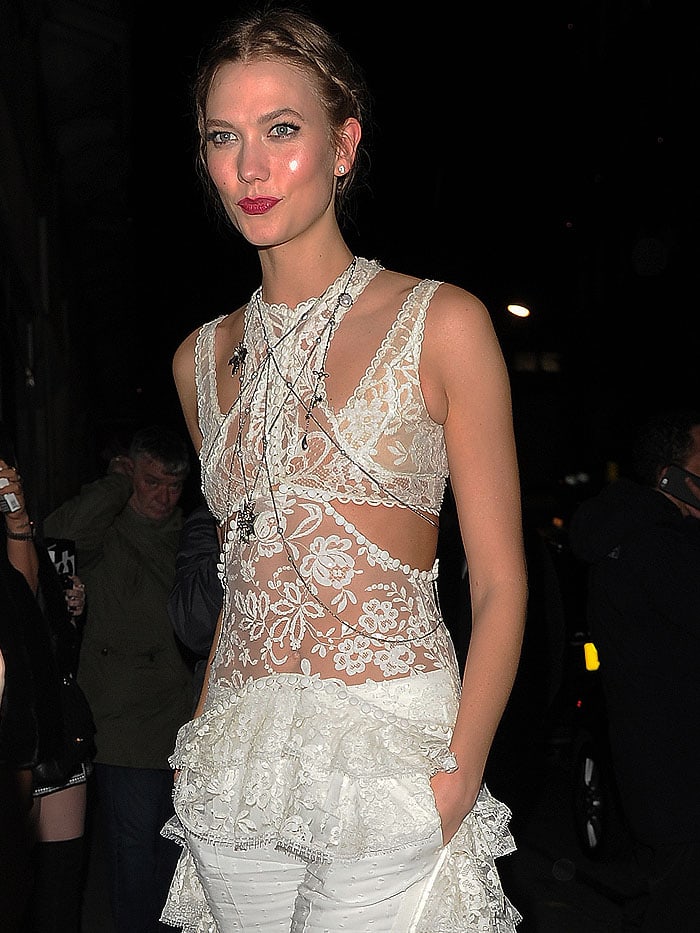 Karlie Kloss wears her hair in braids as she arrives at the Universal Music After-Party following the 2016 BRIT Awards held on February 24, 2016, in collaboration with Soho House in London (Credit: WENN)
Karlie headed to a BRIT Awards after-party in an all-white outfit comprised of a sheer lace bra overlaid with a cutaway halter dress.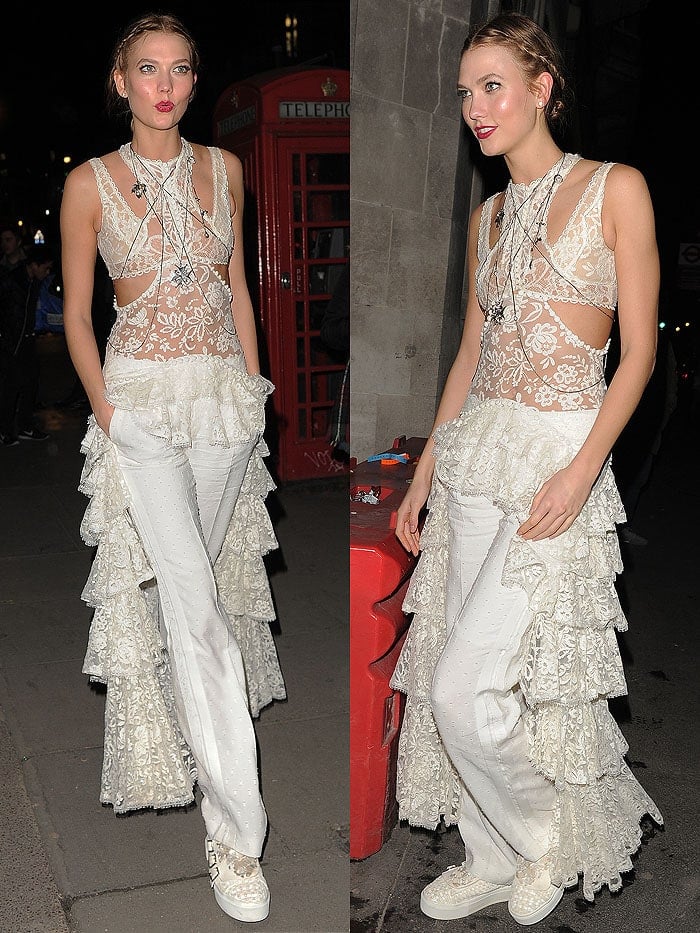 Karlie Kloss wears a ruffled lace Alexander McQueen ensemble out in London (Credit: Will Alexander / WENN)
The high-low hem with a long, tiered-ruffle back made it seem as if she was wearing a tailcoat instead of a frock.
Karlie Kloss accessorizes her all-white look with a jeweled body harness (Credit: Will Alexander / WENN)
She rounded out her Alexander McQueen Spring 2016 ensemble with white tuxedo pants, embroidered woven platform sneakers, and a jeweled body harness that crisscrossed across her torso.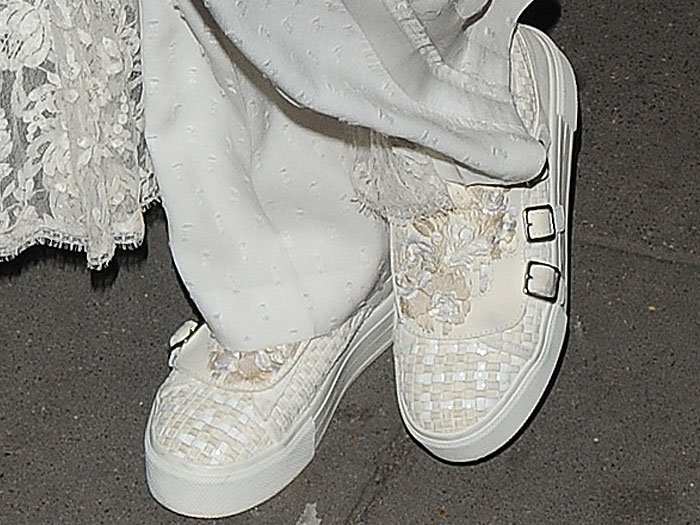 Karlie Kloss wears buckled white woven Alexander McQueen sneakers (Credit: WENN)
Alexander McQueen Spring/Summer 2016 3-Buckle Sneakers, $1,095
Karlie switched to her all-black ensemble — a Stella McCartney Pre-Fall 2016 long-sleeved gown with a short train — for the 2016 Elle Style Awards.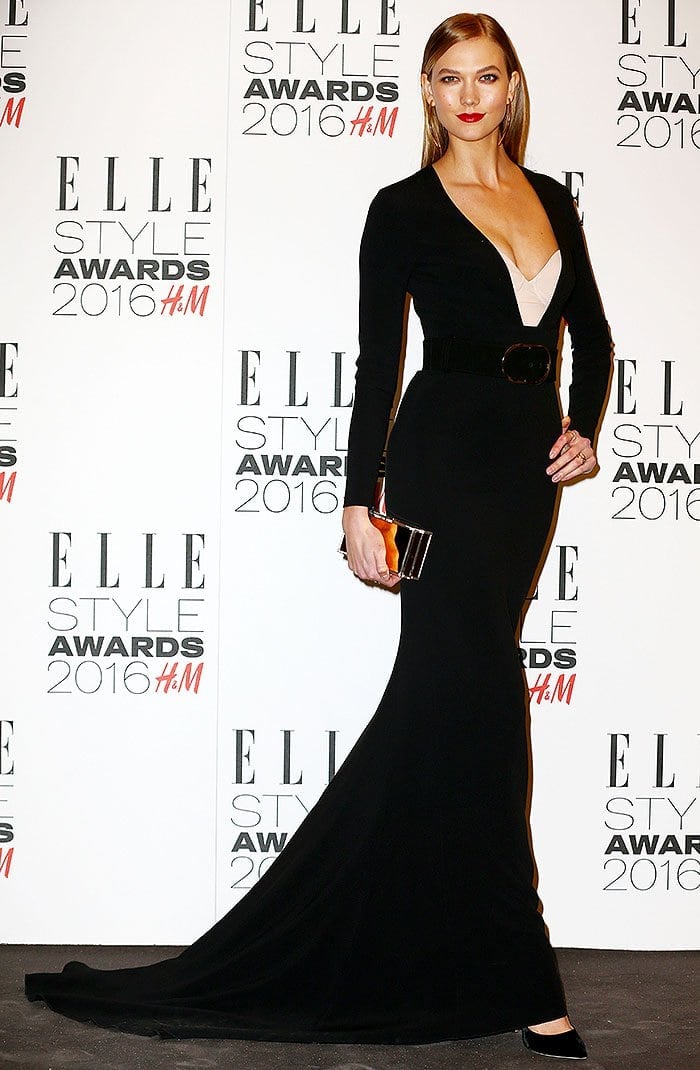 Karlie Kloss wears an all-black look to the 2016 Elle Style Awards held on February 23, 2016, at the Tate Britain art museum in London (Credit: WENN)
She wore a nude corset beneath the gown's plunging neckline modest and accentuated her waist with a wide, gold-buckled belt.
Karlie Kloss wears a black Stella McCartney gown to the Elle Style Awards (Credit: WENN)
Karlie accessorized with long spike earrings and a Jimmy Choo box clutch and wore a pair of rich black velvet Tamara Mellon "Vertigo" pumps.
Karlie Kloss wears her hair back to show off her long gold earrings (Credit: Lia Toby / WENN)
Karlie Kloss wears a black floor-length Stella McCartney dress over a nude corset (Credit: WENN)
Karlie Kloss's feet in black Tamara heels (Credit: WENN)
Which of Karlie's outfits do you prefer, the all-white or the all-black?
Black Tamara Mellon 'Vertigo' Velvet Pumps, $325