Visiting Windward School in Los Angeles on Friday afternoon with a rare Himalayan Birkin bag by Hermès worth $150,000, Jennifer Lopez later headed to Ben Affleck's Brentwood, California, home.
It's rumored she's considering relocating with her children from Miami, Florida, to the West Coast.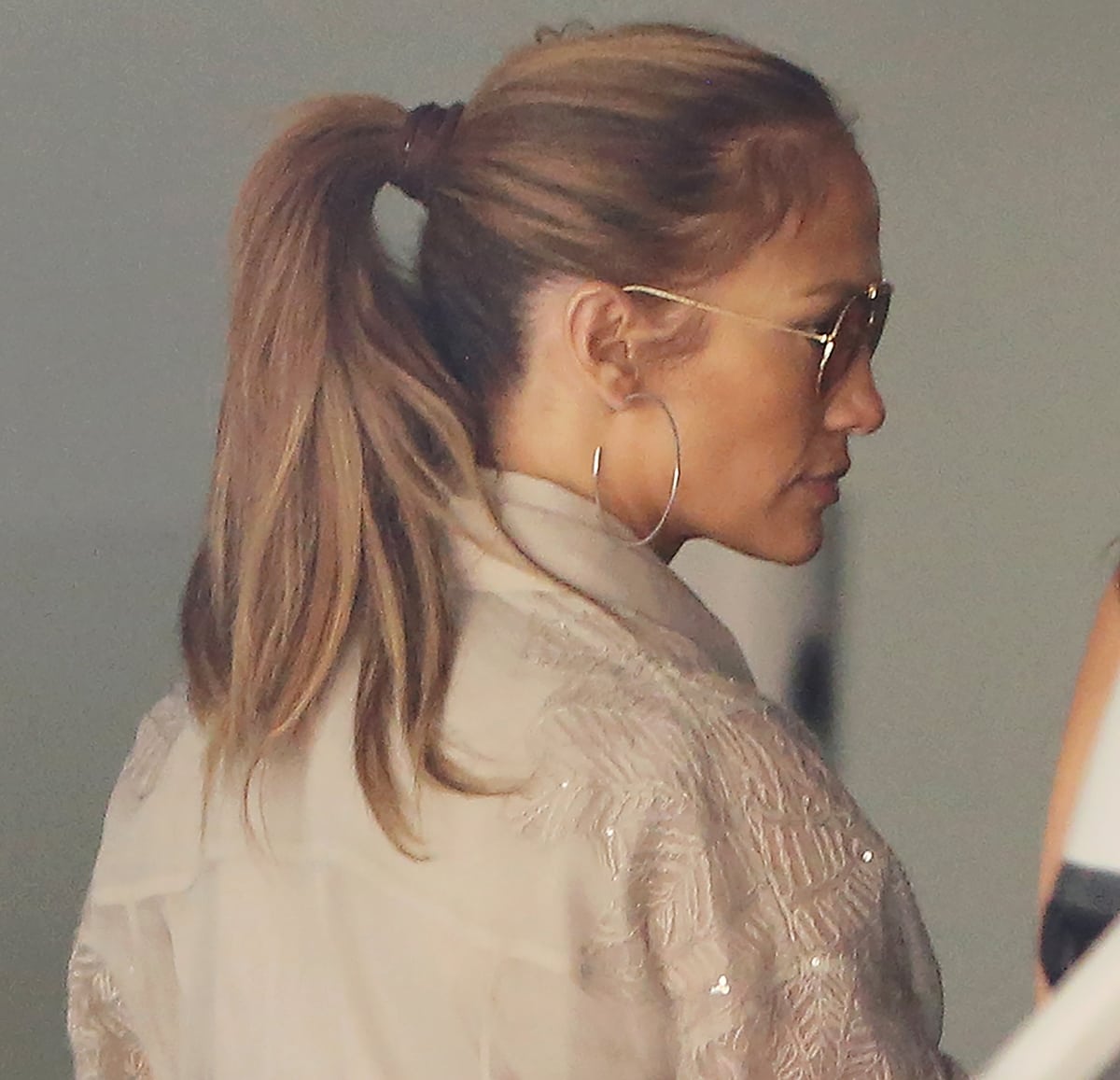 Jennifer Lopez wears Gucci Gg 2235 sunglasses and Jennifer Fisher flat thread hoops earrings (Credit: Mega / WENN)
Having rekindled their romance, Affleck and Lopez intend to spend a lot of time together this summer, People reported last week.
"[They] are discussing summer plans," a source said and described Lopez as incredibly happy to reunite with her ex-boyfriend Affleck. "[They] want to spend as much time together as possible. They also want to take a trip."
Romantically linked in 2001 after meeting on the set of the 2003 American comedy film Gigli, they ended their relationship in January 2004. Affleck has claimed his romance with Lopez almost ruined his career.
"Jen and Ben have been all over each other and can't seem to get enough—all day, every day," another source told Us Weekly. "Their chemistry is off the charts…They are always affectionate."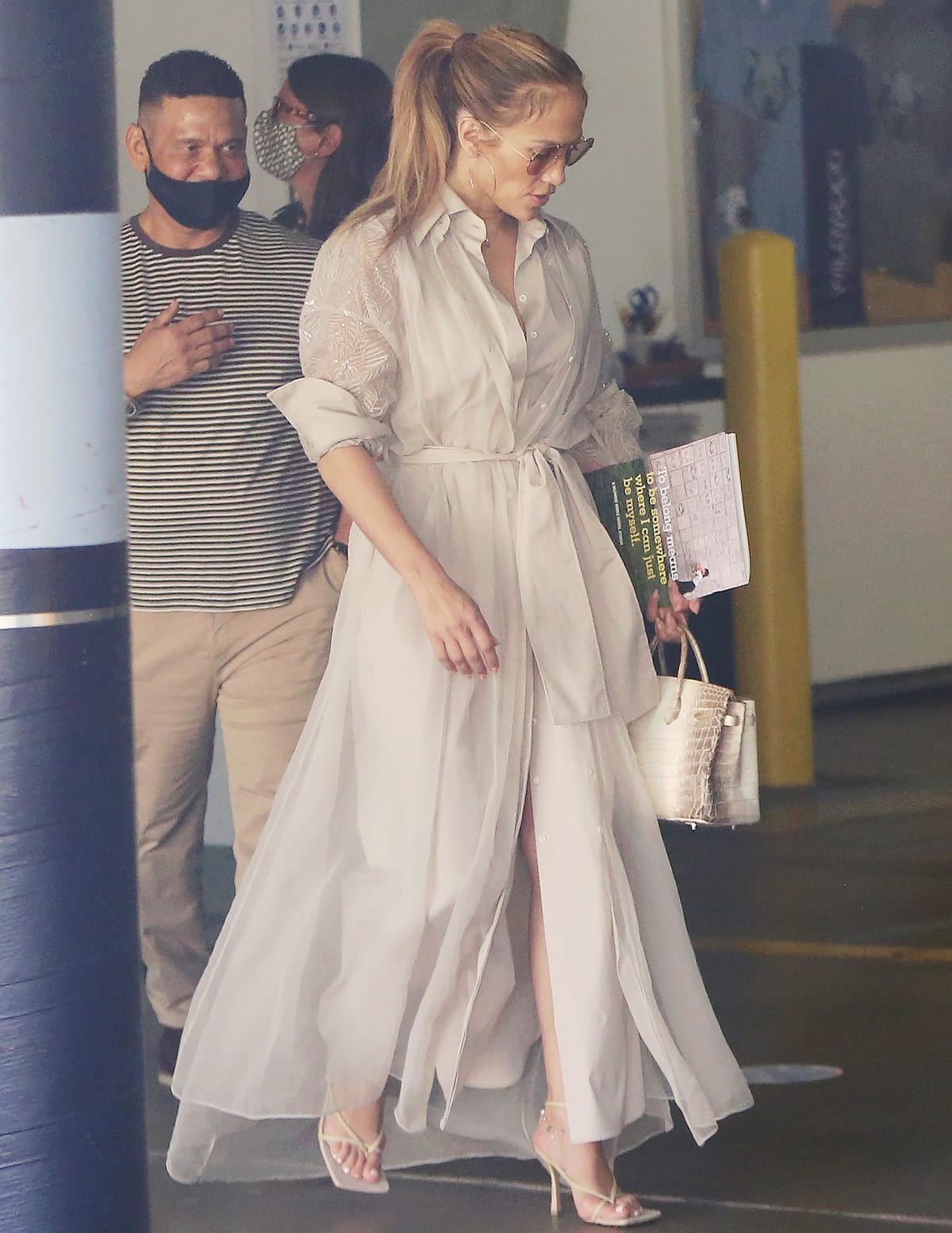 Jennifer Lopez wore a semi-sheer beige Brunello Cucinelli dress and Bottega Veneta Dream sandals for her visit to Windward School in Los Angeles on June 4, 2021 (Credit: Mega / WENN)
"She's crazy about Ben," yet another source revealed to E! about their relationship.
"He spoils her with love and is very witty and charming. He's a man's man, and she finds him so attractive and strong. She's in it for the long term and sees her future with him."
We'd never met a Giuseppe Zanotti shoe we didn't like, but the pair we spotted on Jennifer Lopez in March 2014 changed that.
Jennifer Lopez wears her hair down as she leaves the Power 106 FM studios in Los Angeles on March 5, 2014 (Credit: WENN)
JLo wore her Zanotti pair when she stopped by the Power 106 studios in LA to promote her latest single, "I Luh Ya Papi."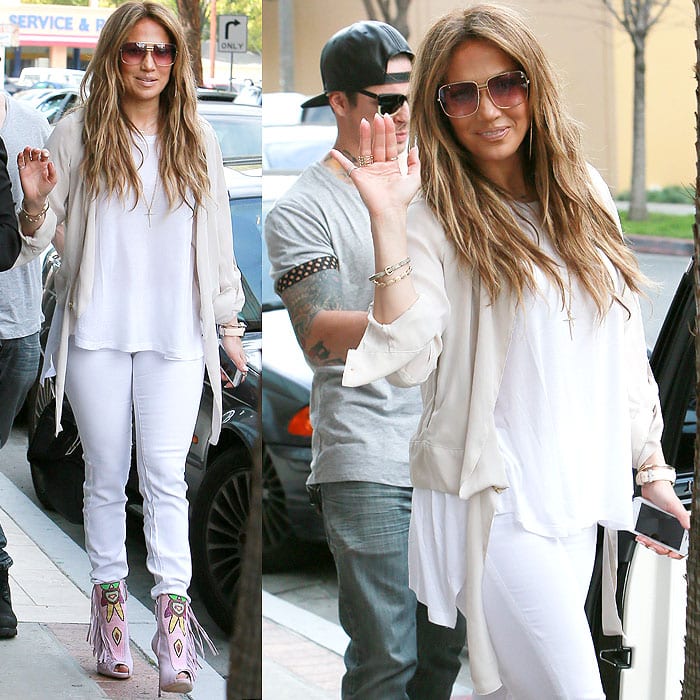 Jennifer Lopez waves to the paparazzi in an all-white ensemble with pink beaded booties (Credit: WENN)
She was comfy-casual for her radio appearance in a pale beige chiffon zip jacket, a loose white tee, and white skinny jeans.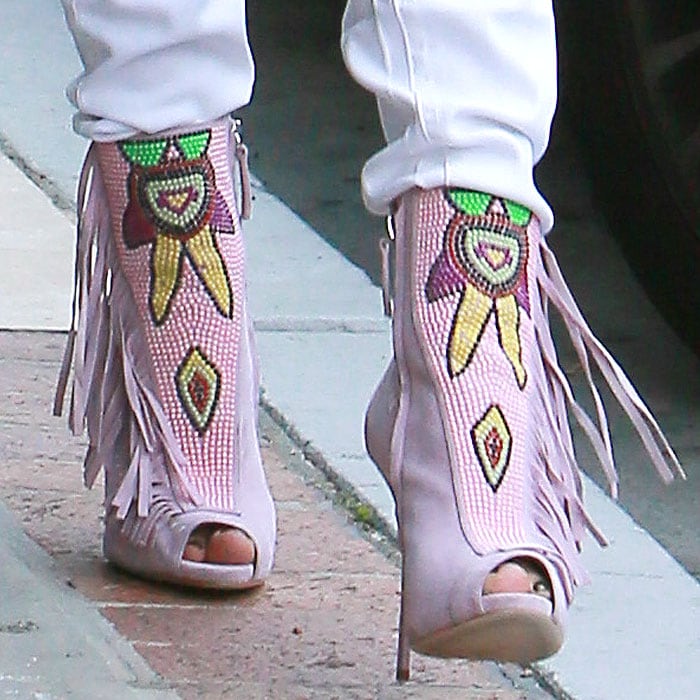 Jennifer Lopez's feet in beaded pink suede Giuseppe Zanotti booties (Credit: WENN)
The Out of Sight actress diva-ed it up with pink oversized sunglasses and the pink Giuseppe Zanotti heels in question.
They're made of pink suede, fringed at the sides, and covered in a rhinestone-beaded Mayan-inspired design.
Jennifer Lopez's feet in Mayan-inspired pink beaded Giuseppe Zanotti open-toe booties (Credit: WENN)
We're not quite sure if it's the shoes themselves or if it's just the way they're styled, so we need your honest opinion.
Do you think Jennifer Lopez's Giuseppe Zanotti pink suede booties with beads and fringes are gorgeous or gaudy?
Giuseppe Zanotti Beaded and Fringed Suede Peep-Toe Booties, $1,366.05