Can you believe almost 16 years have passed since Lopez and American actor Ben Affleck called off their engagement in early 2004? She turned 50 this year, and Jennifer Lopez is looking more beautiful and radiant these days than ever.
One of the reasons is most likely her positive relationship with former New York Yankee player Alex Rodriguez. As people say, "Women glow differently when they are treated right and loved properly."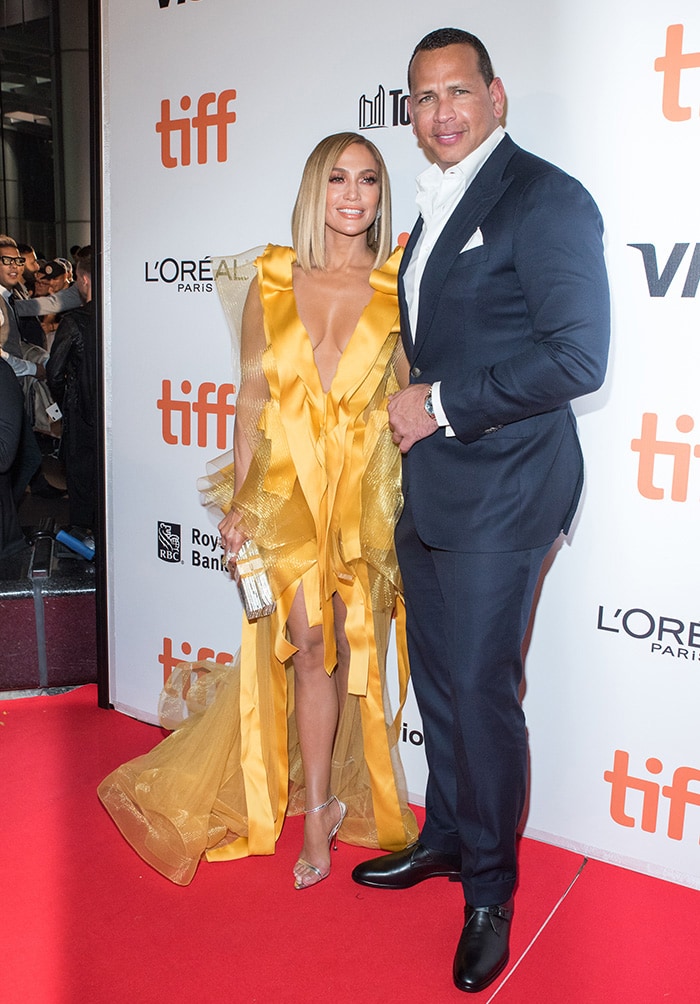 Jennifer Lopez looking radiant alongside Alex Rodriguez at the Hustler premiere during the 44th Toronto International Film Festival in Canada on September 8, 2019
Last week, J.Lo looked stunning as she hit the red carpet at the 29th Annual Gotham Independent Film Awards. She wore a black tulle one-shoulder dress from Ralph & Russo's Fall 2019 Couture collection.
The heavily embellished sheer number features floral lace appliques and hand-embroidered metallic gold crystals, beads, and devoré ostrich feathers.
Jennifer Lopez is hot in a Ralph & Russo embellished dress at the 2019 Gotham Independent Film Awards in New York City on December 2, 2019
For her accessories, she wore Yeprem diamond earrings, a diamond bracelet, and several rings, including her stunning 12- to 20-carat emerald-cut engagement ring. She showed off her feet in Jimmy Choo platform heels in black velvet material.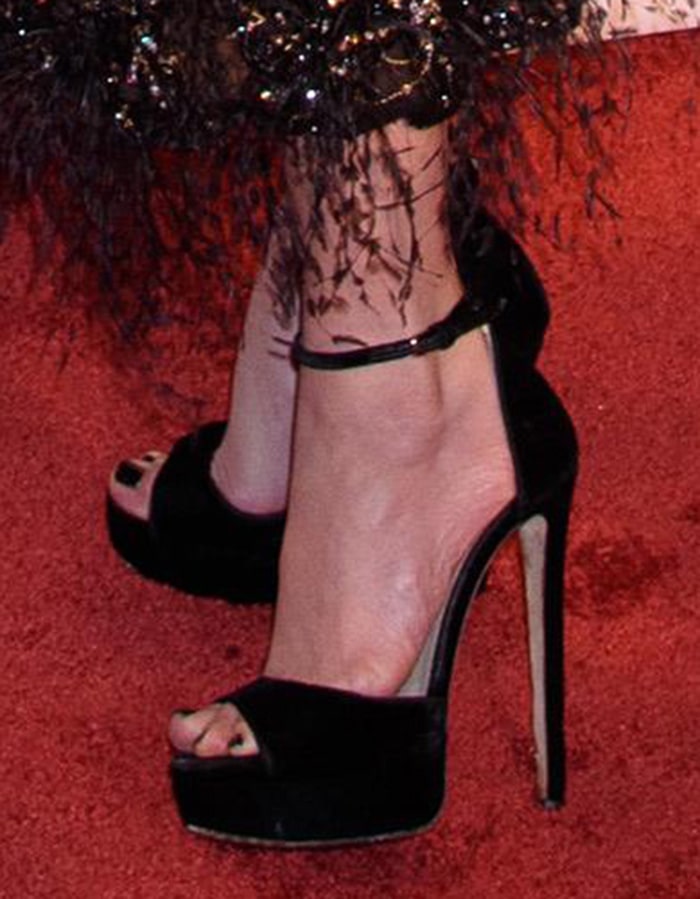 Jennifer Lopez slips her sexy feet into a pair of Jimmy Choo heels
Prior to their engagement, Jennifer Lopez has had some of the most high-profile relationships in Hollywood. Her highly publicized relationship with Ben Affleck was arguably the most controversial one.
The birth of Bennifer
Before Brangelina, Bey-Z, and Kimye, there was the original Bennifer, which were once the ultimate power couple in Hollywood.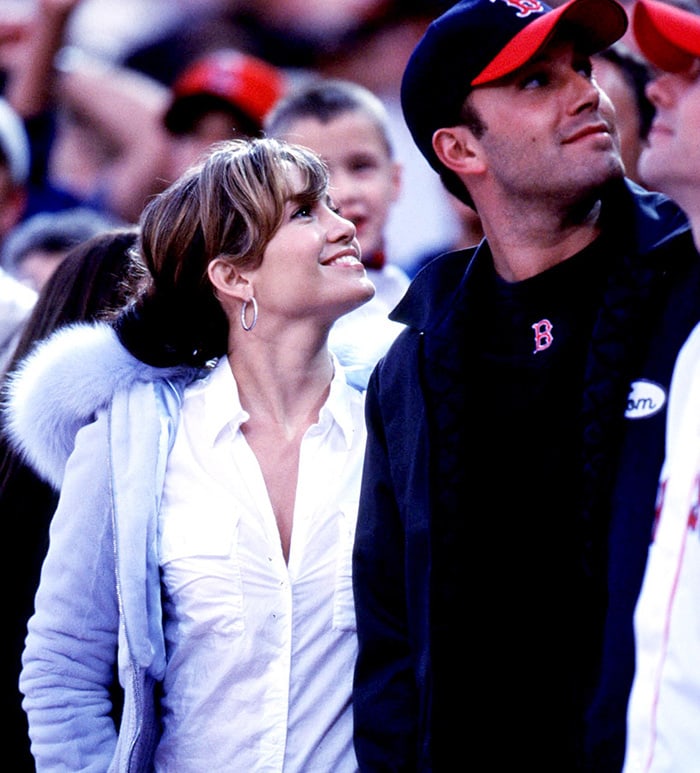 Jennifer Lopez and Ben Affleck attend a Boston Red Sox baseball game in Los Angeles on April 1, 2003
Ben Affleck and Jennifer Lopez developed a relationship while filming Gigli, a really bad romantic comedy film, back in 2002. And since then, their dating life became the subject of many tabloids.
They were the first celebrity couple to have a portmanteau name, given by the obsessed media.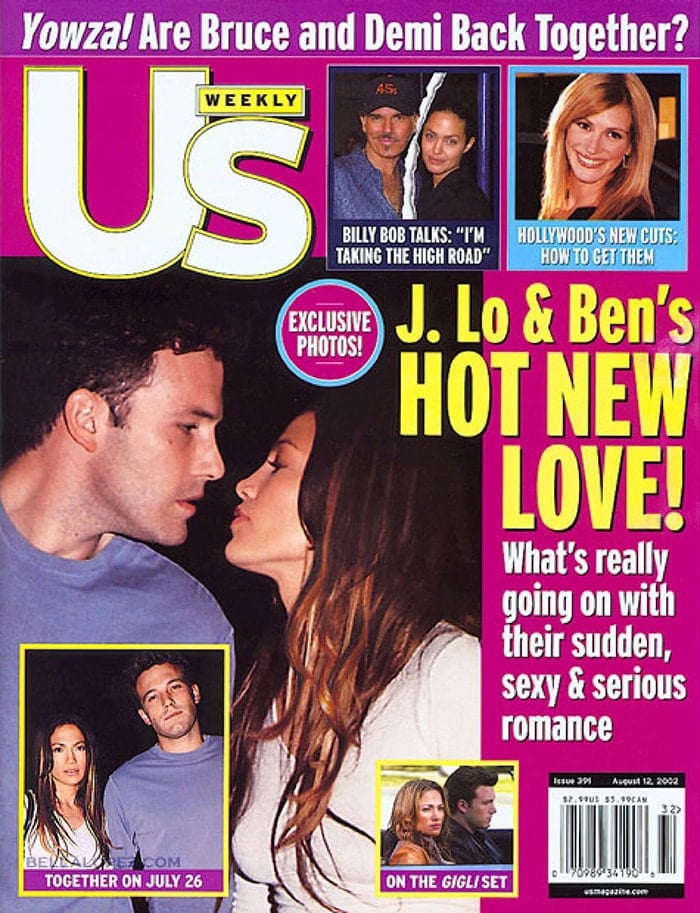 Jennifer Lopez and Ben Affleck on the front cover of US Weekly August 2002 issue
In November 2002, the couple became engaged after Ben popped the question with a $1.2 million, 6.1-carat pink diamond ring. Lopez now has a collection of five engagement rings!
The media frenzy prompted Bennifer's wedding postponement
They had planned to tie the knot in September 2003 at a Santa Barbara estate in front of 400 guests, but they postponed it just days beforehand due to "excessive media attention."
In a joint statement released by Lopez's spokesman Dan Klores via CBS News, the couple said: "Due to the excessive media attention surrounding our wedding, we have decided to postpone the date. When we found ourselves seriously contemplating hiring three separate 'decoy brides' at three different locations, we realized that something was awry. We began to feel that the spirit of what should have been the happiest day of our lives could be compromised. We felt what should have been a joyful and sacred day could be spoiled for us, our families and our friends."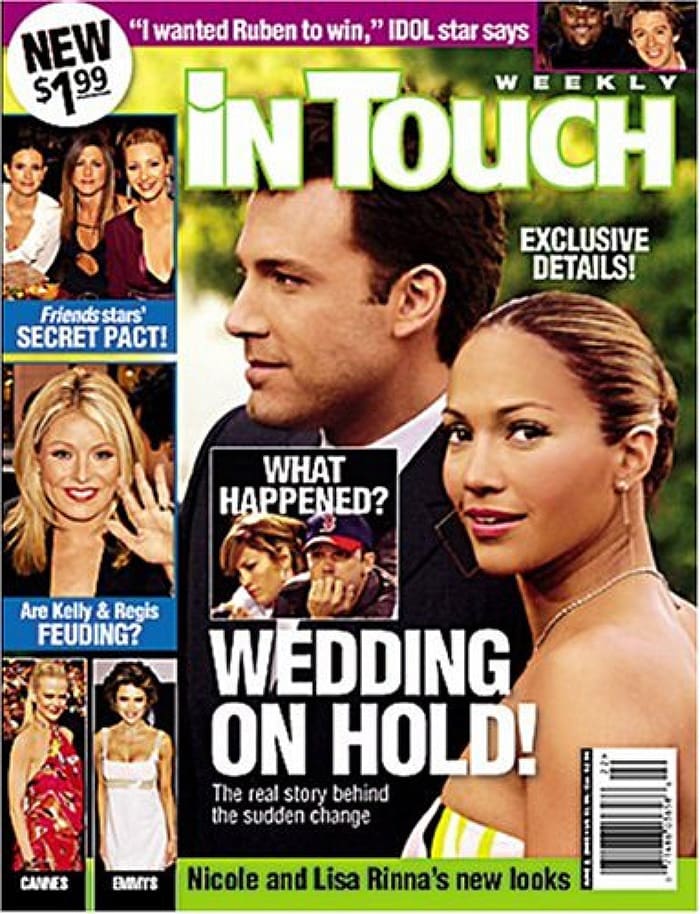 Ben Affleck and Jennifer Lopez made it to the front cover of In Touch Weekly November 2004 issue after postponing their wedding
Bennifer had different lifestyles
The delay ended up to cancellation. Bennifer broke up in January 2004, ending their 18-month relationship. Little has been said about their breakup, but having different lifestyles was reportedly one of the reasons.
Ben is outgoing and struggles with alcoholism, substance abuse, and gambling, while Jennifer is a focused career woman and has a clean lifestyle. "It was hard to merge their two lifestyles," a mutual friend said to People.
Ben Affleck in Brentwood, California on May 5, 2018, three months before checking into rehab for the third time
Bennifer's career plummeted
Another reason was their suffering careers. In a 2015 conversation with HuffPost Live, J.Lo reflected that the whole Gigli era was the "worst, lowest point" in her life.
"It was a very badly reviewed film. I was in a high-profile relationship at the time that fell apart in a really bad way, and so the kind of mix of those two things and the tabloid press had just come into existence at the time, so I was like a poster child for that moment. I was in the tabloids every other week about how my life was falling apart. It was a tough time," she said.
Jennifer Lopez and Ben Affleck in Kevin Smith's Jersey Girl
Ben, on the other hand, indirectly blamed J.Lo for his career-low in an appearance on Bill Simmons' Any Given Wednesday in 2016.
"If you went by what people said, I wasn't cool and I wasn't talented in the public consciousness at that time," he told Bill. "I had broken up with Jennifer Lopez and had three or four movies in a row that bombed," he added.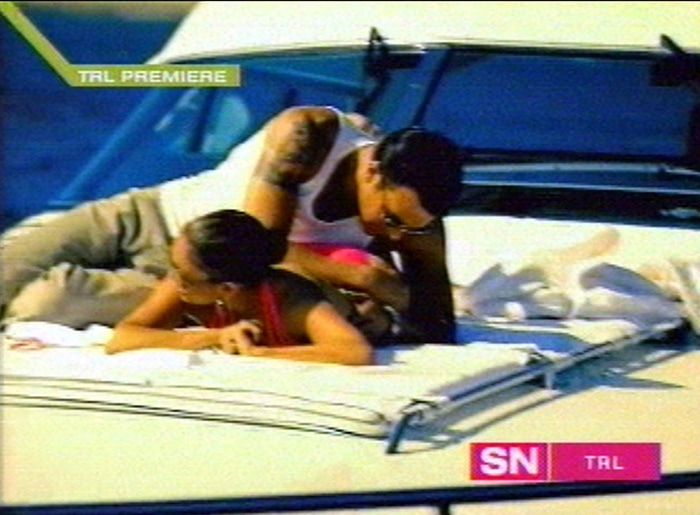 Ben Affleck appears on Jennifer Lopez's Jenny from the Block music video
J.Lo revealed in an interview for the December 2017 issue of Vanity Fair that she was eviscerated about the press reviews on the box office flop, Gigli, and that it took her two years to move on from their tabloid-crazed relationship.
"I lost my sense of self, questioned if I belonged in this business, thought maybe I did suck at everything. And my relationship [with Affleck] self-destructed in front of the entire world. It was a two-year thing for me until I picked myself up again."
Ben got cold feet
With the media's obsession with their relationship, their different lifestyles, and their plummeting careers, Ben got cold feet. A friend of Ben told People: "As the [wedding] date got closer, reality set in that this may not be the person Ben wants to spend the rest of this life with. He started getting scared… What's worse—marrying someone you don't want to marry of calling off the wedding before it happens?"
Months after their wedding was postponed, the source said "Jennifer gave [Ben] ultimatums. He never followed through. She finally realized they were never going to get married."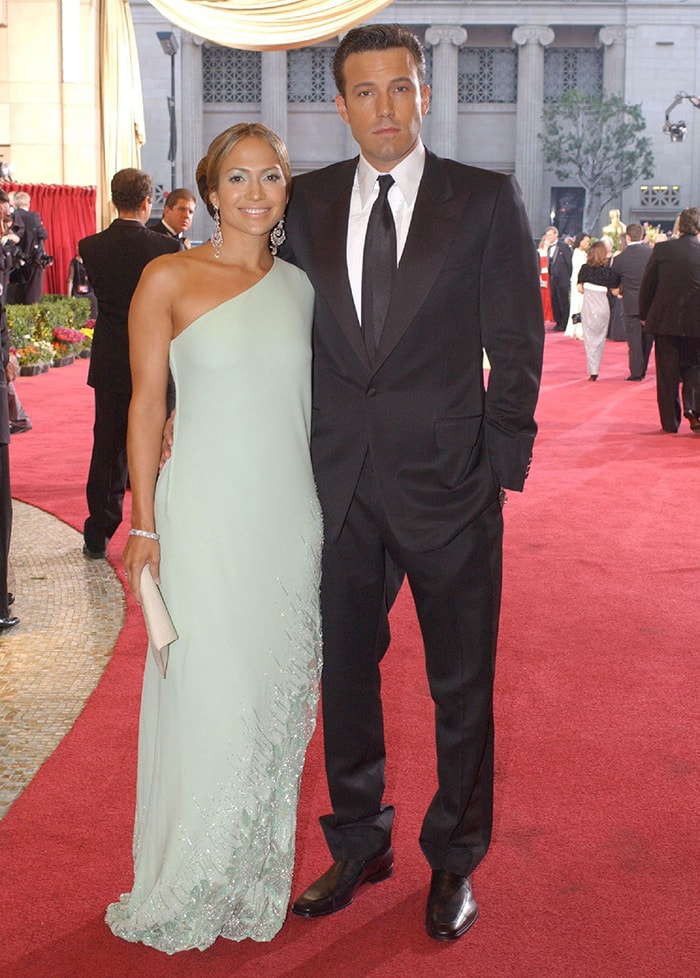 Jennifer Lopez and Ben Affleck at the 75th Anniversary Academy Awards in Hollywood on March 23, 2003
In an interview for the February 2019 issue of Harper's Bazaar, J.Lo admitted that her past relationships failed because of her.
Taking responsibility for her romances, J.Lo said, "For me, the relationship journey has been very up and down. But it didn't have to do with anybody else but me—it was about me figuring out me. Until you learn to love yourself, you can't completely love [someone else] in a way that is pure and true. Once you do that, you can have relationships that are based on love and respect, that are supportive and nourishing. There's an evolution there that had to happen for me. I feel like I'm in a better place now."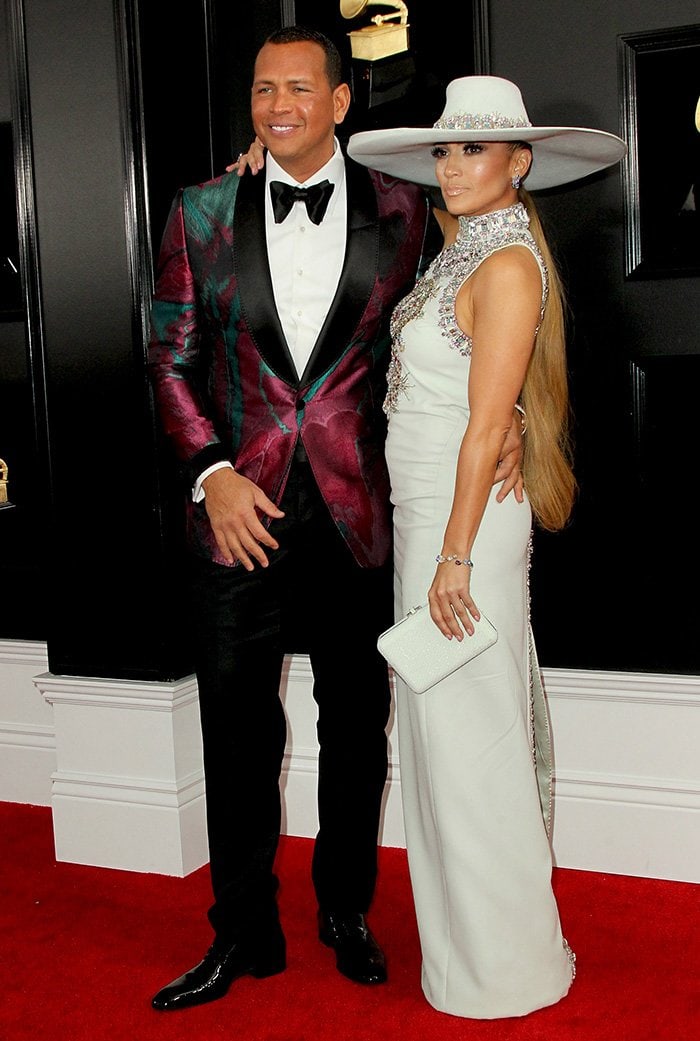 Alex Rodriguez and Jennifer Lopez at the 61st Annual Grammy Awards held at the Staples Center in Los Angeles on February 10, 2019
Her recent outings clearly show that she has finally learned to love herself better. She looks youthful and she's glowing differently.
Prior to hitting the IFP Gotham Awards, Jennifer Lopez promoted Hustlers at The SAG-AFTRA Foundation Robin Williams Center in New York City.
She braved the cold weather in a Saint Laurent Resort 2020 sheer dress that features paisley floral beadwork with crystal embellishments and a black leather belt. She then carried a Coach Tabby shoulder handbag ($350 at Coach) and paired the look with black suede boots.
Jennifer Lopez promotes Hustlers during at SAG AFTRA in New York City on December 2, 2019
On Thursday last week, the new Coach ambassador was spotted leaving NBC Studios in a brown shearling vest from the label's Fall 2019 collection ($1,600 at Coach). She paired it with a Valentino Spring 2020 white pleated floor-length shirt dress ($5,000 at Moda Operandi) that's belted at the waist to accentuate her famous figure.
A Coach 'Willis' handbag ($495 at Coach), Anna-Karin Karlsson's The Art Deco aviator sunglasses, Cadar feather earrings, and mid-calf boots completed her chic winter look.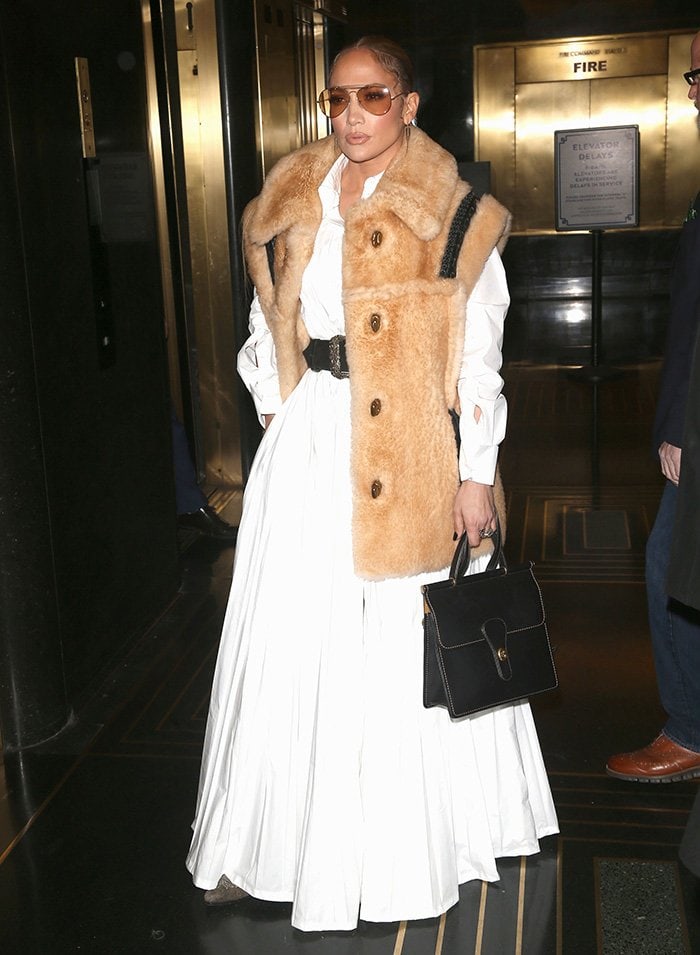 Jennifer Lopez wears a Coach shearling vest while leaving NBC Studios on December 5, 2019
Credit: Instar / Adriana M. Barraza / Jaime Espinoza / AMPAS / Miramax / WENN