In the words of Carrie Bradshaw – "I lost my Choo!"
Jimmy Choo is a brand beloved by royalty and Hollywood royalty. It's one of the biggest names in the world of luxury footwear, breaking boundaries and redefining our idea of understated but glamorous stilettos.
Jimmy Choo operates hundreds of retail stores throughout the world (Credit: Sorbis / Shutterstock)
In 2021, the brand celebrated its 25th year in operation and continues to be one of the recognizable fashion houses. We're taking a deep dive into Jimmy Choo, its founder, and everything you need to know about this legendary British brand.
Who is Jimmy Choo?
Jimmy Choo made his first pair of shoes at the age of 11 – showing his flair for design at a young age. He was born in Malaysia and learned his craft from his father, learning how to make shoes by hand.
Moving to the UK, Choo studied at the iconic London College of Fashion during the 1980s before settling in London. During this time, Jimmy Choo had his first brand, Lucky Shoes, during the 1980s.
Malaysian-Chinese shoe designer Jimmy Choo, pictured in 2008, founded his eponymous footwear label in 1996 (Credit: Alex Jackson / WENN)
After graduating, he quickly launched his eponymous shoe brand to instant success, opening his first store in 1986.
Within two years, Jimmy Choo was already gaining attention at London Fashion Week, accumulating in an eight-page feature in Vogue.
During the 1990s, Jimmy Choo remained a relatively small brand. Their production team was handmaking around 20 pairs of shoes a week. Vogue's Tamara Mellon joined the company, establishing Jimmy Choo Ltd, focusing on ready-to-wear shoes.
Like most British brands of the era, what turbocharged Jimmy Choo's success was its connection to the late Princess Diana.
Just before she died in 1997, Diana stepped out to an event at the Royal Albert Hall wearing a pair of Jimmy Choo slingbacks – and the rest is history.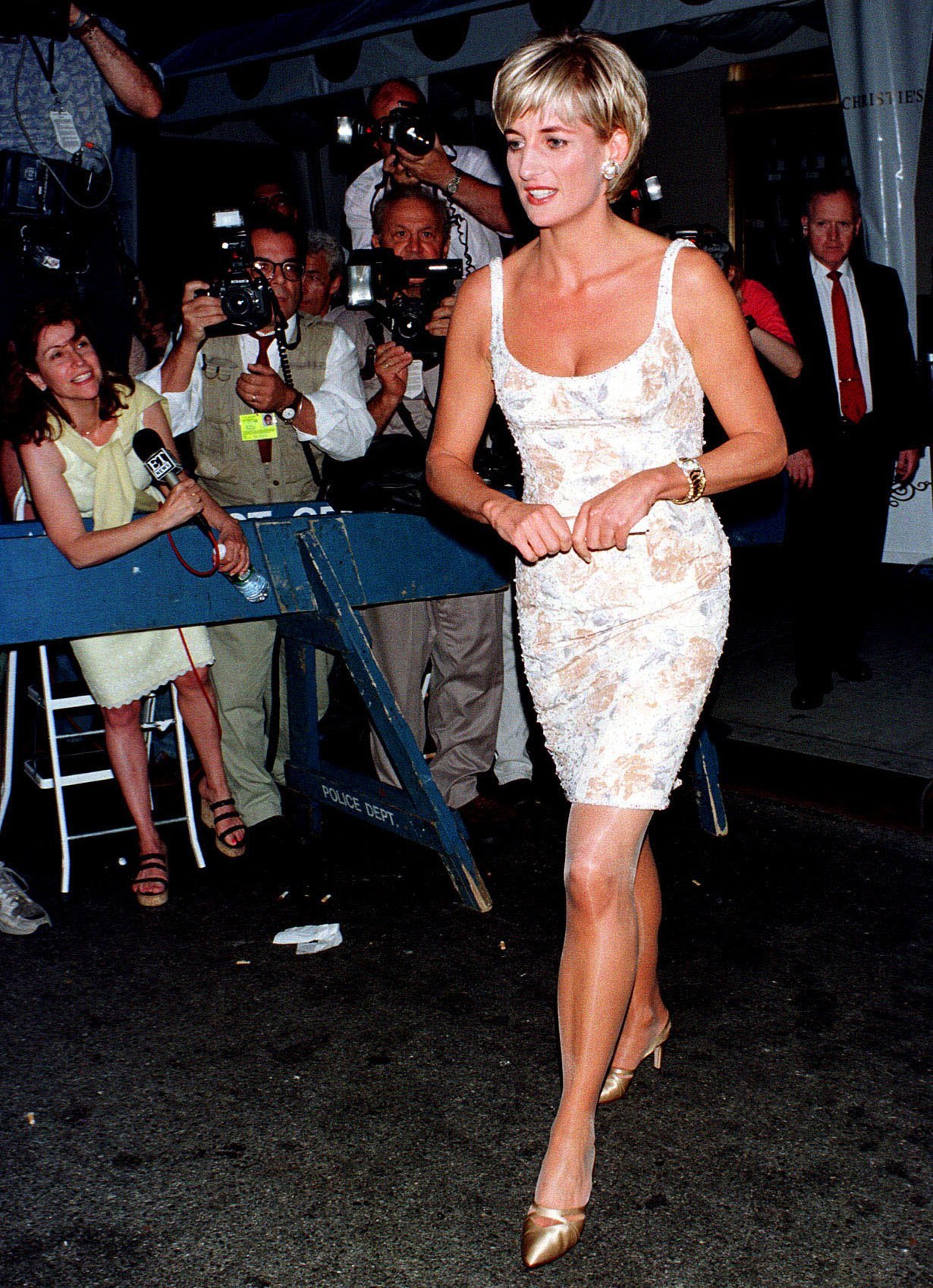 The late Princess Diana wearing Jimmy Choo metallic slingback pumps with Catherine Walker floral body-con dress in June 1997 (Credit: WENN)
The brand quickly became synonymous with its minimalistic styling and streamlined silhouettes.
The brand has always focused on creating luxury footwear with the highest craftsmanship since its humble beginnings.
Jimmy Choo describes its demographic as a "sophisticated clientele." Their aesthetic focuses on a "sexy cut, fashionable design, and exceptional Italian craftsmanship."
By the end of the '90s, Jimmy Choo had established itself as the 'it' footwear brand of the decade. Their strong and glamorous shoes with a towering stiletto began to appear everywhere, from red carpets to celebrity events.
The growth of Jimmy Choo
Within a few years, Jimmy Choo's shoes became among the most coveted in the world.
It entered the pop culture world after appearing in Sex and the City, immortalized when Carrie Bradshaw uttered the words, "I lost my Choo!".
With the Bradshaw stamp of approval, the shoes broke into the mainstream, becoming one of the first shoe brands to begin to dominate red carpet events.
Cate Blanchett was the first major celebrity to wear Jimmy Choo on the red carpet when she was nominated for the Best Actress Oscar in 1999.
Since that faithful award show, we've paid as much attention to what celebrities wear on their feet as the dresses they wear. Celebs spotted in Jimmy Choo include Beyonce, Victoria Beckham, Scarlett Johansson, and Jennifer Lopez.
Beyonce, Victoria Beckham, Scarlett Johansson, and Jennifer Lopez are just some of the many celebrity fans of Jimmy Choo (Credit: Adriana M. Barraza / Avalon / Mega / WENN)
Choo sold his 50% share in Jimmy Choo Ltd in 2001 for $30 million, allowing him to turn his attention to the couture line.
This move allowed the designer to return to his roots, producing a small number of handmade luxury shoes. 2002 saw Jimmy Choo being awarded an OBE (Order of the British Empire) for his service to the fashion industry.
The label has expanded into more than just a shoe brand. You can find everything from accessories to small leather goods, sunglasses, and perfumes carrying the Jimmy Choo name.
Jimmy Choo was awarded 'Designer Brand of the Year' by the British Fashion Council in 2008.
It also received the 'ACE Brand of the Year' from the Accessory Council and the 'Brand of the Year' from Footwear News in New York in 2008.
Choo's original partner, Tamara Mellon, has departed from the company.
Jimmy Choo shoes have now graced the feet of everyone from the Duchess of Cambridge to Michelle Obama.
Jimmy Choo was purchased by the American fashion label Michael Kors, becoming part of the Capri Holdings Limited group in 2017.
Duchess of Cambridge, Kate Middleton, is a fan of Jimmy Choo Romy pumps (Credit: Mega / Lia Toby / Michael Wright / WENN)
The current Creative Director Sandra Choi has been with the brand since its inception as a fashion house in 1996. Choi is also the niece of Jimmy Choo.
How much do Jimmy Choo shoes cost?
As a luxury shoe brand, Jimmy Choo shoes are comparable in price to Christian Louboutin. The French shoe designer is one of their main competitors.
Depending on the style, you can spend anywhere from $400 to $1500+ on a pair of Jimmy Choo shoes. These shoes are an investment, but one that will last a lifetime.
The popular Avril shoes are among the most expensive in the current collection. These crystal-covered heels are priced at an eye-watering $4,700 and are a work of living art.
The crystal-covered Jimmy Choo Avril is one of the brand's most expensive styles, retailing for $4,700
You can expect to spend a few hundred dollars on a basic pair of Jimmy Choo court shoes or a style with minor detailing, like jewels or a sling-back.
If you've got a bigger budget, you can have more fun with your Jimmy Choo shoes at the $900+ price point. You'll experience high-quality leather, expert craftsmanship, and the brand's most unique styles.
Jimmy Choo Annie sandals, $725; Jimmy Choo Misty sandals, $700; and Jimmy Choo Romy pumps, $577
You're in luck if you fall in love with a pair of Jimmy Choo shoes but don't want to splurge for the sticker price.
Unlike other luxury shoe brands, Jimmy Choo regularly has sales. You can save up to 50% or more on seasonal designs throughout the year, either on Jimmy Choo's website or an authorized retailer.
Where are Jimmy Choo's shoes made?
When Jimmy Choo shoes were first released, these handmade shoes were made in London. Jimmy Choo's popularity skyrocketed in the late '90s, so their production was moved from London to Italy.
Although the production has moved, you'll still see "Jimmy Choo London" displayed proudly on the insole logo and the shoe's sole.
Alongside this logo, you'll also find the words "Made in Italy."
As the shoes are made in the craftsmanship capital of the world, you'll occasionally see "Vero Cuoio" on the sole of the shoes, meaning "true leather" in Italian.
Jimmy Choo manufactures its shoes in Italy
Due to the takeover by Michael Kors, Jimmy Choo shoes – along with Versace – will be produced by Alberto Gozzi in the future.
It's a family-owned manufacturer that was established in 1974 in Tuscany.
This change means that Jimmy Choo shoes will continue to be produced and manufactured in Italy.
While other brands are increasingly moving their production out of Europe, Jimmy Choo keeps its production firmly rooted in Europe's leather capital.
The best places to buy Jimmy Choo shoes
As one of the most successful shoe brands in the world, Jimmy Choo has over 200 stores worldwide. The original Jimmy Choo store opened on Motcomb Street in London in 1996.
You can find these shoes in the most prestigious department stores, from Nordstrom to Saks Fifth Avenue. These department stores, including Bergdorf Goodman, also stock Jimmy Choo on their e-commerce stores.
If you're looking for a wide range and selection of Jimmy Choo shoes, your best option is to shop online.
The brand is stocked at all luxury and major fashion e-commerce stores, including Farfetch and Mytheresa. These online stores allow you to access Jimmy Choo's latest pieces.
Their sales are some of the best opportunities to get your hands on a discounted pair of Jimmy Choo shoes. You'll also find the shoes occasionally appearing on Saks OFF 5TH and Nordstrom Rack.
If you're looking to save a pretty penny or have your eyes on a discontinued style, the pre-loved market is another option. You can find an extensive range of vintage and pre-loved Jimmy Choo shoes on websites like Vestiaire Collective and The RealReal.