America may be the land of the free, but it's also home to some of the most recognizable fashion brands.
Whether you're a fan of the preppy New England style or prefer futuristic streetwear, there is a hallmark American brand out there for you.
The rise of American fashion houses and brands is coming to rival the popularity of European designers.
We're covering nine of the most popular and iconic American brands, telling you everything you need to know about their origins and what products are a must-have.
If you're looking to invest in a new closet or start a collection of designer shoes, these are the brands to be looking out for.
1. Coach
Coach is one of America's most famous leather goods brands. The brand launched in 1941 and specializes in accessories, handbags, and ready-to-wear.
Coach's original logo design from 1941 to 2013
You can instantly recognize the brand by its classic 'C' monogram or coach and horse logo. Coach is one of the most famous exports from New York, with the city continuing to inspire their designs and silhouettes.
While Coach is famous for its leather goods, the brand also has an array of accessories, including watches, jewelry, shoes, sunglasses, and perfumes
The brand began with six in-house artisans, under the guidance of Lillian and Miles Cahn. Coach considers itself to be the "Original American House of Leather".
Bonnie Cashin was hired as the brand's first lead designer, transforming Coach from a traditional brand to one that reflected the modern freedom and attitudes of New York in the 1960s.
The Coach flagship store was opened on Madison Avenue, changing from a family-run leather goods company to a fashion house in its own right.
Coach is now under the leadership of Stuart Vevers, their Creative Director, who has a focus on infusing a courageous spirit into the brand.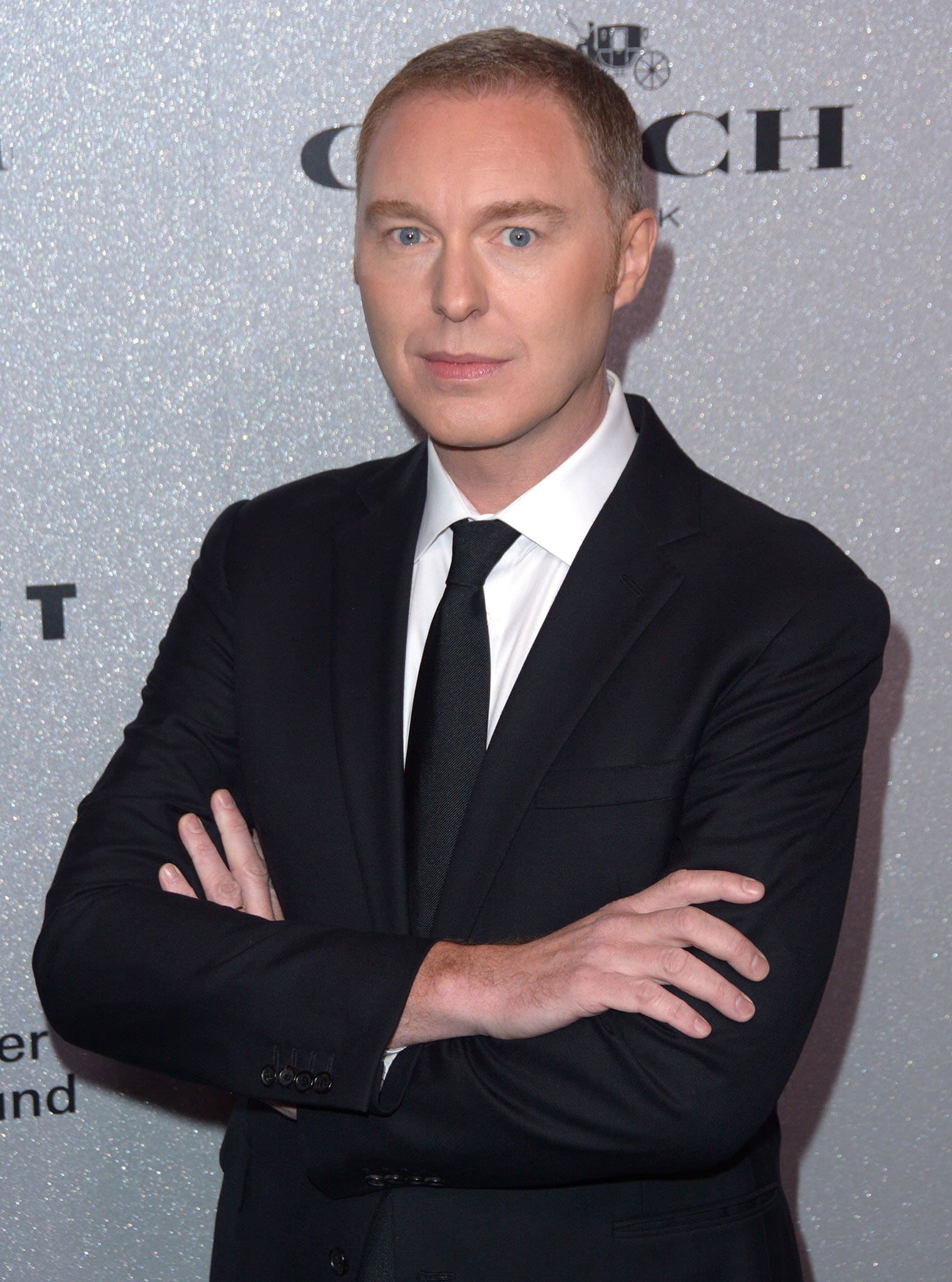 British fashion designer Stuart Vevers has served as Coach's executive creative director since 2013 (Credit: Ivan Nikolov / WENN)
Vevers joined the company in 2013 and was awarded the Accessory Designer of the Year award by the Council of Fashion Designers of America in 2017.
His quirkier work, bringing with it a touch of pop culture, has brought Coach to the attention of the younger generation of up-and-coming fashion followers.
The must-have piece from Coach for 2021 is the iconic Pillow Tabby shoulder bag.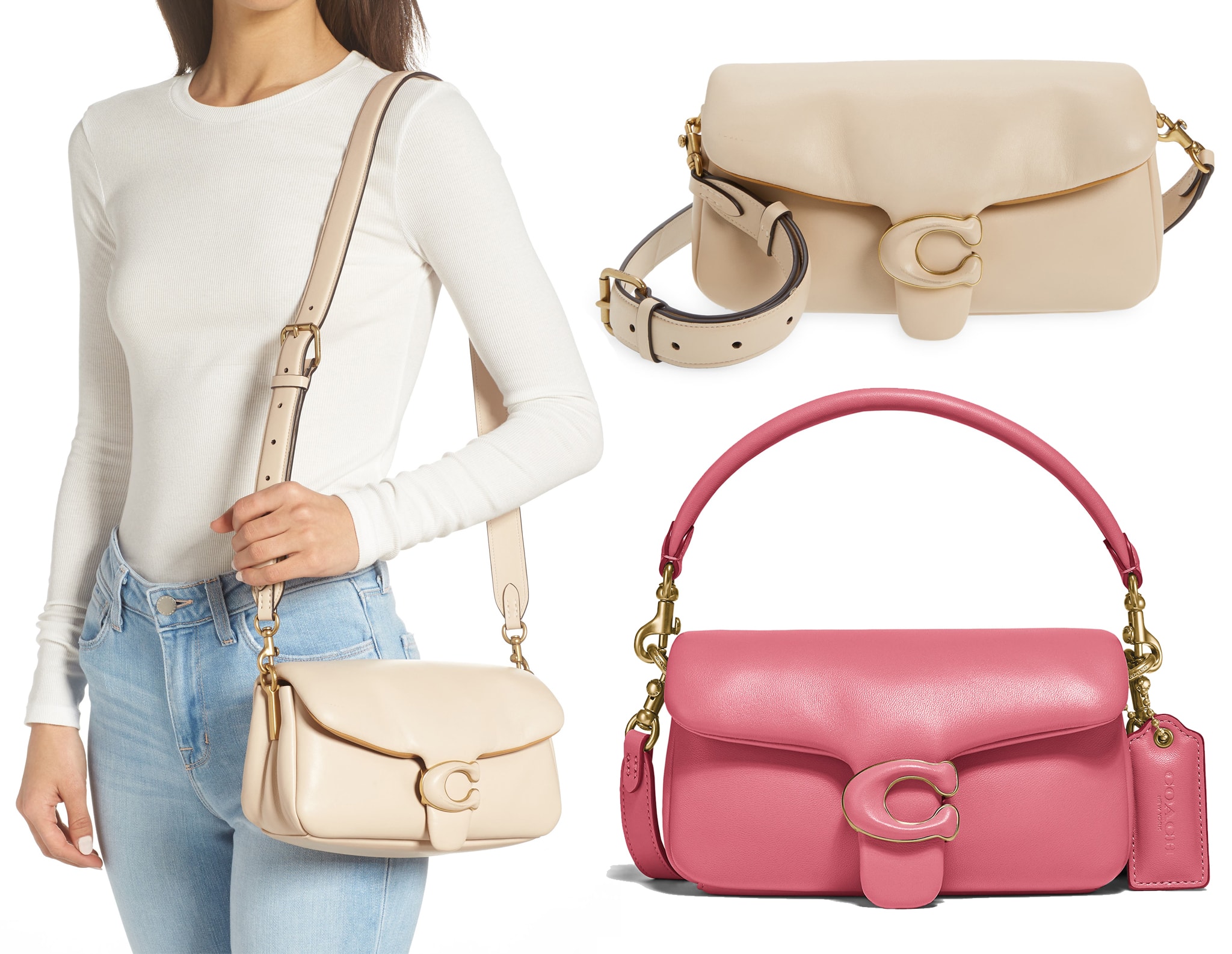 A modern take on classic Coach designs, the Tabby Pillow bag features a padded leather finish, giving it that pillow-like look
2. Calvin Klein
Calvin Klein is the first brand that pops into our heads when we think of sexy athleisure underwear.
This global lifestyle brand has a minimalistic aesthetic, with a love of adding their iconic typographic logo to every waistband and accessory.

First seen in 1968, Calvin Klein's first logo features delicate and light title case wording in Futura Light font
The brand was founded in 1968 by Calvin Klein and Barry Schwartz, his business partner.
Calvin Klein made a name for itself within the industry for its innovative designs and clean, minimal aesthetic, with a neutral color palette.
Calvin Klein is a lifestyle brand that offers not just underwear but also clothes, accessories, and fragrances
Although it's most known for its underwear and lifestyle accessories, Calvin Klein is an extensive lifestyle brand that offers everything from haute couture to perfumery and jewelry.
The fashion house has several diffusion lines, including 'Calvin Klein Jeans', 'Calvin Klein Home', and 'Calvin Klein Underwear'.
Some of the most famous women in the world have acted as brand ambassadors for Calvin Klein, including Kendall Jenner, Margot Robbie, Eva Mendes, and Diane Kruger.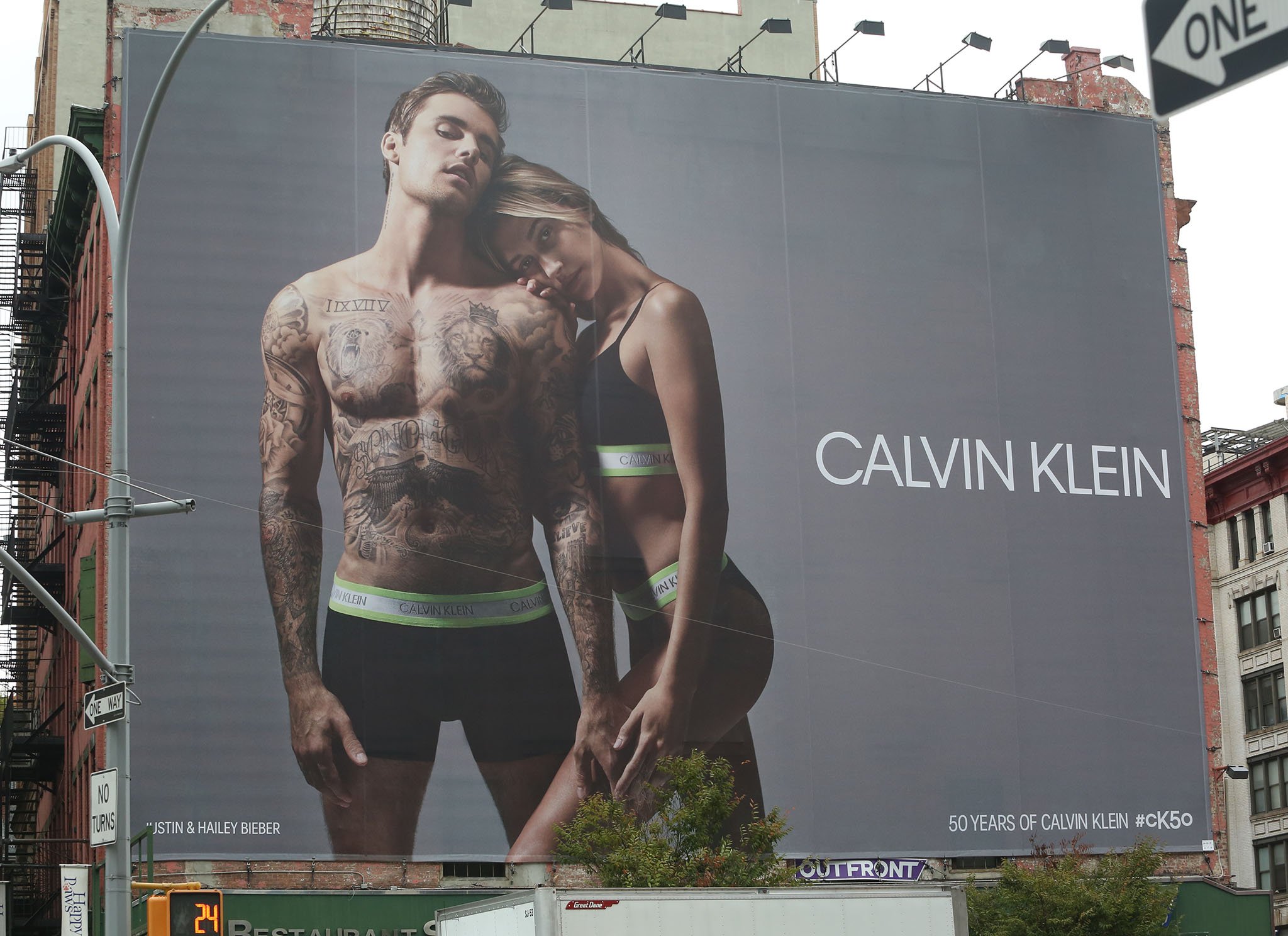 Justin Bieber and Hailey Bieber's Calvin Klein billboard in Soho, New York City (Credit: Instar / WENN)
The brand's #proudinmycalvins campaign in 2020 focused on several LGBTQ+ models, including Jari Jones, a black trans model.
In 2003, Calvin Klein was purchased by the conglomerate, PVH Group. This organization has a history of purchasing iconic American brands, making it one of the largest apparel companies in the world.
Along with Calvin Klein, PVH Group also owns Tommy Hilfiger, another of the most popular American brands.
The must-have pieces from Calvin Klein include the brand's signature underwear and 'Eternity' perfume.
Calvin Klein Eternity Eau de Parfum, $75 – $125 at Amazon
A floral fragrance launched in 1998, designed as a tribute to Calvin Klein's marriage
3. Ralph Lauren
When we think of American fashion brands, Ralph Lauren is always at the top of our list. Lauren has described his brand as being about "living the best life you can and enjoying the fullness of the life around you".

Ralph Lauren is easily identified by the famous polo horseman logo
The brand is considered the pinnacle of American design, curating the idea of 'preppy' fashion and dominating trends for decades.
Whether it was Sex and the City or Friends, Ralph Lauren was one brand that was everywhere on our screen during the 1990s.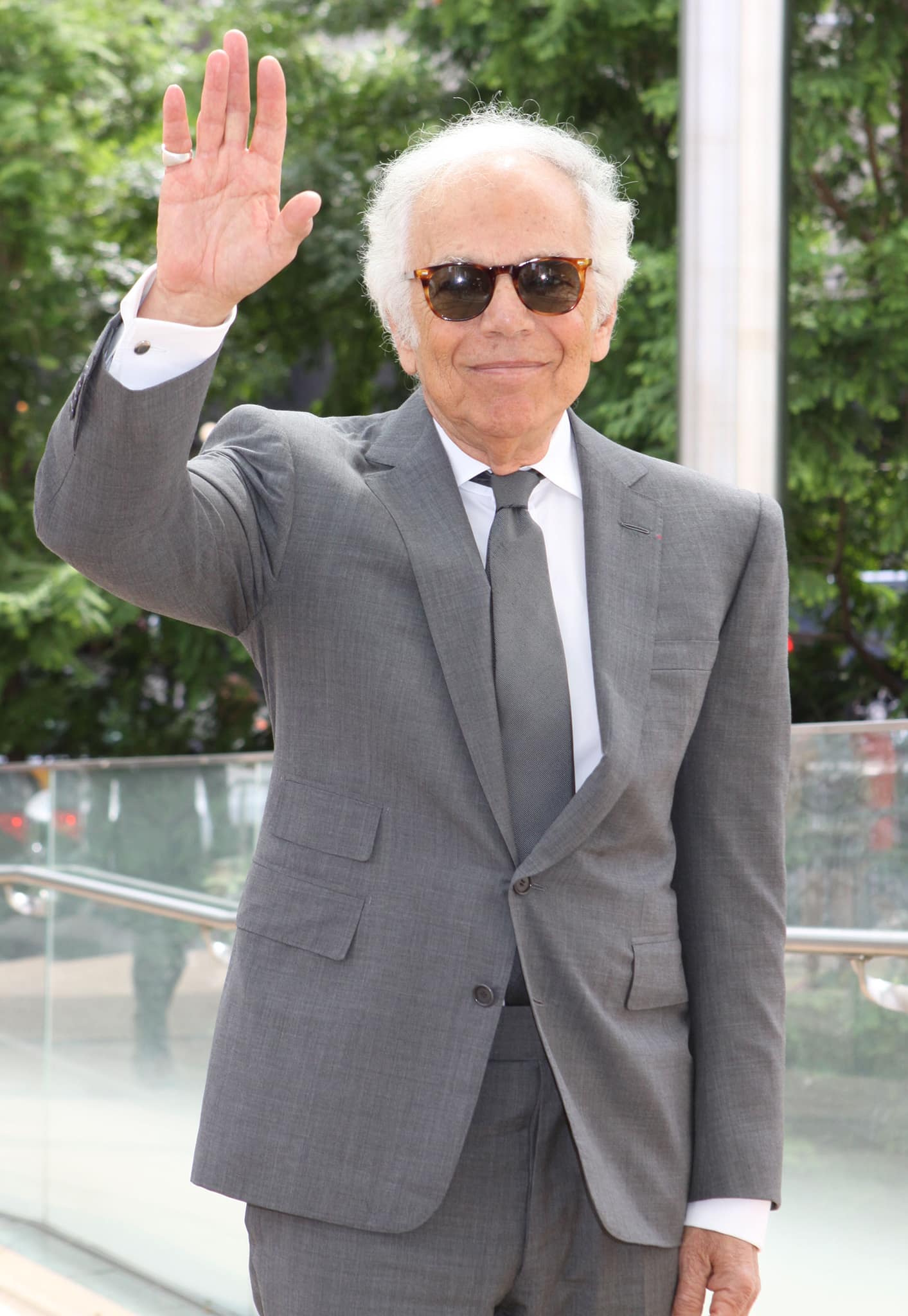 Ralph Lauren pictured at the New York Fashion Week lunch in honor of Carolina Herrera on September 3, 2014 (Credit: Michael Carpenter / WENN)
Ralph Lauren has a heritage and brand recognition that can rival that of even the most popular European brands.
For over five decades, Ralph Lauren has had unparalleled success, both in the United States and further abroad. The fashion house describes their work as "reflecting a distinctive American perspective."
The Ralph Lauren brand includes several diffusion labels, making their pieces available at both a luxury and mid-tier price range.
Camilla Belle, Emma Roberts, Lily Aldridge, and Blake Lively are just among the many celebrities that support Ralph Lauren (Credit: Sheri Determan / Adriana M. Barraza / WENN)
The history of Ralph Lauren is intertwined with the rise of American fashion. The brand was the first to be given its own in-store shop in Bloomingdale's in 1969, where it was sold exclusively until their first flagship was opened in Beverly Hills in 1972.
Throughout the 1970s, Ralph Lauren provided the costumes for two iconic American films – The Great Gatsby and Annie Hall.
Ralph Lauren remains the bright spark in the institution of American fashion, setting new standards every season and continuing to curate a loyal following amongst celebrities and influencers alike.
The must-have pieces from Ralph Lauren include their classic polo shirt, iconic dresses, cashmere sweaters, and Ralph Lauren bear jumper.
Ralph Lauren's must-haves include the classic polo shirt and polo dress, the brand's cable-knit cashmere sweater, and Polo bear jumper
4. Tom Ford
Tom Ford got his start at Gucci and Yves Saint Laurent before branching out into his own fashion brand.
American Fashion designer Tom Ford's minimalist wordmark logo
The next time you switch on an award ceremony, you can guarantee at least a few of the nominees will be wearing pieces from this iconic American designer.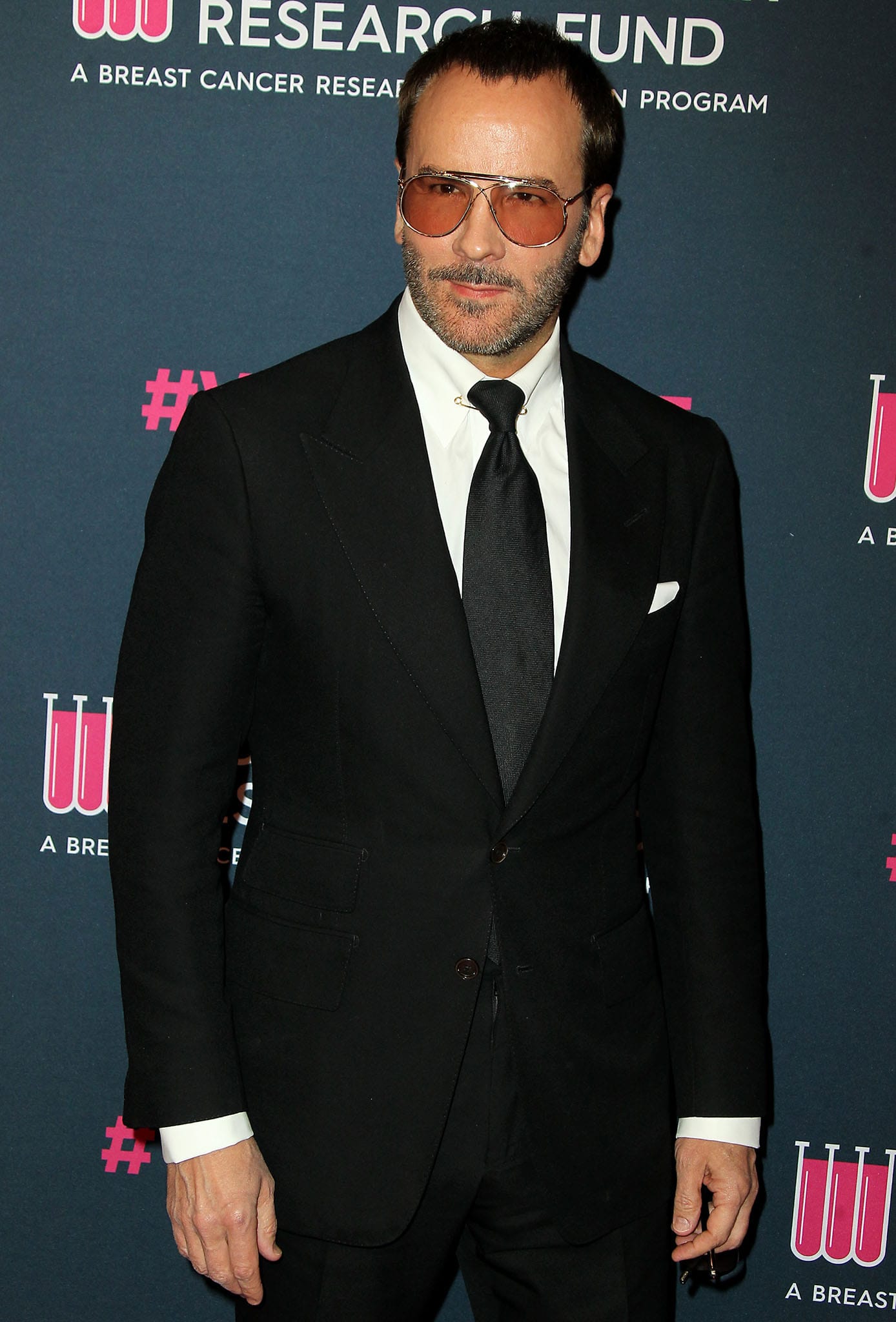 Fashion designer Tom Ford at the Unforgettable Evening event benefiting the Women's Cancer Research Fund on February 27, 2020 (Credit: Adriana M. Barraza / WENN)
The "Tom Ford customer" is an international jet setter, who is cultured and well-traveled.
The Tom Ford woman is described as "intelligent women who know their own style". The brand's aesthetic is sleek tailoring, elevated basics, and timeless styling.
While his fashion brand has dressed everyone from Michelle Obama to Anne Hathaway and Tom Hanks, Tom Ford is also famous for its cosmetics and fragrance line.
The brand was responsible for designing Daniel Craig's iconic suits for almost all of his James Bond films, from Quantum of Solace to No Time to Die.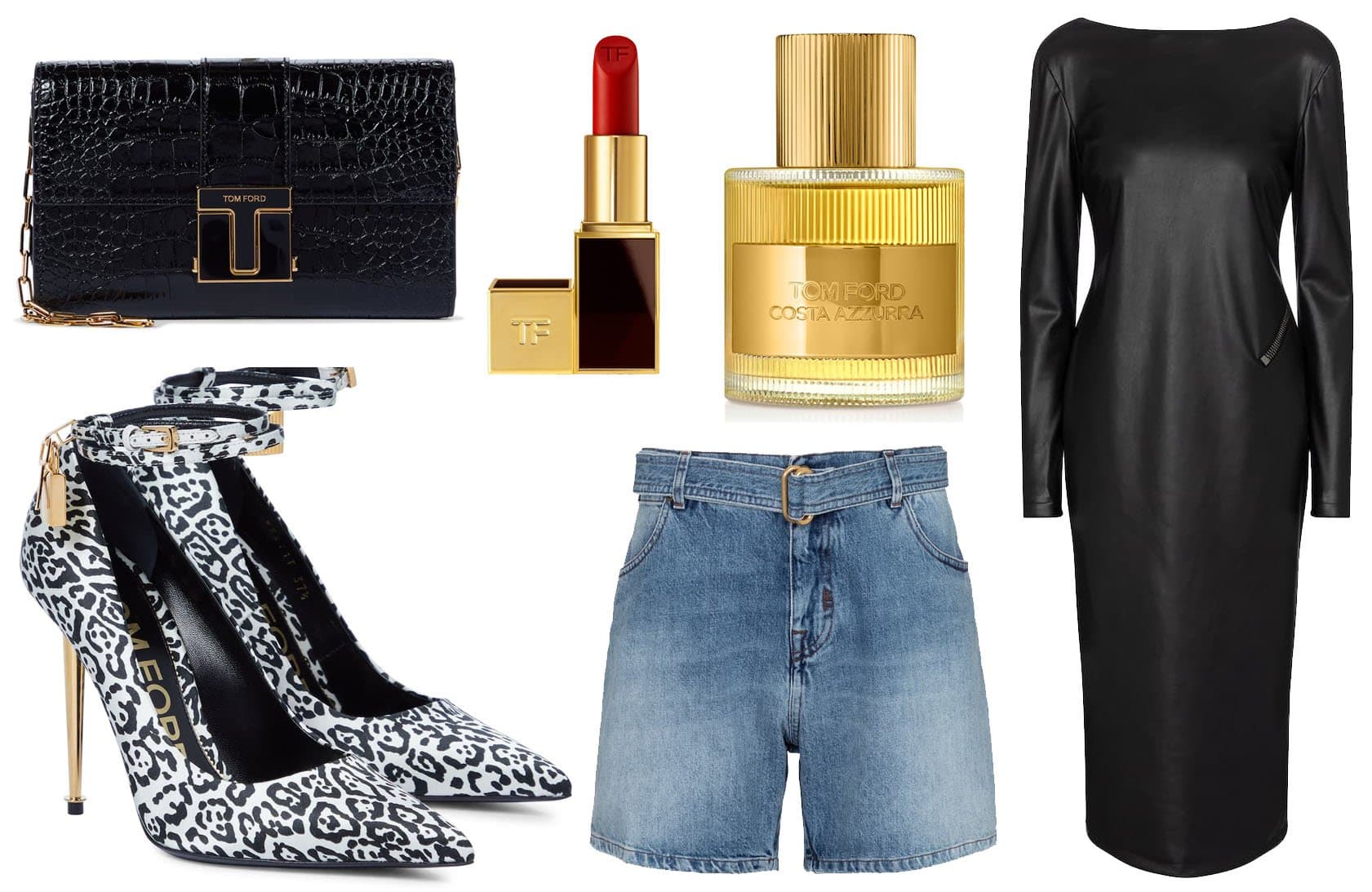 Tom Ford has everything from clothes, shoes, and accessories to makeups and perfumes
Along with designing for his eponymous brand, Tom Ford also serves as the Chairman of the Council of Fashion Designers of America. He wrote and directed 'A Single Man' and 'Nocturnal Animals', which were nominated for Academy Awards.
The must-have Tom Ford pieces include their 'Black Orchid' perfume and classic oversized sunglasses.
Tom Ford Black Orchid Eau de Parfum, $134 – $184 at Nordstrom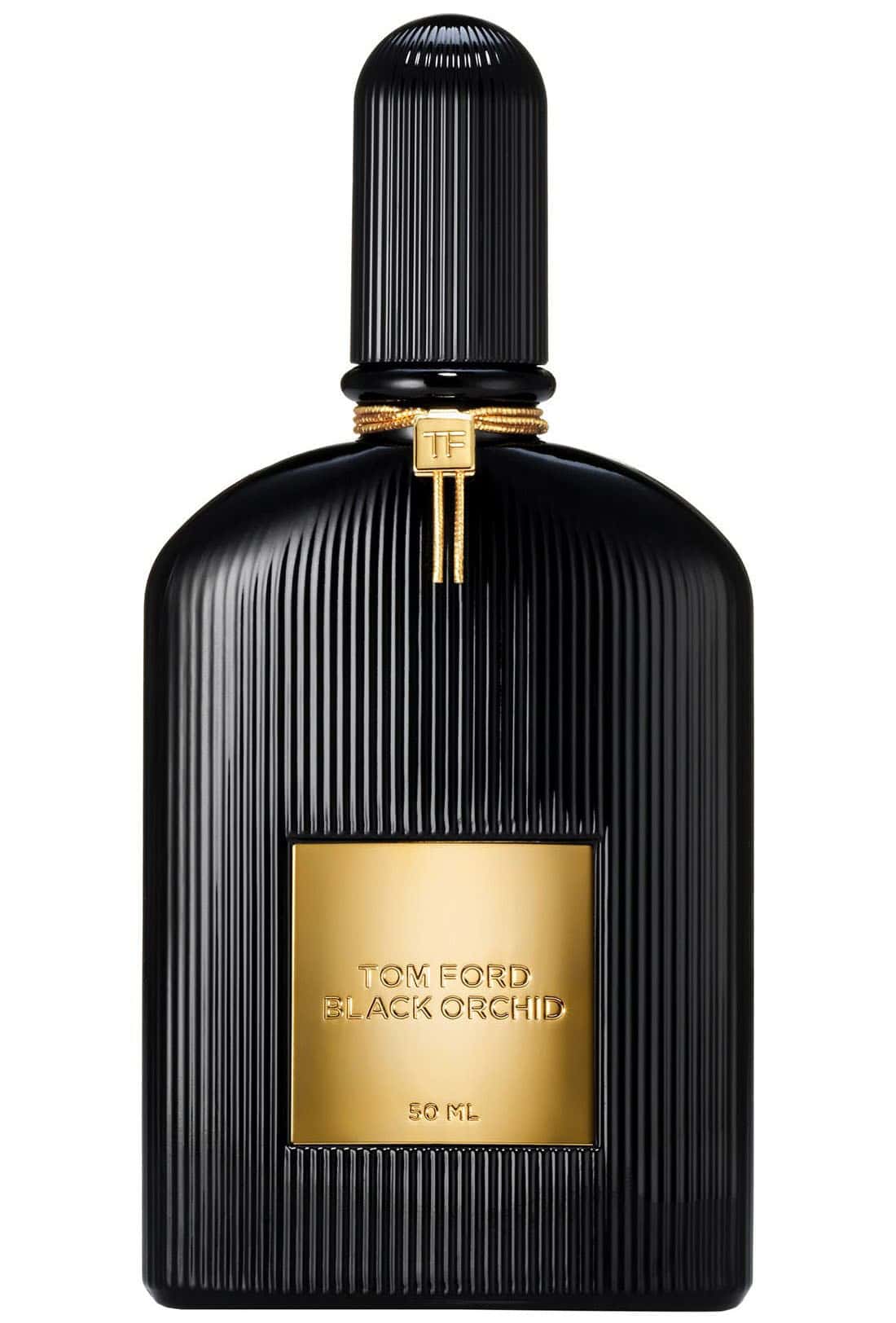 A modern yet timeless sensual scent first released in 2006
5. Marc Jacobs
Marc Jacobs launched his eponymous brand in 1994, before showing his first collection to Perry Ellis in 1992. His brand was launched with two concepts: a love for fashion and a commitment to quality.
Fashion designer Marc Jacobs' logo is a minimalist wordmark done in Engravers Gothic font
He won the CFDA award for New Fashion Talent the same year. His brand has expanded from ready-to-wear into a full lifestyle brand, offering everything from fragrances to cosmetics and accessories.
Marc Jacobs is also famous for his work as Louis Vuitton's Creative Director, where he was responsible for some of the brand's most iconic handbags and accessories.
He worked for the French fashion house from 1997 to 2014, overseeing a golden era for the brand.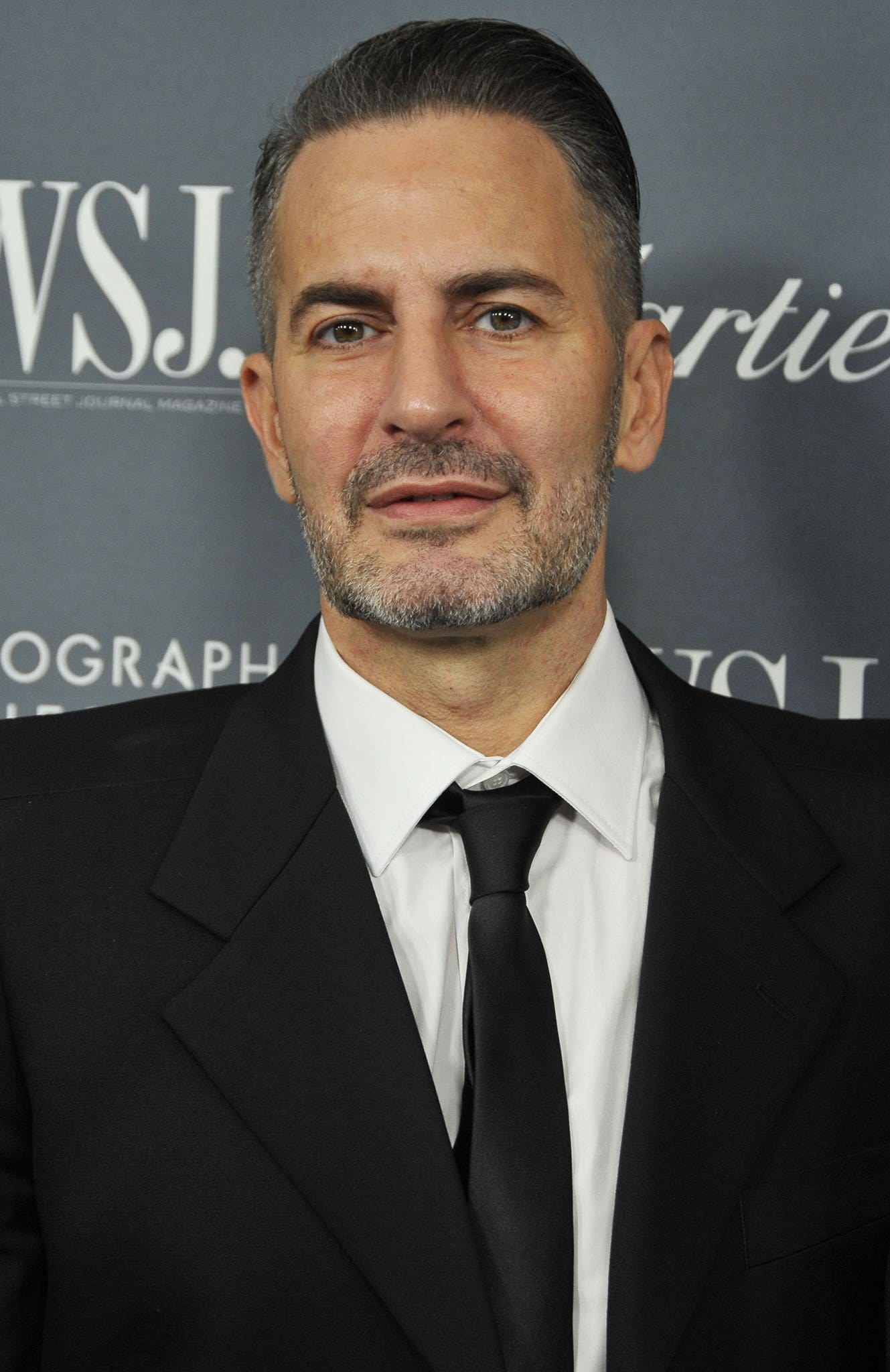 Marc Jacobs at the WSJ Magazine 2017 Innovator Awards on November 2, 2017 (Credit: Patricia Schlein / WENN)
Whether it's the signature Marc Jacobs brand or 'Marc by Marc Jacobs', every American woman owns at least one piece by the famous designer.
While the Marc by Marc Jacobs brand was discontinued in 2015, it remains an icon of American fashion.
The diffusion brand was discontinued to allow Marc Jacobs to focus more on the brand's luxury products and growing international audience.
Originally a sweater brand, Marc Jacobs has expanded its product line with small leather goods, sunglasses, perfume, and body lotion
Marc Jacobs is now owned by the conglomerate LVMH, who describes the brand as "constantly reinventing the code of style". Marc Jacobs described himself as "neither an American nor a French designer: I am just a designer".
The must-have Marc Jacobs pieces are the 'Snapshot' bag, which appeared in Emily in Paris.
Marc Jacobs Snapshot Small Leather Camera Bag, $367 at Mytheresa
A cute and compact crossbody bag that can hold all of your essentials
6. Donna Karan
While she may be most known for her iconic apple-shaped perfumes, Donna Karan began her eponymous brand in the mid-1980s with separates made for mixing and matching.
Donna Karan's effortless yet elegant logo design since 1984
Donna Karan is a brand and designer characterized by its forward-thinking designs, made to fit the needs of the modern woman.
Her first collection in 1984 focused on 'Seven Easy Pieces', which revolutionized the way that women dress. It featured what we would now consider a capsule closet.
Her clothes are designed to take you from day to night with ease, simplifying life without compromising on style and elegance.
Donna Karan at the amfAR 2020 Gala in New York City on February 5, 2020 (Credit: Instar / WENN)
The Donna Karan brand expanded to include DKNY, designed for the next generation, with a focus on New York living. Donna Karan has become a synonymous part of the New York fashion scene.
The must-have Donna Karan pieces include the brand's modern shirts and sleek midi dresses.
Donna Karan is known for its sleek and modern clothing pieces
7. Michael Kors
The first 'designer' handbag that most American women buy is a Michael Kors bag.
Michael Kors' original circular logo with MK monogram inside was introduced in 1981, while the wordmark monochrome logo was first seen in 2006
The 'Michael Kors' brand was launched in 1981, acting as the parent company to several diffusion brands, including MICHAEL Michael Kors, and Michael Kors Men's label.
Along with ready-to-wear and accessories, the brand is famous for its watches, eyewear, and fragrance.
Michael Kors is famous not just for its bags and ready-to-wear clothing but also for its accessories, including watches, belts, and eyewear
Michael Kors describes his brands as being "for women and men who need clothing and accessories that keep up with their fast-paced lives and make them feel like their best selves".
His talents were noticed early on by Dawn Mello, executive VP at Bergdorf Goodman, who encouraged him to launch his brand.
The Michael Kors aesthetic is a mix of athleisure and everyday wear, with effortless glamour.
From 1997 to 2004, Michael Kors was also the Creative Director of Celine, making him one of the few American designers to take over the reins of an iconic European fashion house.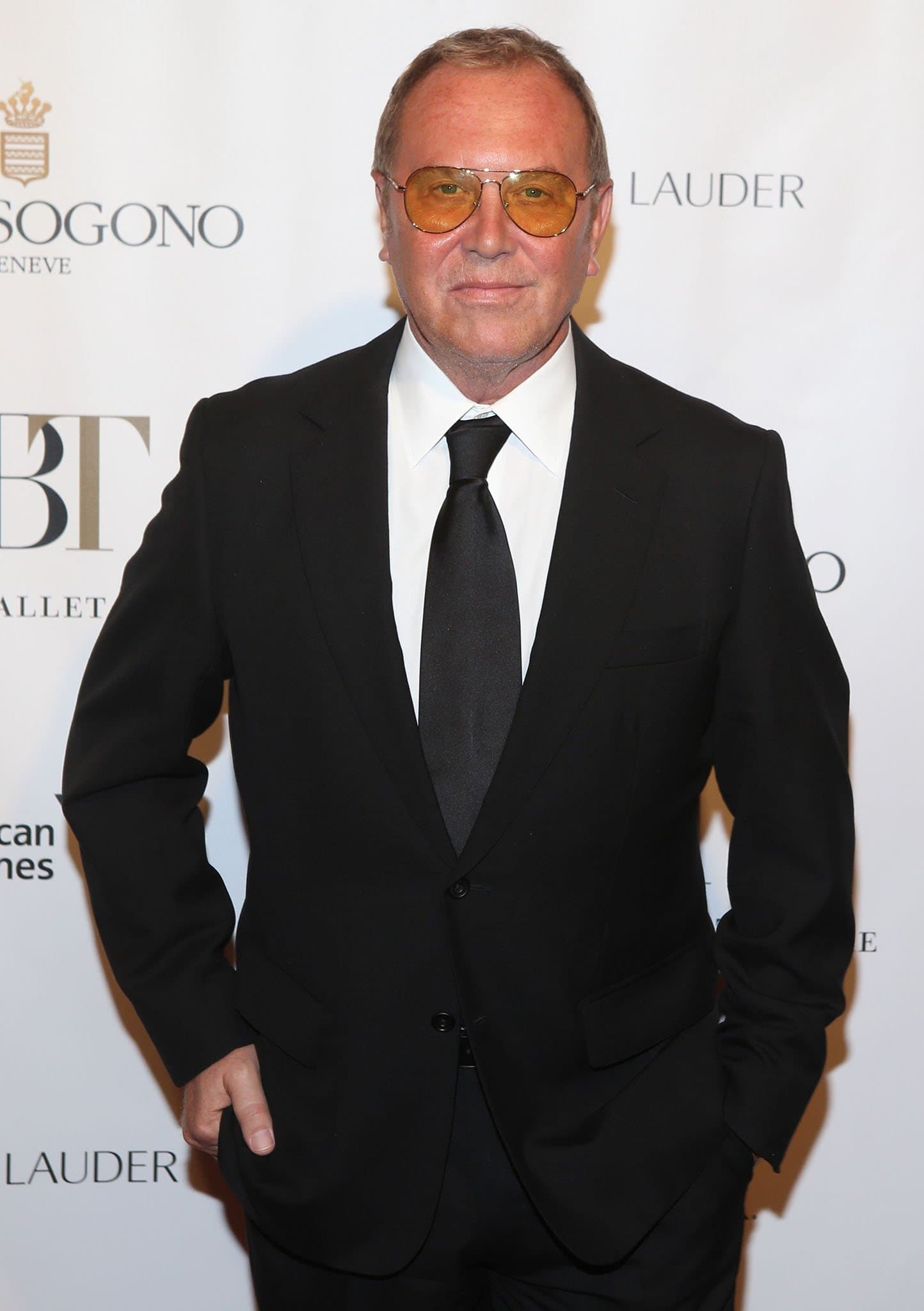 Michael Kors at the American Ballet Theatre Fall Gala on October 18, 2017 (Credit: Derrick Salters / WENN)
The brand has grown into a conglomerate, now known as the 'Capri Holdings Limited', founded by Michael Kors himself. Capri has purchased both Jimmy Choo and Versace, showing clear intentions of taking on LVMH as a luxury fashion conglomerate.
The must-have Michael Kors items include the brand's classic tote bags, crossbody bags, backpacks, and watches.
8. Oscar de la Renta
Oscar de la Renta – nicknamed 'Guru of Glamour' – was the architect behind the feminine silhouettes of the 1960s.
The Santo Domingo-born designer had a heritage unlike any other, learning his craft from Antonio del Castillo and Cristobal Balenciaga. He made a name for himself as one of Jackie Kennedy's go-to couturiers and worked for Balmain and Lavin.
Signature logo design by Oscar de la Renta
No designer has dressed more first ladies of the United States than Oscar de la Renta. Almost every First Lady from Jackie Kennedy onwards has been styled by the designer, with Laura Bush and Nancy Regan being firm fans of the fashion house.
Jill Biden has already stuck her claim on the brand, wearing an Oscar de la Renta dress on election night and on several occasions since. Although Oscar de la Renta passed away in 2014, his brand is still going strong.
The must-have Oscar de la Renta pieces are their feminine dresses, with an elegant silhouette.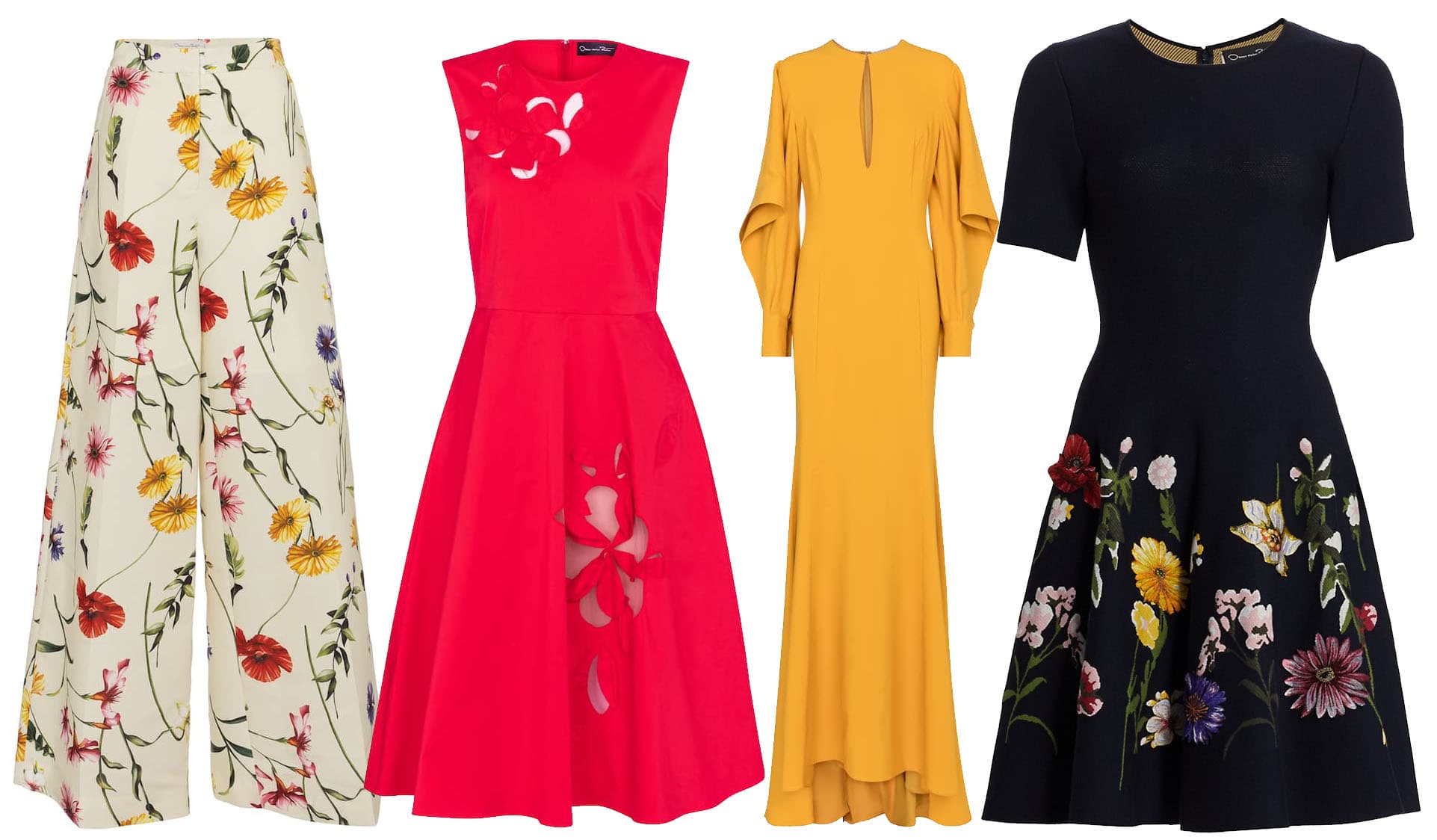 Oscar de la Renta is known for his elegant feminine designs
9. Tory Burch
If you want luxury leather goods without paying a Chanel price tag, you need to look at Tory Burch.
The brand falls within the classic 'preppy' fashion aesthetic and is a go-to for everyone from college students to professional women and stay-at-home moms.
Tory Burch commissioned a design firm to create her logo, inspired by the works of Moroccan and interior designer David Hicks
The brand takes inspiration from some of America's most famous women, including Lee Radziwill, who has a bag named in her honor.
Tory Burch was founded in New York in 2004 as a "distinctly American brand with a global point of view". The fashion brand supports the work of the Tory Burch Foundation, which aims to empower female entrepreneurs.
Tory Burch at the Glamour 2019 Women of the Year Awards on November 11, 2019 (Credit: Instar / WENN)
Tory Burch blends refinement and modern elegance with practicality and timeless style. You can enjoy the look and feel of a luxury brand at an attainable price point.
The brand is famous for its love of color, with Tory Burch launching his first book, 'Tory Burch In Colour', in 2014. The iconic double-T logo takes its inspiration from two of Tory's greatest loves – interiors and travel.
The molded arches come from Moroccan architecture, while the graphics are inspired by David Hicks' interior designs.
The must-have Tory Burch pieces include the Lee Radziwill bag and the 'Miller' sandals.
Tory Burch Miller Sandal, $198 at Farfetch and Zappos
Sophisticated yet comfy, the Miller sandal features a foam-cushioned footbed and a bold logo cutout design
If you're thinking of adding a touch of American fashion to your closet, these are the top nine brands to consider.
Each has played a role in curating the fashion industry by dominating and creating trends that have inspired generations of women.