Of all the products Gucci is famous for, none of them are quite as iconic as their shoes.
The Italian luxury fashion house has been reigning supreme as Italy's finest creator of leather shoes for decades, thanks to their foundation of effortless elegance and understated whimsy.
From refined loafers to playful platforms, find out all about Gucci's shoes and their history below.
How Much Do Gucci Shoes Cost?
With a price range of $300 to $8,000, Gucci shoes can definitely be classed as investment pieces.
Gucci shoes are priced between $300 for simple sandal and slide designs and $8,000 for styles made with exotic animal leather
Simple designs such as sandals and slides start from the $300s, while styles made with exotic skins can cost as much as $8,000.
Gucci's sneakers, loafers, and heels sit somewhere in the middle, ranging from $650 to $1,300, while boots will set you back anywhere from $1,000 to $2,000.
Why Are Gucci Shoes So Expensive?
Gucci's high price point can most simply be traced back to the brand's rich heritage and shrewd business strategy.
Like many other luxury brands, Gucci is synonymous with prestige, wealth, and exclusivity. They have grown an illustrious clientele over the years and created marketing campaigns that instill their luxury status.
Gucci's high price point can be attributed to its exclusive clientele. They have claimed that they charge "as much as people are willing to pay," and Gucci's desirable brand positioning has proved time and time again that their clients are willing to pay a lot.
Olivia Wilde, Gigi Hadid, Jodie Turner-Smith, Anne Hathaway, and Jennifer Lopez are just some of Gucci's illustrious clientele (Credit: Axelle Woussen / BauerGriffin / Janet Mayer / Startraksphoto / Manuele Mangiarotti / IPA / Cover Images / INSTARimages)
Their products are also made with high-quality materials such as premium grade cow leather and exotic skins, including crocodile, python, and ostrich.
Gucci manufactures their goods in Italy (with the exception of their Swiss timepieces), where production costs are higher than in other countries such as China and Vietnam. These factors also contribute to a higher price tag.
Gucci prides itself on its Italian heritage. Their headquarters and factories are located in Prato, Tuscany. This small village is considered Italy's leading area for luxury leather production and is a favorite of other luxury brands.
The History of Gucci
It's important to learn about the history of Gucci to understand the brand's high price points.
Gucci was founded in 1921 by Guccio Gucci in Florence, Italy. The aspiring entrepreneur had previously worked with high-end brands in London, where he meticulously studied what wealthy aristocrats were looking for in fashion pieces and leather goods.
He returned to his home country with the intention of creating an Italian version of upscale English fashion houses.
Gucci was founded by Guccio Gucci in 1921 in Florence, Italy (Credit: History Defined)
The house fused time-honored Italian craftsmanship techniques and high-quality materials with designs inspired by English nobility.
Gucci's signature horsebit detail might be associated with Italian glamor today, but it was originally inspired by the English nobility's love for equestrianism.
Guccio worked hard to build up a prestigious, wealthy clientele for his brand. In addition to working for the Savoy Hotel in London, he also spent time at the Compagnie de Wagons-Lits, a European rail network that allowed him to mingle with high society from all over the continent.
The Horsebit detail, which was originally inspired by the English nobility's love for equestrianism, has become a signature part of Gucci's DNA since 1953
Eventually, the brand began to have impressive celebrity fans, such as Grace Kelly, Elizabeth Taylor, and the Kennedy family. Nowadays, the legacy continues with Hollywood's biggest stars, such as Harry Styles, Rihanna, and Beyonce.
Of all the luxury brands in the world, Gucci has been one of the most successful at retaining a loyal client base. While the desirability of other luxury brands can vary depending on fashion trends, Gucci has remained one of the few brands with a consistent value rating over the past 20 years.
Their new collections often sell out in a matter of days, proving that Gucci still has what it takes to stay relevant.
Gucci Shoe Sizes
Gucci shoe sizes are a standard sizing system used by the Italian luxury fashion brand for its footwear products. Gucci women's shoe sizes are based on the European (EU) sizing system, while shoe sizes for men are based on the UK/AU sizing system.
To convert shoe sizes between different systems, you can use the below shoe size conversion charts. However, always remember that shoe sizes can vary between different styles. It's always a good idea to try on shoes to ensure a good fit.
Gucci Size Conversion Chart – Women's Shoes
Here is a table showing the conversion from women's shoe sizes in the US, UK, EU, Australia, Korea, and Japan to Gucci shoe sizes:
Gucci Size
EU
UK
US
AU
KR
(MM)
JP
(CM)
34
34
1
4
3.5
210
21
34.5
34.5
1.5
4.5
4
215
21.5
35
35
2
5
4.5
220
22
35.5
35.5
2.5
5.5
5
225
22.5
36
36
3
6
5.5
230
23
36.5
36.5
3.5
6.5
6
235
23.5
37
37
4
7
6.5
240
24
37.5
37.5
4.5
7.5
7
245
24.5
38
38
5
8
7.5
250
25
38.5
38.5
5.5
8.5
8
255
25.5
39
39
6
9
8.5
260
26
39.5
39.5
6.5
9.5
9
265
26.5
40
40
7
10
9.5
270
27
40.5
40.5
7.5
10.5
10
275
27.5
41
41
8
11
10.5
280
28
41.5
41.5
8.5
11.5
11
285
28.5
42
42
9
12
11.5
290
29
Gucci Size Conversion Chart – Men's Shoes
Here is a table showing the conversion from men's shoe sizes in the US, UK, EU, Australia, Korea, and Japan to Gucci shoe sizes:
Gucci Size
EU
UK/AU
US
KR
(MM)
JP
(CM)
4
38
4
4.5
230
23
4.5
38.5
4.5
5
235
23.5
5
39
5
5.5
240
24
5.5
39.5
5.5
6
245
24.5
6
40
6
6.5
250
25
6.5
40.5
6.5
7
255
25.5
7
41
7
7.5
260
26
7.5
41.5
7.5
8
265
26.5
8
42
8
8.5
270
27
8.5
42.5
8.5
9
275
27.5
9
43
9
9.5
280
28
9.5
43.5
9.5
10
285
28.5
10
44
10
10.5
290
29
10.5
44.5
10.5
11
295
29.5
11
45
11
11.5
300
30
11.5
45.5
11.5
12
305
30.5
12
46
12
12.5
310
31
12.5
46.5
12.5
13
315
31.5
13
47
13
13.5
320
32
13.5
47.5
13.5
14
325
32.5
14
48
14
14.5
330
33
14.5
48.5
14.5
15
335
33.5
15
49
15
15.5
340
34
15.5
49.5
15.5
16
345
34.5
16
50
16
16.5
350
35
The Most Popular Gucci Shoes
Unsurprisingly, the brand's most iconic shoe is also one of its oldest designs. With their sleek design and signature horsebit accent, the Jordaan loafers have been sartorial essentials since their 1953 debut.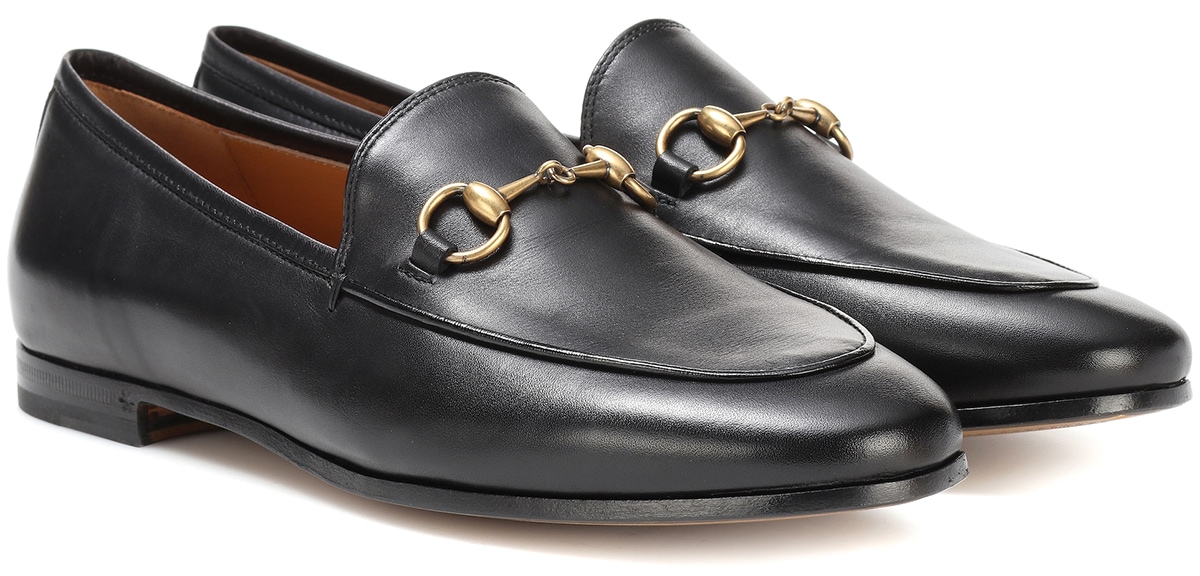 An iconic Gucci design, the Jordaan loafer has been updated with a slimmer silhouette and finer horsebit detail
The design is most coveted in classic black or brown leather but has been reinterpreted in many ways over the decades. Logo-adorned canvas styles have become summer favorites, while eclectic shoppers have enjoyed whimsical versions with velvet, star and bee studs, or floral embroidery.
Gucci's take on the classic white tennis sneakers has become one of the brand's most popular styles in recent years. The design has been given a chic Gucci upgrade with the brand's signature red and green stripes and a matching back.
The House's take on the classic tennis white sneakers, the Ace now comes in a variety of accents, including floral or arrow embroideries
Gucci fans wanting a more eye-catching sneaker can choose Ace sneakers with accents, such as bee, snake, or floral embroidery, or styles with an all-over Gucci logo.
Similar to the Jordaan loafers, the Princetown mules feature a classic almond-toe design and a horsebit detail in a backless package. The style reached peak popularity in the mid-2010s when easy slip-on styles became trendy.
One version, in particular, became a street style sensation—2015's fur-lined re-edition, which was spotted on virtually every influencer and model off duty.

Similar to the Jordaan loafers, the Princetown mules have the signature horsebit detail updated in a slip-on mule silhouette
If you're interested in investing in a pair of Gucci shoes, you can browse their full collection on their official website or head to your nearest luxury department store to see a more curated selection of best sellers.
Scroll down to see celebrities wearing belts, popular bags, dresses, and shoes by Gucci, an Italian fashion and leather goods brand owned by the French company Kering.
Don't miss our guides on spotting fake bags, counterfeit shoes, and knockoff belts.
Questions Regarding Gucci
What is Gucci?
It is an Italian luxury brand of fashion and leather goods.
How to pronounce Gucci
It is often pronounced Gu-ki, but the correct pronunciation is Gu-chi or Goo-chee.
Why is Gucci so expensive?
While a lot of money goes into materials and design, Gucci can up the price on their products to gain an added sheen of prestige and exclusivity. People with money love expressing their wealth by buying luxury products.

In other words, when buying a Gucci product, you're primarily paying for exclusivity, not quality. 
What does Gucci mean?
The brand is named after its founder, Guccio Gucci, an Italian businessman and fashion designer.

He died on January 2, 1953, in West Sussex, England, United Kingdom
Who owns Gucci?
The brand is a subsidiary of Kering, an international luxury group based in Paris that also owns Yves Saint Laurent, Balenciaga, Alexander McQueen, Bottega Veneta, Boucheron and Brioni, Pomellato.
What does Gucci Gang mean?
"Gucci Gang" is a 2017 song with a repetitive structure by American hip hop artist Lil Pump that celebrates unbridled consumerism.

"Gucci Gang" is repeated a total of 53 times in the song.
Who is Gucci Mane?
He is an American rapper from Bessemer, Alabama. While known professionally as Gucci Mane, his real name is Radric Delantic Davis.