If you're looking to step out in platforms, there are a few helpful tips and tricks to make the shoes more comfortable, avoiding a Naomi Campbell moment.
3 Tips for Wearing Platforms: Elevate Your Style with Comfort
When it comes to stepping up your fashion game with platforms, comfort is key.
Here are three essential tips to ensure your platform shoe experience is both stylish and comfortable. From choosing the right platform material to adding cushioning, we've got you covered.
1. Cork Platform Shoes
You want to make sure the platform on the shoes is not too narrow for the sole, as this can make them uncomfortable to walk in.
Cork platforms are lightweight and therefore easy to walk in
If you're just getting started with platforms, a cork style is usually your best option, as it's lightweight and puts less pressure on your foot. Cork tends to appear on smaller platforms and is a breathable material.
2. Flat Platform Shoes
Flat platforms are the best style to start with, giving you the advantage of extra height without compromising on comfort.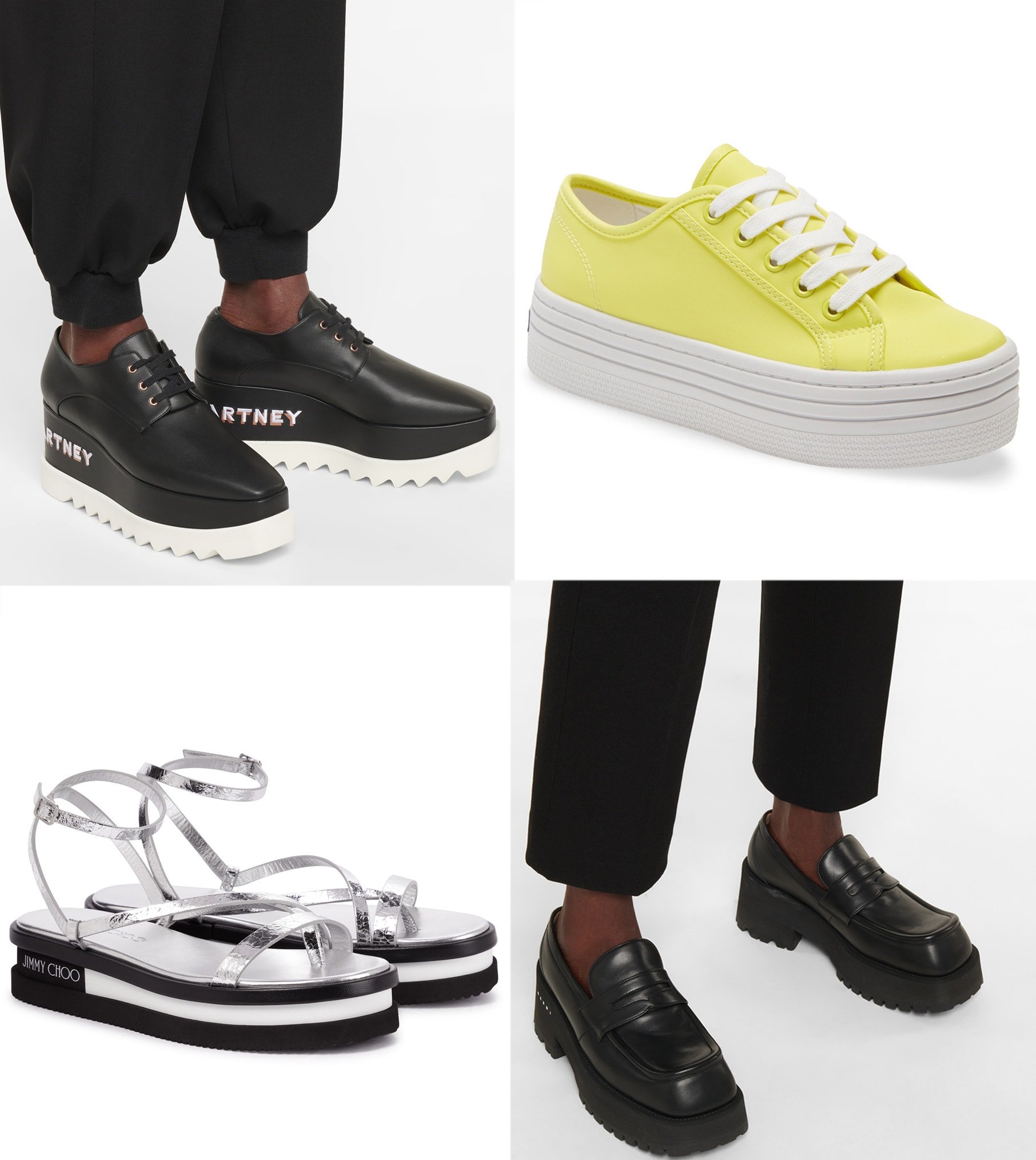 Also called "flatforms," these shoes add height without sacrificing style and comfort
If you're worried about hurting your ankle, choose a flat platform like an Oxford or tennis shoe.
3. Add Cushioning
You can add extra cushioning inside your shoe with a foam insert to give your shoes a more custom fit.
Add gel or foam inserts to your platform shoes to ensure all-day comfort
You want to stop your toes from crushing each other, especially if you're wearing a platform heel instead of a platform sneaker.
5 Different Types of Platform Shoes
While platforms may not suit everyone's taste, they have evolved into a versatile fashion trend, now available in various silhouettes and styles.
Whatever your aesthetic is, you can be guaranteed that there's a platform shoe that will work for you. Platforms can be made out of everything from cork to plastic and rubber.
Most platform shoes have a 1-4 inch platform. On high heels, this platform will raise the heel higher than the ball of the foot.
Platforms can come with a uniform thickness, have a wedge, or sit as a separate block on the shoe. As the platform raises the ankle and places it at an angle, it boosts your risk of spraining it.
We judge the height of a platform by the thickness underneath the toe box.
1. Platform Heels
The most common platform shoe that you'll find is heels. Whether heading out for brunch or a night on the town, platform heels are a style everyone needs.
They're a go-to choice for heels as they lift the front of your feet off the ground, meaning that your foot isn't forced into an uncomfortable arch.
Megan Fox, Selena Gomez, Salma Hayek, and Miley Cyrus add height to their frame with platform heels (Credit: Mega / Avalon / Nicky Nelson / Andres Otero / WENN)
Platform heels are synonymous with disco dancing and partying the night away. Adding the platform makes it easier for you to walk around without feeling like you're going to topple over. You can enjoy the height of your heels without putting as much pressure on your ankle.
You're spoilt for choice with platform heel options, especially if you're a fan of an open-toe shoe.
Saint Laurent 'Tribute' 75 Patent Leather Platform Sandals, $895 at Mytheresa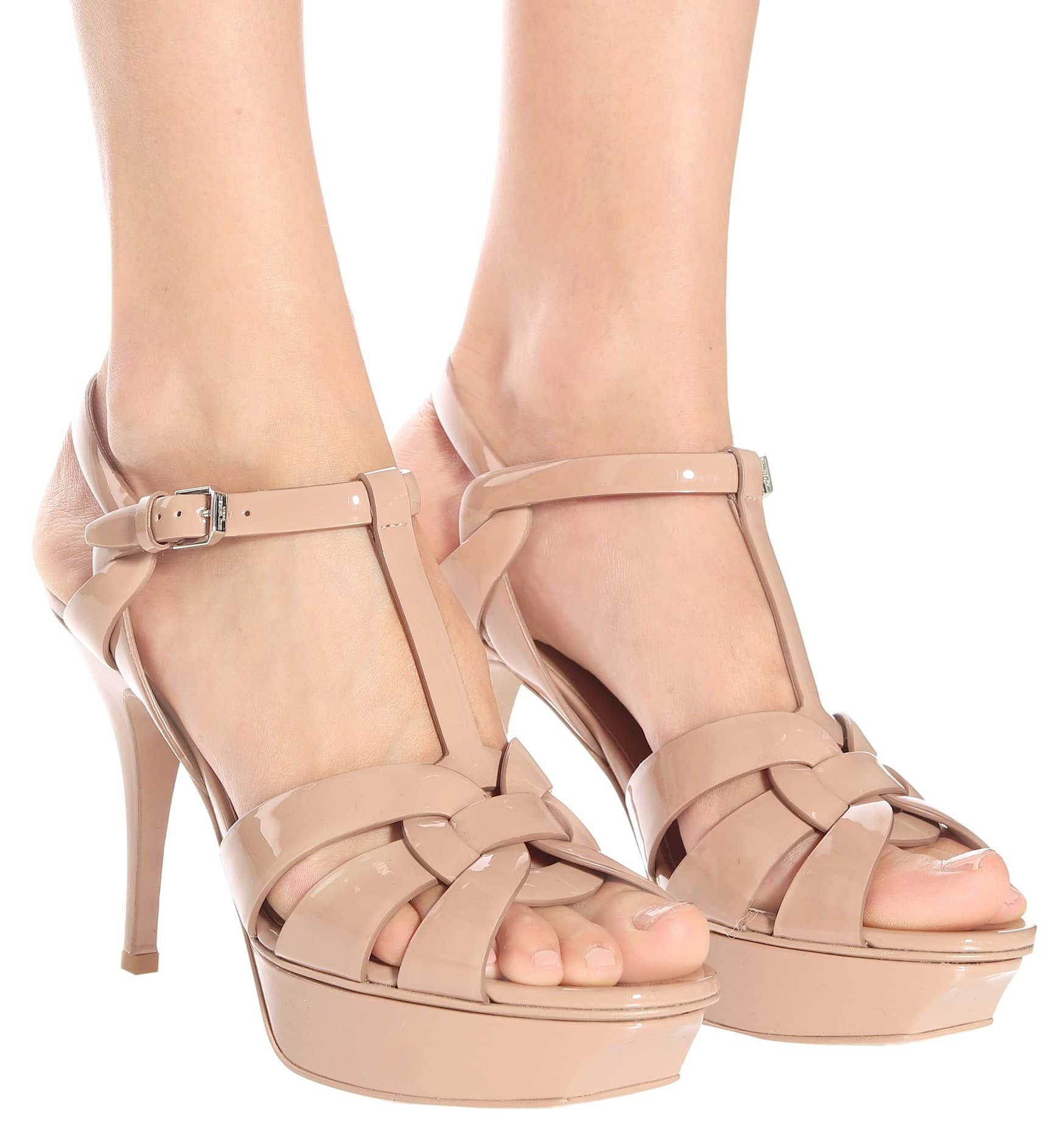 The Tribute sandal is one of Saint Laurent's best-selling and popular styles
The Saint Laurent Tribute platform is amongst one of the most popular platform shoes within the designer shoe niche. They're one of Saint Laurent's best-selling items and an infamous style that every designer shoe collection needs.
2. Platform Tennis Shoes and Sneakers
If you want an on-trend style with a retro feel that doesn't compromise on comfort, then platform tennis shoes are the style for you. Sneakers give you some of the biggest variety of shoes to choose from and the most wearable.
Hi-tops are a retro style that gives you both ankle support and extra height. They're a go-to casual shoe and perfect for tucking your jeans into.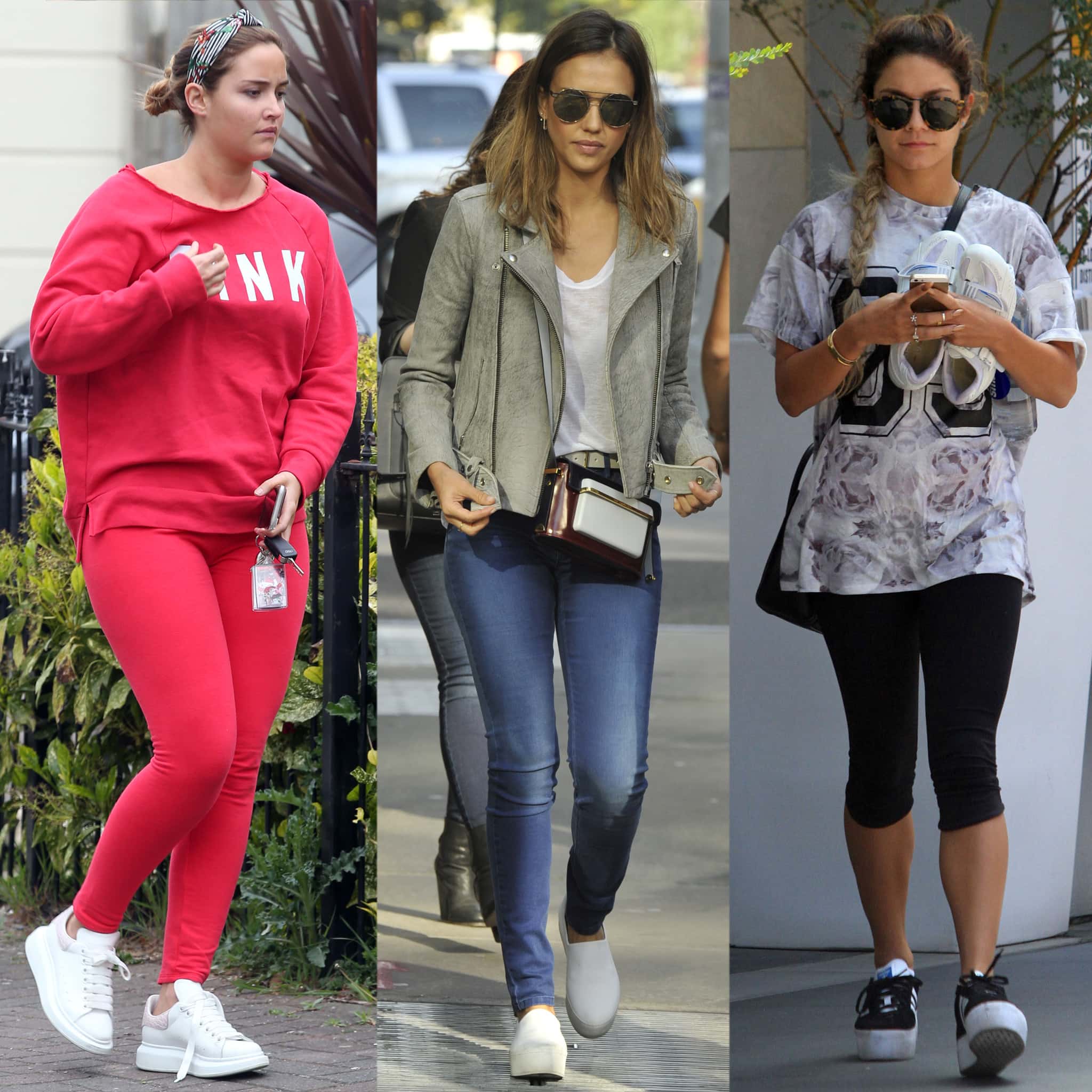 Jacqueline Jossa, Jessica Alba, and Vanessa Hudgens in comfy platform sneakers (Credit: TNYF / WENN)
For a more elevated style, look for leather platform sneakers. You get the laid-back look and comfort of a sneaker with the bonus of more structured material. Leather makes a great investment as it molds to your feet over time, becoming more comfortable as you wear them.
Amongst the most comfortable platform shoes are slip-on sneakers. These are a great style for everyday shoes, being hassle-free while giving you a few extra inches of height.
If you're not a fan of the traditional heel, slip-on sneakers can help you get used to walking with a flat platform before transitioning to a taller style.
For a street style look, check out 'chunks' – your classic sneaker with extra elevation. They're around twice as tall as your average sneaker and add a touch of chic to any off-the-clock look.
Gucci Ace Embroidered Platform Sneakers, $790 at Farfetch
Gucci's classic Ace silhouette is updated with a platform for an elevated look
Gucci's women's Ace embroidered platform sneaker takes one of their most recognizable styles and adds a platform for extra height without compromising on comfort.
3. Men's Platform Shoes
It's not just women who enjoy wearing a platform. Hidden platforms are the easiest way for men to add a few inches to their height without visibly wearing a high heel. These styles are similar to those in womenswear, except for feminine silhouettes like platform open-toe wedges.
Platform oxfords are a '90s-inspired look that is making a serious comeback. If you want to incorporate platforms into your autumn/winter closet, look no further than the humble Oxford shoe.
Prada Monolith Chunky Sole Shoes, $995 at Farfetch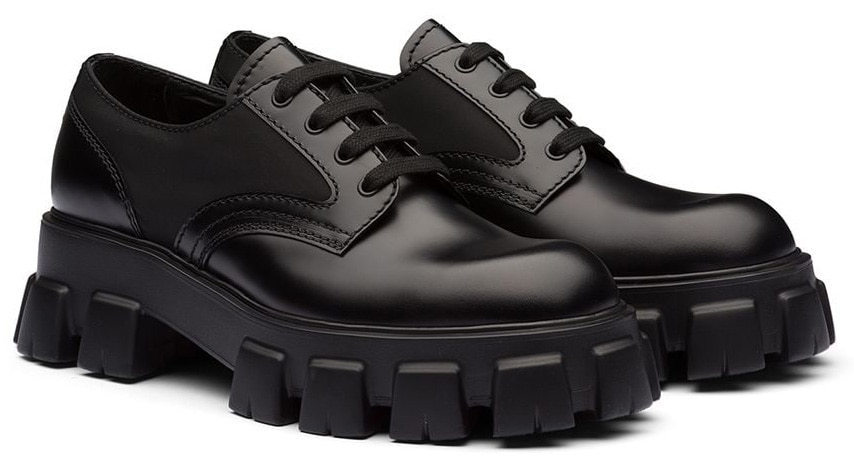 The Prada Monolith is a must-have for men who want to look a few inches taller without a visible high heel
Men's platforms tend to appear on rubber soles or inside high-top sneakers to camouflage them. Right now, one of the most popular men's platform shoes is the Prada Monolith chunky sole shoes with their brogue-inspired shape.
Dior B23 High-Top Sneakers, $1,150
Dior's B23 high-top kicks feature the fashion house's infamous white and black Oblique motif and transparent paneling
If you want to add a platform option to your sneaker collection, the Dior B23 high-top sneaker is one of the defining styles of the season.
4. Platform Sandals
Open-toe platform sandals are a popular style during the summer, giving you a timeless look with a high-fashion aesthetic. Amongst the most popular platform sandals are the wedge heel.
They're a summer staple and a beach-friendly alternative to a stiletto or block heel. Whether you're enjoying some al fresco dining or walking along the seafront, platform wedge sandals are a girl's best friend.
Nicki Minaj, Reese Witherspoon, and Heidi Klum in summery platform wedge sandals (Credit: John Rainford / WENN)
The beauty of platform wedges is that they're the most stylish of platforms. While other styles go in and out of fashion, the wedges make a comeback every summer.
Valentino Rockstud Ankle Strap Wedge Sandals, $790 at Farfetch
Splurge on these chic and timeless Valentino Rockstud caged platform wedges
If you want to make a splurge purchase, it's worth checking out the Rockstud ankle strap wedge sandal, which blends the classic silhouette with Valentino's iconic Rockstuds.
Gucci Leather Platform Espadrilles, $650 at Luisaviaroma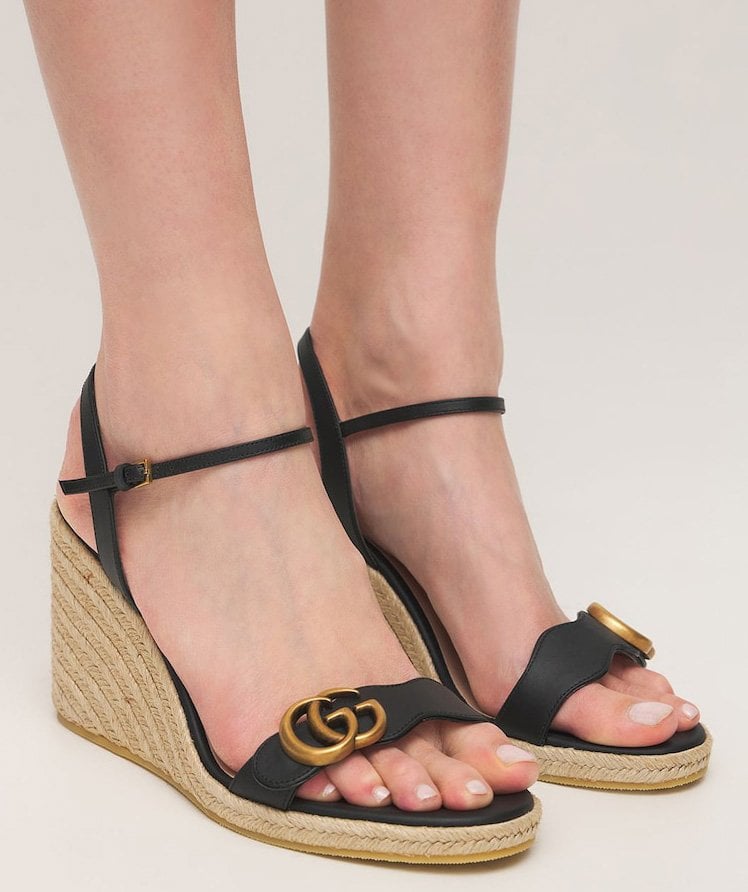 Sleek and chic, Gucci's streamlined espadrille is a perfect finish to every summer outfit
If you prefer a more streamlined look or want to skip the embellishments, the Gucci leather platform espadrilles feature the brand's double G symbol. They are the versatile staple that your summer closet has been waiting for.
& Other Stories Espadrille Sandal Wedges, $119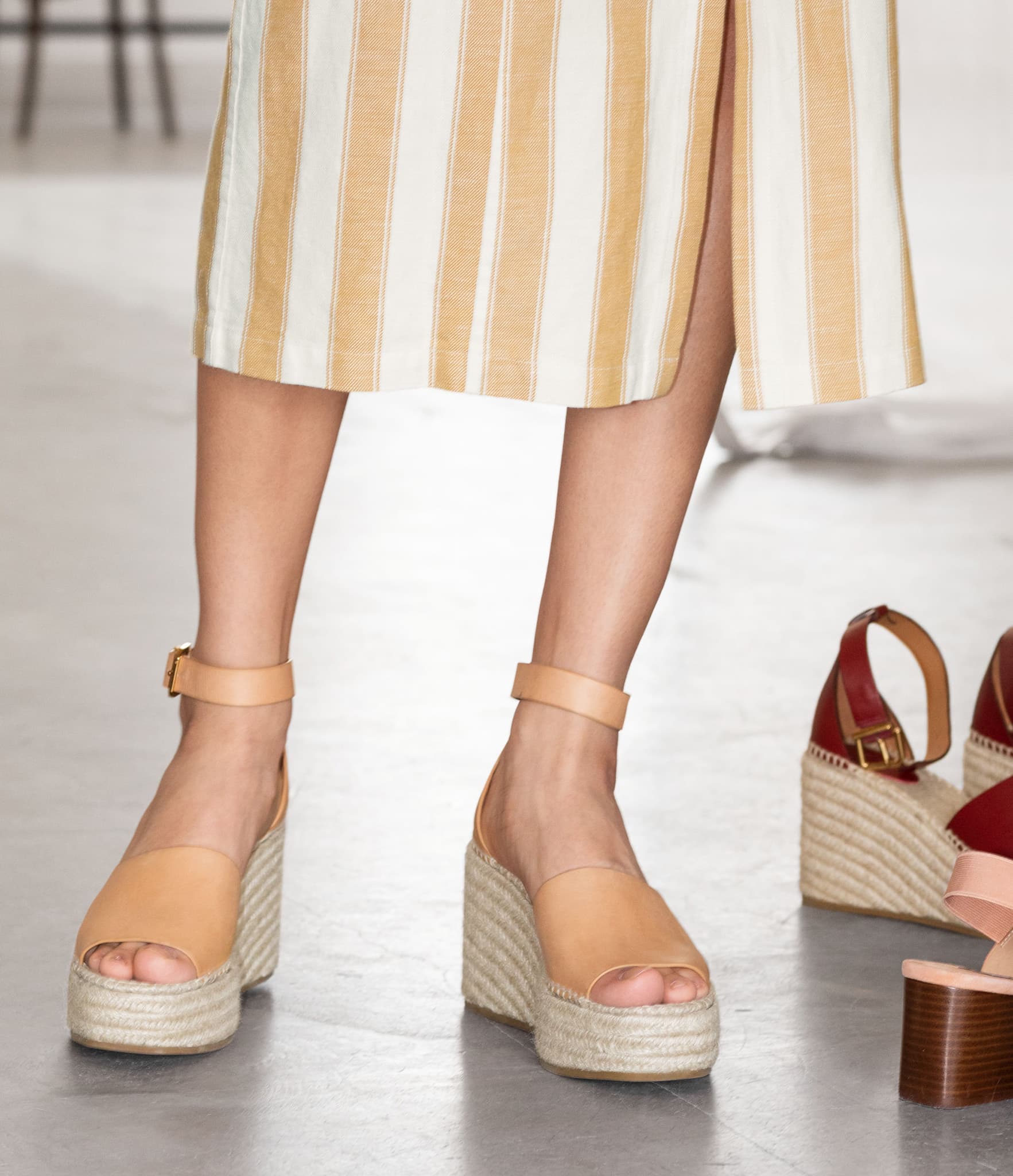 Add height and style to your warm-weather ensemble with the affordable & Other Stories platform wedge
A budget-friendly option is the espadrille sandal wedge by & Other Stories. You get a leather platform wedge without breaking the bank and with all the versatility of the designer options.
5. Platform Boots
If you're thinking of channeling your inner ABBA, don't overlook the power of a platform boot. This style gives you extra height without compromising on comfort.
If you opt for an ankle boot style, look for a 'hidden' platform that gives the illusion of being inside the shoe for a more streamlined look.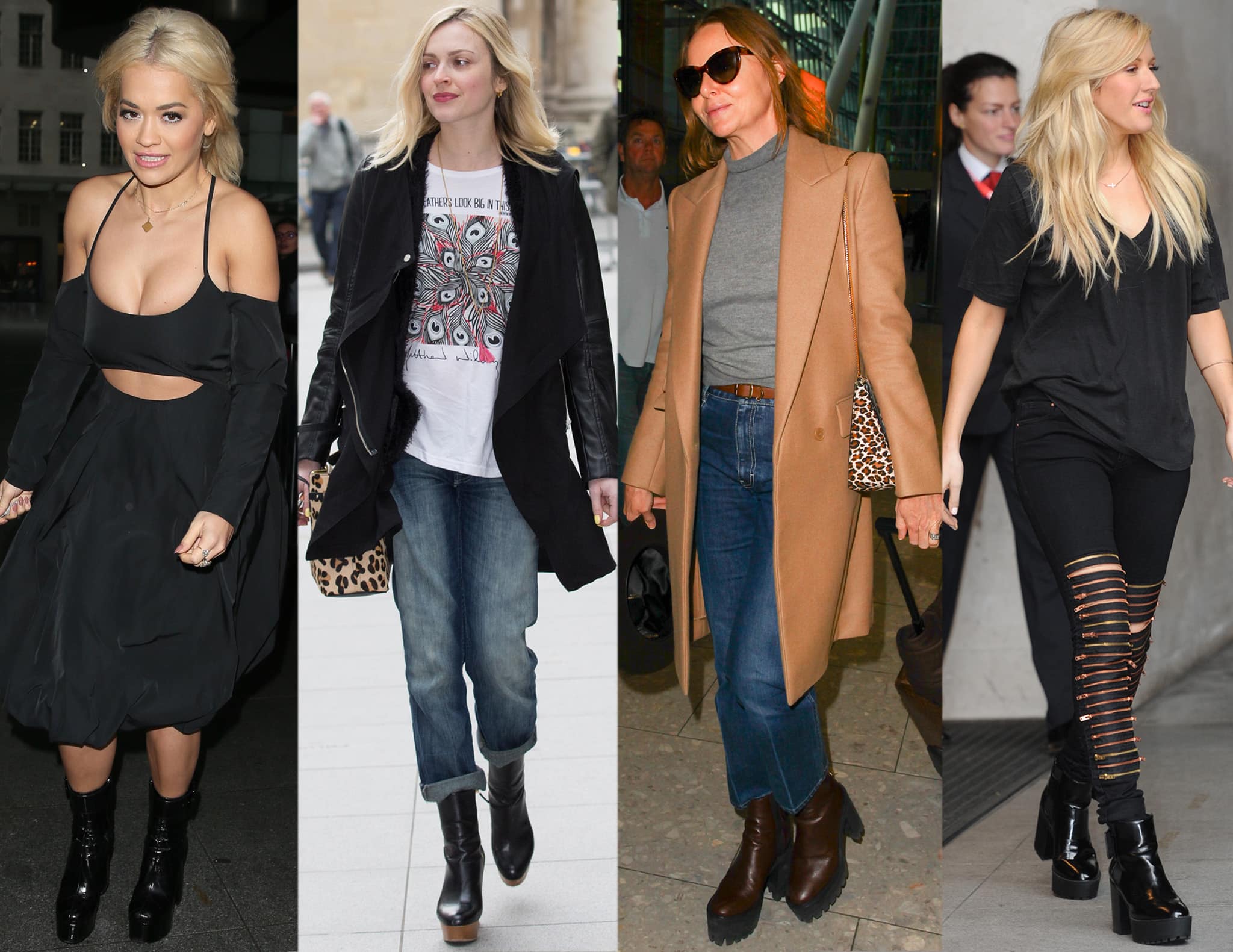 Rita Ora, Fearne Cotton, Stella McCartney, and Ellie Goulding wearing platform boots (Credit: Michael Wright / Mario Mitsis / WENN)
You can find platforms in every height of women's ankle boots, whether you're a fan of Chelsea boots or prefer a knee-high option.
One brand that is synonymous with platform boots is Dr. Martens. The Molly leather platform boot is amongst their most popular, with a double-height sole.
Dr. Martens Molly Quad Retro Boots, $179.95 at Zappos
Dr. Marten's Molly boasts the classic Docs DNA set on Quad platform soles
Platform shoes may be a style you've avoided after the Naomi Campbell fall of the 1990s or after watching some of your friends struggle with the shape.
While platforms add another layer of comfort to your favorite shoes, it's all about choosing a shape or sole that works for you. If you prioritize adding height, you can achieve the same look with a flat platform instead of experimenting with a heel.
The one thing we can all agree on is that no shoe collection is complete without at least one style of platform shoes.