Nothing says effortlessly cool like a pair of high-top sneakers. This distinctive design has revolutionized the shoewear market since its debut in the 1890s.
High tops have transcended cultural barriers, having been worn by everyone from jocks and rappers to punks and indie rockers.
High-top sneakers are shoes that extend over your ankle and debuted in the 1890s (Credit: Rawpixel.com / Shutterstock)
They instantly make outfits look fresh and eye-catching and can be worn with just about anything.
Below we'll be sharing essential tips on how to style high-top sneakers. If you're not team high-top yet, prepare to be converted.
How to Wear High-Top Sneakers for Every Occasion
This versatile design can be dressed up or down for almost any occasion.
They can be styled with jeans, shorts, dresses, or athleisure looks, depending on the aesthetic you're going for.
High tops are guaranteed to make your feet pop. They're essentially the statement shoes of the sneaker world since they really draw attention to your feet.
It's best to work your outfit from the ground up when you're wearing high tops. Here are some tips to make your high-top sneaker outfits flawless.
1. Keep your outfit fairly simple and let your shoes do the talking
As we mentioned above, high-top sneakers will often be the focal point of your ensemble. They can have a lot going on, from intricate stitching to contrasting colors.
You don't need only to wear minimalist clothes with high-top sneakers, but you might want to avoid pieces with loud prints or details that will clash with your high tops.
1. Theory Long-Sleeve Minidress, $325 at Saks Fifth Avenue; 2. R13 Distressed Platform High Top Sneaker, $495 at Nordstrom; 3. Mother The Insider Cropped Jeans, $238 at Saks Fifth Avenue; 4. Extreme Cashmere No.219 Caress Cropped Top, $173 at Matches Fashion; 5. Palm Angels Hibiscus High Top Sneaker, $260 at Nordstrom; 6. BB Dakota by Steve Madden Flirt A Lot Mini Dress, $79 at Zappos; 7. Acne Studios Ballow High Tumbled Sneaker, $350 at Shopbop
2. Show off your ankles
If you're wearing pants with your high tops, leave an inch or two between the hem of the pants and the high top to really showcase the sneaker.
1. Mother The Insider Frayed Step Hem Crop Jeans, $248 at Nordstrom; 2. DL1961 Patti High Rise Straight Corduroy Pants, $199 at Shopbop; 3. MSGM Cropped Tailored Trousers, $430 at Farfetch
3. Contrast the silhouette of your outfit with the design of your sneakers
For example, baggy or wide-leg pants and thick, sporty high-top sneakers will likely look bulky and unflattering together. Stick to streamlined canvas styles instead.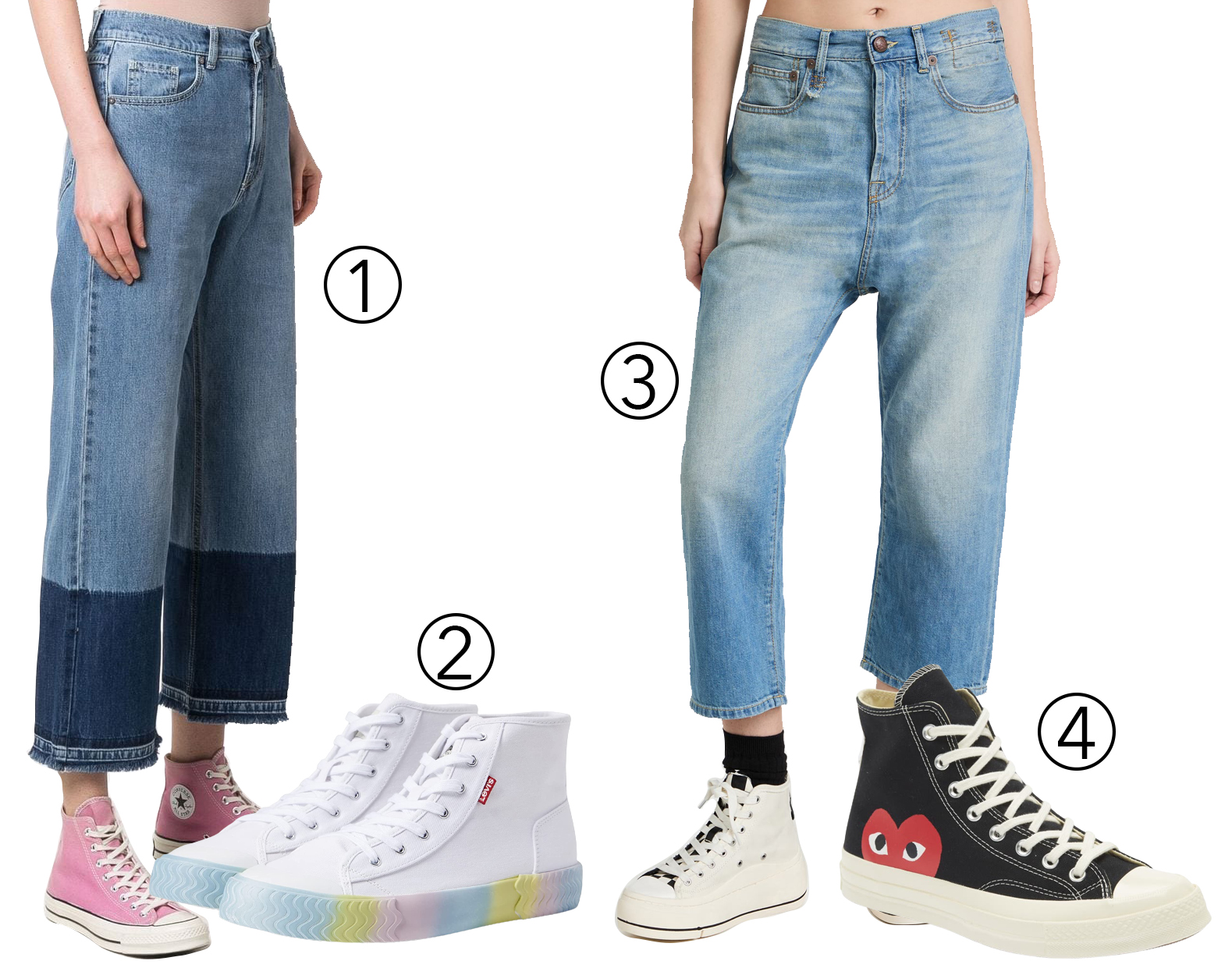 1. P.A.R.O.S.H. Crop Wide-leg Jeans, $273 at Farfetch; 2. Levi's Shoes Modern Hi Dreamy Factory, $59.99 at Zappos; 3. R13 Tailored Drop Jeans, $595 at Shopbop; 4. Comme Des Garçons Play x Converse Chuck Taylor Hidden Heart High Top Sneaker, $150 at Nordstrom
On the other hand, tapered and slim bottoms can be worn with thicker high tops.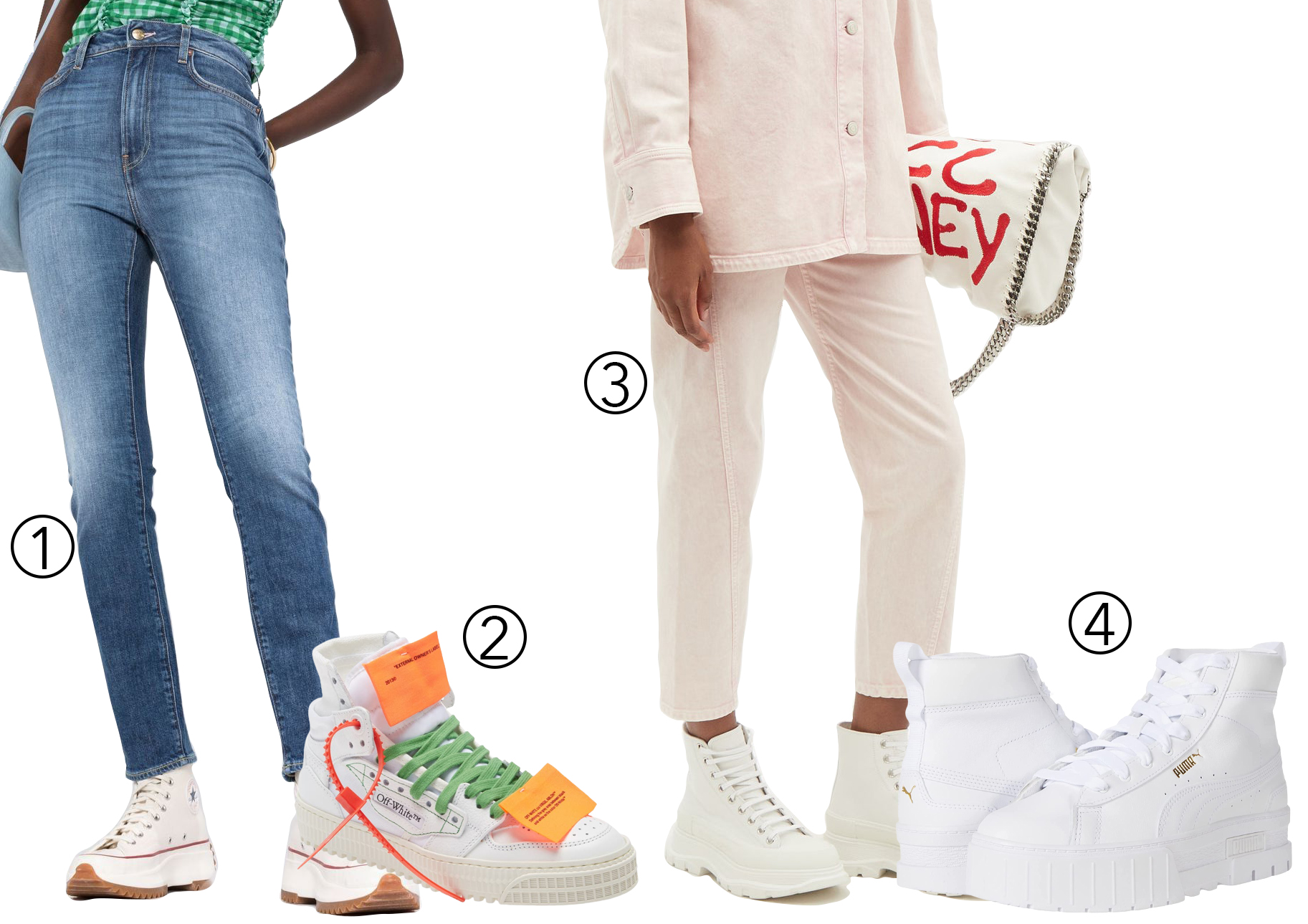 1. Washington Dee Cee Mid-Rise Skinny Jeans, $248 at Farfetch; 2. Off-White Off Court 3.0 High Top Sneaker, $605 at Nordstrom; 3. Stella McCartney Twisted-seam Slim-Leg Jeans, $625 at Matches Fashion; 4. Puma Mayze Sneakers, $100 at Zappos
4. Keep the aesthetic matching
Sporty styles look best with athleisure and streetwear-inspired looks, while simple canvas designs make sense with indie outfits.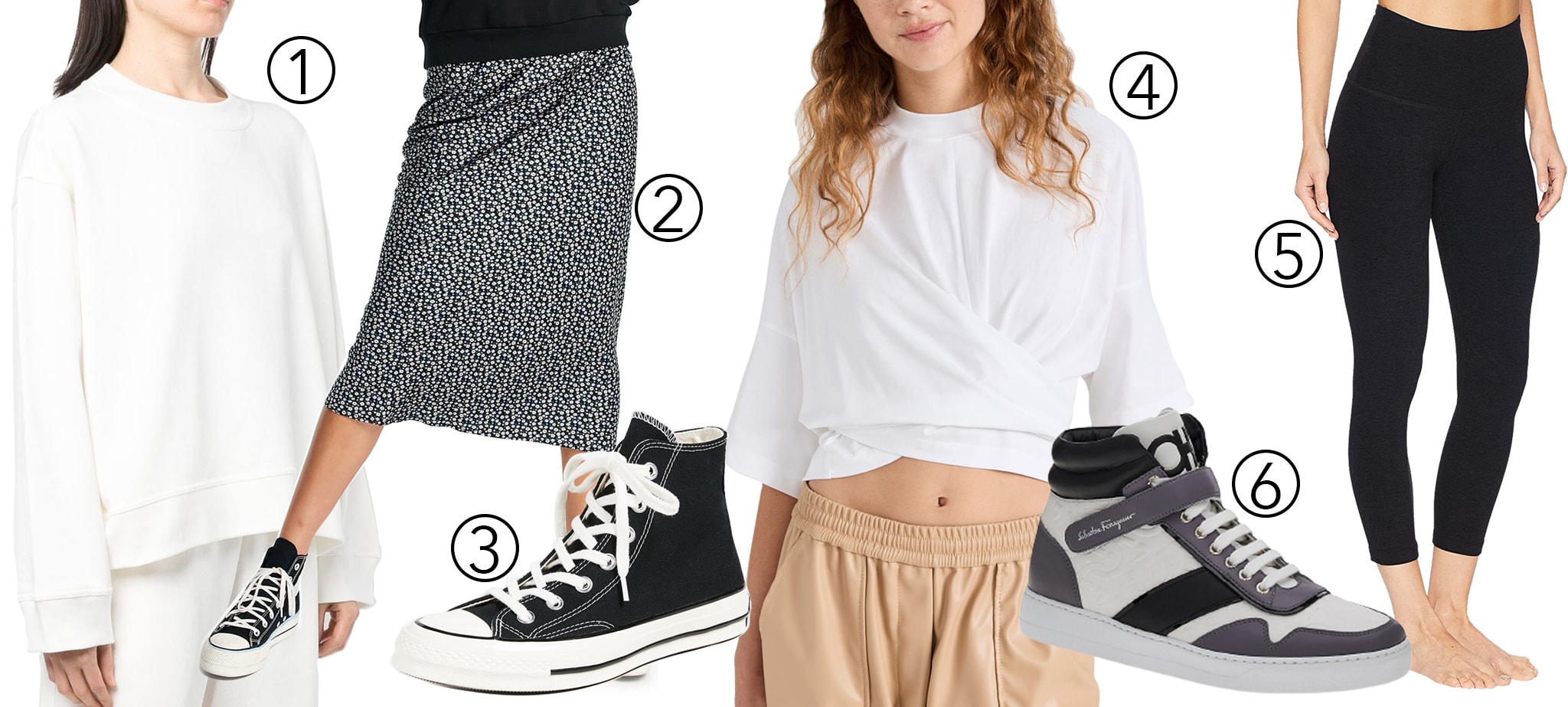 1. Sofie D'hoore Drop-shoulder Cotton Sweater, $260 at Farfetch; 2. Topshop Ditsy Print Bias Satin Midi Skirt, $56 at Nordstrom; 3. Converse All Star '70s High Top Sneakers, $85 at Shopbop; 4. 3.1 Phillip Lim Twisted Tie Back T-Shirt, $195 at Shopbop; 5. Beyond Yoga Spacedye High Waisted Capri Leggings, $88 at Zappos; 6. Salvatore Ferragamo Noe High-Top Leather Sneakers, $795 at Saks Fifth Avenue
Which High Top Style Should You Choose?
There are two types of high-top sneakers. Thin high-top sneakers are made of a light material like canvas and have a narrow design. They tend to make the feet and ankles look smaller.
Mid or basketball-style high tops have thick uppers and soles and are often made of sturdy materials like leather. They have a sportier design and tend to make the feet and ankles look wider.
Thin high-top sneakers are lightweight and have a narrow design, while basketball high-tops are sportier and made of sturdy materials
Neither style is better than the other. Your choice should depend on personal preferences and taste, based on the look you're trying to achieve.
Are High-Top Sneakers Good For Your Feet?
High-top sneakers were originally designed for athletes to provide ankle support and prevent
injuries. Many high tops are still specially made with athleticism in mind, but there are also plenty of fashion counterparts that are just designed to look good.
So unless you're specifically wearing athletic or orthopedic high tops, your shoes probably won't prevent injuries more than any other design in your closet.