If you feel wearing high heels is synonymous with pain, it's probably because you haven't tried one of the many lightweight gel and foam insoles that can make your pumps, dare I say, comfortable!
There are many reasons your high heels can be causing you pain. It may be the shoe or all the fact that all the pressure is on the ball of your foot, or it could even be due to a medical condition like calluses, corns, bunions, plantar fasciitis, and sprains.
There are several insoles and gel inserts that are made specifically for high heels. They are so discreet that no one will be able to see you are wearing them!
We've put a list together of the 20 most comfortable insoles and gel inserts for heel heels that will help alleviate your various pain points, whatever they may be.
1. Footminders Catwalk Orthotic Arch Support Insoles at Amazon
Strut the catwalk in comfort with these orthotic insoles. Great for all heels, including sandals and boots. These are designed for women who experience pain because of flat feet or low arches, including plantar fasciitis.
Footminders Catwalk orthotic insoles provide the ultimate in walking comfort for women who suffer from foot pain as a result of wearing high-heeled shoes or other fashion footwear
They provide the most arch support out of all the insoles on the list and also feature a slim design and extra cushion under the ball of the foot.
2. Dr. Scholl's DreamWalk High Heel Insoles at Amazon
Dr. Scholl's are the insole masters, so it's no surprise two of their insoles made our list. The DreamWalk insoles are made specifically for high heels and have an ultra-thin design.
Designed specifically for women who experience ball of foot pain when wearing high heels
They extend the shoe's length with extra-soft gel support in the arch, which shifts pressure off the ball of the foot.
3. Foot Petals Technogel Heavenly Heel at Zappos
Very few pairs of high heels have a soft cushiony heel, which means painful chaffing and blisters is common, especially in a new pair. The Heavenly Heel is a gift from above and makes even a new pair of heels comfortable.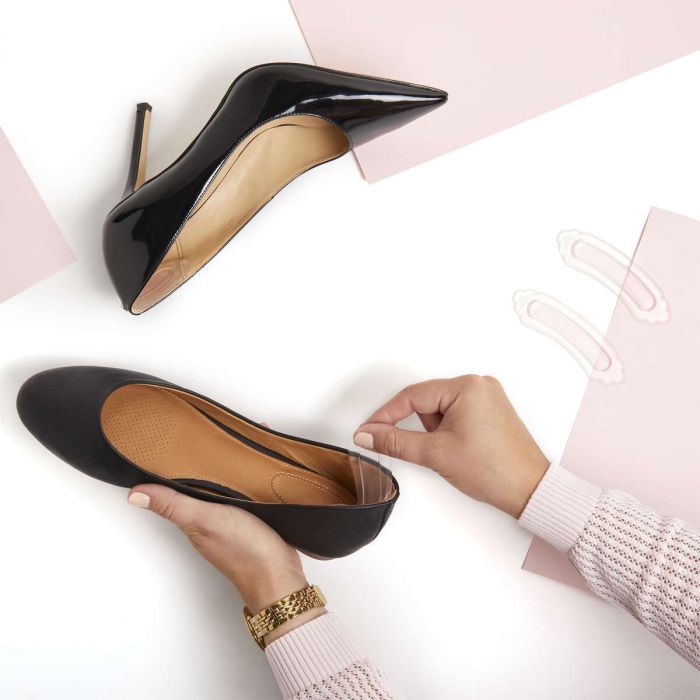 Make any shoe the perfect fit with the Technogel Heavenly Heels
They are also clear and stick right onto the back of your high heel, so they will go undetected while preventing blisters.
4. Siquk 110-Piece Flannel Heel Pad Stickers at Amazon
Every foot is different; some are wide, some are narrow, etc. High heels come in different sizes, but they don't always fit the shape of our foot, which can create various pain points on our heels, toes, or ball of our foot.
These heel pads stickers and heel cushions are designed for those who have a feet pain, blister or callus, and prevent shoes mangle your feet
The Siquk 110-Piece pad stickers are great because you can add the extra support where you need it. They also come in beige and black to blend in with your shoes.
5. ProFoot Orthotic Insoles For Plantar Fasciitis at Amazon
As the name suggests, these are designed specifically for those who suffer from plantar fasciitis.
This orthotic insert is designed to fight inflammation and burning or aching pain in the heel associated with plantar fasciitis
They are guaranteed to provide relief as they support the entire plantar fascia and cradle the heel.
6. 4D Sport Sponge High Heel Insoles at Amazon
This insole provides support along your entire foot and will increase shock absorption as well as keep your foot cool.
These insoles are available in a wide variety of colors
Not only will these keep your toes comfy, but they will smell great, too, thanks to the deodorizing feature. For a custom fit, you can trim them to the size of your shoe.
7. Happystep Plantar Fasciitis Orthotics Memory Foam at Amazon
Memory foam isn't just for pillows and luxury mattresses; it makes amazing insoles too!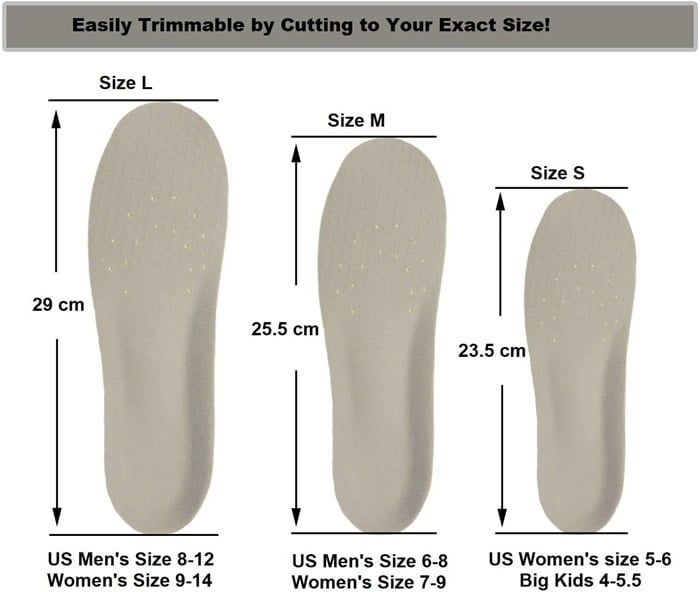 Please follow the sizing instruction for the best fit and customized cushioning
These high-density memory foam insoles will form to the shape of your foot and provide support where you need it most. They are a great choice for you if you have neutral to medium arches.
8. Chambellan High Heel Cushion Insert at Amazon
These ergonomic pads slide into your heels, under the ball of your foot. The innovative design absorbs shock, vibration, and eliminates pressure points that cause pain.
Slip these support pads into your pair of high heels and experience instant relief from foot pain and soreness that lasts all day and night
These inserts are non-slip and breathable for lasting comfort. They are great for everyday high heel pain or pain caused by medical conditions.
9. Dr. Scholl's Stylist Step High Heel Relief Insoles at Amazon
When you wear a pair of 3 – 4 inch stilettos, all the pressure is on the ball of your foot, which causes pain. These insoles are clinically proven to prevent pain by shifting pressure off the ball of your foot.
Clinically proven to help relieve and prevent pain from high heels so you can wear your heels longer
With an ultra-soft gel arch and slim design, they easily fit in a pair of heels without making your shoes tight.
10. Powerstep Pinnacle at Zappos
These are considered medical grade and have nearly 10,000 positive reviews on Amazon!
Although nearly twice as much as your typical pair of insoles, they are worth the price if you are suffering from foot pain when you wear high heels.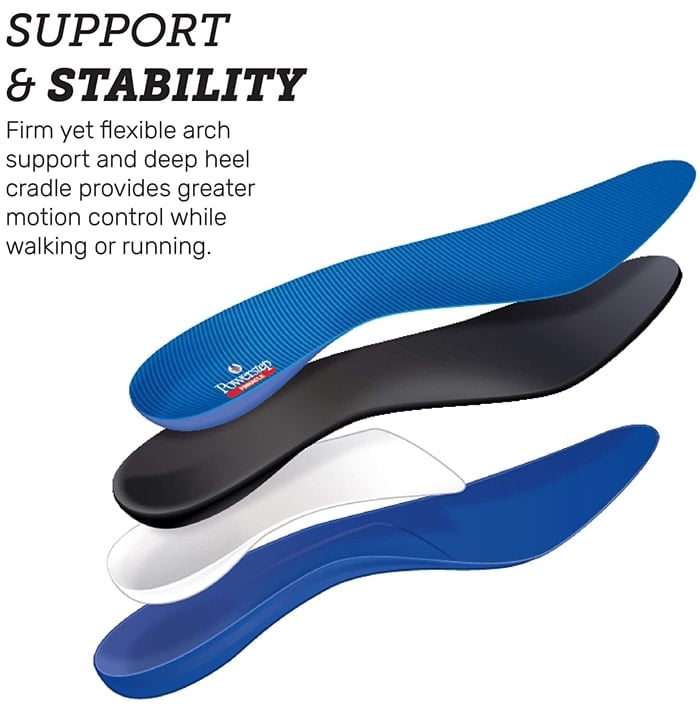 Reach the peak of comfort when you insert these Powerstep Pinnacle insoles in your shoes
These extend the length of your foot, providing maximum, controlled cushioning. Ideal for those with orthotic pain as a result of plantar fasciitis, pronation, heel and arch discomfort, flat or tired feet.
11. Heelho Ball-of-Foot Cushion at Amazon
The patented metatarsal indentation helps redistribute and balance weight in your foot to alleviate pain in the ball of your foot. They feature an adhesive bottom so they won't slide around and can be trimmed for a custom fit.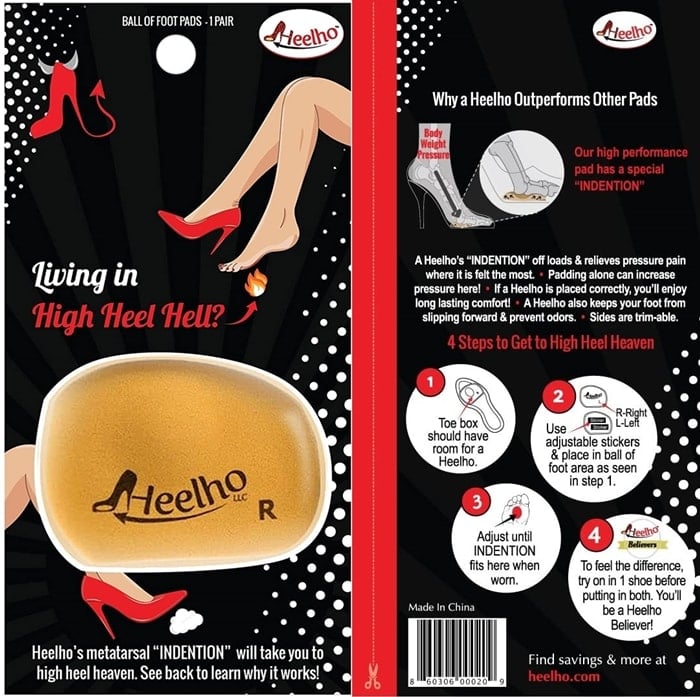 These high heel inserts load the tremendous pressure on the 2nd/3rd metatarsal head bones in the ball of your foot and allow you to keep your sexy strut going all day or night
If you don't want to add them to your shoe, the same company makes a sleeve you wear on your foot.
12. Fashion Feet High-Heel Insoles at Amazon
I'd describe these as the Cadillac of high heel insoles! They provide a lot of support, from the back of your heel to the tip of your toes.
Ultra-slim insoles for high heels, open-toed shoes, and sandals
Despite supporting the entire foot, they won't easily be detected in a pair of 3-inch peep-toes. These insoles feature an ultra-slim, indetectable design.
13. Aschic 6-Pair Self-Adhesive Cushion Pad Grips at Amazon
If you experience pain in your heel, as opposed to the ball of your foot, then these are the insoles for you! The padding extends up the heel of your shoe to prevent chafing and blisters and extends down the heel of your foot.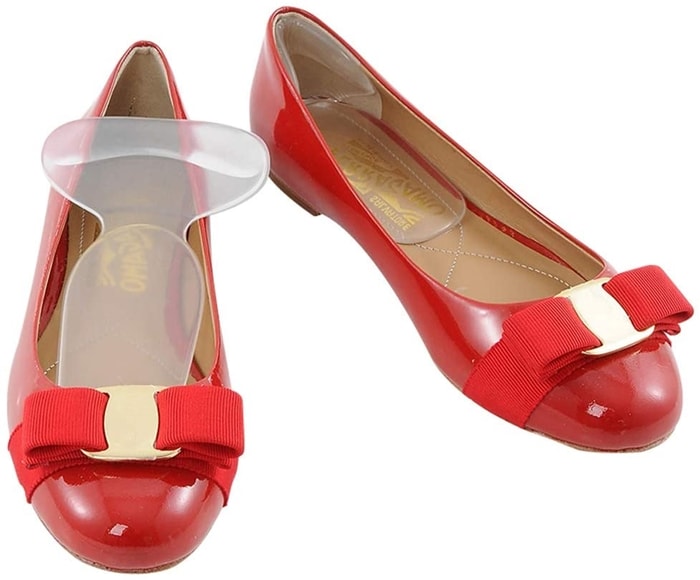 Insoles on your foot increase the support of the arch and provide great comfort
These are super soft and created to prevent blisters and calluses.
14. NatraCure Gel Pinky Toe Bunion Guard at Amazon
Although these aren't technically an insole, they deserve a spot on the list! If you have bunions or find the outside of your foot rubs against your heel, these will make a world of difference!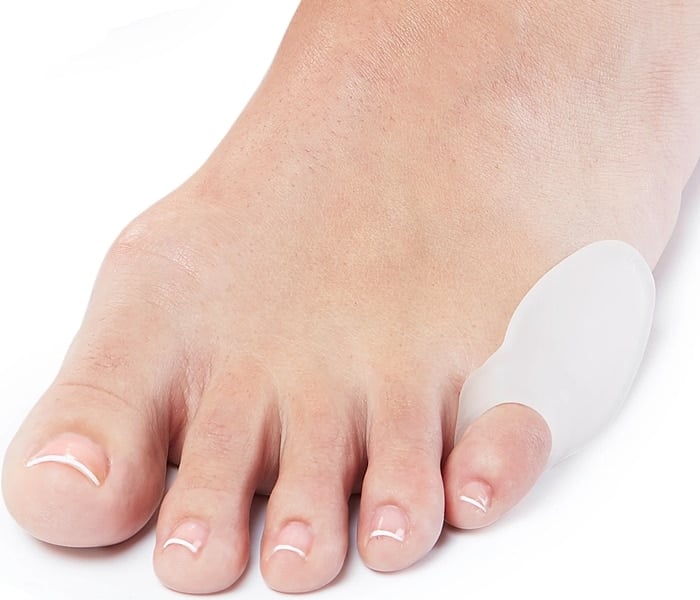 The NatraCure Gel Pinky Toe Bunion Guard provides protection from friction and pressure related to pinky/small toe bunions
You slip it on to your pinky toe and then step into your high heel. It offers soft gel protection from pressure and friction on your bunion or small toe.
The only down-side to these is they aren't the most discreet, so they should be worn with closed-toe heels.
15. Walkize Metatarsal Pads at Amazon
As the name suggests, these are designed for those with metatarsal pain. The gel-based inserts are lined in cloth, making them super soft. They are said to feel like you are "walking on a cloud" and discreet enough to wear with a pair of high heeled sandals.
With these soft, gel-based, and cloth-covered high heel inserts you can finally enjoy your day free from foot pain
Walkize even offers a lifetime satisfaction guarantee to relieve pain in the ball of your foot.
16. Pedag Lady Gel-Velvety Insole at Walmart
This is one of the most discreet insoles on the list as it looks just like the inside of your shoe. They have a unique velour surface that covers the gel cushioning.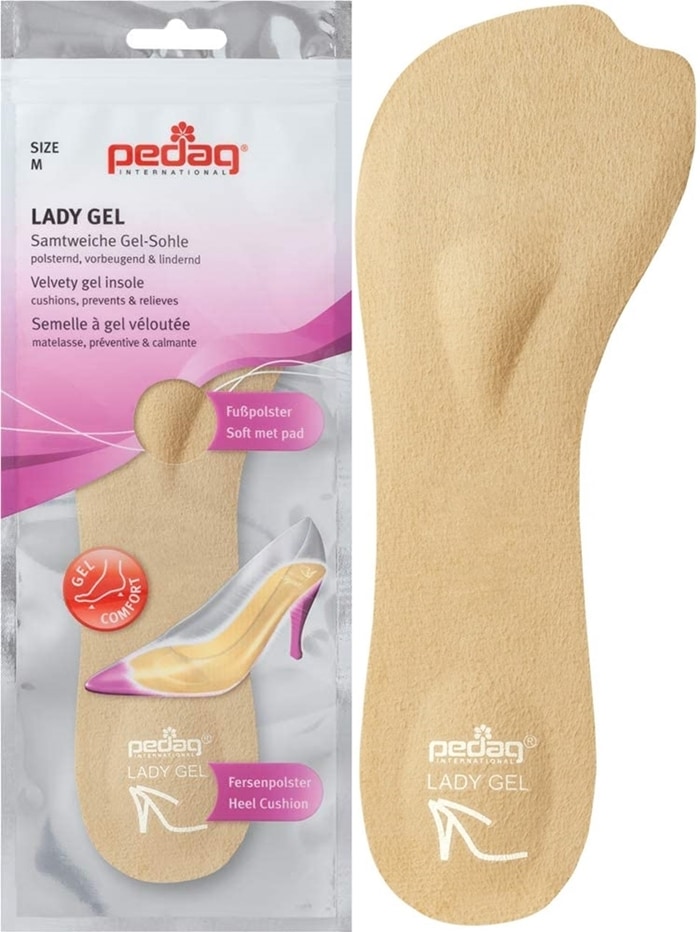 German-made slim ultra-thin gel insole for high heels with velour top, with very light support and cushion
The Pedag insoles will help alleviate foot pain under the ball of your foot as well as the burning sensation you get from standing in a pair of heels for too long. Although they are already quite slim, they can be trimmed for the perfect fit.
17. Vivian Lou Insolia Insoles at Amazon
These insoles not only reduce foot pain, but they can also help leg and lower back fatigue too. These insoles are designed to support the foot when in at least 2-inch heels.
These are not designed to treat any foot-related medical conditions; however, they do transfer weight and provide more comfort and support when wearing a pair of stilettos.
Designed by a podiatrist and engineered by a rocket scientist, these weight-shifting insoles were created for every woman who wants to wear high heels without the hurt
The patented design is very sleek and can be worn with any style of heel. These insoles have also been awarded a seal of acceptance by the American Podiatric Medical Association.
18. Bringsine Velvety Insole at Amazon
Available in three colors; beige, floral, and black – these insoles are velvety soft! These are a great option if you suffer from pain in the ball of your foot when wearing high heels.
The high heel gel insoles reduce foot pain by evenly distributing the pressure on the forefoot
The innovative design transfers pressure and reduces shock and vibration.
19. Ballottee Ball of Foot Cushions For High Heels at Amazon
These premium medical-grade gel cushions fit under the ball of your foot for added support. The quality gel provides superior support while still being very thin, so it won't make your heels feel snug.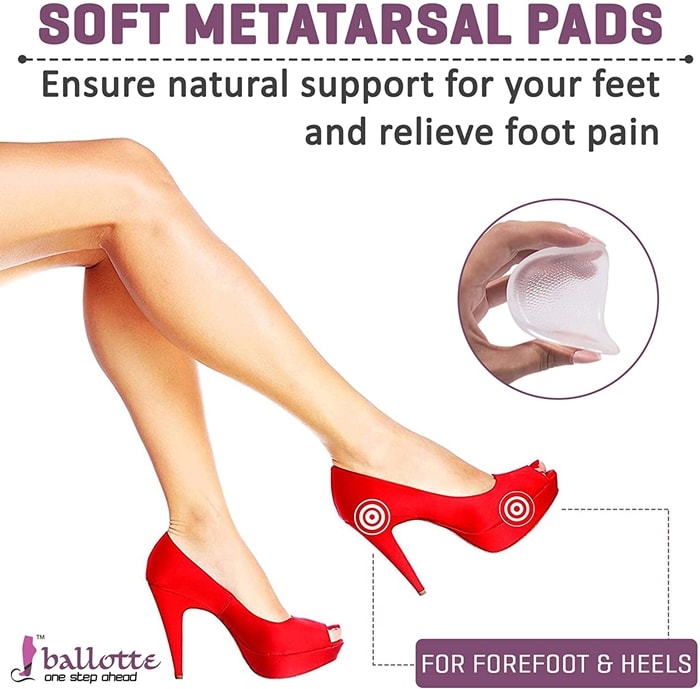 A ball of foot cushion for women is made up of medical-grade PU gel, which ensures natural support for your feet and feels soft and comfortable
Another added benefit is that they are reusable, so you can take them out, wash them, and slide them into a different pair of heels.
20. Soul Insole Shoe Bubble Orthotic Insole at Amazon
Soul Insole relieves foot, back and body pain with their patented biomechanically designed gel insole. This insole will help with alignment and balance weight in your foot.
It is a great option for those with foot-related medical conditions like fat pad atrophy, plantar fasciitis, over-pronation, and heel pain. Although they are on the more expensive side, the incredible technology behind the design makes it worth it!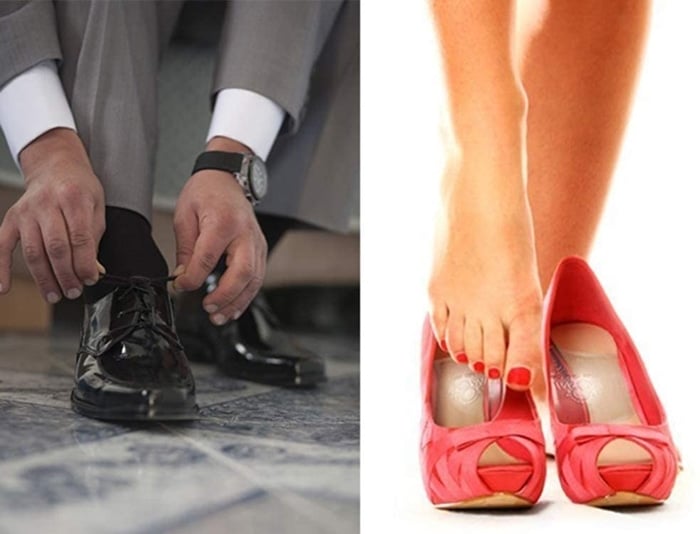 This soft memory gel adds alignment and support to reduce foot pain
As you can see, there are a lot of options for high heel insoles and gel inserts. You just need to pick the ones that are right for your foot, and you'll be strutting in stilettos pain-free!