It's no secret that high heels and tight-fitting shoes can cause extreme discomfort and even lasting health issues.
Foot bunions are one of the major risks we expose ourselves to when we consistently wear ill-fitting or uncomfortable footwear.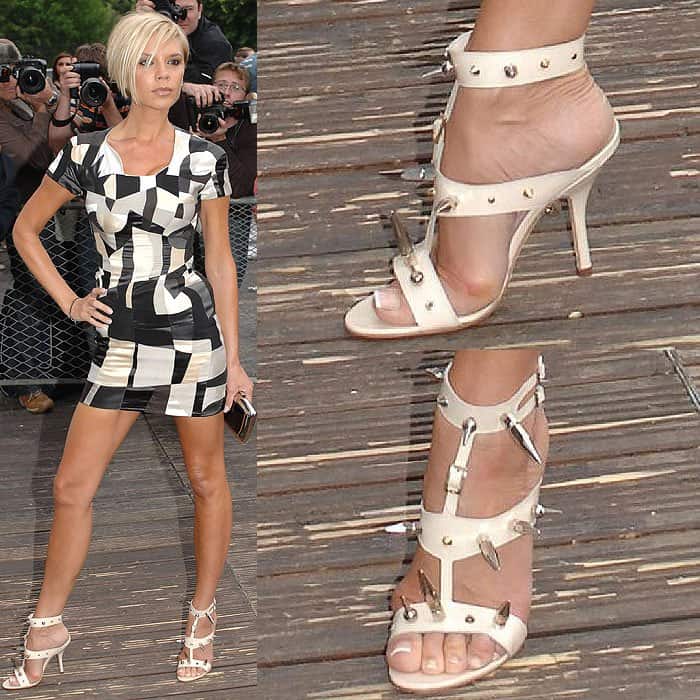 Victoria Beckham's bunions protruding from the straps of her spiked white t-strap sandals at the Graduate Fashion Week Gala Show and Awards held at Battersea Park Events Arena in London, England, on June 6, 2007 (Credit: WENN)
If you suffer from bunions, you're not alone! Roughly 23 percent of people ages 18-65 are affected, including A-list celebs like Victoria Beckham, Naomi Campbell, Jennifer Hudson, and Paris Hilton.
Oprah Winfrey exposing her foot bunion while leaving ABC Kitchen restaurant in Manhattan on April 5, 2012 (Credit: WENN)
Did you notice that these celebrities are well-known high-heel lovers and have made a living looking fabulous in sky-high stilettos?
Naomi Campbell looking down at her foot bunions and black velvet ankle-strap sandals at the "A Bronx Tale" opening night party at the Marriott Hotel in New York City on December 2, 2016 (Credit: WENN)
Bunions are one of the most common foot issues to arise in adult life, and unfortunately, they occur most often in females. But don't worry, there are ways to prevent and treat these painful and unsightly foot problems.
Paris Hilton in sparkly sandals showing her foot bunions on the 2006 World Music Awards red carpet in London, England, on November 15, 2006 (Credit: WENN)
Here are the facts you should know, regardless of whether you're currently dealing with bunions or want to prepare and prevent them.
Oprah Winfrey with a painful-looking bunion showing through the straps of her Valentino "Rockstud" pumps at the World Premiere of "The Hundred-Foot Journey" in New York City on August 5, 2014 (Credit: WENN)
What exactly is a bunion?
A bunion is an angular deformity that occurs when the bone alongside the big toe — called the metatarsal — enlarges and grows outward.
Generally, you know you are dealing with a bunion if your big toe has started shifting inward toward your other toes, and the joint of your big toe begins to form a bony bulge.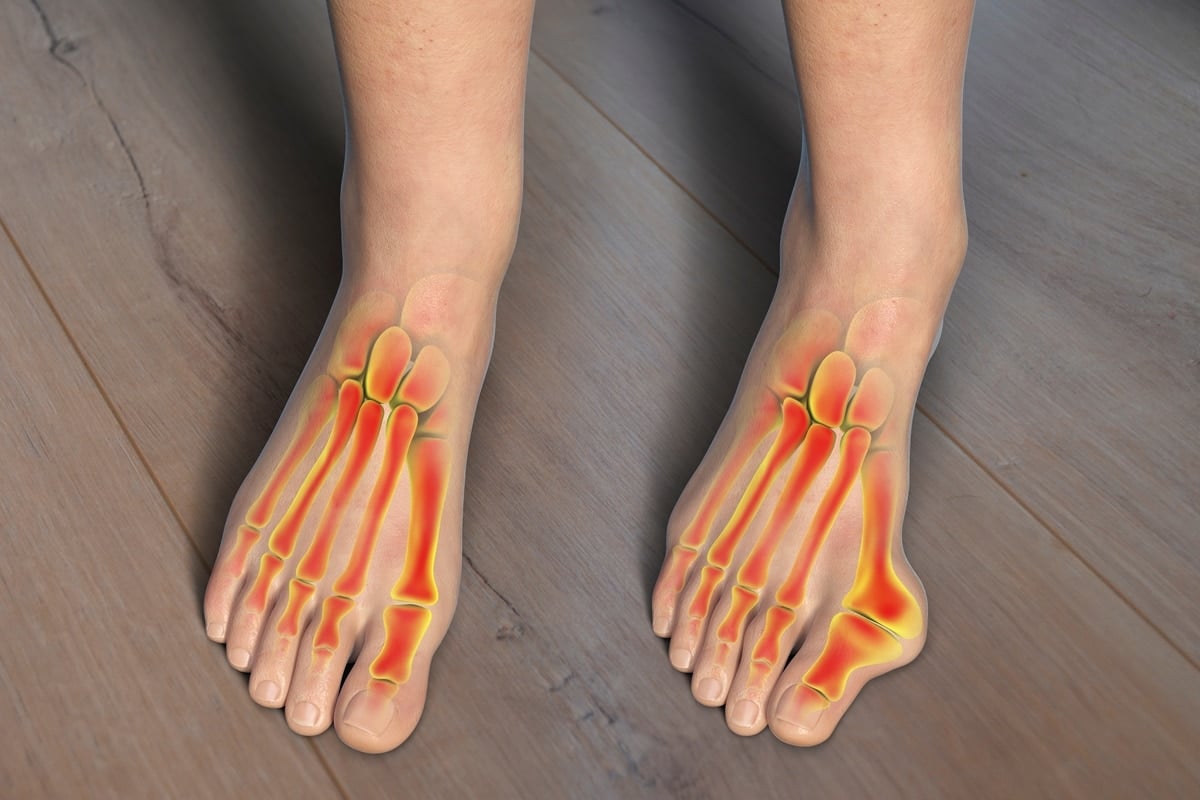 Normal female foot (L) and female foot with a bony bump bunion (Credit: Kateryna Kon / Shutterstock)
This bulge will stick out of the foot, right at the base of the toe. It can cause pain and difficulty when wearing any kind of shoe.
A bunion can also occur on the other side of the foot, on the smallest toe at the joint. The proper term for this affliction is "bunionette."
However, the small bumps that appear on other toes are often simply callouses or corns and tend not to cause as much discomfort as bunions.
Michelle Yeoh with very prominent bunions showing through her sparkly silver sandals at the premiere of "Volver" held during the 2006 Cannes Film Festival in Cannes, France, on May 19, 2006 (Credit: WENN)
What Causes Bunions?
Even though genetics come into play for many bunion sufferers, these pesky foot bulges can occur due to weak posture or foot strength or as a result of arthritis.
Usually, bunions form due to prolonged cramping in the toes from uncomfortable footwear.
While the cause of bunions is unknown, some podiatrists believe high heels can be the real culprit (Credit: Kateryna Kon / Shutterstock)
That's bad news for ladies who love constricting straps, narrow toe boxes, and pointy toes on their shoes. If you wear heels or tight-fitting shoes for extended periods of time, your feet are at higher risk for bone deformity and painful bunion growths.
Iman with bunions showing through her black leather at the "Destination IMAN" Website Launch Party at Dream Downtown in New York City on September 7, 2012 (Credit: WENN)
Preventing and Treating Bunions
If you notice one developing early, changing your shoes wouldn't be a bad idea, but unfortunately, these bone growths won't be reversed by simply swapping your heels for some sneakers. Although bunions won't go away on their own, here are five ways to decrease their pain.
1. Wear cushioned shoes or add special padding to them. Making your shoes comfortable can ease some of the pain and prevent bunions from getting worse.
2. Don't wear shoes that squeeze your toes — especially ones that squish the bunion. This means no more pointy pumps, low vamps, or shoes with straps at the mounds.
3. Skip buying shoes that are made of materials that don't stretch, like PVC, PU leather, and patent leather.
Amal Alamuddin-Clooney with her bunions pushing out the sides of her pink-and-purple pointy-toe pumps as she leaves her apartment in Notting Hill in London, England, on May 20, 2014 (Credit: WENN)
4. If you just can't give up your narrow footwear or patent shoes, we understand, but at least try to limit how long you wear them. Check out this guide to see how long you can safely wear kitten, medium, and high heels.
5. Buy shoes specifically in wide widths and with bigger toe boxes. If you need help finding the right pair of shoes, consider getting a professional stylist at Stitch Fix.
For many people, these lifestyle changes can help make living with bunions more manageable and prevent the condition from worsening. However, sometimes bunions can become so painful and invasive that they impede everyday activities.
These bunions may require a surgical procedure to remove, but be sure to consult your podiatrist first to see if this surgery is the best action for you.
Tilda Swinton with a sore-looking bunion showing through her black t-strap sandals while outside the "Late Show With David Letterman" studios at the Ed Sullivan Theater in New York City on September 3, 2008 (Credit: WENN)
Bunions are a huge health concern, especially for women, but they are preventable. When you begin to feel discomfort in the front of your toes from your footwear, maybe it's time to take better care of your feet or treat yourself to a shoe shopping spree.
We've rounded up some comfortable yet trendy styles from bunion-friendly brands for you that would make both your feet and your podiatrist proud!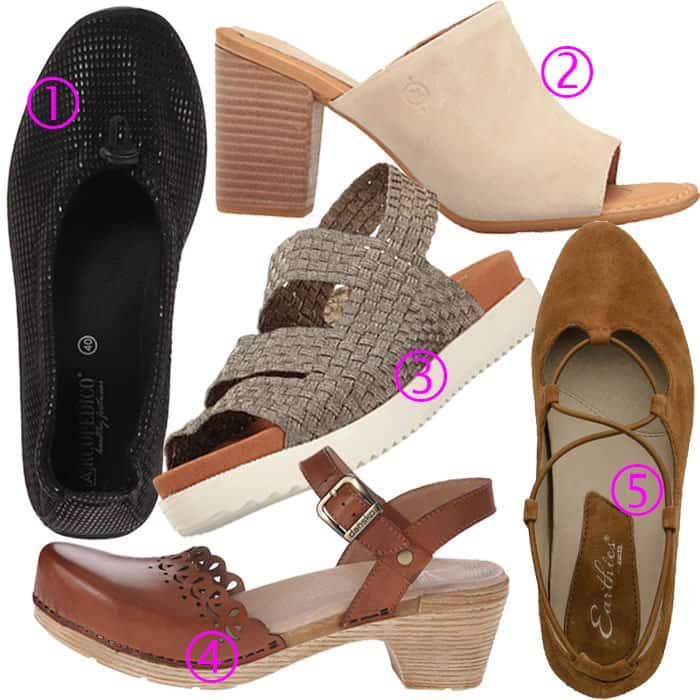 1. Arcopedico "L14" Flats made of bunion-friendly Lytech stretch material, $95 / 2. Born "Bima" Mules with leather uppers and cushioned footbeds, $115 / 3. Bernie Mev "Crisp" Sandals with stretchy woven straps and padded footbeds, $79.95 /
4. Dansko "Marta" Mary-Jane Clogs with wide toe boxes, $75.96 to $135 /5. Earthies "Essen" Ghillie Flats with comfort insoles, $104.99 to $149.95
Credit:Daniel Deme / Joseph Marzullo / Michael Carpenter / Patricia Schlein / Spirit Pictures / Z. Tomaszewski / WENN / TNYF