When you think about shoes, the toe shape is probably not the first thing that jumps to your mind. It's usually the color or overall silhouette that catches your eye.
In reality, the toe shape is what will make or break your shoes. You might find that one style is more comfortable than the other. There might even be one that you want to avoid entirely.
Just like clothes, there are shoe toe shapes that you should and shouldn't wear in certain situations.
Feet come in different sizes, lengths, widths, and shapes, which means you need to find the shoe shape that's right for you (Credit: Juliawhite / Shutterstock)
Building a closet of shoes that gives you something to wear for every occasion is a must. You want to have shoes to wear for brunch at the weekend or a black-tie dinner.
We're covering everything you need to know about different shoe toe shapes, which ones to look out for, and when to wear certain shapes.
The 4 Most Common Shoe Toe Shapes
While a round toe shape is amongst the most common, the list is constantly growing. There are three common shoe toe shapes that you need in your closet.
Almond, pointed, and round are the essential trio of shoe types. Others come and go with trends, with square-toe shoes becoming the most popular style for this season.
There most common shoe toe shapes are almond toe (1), pointy toe (2), round toe (3), and square toe (4)
You want your closet to have a balance of classic toe shapes with more contemporary styles. When you get this balance, you'll always have something to wear for every occasion. Are you not sure which shoe toe shape works for you? We've got you covered!
These are the most common shoe toe shapes and everything you need to know about them.
1. Almond Toe
It's not only high heel shoes that can make you look dressed up. Loafers have become one of the 'it' shoes in recent seasons.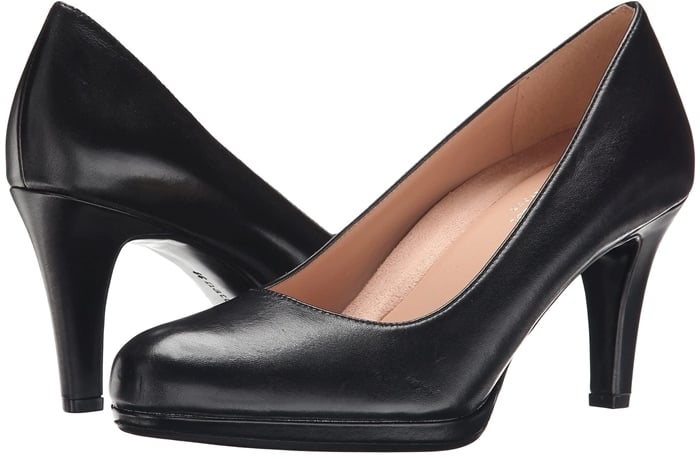 A classic almond toe silhouette defines a go-to pump from Naturalizer grounded with a signature N5 cushioning system for everyday comfort
It's the perfect combination of a pointed and round toe shoe (which we'll explore later!). You get the glamour of a pointed toe with the comfort of a more rounded toe as the box is less narrow.
If you have longer middle toes, an almond toe shoe should be your go-to choice. This toe shape style is a popular choice for women as it can naturally elongate your legs and give you a timeless look.
You can wear almond toe shoes with everything from a cocktail dress to jeans and a t-shirt. They have a contemporary look while still having a more dressed-up aesthetic.
Comfortable almond toe Basel leather flat booties from Lucky Brand
For a versatile chic outfit, look no further than an almond toe shoe!
2. Pointed Toe
When it comes to high heels, almost every pair has a pointed toe. For some women, pointed toes are their worst nightmare. What makes these shoes uncomfortable is that their toe box is very narrow.
If you have a wider foot or bunions, you might want to avoid pointed-toe shoes altogether. Certain brands will offer wider-fit pointed-toe shoes, which are always an option if you want to try out the style.
Sleek and sultry Stuart Weitzman Anny 70 heels featuring a sweetheart topline and pointed toe silhouette
The attraction of a pointed toe is that it adds instant glamour to any outfit. The narrowness of the toe box adds a delicate and feminine finish to your look.
If you want to try wearing pointed-toe shoes, there are lots of tips and tricks you can try to make the toe box more comfortable. These shoes are a trend that will never die and are a staple style for special occasions.
Anytime you're planning on going to a big event (and aren't walking too much!) pointed-toe shoes are usually your best choice.
3. Round Toe
If you have wide feet or appreciate comfort, a round toe shape is your best friend. This classic silhouette works for almost any occasion and gives you style without pinching your feet.
Some women find that they wear almost exclusively round-toe shoes. If you suffer from bunions, round-toe shoes can be a lifesaver. The most popular styles of shoes with a round toe are brogues, ballet flats, and sneakers.
Black/white round toe Chuck Taylor All Star Lift Hi sneakers
While round toes do appear in high-heel shoes, they're usually the staple choice for casual flat shoes. This style is a timeless toe shape and one that you need to have in your closet. If you want a more formal look, keep an eye out for a more curved round toe.
4. Squared Toe
Anyone who has been shoe shopping will likely have spotted a pair of square-toe shoes. You can thank Bottega Veneta for bringing this style back with a bang.
Once considered a "peasant shoe," square-toed shoes, boots, booties, and oxfords rose to popularity in the 1960s. They have continued to dominate the runways on and off ever since.
The basic design of this shoe style remains the same: a toe box that's squared off either dramatically or just at the tip.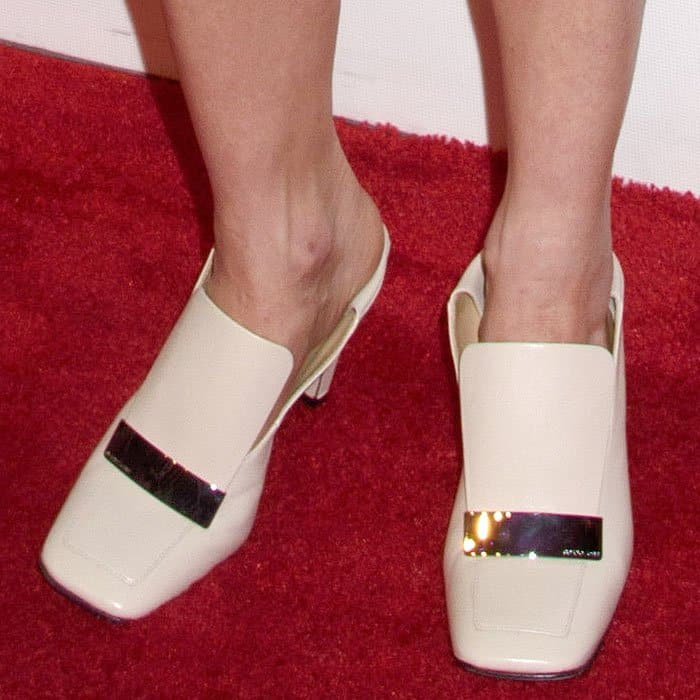 Naomi Watts wearing square toe Sergio Rossi loafers (Credit: Dan Jackman / WENN)
To keep this style feeling fresh, designers have been quick to update the overall silhouette with fresh textiles and colors.
While squared toes appear on almost every silhouette, they've become synonymous with mule shoes. This shoe toe shape is the perfect choice if you have wider feet, as it gives you extra space for your toes.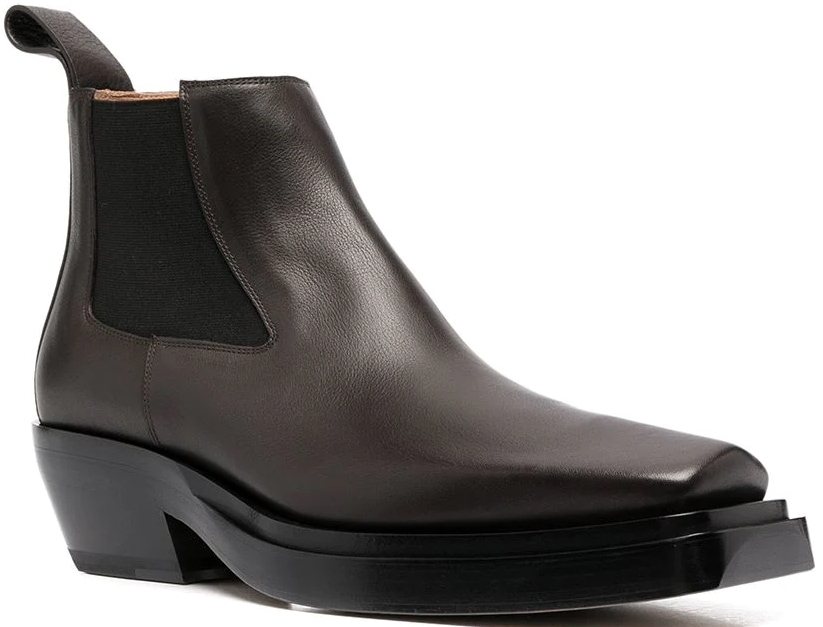 Square-toe Bottega Veneta boots featuring an angled heel and elasticated ankles

If you're in the market for versatile shoes that will dress up a casual outfit, squared toe loafers are a signature style. When it comes to high heels, you'll usually find a squared toe paired with a block heel.
Lana Del Rey shows off her feet in square-toe Gucci sandals (Ivan Nikolov / WENN)
This style is an ideal alternative to pointed-toe shoes, especially if you're looking for a high-heel option.
When and Where to Wear These Shoes
It's important to know that not every toe shape works for every occasion. Pointed-toe shoes are virtually a no-go for everyday wear, while some events call for a more elevated choice than a round-toe shoe.
Depending on your lifestyle, there are some you'll want to avoid when planning your outfits. Here's our quick guide on when you should wear certain toe shapes.
1. Everyday Wear
If you're looking for a shoe to wear every day, you want to consider how easy it is to walk in the style. Pointed shoes – especially with a heel- will usually only last you for a few hours before becoming uncomfortable.
If you're planning on walking around or commuting to work, a round-toe shoe is your best choice.
It's worth making sure that you're wearing the right socks or tights that work with the shoes that you're choosing to wear every day.
Ultimately, you want your everyday shoes to have a comfortable toe style that works for your feet shape. If you have wider feet or bunions, this might take a little while to nail down the perfect shape for you.
When you're not sure what to choose, a square toe shoe is also a safe bet. As it gives extra room for your toes, it's automatically a comfortable choice for everyday wear. It's worth picking up a pair in a silhouette and material that works for your lifestyle.
2. Business Settings
No two business settings are ever the same – which means your shoes will depend on the industry you work in. As squared-toe shoes are a more contemporary silhouette, it depends on the set-up of your office.
If you have a casual Friday at your workplace, you might be able to wear squared-toe shoes.
When it comes to more formal business settings – like a lawyer's office or a conference – most women gravitate towards a pointed toe. It's a classic choice, even for flat shoes or a kitten heel.
The art of walking in pointed-toe shoes is to find a style that works for your specific foot type. You may need to go for a shorter heel to compensate for your feet being in a narrower toe box.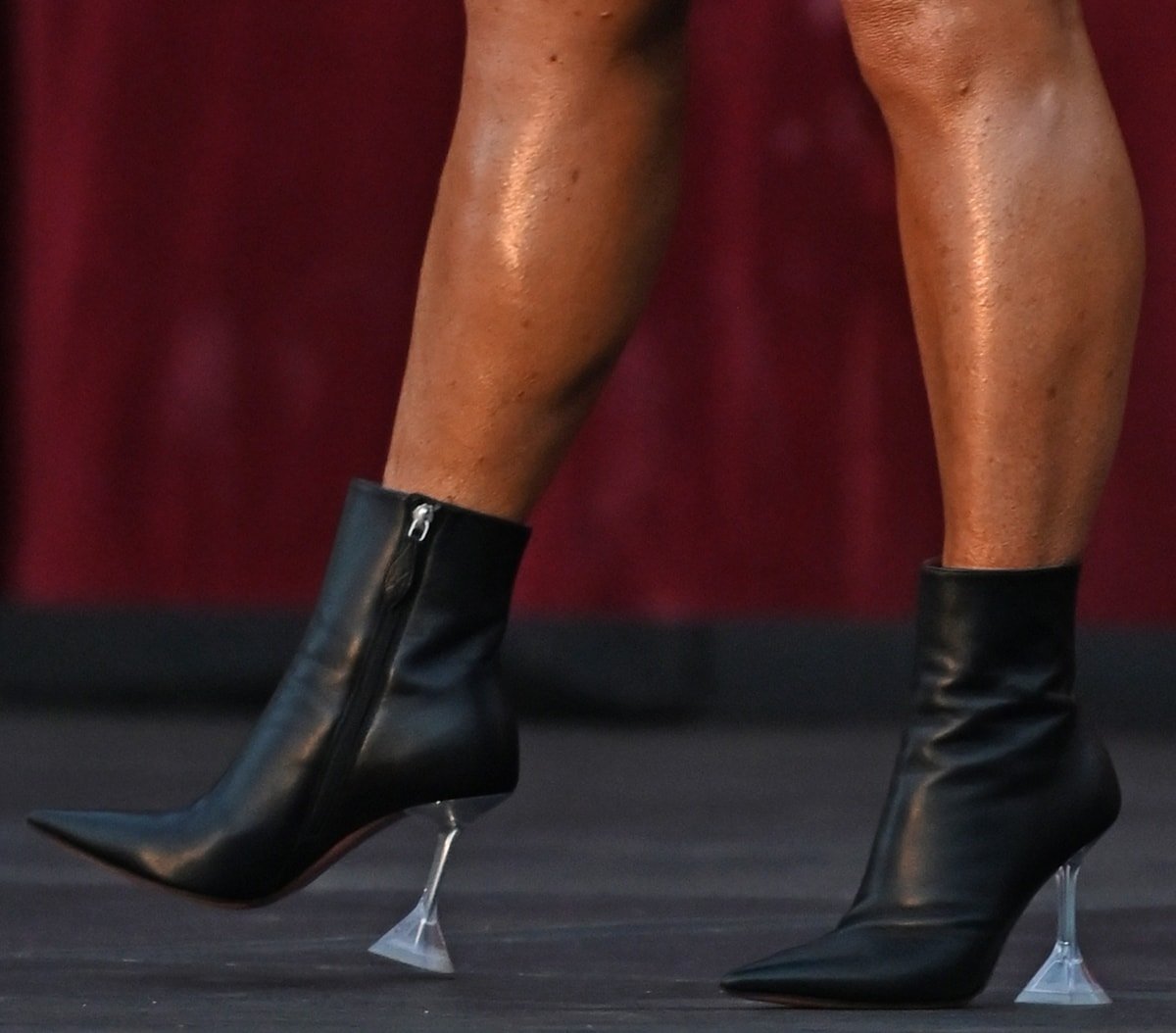 Theresa Caputo wears pointy toe ankle-high buffed leather boots from Amina Muaddi in Fort Lauderdale on April 10, 2021 (Credit: Instar / WENN)
A happy medium is the almond toe shoe. In some business situations, you're not entirely sure what you're walking into. Almond shoes are the perfect blend of casual chic and timeless style.
You want to have a few pairs of almond toe shoes in your closet that you can pull out on days when you're not sure what's on your calendar.
3. Formal Occasions
Not everyone can wear every type of shoe toe shape. If you're shopping from a brand that sticks to standard sizes, you may have to avoid some shapes entirely.
You can invest in useful add-ons like gel pads and even plasters to help make your shoes more comfortable. It's also worth considering how certain toe shapes will impact the shoe size that you need to buy.
With a narrow toe box, you may have to go up half a size (or a full size) to get the right fit for your feet.
Ashleigh Cummings styled square toe Stella McCartney Elyse platform brogues with brown striped overalls for "The Goldfinch" press conference during the 2019 Toronto International Film Festival at TIFF Bell Lightbox on September 8, 2019, in Toronto, Canada (Credit: Instar / WENN)
When it comes to formal occasions, you need to consider the material of your shoes as well. Rubber shoes are a no-go for formal events – even if they have a pointed toe.
If you can't deal with a pointed toe shoe – or predict you'll be doing some walking throughout the day – opt for an almond toe shape.
It's one style that will never let you down. For formal occasions, you want to make sure you can walk in your shoes. The positioning of your toes majorly impacts how you walk. You don't want to turn up to a black-tie event looking like you can't walk in your heels.
It might take some experimenting, but with time you'll find the perfect toe shape for your lifestyle.
5 Different Types of Shoes
When choosing the toe shape, you don't want to forget the type of shoe you're looking at. There are some combinations that you'll rarely see – like sneakers and square-toe boxes.
We're quickly rounding up the most popular types of shoes and the usual toe shape you'll find them with.
1. Brogue Shoes – Round Toes
Brogues come almost exclusively with a round toe, making them one of the most comfortable and versatile shoes you can add to your closet.
This style has had a major resurgence in recent years, as comfort-driven fashion entered the mainstream. Brogues are similar to the oxford shoes that men wear, giving any outfit a vintage feel.
2. Ballet Flats – Round and Pointed Toes
Every woman needs at least one pair of ballet flats in their closet. Whether you splurge on Chanel flats or an H&M dupe, these shoes are a must-have.
Most of the ballet flats you'll find on the market have a classic round toe. You can wear these shoes almost anywhere, and they'll take you seamlessly from day to night.
The humble ballet flat has been given an upgrade in recent years, with pointed toe options becoming available as a more 'grown up' option.
3. Mules – Square-Toes
If you want a contemporary style that gives you an on-trend look with added comfort, you need square-toe mules.
These shoes are everywhere you look this season and are quickly becoming a modern classic. You can play it safe with a neutral or experiment with a pastel.
4. Kitten heels – Pointed Toes
Some women love the aesthetic of a pointed toe but want a slightly more comfortable alternative to a stiletto. Kitten heels give you the look of a pointed toe with the benefit of a shorter heel.
If you're on your feet in an office all day, these are the professional shoes you need in your closet.
5. Stilettoes – Almond, Round, Pointed
If there's one shoe that comes in every toe shape, it's the stiletto. Whether you're a fan of Christian Louboutin or budget-friendly Zara shoes, stilettoes are the most versatile silhouette.
When you find your perfect toe shape, you want to add at least one pair of stilettos in that style to your closet.
Which Are the Most Popular Toe Shapes?
So which toe shapes do you need in your closet?
We've covered virtually every type that you'll find on the market, along with its pros and cons. Before you can start clicking 'add to cart', we want to round up a few of the must-have styles that we think every woman needs in her arsenal.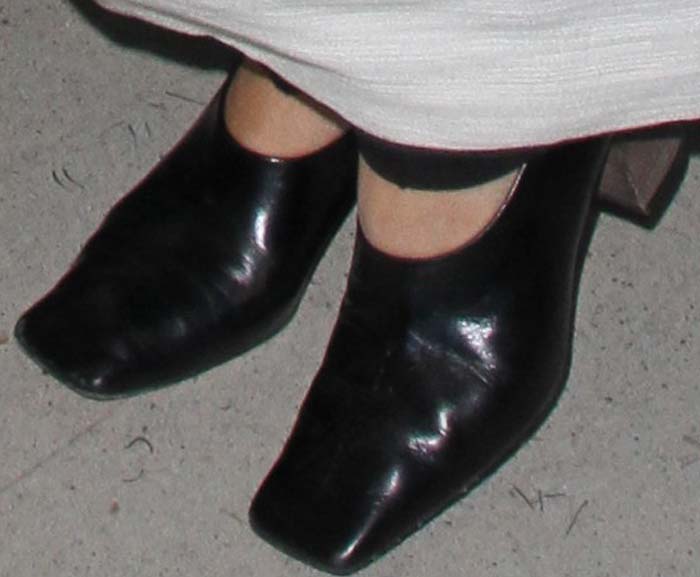 Mary-Kate Olsen's square-toed leather heels (Credit: WENN)
When in doubt, go with a round-toe shoe. It can do no wrong in our books! If you have a more formal occasion, stick to classic patent or leather shoes to elevate the silhouette. In menswear, round-toe shoes are almost the universal choice for formal attire.
When you want to make an elegant first impression, opt for a pair of pointed-toe shoes. Beware that these are not shoes for walking long distances in. They're the perfect style for throwing into a toe bag and wearing interchangeable with a round toe shoe.
While the toe box is something that we often overlook, it's an essential part of the overall aesthetic of the shoe. We hope this guide has told you everything you need to know about the most popular shoe toe shape.
Don't forget to try out different sizes and try new toe boxes with a flat shoe before going with a heel. What is your favorite style of shoe toe shape?