Heels are one of the most popular categories of shoes. Whether it's running out for brunch with your girlfriends or attending an important meeting at the office, there's a heel for every occasion.
Even if you call yourself a 'flats girl', you need at least a few pairs of heels in your arsenal. Choosing heels can be difficult, especially with a growing list of styles and ever-changing trends.
Regardless of what Christian Louboutin said, you can find comfortable heels – it's all about the heel type, arch, and material.
Prioritizing design, beauty, and sexiness, Christian Louboutin has made clear he's not focusing on comfort when designing heels (Credit: MEGA / WENN)
We're comparing heel types, how to wear them, and the classic material choice for each. There are a few styles of heels that instantly jump to mind – stilettoes, kitten heels, and block heels.
Even if you don't count yourself as a shoe connoisseur, you're likely to have come across more styles of heels than you think you know.
We're taking a deep dive into the most popular heel styles, so you can decide which one is a must-have for you. This guide includes the benefits of each style, which can often be overlooked by the naked eye.
Our guide takes you through every heel style you should have in your closet, whatever your lifestyle is. Grab a pen and make a shortlist of the styles you need to add to your closet!
1. Block Heels
The beauty of block heels is that they're generally one of the most comfortable styles of heels. They're a classic silhouette that will never go out of style.
The thicker heel allows your body weight to be more evenly distributed as you walk. This style is a must-have for you if you're prone to aches and pains in your knees and ankles.
As you walk in these heels, the block heel helps to take some pressure off your toes and the front of your foot.
Thick block heels provide comfort, support, and a more even distribution of weight throughout the feet
While block heels might not appear to be the most stylish of shoes, they're a popular choice for the office or weddings where you know you'll be walking around or dancing.
Block heels come in every style of toe box, from open toes to an almond shape. If you're a newbie to wearing heels, you can choose a style that has an ankle strap to make it easier to wear block heels.
The strap makes it less likely that you'll step out of your shoe. Suede and patent leather are the two most common material choices for this style of heel.
2. Cuban Heels
Is your style more masculine? Do you want a little extra height without dealing with a stiletto heel? Cuban heels take their inspiration from wedges and men's shoes.
Cuban heels are medium-high heels that have a slightly tapered back and a straight front
They look similar to platforms, with a medium height. You can usually find this style of heel on loafers and oxford shoes, with a closed toe.
The tapered appearance of the heel differentiates it from the platform sole. If you're looking to upgrade the loafer style, a Cuban heel is your perfect match.
3. Comma Heels
You can thank Christian Dior for bringing this heel type back onto our radar.
If you're a fan of kitten heels and want to refresh your closet with a similar aesthetic, the common heels are the trend for you.
As the name suggests, comma-heeled shoes have heels that are shaped like a comma
Common heels give you all the benefits of the kitten style – namely comfort – with an unusual design that makes a subtle statement.
4. Flare Heels
Are you a fan of the block heel? Flare heels have a similar shape and aesthetic, flaring out on the interior side towards the arch.
This style became a trend during the '70s, with the shape taking its inspiration from flared trousers.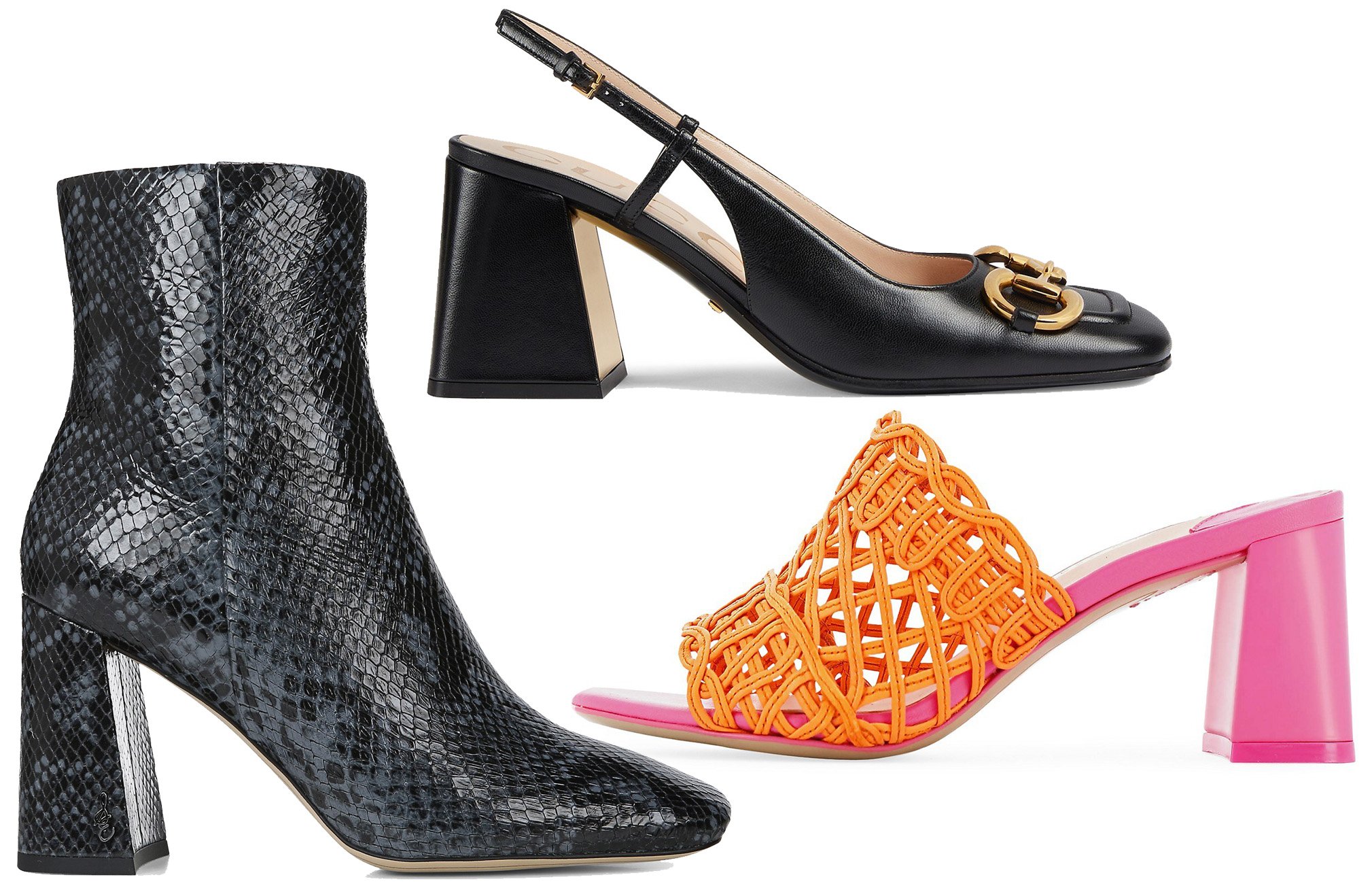 Similar to block heels, flare heels are comfortable but have a more feminine and retro look
These heels are just as comfortable to wear as block heels, helping to distribute your weight as you walk. What we love about this style is that it will add a feminine and vintage-inspired aesthetic to your outfit.
The flared heel will naturally elongate your figure. They're an ideal mid-way between your usual slim heel and a block heel. This style usually comes with almond or round toes for extra wearability.
5. French Heels
Want to add a little European flair to your outfit? French heels take their inspiration from the original silhouette that was made for men in France.
They're similar to a spool heel but are usually considered a block heel version of the kitten heel. These shorter heels have a curved bottom, with a wider top connecting the heel and sole.
French heels are the block heel version of kitten heels
French heels are your go-to if you struggle to walk in a thinner heel and need a little extra support.
What makes this heel style unique is that it sometimes appears in a textile or fabric material, sticking to the original inspiration of the shoe.
6. Kitten Heels
We've already referenced them a few times, but the kitten heel is a style that constantly makes a reappearance in trends. This is the heel for you if you want a heel without too much height.
Kitten heels are popular amongst those on the taller end who are self-conscious about stepping out in a stiletto heel.
Short, thin heels define kitten heels that are usually seen in taller women
Kitten heels have a thin shape, clocking in below three inches. You'll usually find these heels with a pointed toe, giving them an elevated and sophisticated heel.
This style is a great choice for your workwear closet or if you struggle to be comfortable in a taller heel shape.
7. Stiletto Heels
Meet the most popular heel style and one that everyone instantly thinks of.
The stiletto heel is a thin shape that comes in a variety of heights – whether you like a mid-height or a Louboutin-worthy heel. Most stilettos sit at around four inches or more.
Stiletto shoes are their own category of heels, ranging from open-toe sandals to pumps and platforms.
The classic stiletto comes in patent leather with a natural shine finish, giving these shoes an elevated feel.
Named after the stiletto dagger, the stiletto is the sexiest type of heel with its long and ultra-slim shape
Every woman needs at least one pair of stilettoes in their closet – whether it's a classic, minimalistic shade or a statement color. One thing to consider is the wearability of the heel and your lifestyle.
Choosing a stiletto with an exposed or hidden platform can make it easier to walk by minimizing the difference in height between your toes and ankle.
Stilettos can also come in everything from sling-backs to knee-high boots, showing the popularity of the silhouette. The higher the stiletto, the less wearable the shoes are for long-term wear.
The taller stiletto heel is a go-to choice for nights out, elongating your legs to give you a more sultry look.
If you want to make your legs appear as long as possible, choose a shade that matches your natural skin tone or tan.
8. Spool Heels
These heels are the younger sister of the French heel. They first appeared on the fashion scene during the Baroque and Rococo eras in Europe.
Their inspiration comes from the original curved heel of the French shoe, but with a more hourglass appearance. The name 'spool' comes from its resemblance to the spinning machines of the era.
Named after the spool, spool heels have a curvy hourglass shape similar to French heels but higher
If you want a heel that is slightly higher than a kitten heel, with the wearability of a block heel, the spool is your must-have style. You'll find these heels in everything from mules to open-toe sandals and sling-backs.
9. Intricate Design Heels
The heel is the focal point of any shoe. Ralph and Russo ushered in a new style of heel trend with their 'Eden' style, incorporating metal leaves across the heel, spiraling from the tip to the ankle tab.
Wear intricately designed heels for a statement-making look
You'll typically find these heel styles in a minimalistic color, blending a statement moment with a classic aesthetic.
If you're looking for a shoe to celebrate a special occasion like a birthday or wedding, this heel style gives you an eye-catching design.
10. Wedge Heels
One heel that you might not instantly consider to be a heel is the wedge. These shoes connect the sole to the back of the heel, giving you an elevated sole that ties the shoe together.
Wedge heels provide height and comfort without compromising style
Wedge heels are a go-to choice for spring and summer, giving you a preppy or nautical aesthetic.
If you want the height of a stiletto with more wearability, you want to check out this heel type. You'll get an extra few inches with even weight distribution to keep you on your feet for hours.
Most Popular Heel Materials
Now that you know the must-have heel types, it's worth looking at the different styles of materials that are available. Some material choices are more popular than others, directly impacting the wearability and aesthetic of the heels.
The material of the heel is just as important as its shape, contributing to the overall aesthetic of the shoe. We're rounding up a few of the most common materials for heels, so you know which styles to add to your shopping list.
11. Cork Heels
Just like a luxury champagne bottle, a cork heel is more durable than meets the naked eye. If you're looking for an environmentally friendly heel material, cork heels are becoming a more popular choice.
Cork heels are lightweight yet durable and chic, especially during summer
You'll usually find this material on wedge heels, which make a comeback every summer. If you want inspiration on how to wear your cork heels, check out the summer style of the Duchess of Cambridge.
Cork heels are usually mixed and matched with a different fabric for the uppers of the shoes, whether it's suede or leather.
What we love about cork is its versatility and durability, meaning you can enjoy your heels for seasons on end.
12. Leather Heels
The single most popular heel material is leather. If you want to invest in a pair of heels, leather should be your go-to choice. You get a smooth texture with unbeatable quality.
The beauty of leather is that you're spoilt for choice, with different price points and aesthetics to choose from.
Calfskin leather is the most popular material used for shoes as it is timeless and durable
Lambskin is as soft as butter against your skin but is more prone to aging than Saffiano leather. Calfskin is the most common type of material for shoes, giving you durability and a soft texture.
A leather shoe is usually more wearable as the material molds to the shape of your foot. Adding a rubber sole can make your heels easier to walk in.
This material appears on every style of heel, with both a matte and natural shine finish available in your choice of leather.
13. PVC Heels
Are you on a budget and looking for a heel that looks similar to leather? Plastic should be your go-to choice. PVC plastic is a tough material that gives you durability and stability.
Look chic without breaking the bank with tough and durable PVC heels
You'll usually find plastic or PVC as the choice of material for heels from high-street brands like H&M or Zara. Keep an eye out for PVC heels if you want a trending shoe style on a budget.
14. Polyurethane (PU) Heels
If you're vegan or want a lookalike for leather heels, it's worth considering polyurethane. You get a patent leather aesthetic without paying the luxury price tag.
Some people think that polyurethane is easier to clean and maintain than its genuine counterpart.
Polyurethane material looks similar to patent leather but is easier to maintain and less expensive
PU appears in most of the items you use every day – whether it's the cover of your smartphone or the furniture you sit in. If you put your heels through a lot every day, then a polyurethane heel can help improve the life span of your shoes.
15. Wood Heels
Wooden heels first became popular in Dutch culture as a common material for everyday shoes. The benefit of wood is that it gives you extra comfort and stability while being durable and lightweight.
Wood is typically chosen for shorter and wider heels, making it ideal for everyday wear or as your go-to work shoes.
Wooden heels are not only durable but also lightweight and provide stability
No two wooden heels are the same, as they'll reflect the natural characteristics of the wood. Brands and designers use different types of wood, whether it's cherry or walnut, to give them their desired aesthetic.
16. Cone Heels
Sometimes, shoe names can be deceiving – but not the 'cone heel'. It's exactly what it says on the thin. Be careful when wearing these shoes as the heel will scoop your feet upwards, leaving you standing on your toes.
This statement heel has a wider base at the sole, which tapers to become narrower, often becoming a point. You can find many examples at Farfetch.
Beige leather cone-heel slip-on pumps from Jacquemus
Cone heels are an ideal alternative to traditional stiletto heels as they offer a wider base, providing you with more support while walking.
Most women find cone heels more manageable to walk in, especially if you're heading to the office or a special event. While it may look like you have an ice cream cone stuck on your shoe, these heels are both stylish and practical.
They're a must-have for every woman's closet. Not sure where to start? Choose a cone heel with a slight scoop and a lower arch for extra support.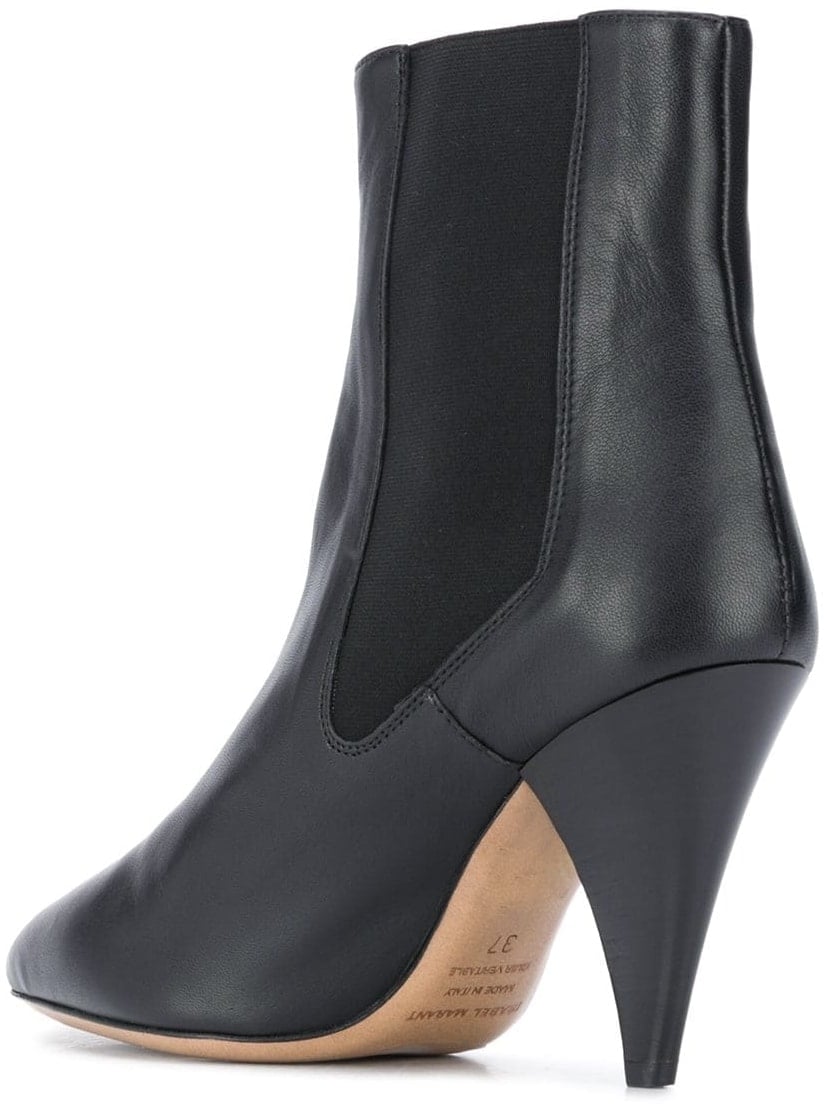 Black cone-heel boots from Isabel Marant
Heels give you added height and a feminine twist to any outfit. Every woman needs to have at least one pair of heels that is tried and tested. The higher the heel, the sultrier your look will be.
There's the perfect heel out here for everyone, whether you prefer a shorter style or a curved silhouette.
We hope this guide makes it easier to find your next pair of heels so that you can find a style that fits your lifestyle and is wearable for any occasion.
Which heel style is your go-to?