We're living in the era of 'dad shoes.' Whether it's Birkenstocks or sneakers, functional fashion is reigning supreme. The latest vacation favorite to make a comeback is the classic clogs.
For years, we thought these shoes were just for days by the pool or wearing in the house. Now, clogs are everywhere you look.
Sarah Jessica Parker, Jennifer Garner, Heidi Klum, and Eliza Bennett prove that clogs can be worn from the street to the red carpet (Credit: ROGER WONG / BauerGriffin / INSTARimages / Future Image / Startraksphoto)
Why have these minimalistic shoes come back in style? Are they chic streetwear or a nostalgic purchase? Just like Birkenstocks, clogs are having a resurgence as a functional fashion that is fuss-free, laidback, and comfortable.
Looking to update your shoe closet? Clogs are the underdog that we're loving this season. Trust us. Your feet will thank you.
What are Clogs?
Clogs are older than you might think. While we're all familiar with the rubber style, these shoes were originally made from wood. They were designed as affordable protective footwear for factory and agricultural workers.
Wooden clogs evolved into the shoes we now associate with Japanese geta and Swedish traskors. You'll even find clogs that are designed for tap dancing!
Originally made from wood, clogs were designed as protective footwear for factory and agricultural workers (Credit: Valentina Barreto / Westend61 / Cover Images)
Every pair of clogs has one thing in common. They're designed for support. These are the shoes that will put a spring in your step no matter how long you're on your feet.
Clogs first broke into the fashion mainstream in the '70s and '80s as a unisex style that had an avant-garde feel. By the '90s, clogs became a popular style of platform sandals.
The 'Dutch clogs' made a return to the runway in the late 2000s and 2010 with Chanel, Louis Vuitton, and Viktor & Rolf.
The Most Popular Clogs
While clogs have a streamlined silhouette, there's a unique style out there for everyone. It's no surprise that there are a few famous styles of clogs that reign supreme. This list of the most popular clogs is the perfect place to start when shopping for a pair of your own.
1. Crocs – Women's Classic Platform Clog, $54.95 at Zappos
The most common style of clogs is by the brand Crocs. They're synonymous with the style and sit at an attainable price point. You'll find clogs in every color of the rainbow. A classic platform clog will hold up to 34 Jibbitz clips.
Crocs' classic clogs updated with a heightened, contoured outsole made from Legendary Croslite foam cushioning for all-day comfort and support
These clogs are the go-to choice for nurses and healthcare staff, featuring the 'Crocs comfort' lining that is lightweight and flexible.
2. Crocs – Classic Retro Resort Clog, $54.99 at Crocs
Want a quirky twist to your clogs? Check out Crocs' latest 'classic retro resort' collection. These tropical-inspired designs will add a bold splash of color to your outfit.
The iconic Crocs clogs designed with summery Hibiscus Flower prints
The print 'hibiscus flower' is the ultimate choice for a day of relaxing by the beach on your next vacation.
3. Hunter – Original Play Clog, $75 to $85 at Nordstrom
Clogs started their life as functional workwear shoes. It's no surprise that Hunter, the British brand famous for its wellington boots, has launched their own style of clogs.
Hunter's comfy lightweight clogs are water-resistant and have soft lining and textured soles
Hunter's clogs are designed for everyday tasks, whether you're taking the dog for a walk or cleaning up your garden. These water-resistant shoes have a soft lining suitable all year round.
Choose the 'Arctic Moss' shade for a classic Hunter look or have fun with the 'Wildmint' shade.
4. Ancient Greek Sandals – Classic Shearling-Lined Clogs, $104 (from $260) at Farfetch
Some clog fans choose the style as an alternative to slippers. If you want clogs for colder weather, check out this style by Ancient Greek Sandals.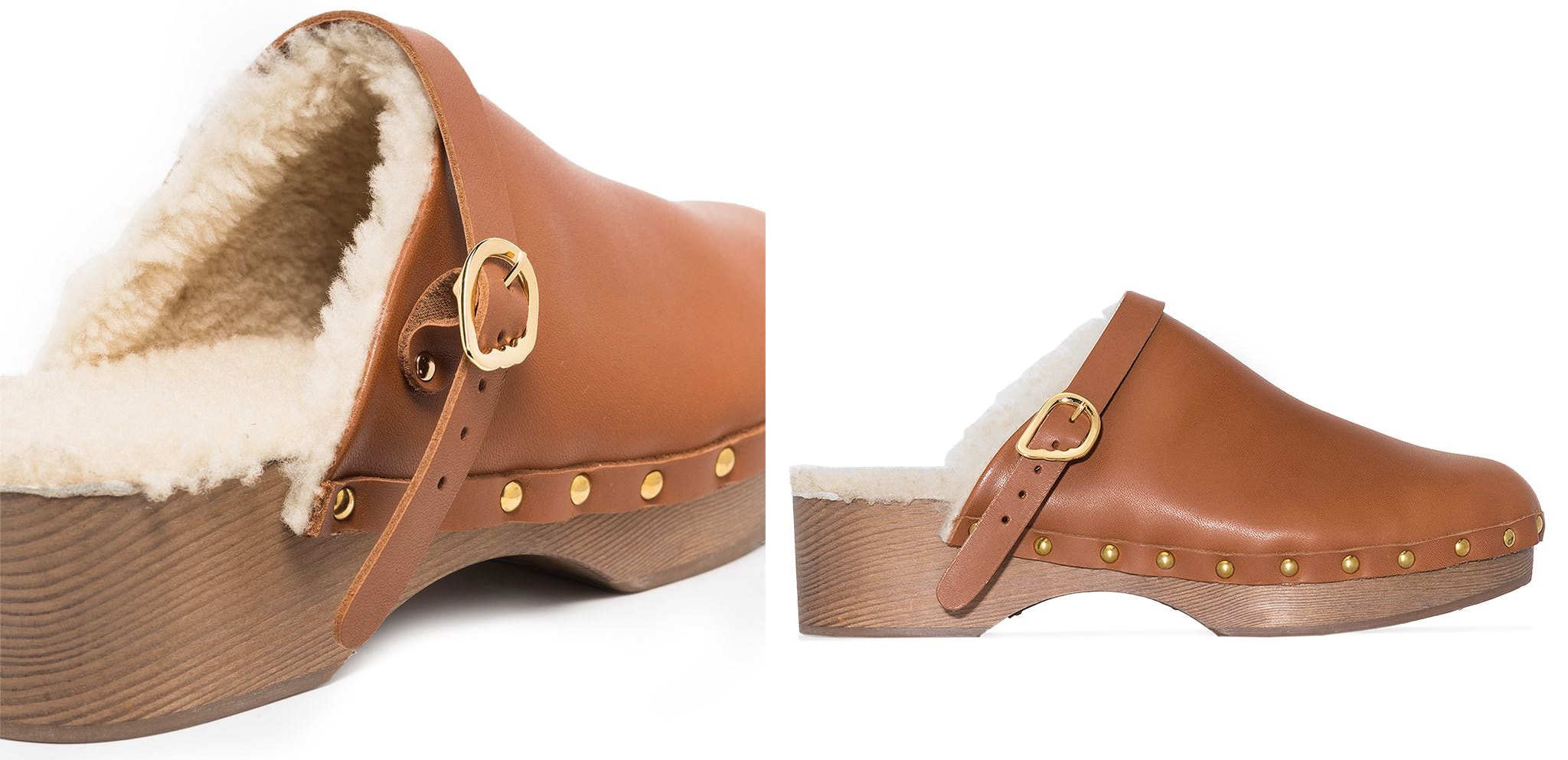 Handmade from brown leather, these Spring/Summer 2022 clogs have gold-tone studs along the sides and a buckle-fastening strap for a practical fit
These clogs feature a buckle fastening and shearling lining that offer a nod to the classic Scandinavian style.
5. Balenciaga x Crocs – Water Resistant Clog,
One famous style that's worth trying comes from the Balenciaga x Crocs collaboration. You know a vintage style is back in vogue when Balenciaga jumps on the trend.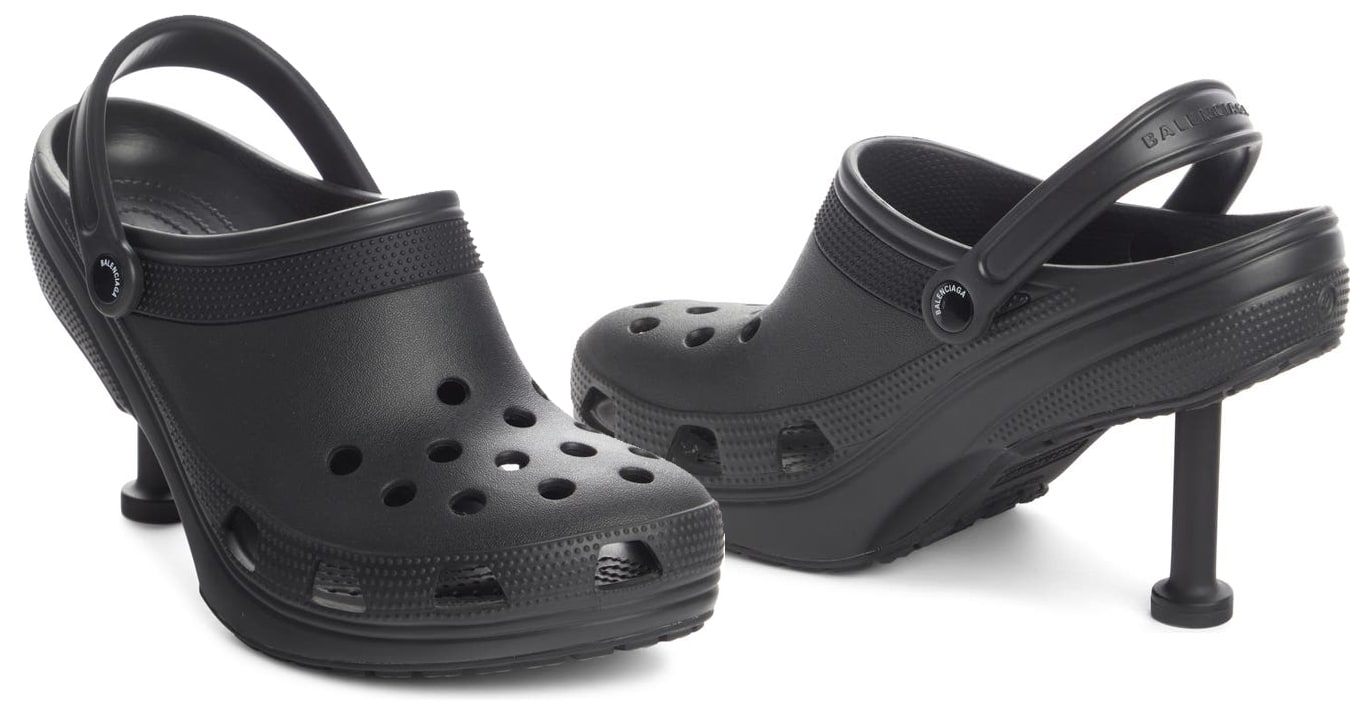 Balenciaga takes the Crocs iconic silhouette to the next level, literally, with the addition of slim stiletto heels
This shoe takes the silhouette of the classic clog style and adds a slim stiletto heel. They're a streetwear twist on the classic style with a distinctive Balenciaga feel.
How to Style Clogs Shoes
One of the most common questions we get is, "how do you wear clogs?". These minimalistic shoes can feel difficult to style, but they're more versatile than you might think.
Our favorite way to style clogs is to embrace the '70s aesthetic. These shoes work with a pleated midi skirt or classic culotte jeans. When in doubt, embrace laidback chic with your signature denim jeans and an oversized t-shirt.
Clogs are an alternative to sneakers and sandals. Choose classic rubber clogs for an off-duty look, or elevate your outfit with traditional wooden clogs.
1. Rag & Bone Esme Pleat Midi Skirt, $227.50 (from $325) at Nordstrom; 2. English Factory Sheer Shirt, $41.47 (from $100) at Zappos; 3. Paige Robbie Studded Clog, $249.99 (from $348) at Nordstrom; 4. Amapô Marion Denim Culottes, $158 (from $198) at Farfetch; 5. Toteme Oversized Organic-Cotton Jersey T-Shirt, $84 at Matches Fashion; 6. Veronica Beard Maren Clog, $395 at Shopbop
Don't be afraid to style your clogs with a more feminine look. A muted clog is the perfect pairing for a floral dress.
Alternatively, clogs can give an athleisure look a quirky feel. Clogs and activewear are the ultimate travel outfit for a day of running errands. Our go-to look this season is bicycle shorts, an oversized boyfriend shirt, and clogs for a pop of color.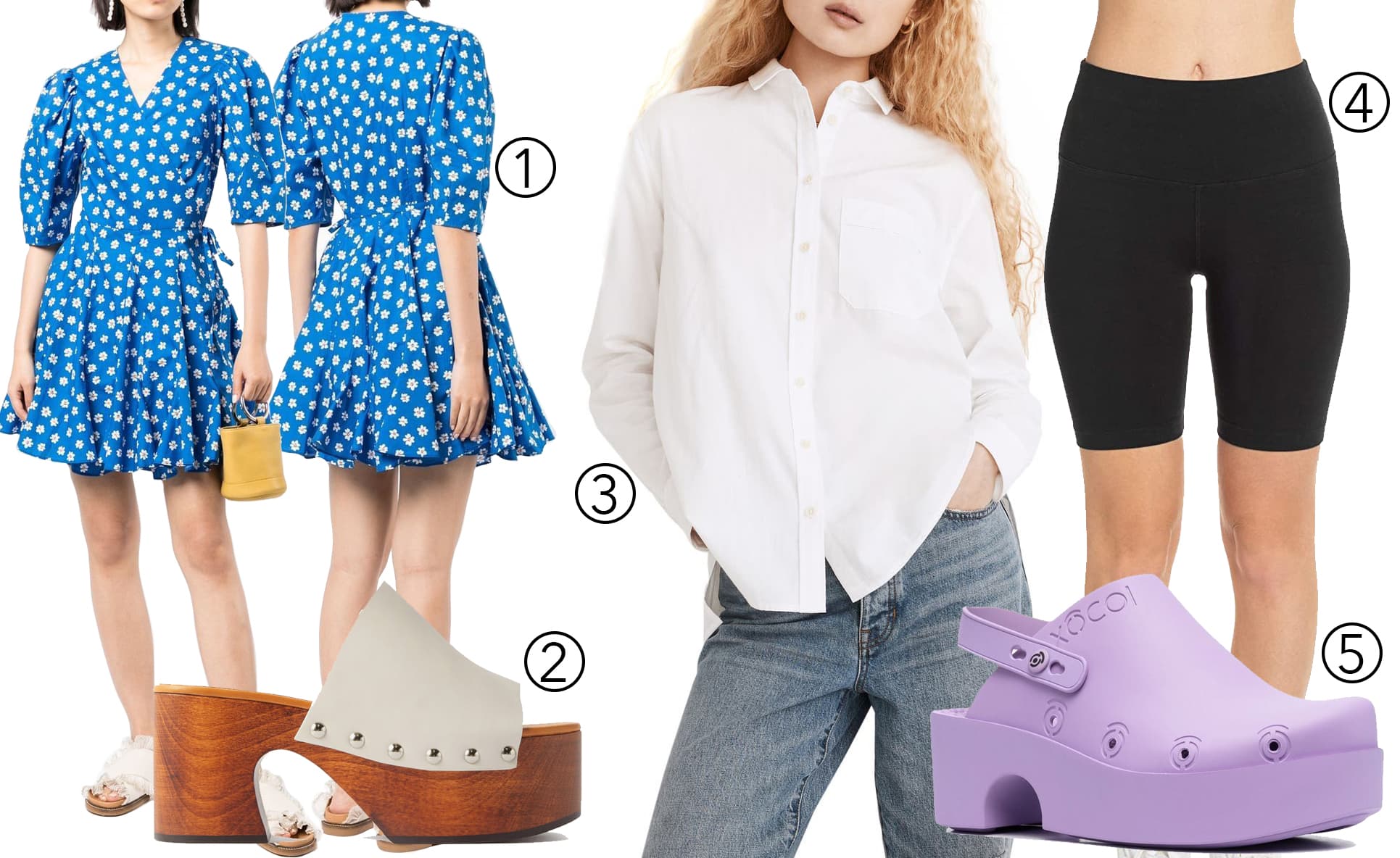 1. tout a coup Floral-Print Wrap Dress, $125 (from $208) at Farfetch; 2. Marni Studded Leather Clog, $531 (from $663) at Matches Fashion; 3. Madewell Oversize Ex-Boyfriend Button-Up Shirt, $82 at Nordstrom; 4. Hard Tail Flat Waist Cotton Spandex Bike Shorts, $30.59 (from $51) at Zappos; 5. XOCOI Slingback Platform Clog, $83 (from $138) at Farfetch
Why Do Nurses Wear Clogs?
We can't talk about clogs without mentioning the people who are famous for wearing them. Nurses! Clogs are as synonymous with nurses as the scrubs that they wear. They need the best shoes for standing all day!
Clogs have been the go-to shoe for healthcare professions for decades. They're designed with comfort and support in mind, making them ideal for a busy day at a hospital. Nurses who work 12-hour shifts swear by their trusty clogs.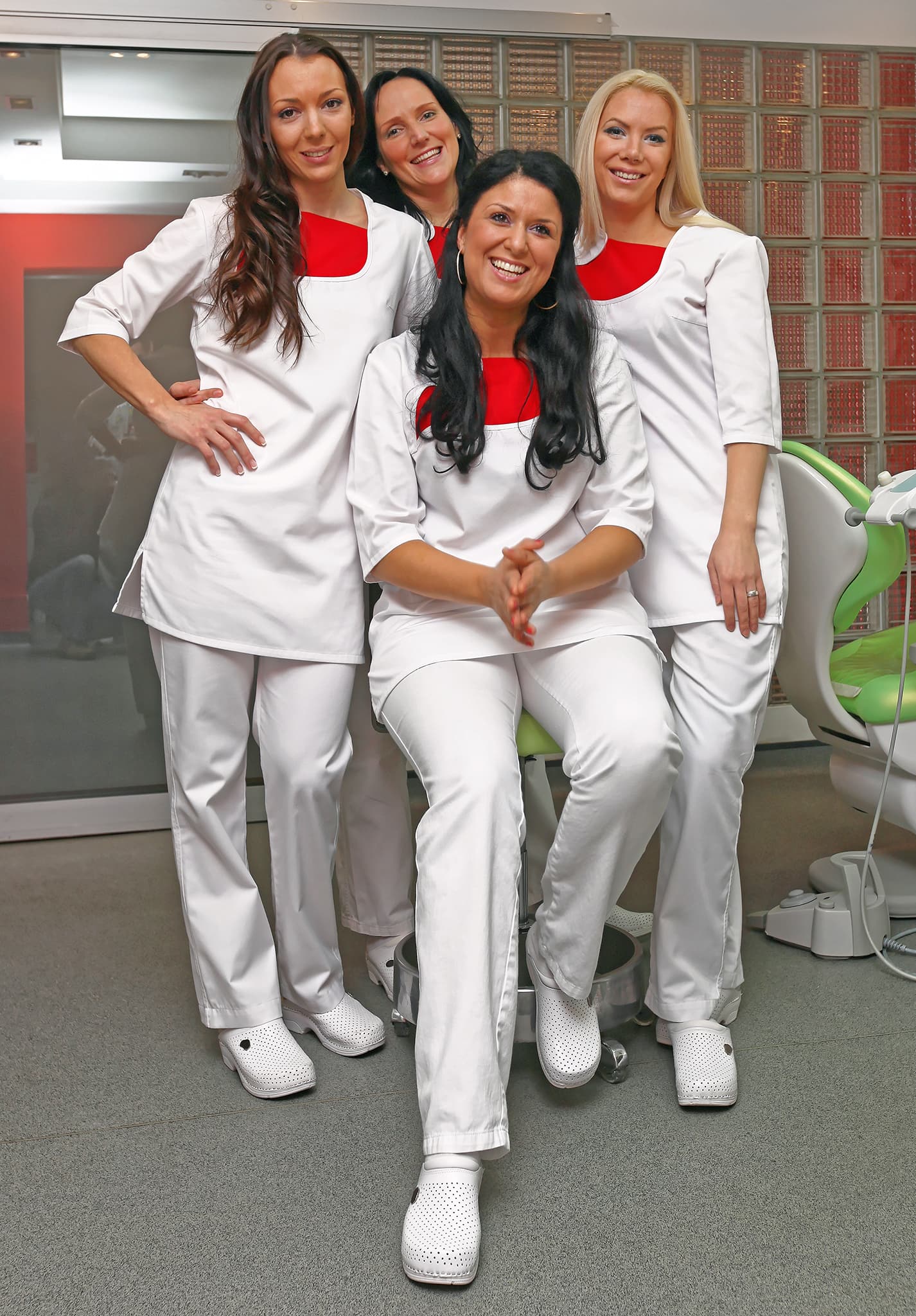 Clogs, particularly rubber clogs, are popular among nurses and doctors who need a pair of supportive and comfortable footwear (Credit: Baloncici / Shutterstock)
Many nurses and doctors who work in operating rooms will invest in slip-resistant clogs for extra support. Crocs—the most famous brand of clogs—even gave away free pairs of shoes to healthcare workers for National Nurses Week this year!
Clogs tick all the boxes as supportive and comfortable footwear that prevents aches and pains. If they can survive a 12-hour nursing shift, they'll get you through anything that the day throws at you!
Why You Should Invest in Clogs
Clogs are fashion meets functionality. The new 'clogs clips' craze means that you can put your personal twist on these minimalistic shoes. They're the all-in-one that will keep you on your feet all day long.
Throw them in your pool bag or wear them for a day of running errands. If there are any shoes you should invest in this season, it's clogs!
Clogs make a great timeless, sartorial investment as they provide comfort and work well with any outfit (Credit: ZikG / Shutterstock)