Slippers are one essential that we all need in our closets.
While we often think of our shoes as something we wear outside, slippers are indoor shoes that protect your feet and keep you comfortable at home.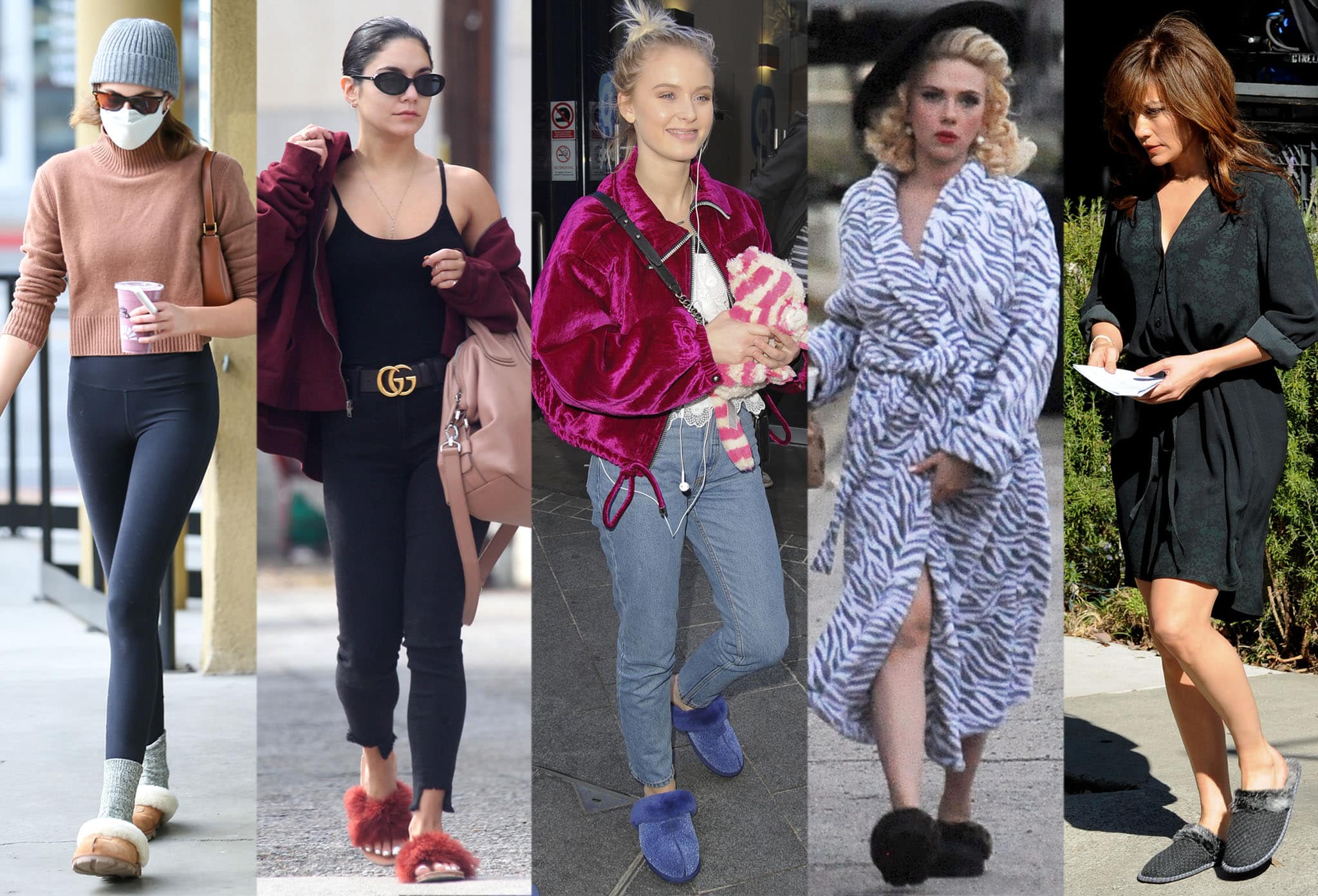 Kaia Gerber, Vanessa Hudgens, Zara Larsson, Scarlett Johansson, and Jennifer Lopez in comfy house slippers (Credit: Cousart / JFXimages / WENN)
Some types of slippers double as outdoor shoes, depending on the material of their soles. These shoes are worth a splurge, as you'll often only need one pair to see you through a few years.
You'll wear slippers daily while prepping your morning coffee or applying your nightly skincare routine. This article will provide you with everything you need to know about slippers, including the top 8 brands to look out for.
History and Evolution of Slippers: Footwear with a Rich Legacy
The word 'slipper' drives from 'to slip.' It reflects how your feet slip into the shoes. Slippers are some of the oldest shoes still in circulation today. We can trace their origin back to as early as 4700 BC in China.
As we know them today, slippers date to at least the 12th century in Vietnam. Their first recorded use in the Western world wasn't until 1478. In these periods, slippers were made using cotton or woven rush, using leather lining.
They often carried embroidery symbols that represented an individual's status.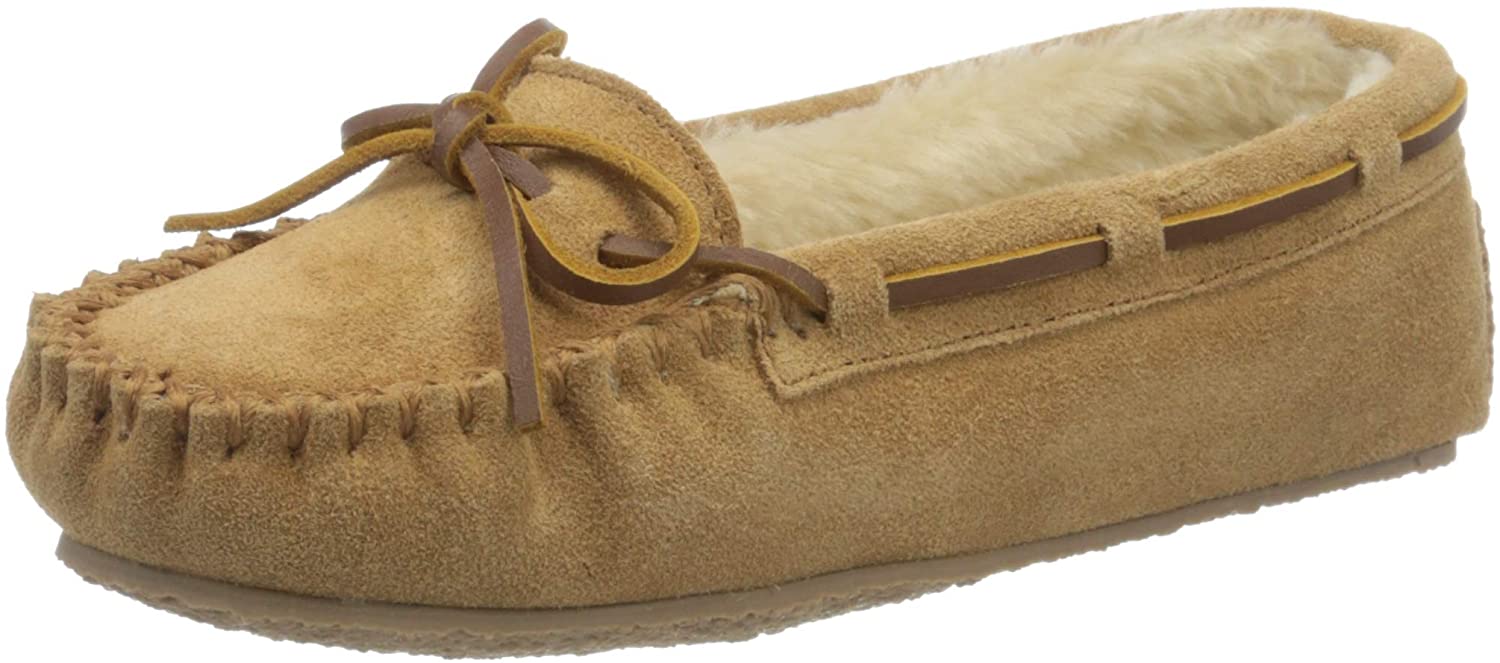 Minnetonka's best-selling handmade slipper features a timeless moccasin silhouette that fits snugly on the feet
Native Americans made slippers called 'moccasins,' with beadwork and fringing as decorations. The soft interior was similar to modern-day slippers.
During the Victorian era, slippers became a common way of keeping your home clean from dirt and dust. They became a popular DIY project for women who utilized their needlepoint skills to add embroidery to personalize their slippers.
Slippers are essential indoor footwear that provides comfort and protection for our feet at home, distinguishing them from outdoor shoes (Credit: Dulin / Shutterstock)
We've all heard the phrase "glass slipper" from the fairy-tale Cinderella. In reality, most slippers are made with a fleece lining and rubber sole.
The slipper silhouette has evolved over the years. Not every style is an open-heel, and some have even adapted features from other silhouettes.
There is much debate about whether slippers qualify as shoes. While they fall into the 'footwear' category, not every pair is wearable outside.
Although you wouldn't wear slippers to work, they're the shoes you'll spend most of your free time wearing. While most shoes have some style of fastening, whether velour or laces, slippers don't feature any fastenings. The wearability of slippers makes them a must-have.
You can easily slip your feet in and out of your slippers, making them perfect for wearing when getting out of bed.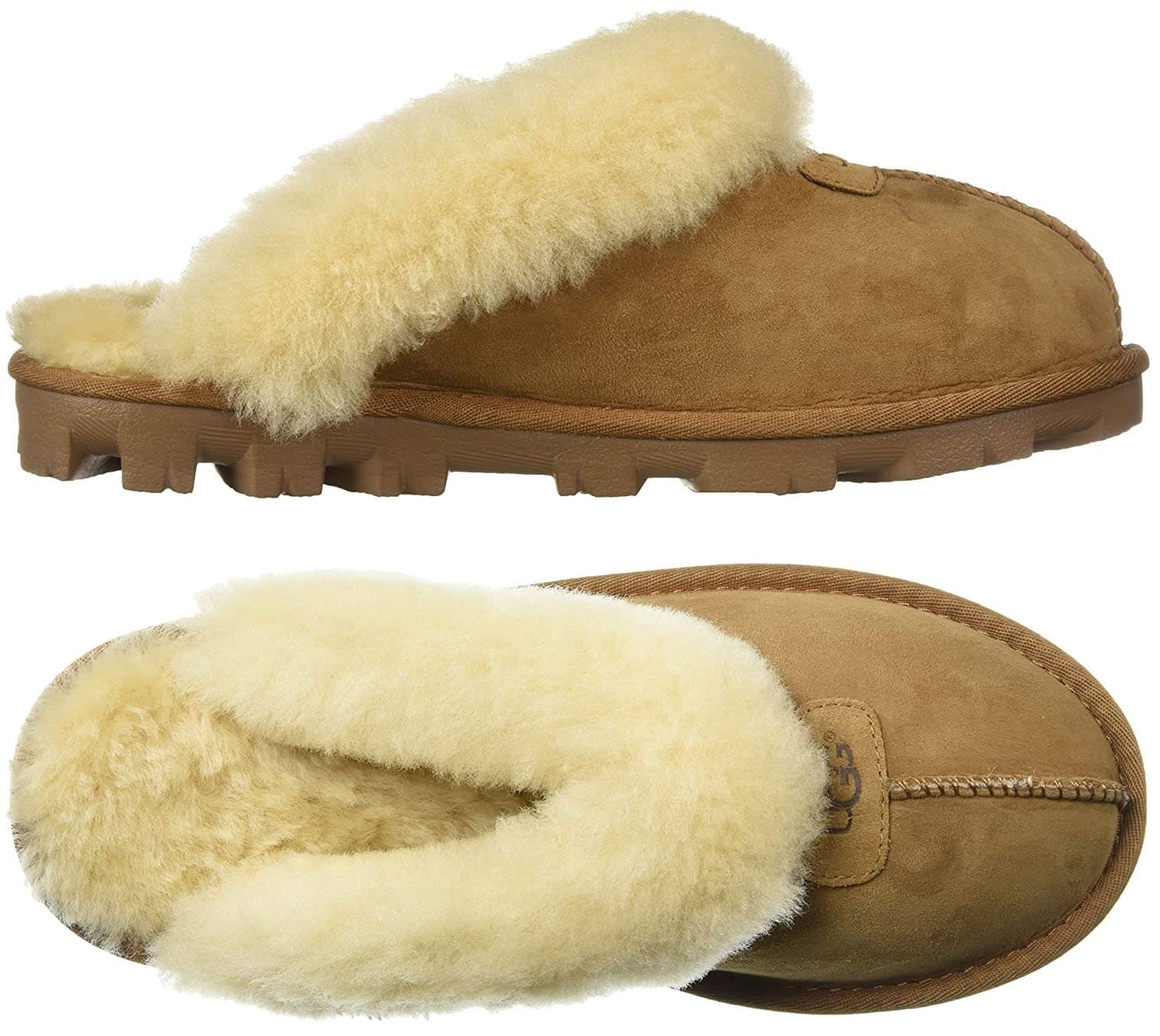 The Coquette is one of UGG's most popular slipper silhouettes featuring a Twinface sheepskin upper and a sheepskin insole
The most noticeable difference between slippers and traditional shoes is the material used. Most slippers use a fluffy interior lining and a rubber sole, while most other shoes use leather.
Canvas and wood are other popular shoe materials; however, you'll rarely find these on slippers. One significant benefit of slippers is their longer lifespan than traditional shoes.
Although they're made using softer materials, you typically wear them on stable surfaces like wooden floors and carpets. While sneakers might last a year or two, investing in slippers can get you years of wear.
Slippers vs. House Shoes: Key Distinctions and Advantages
Slippers are commonly confused with house shoes. While they have several similarities, they have major distinctions. Slippers have a fuzzy interior lining that warms your feet.
You can wear them to grab the post from your mailbox or take your pet outside in the morning. Most slippers have a similar appearance to traditional outdoor shoes. Slippers are a hybrid that you can wear indoors or outside.
House shoes are less expensive than slippers but aren't as versatile or durable. They'll keep your feet protected and your floor clean, but they won't give you the same look or feel.
The Enduring Appeal of Slippers: Why They're a Staple in Every Home
Slippers are the perfect solution if you have a shoe-free household. If you have carpets or delicate floors in your home, you may be avoiding wearing your outdoor shoes inside to prevent leaving dirt or marks.
These situations are where slippers are a must-have. You can keep your feet protected without damaging your floors.
What attracts people to slippers is that they're easy to wear, similar to mule shoes. The open back and comfortable interior lining make them ideal for wearing at home when you want a more casual pair of shoes.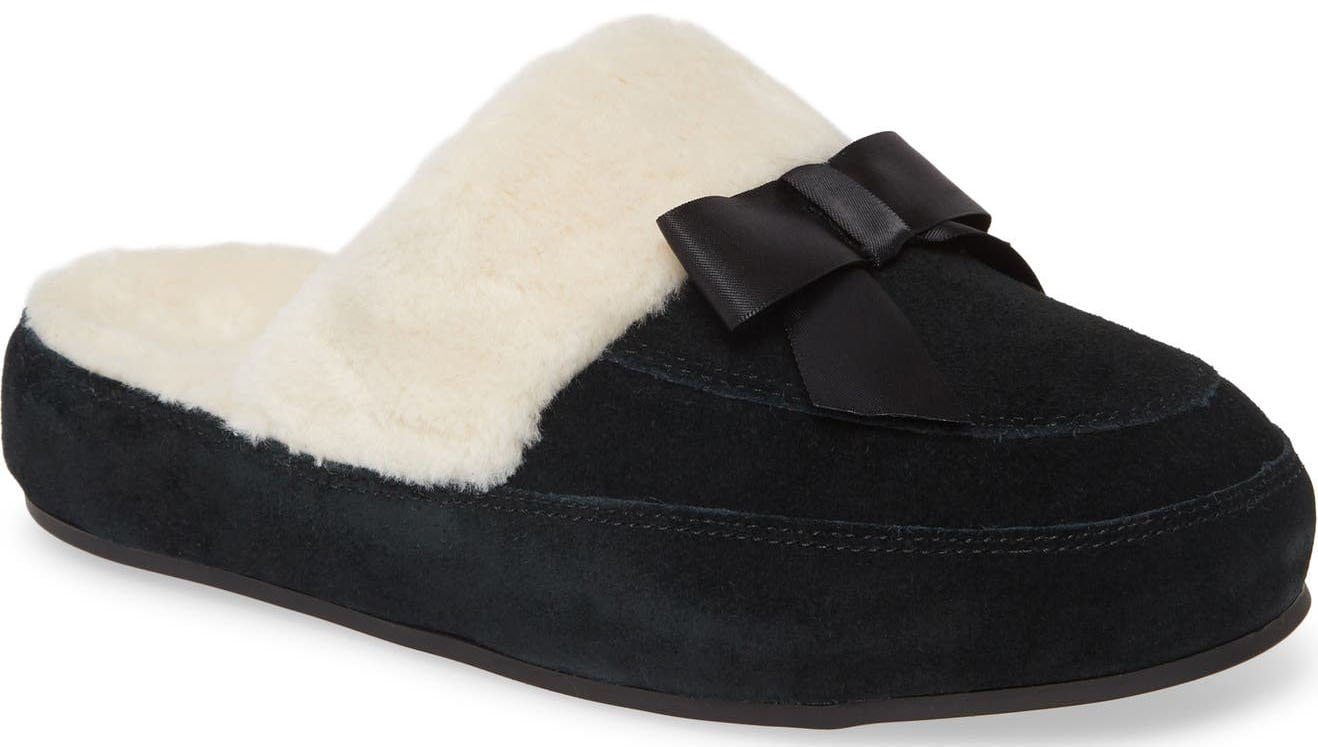 The Vionic Nessie is an easy slip-on slipper that has the label's signature orthotic footbed for support and comfort
With so many different styles on the market, you will surely find a pair that works for you. You might prefer the slipper boot style if you live in a colder climate.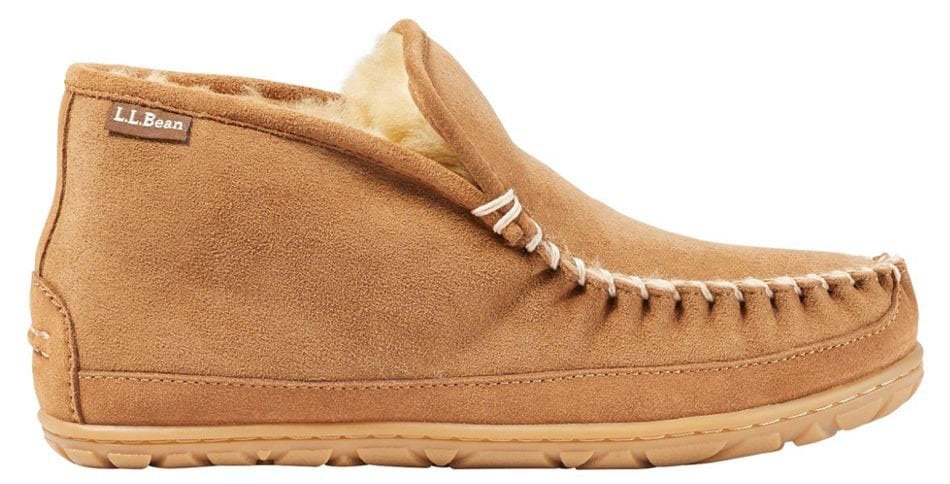 For the colder weather, a pair of slipper boots like the L.L. Bean's Wicked Good should keep you warm and cozy
Their versatility and wearability make them the perfect shoes to sit beside your bed or next to your front door. You can find slippers in every color under the rainbow, whether you like pastel pink or classic monochrome grey.
Essential Considerations When Purchasing Slippers: Finding Your Ideal Match
Before you jump into our brand recommendations, we want to point out a few things you should consider when purchasing slippers.
The sole is perhaps the most important feature. While it's not usually what will attract you to a specific style, it's the feature that will determine the wearability of your slippers.

Acorn's Moc Slippers feature rubber outsoles that make them perfect for both indoor and outdoor wear
If you intend to wear your slippers outside, you want to focus on finding a pair with rubber soles for added protection. These soles will help if you need extra arch support, as softer soles will have you walking flatter against the ground.
It's also worth noting that softer soles will wear quickly, especially if you're walking on harder surfaces. If you want to get the most out of your slippers, it's a good idea to wear them strictly indoors.
Open-toe slippers like Dear Dreams' Jessica is wearable even during the warmer days
It may seem unconventional, but you must consider your climate before choosing which slippers to buy. While you can wear them year-round, slippers are a must-have when the temperatures fall and your feet start to get cold.
If you have circulation issues, slippers can be a game-changer. They're a warmer alternative to socks, making you less likely to slip on smooth surfaces.
Slippers are essential to any home, providing comfort, warmth, and protection for your feet. With a wide variety of styles available, you're sure to find a pair that suits your needs and preferences. So next time you're looking for a way to pamper yourself, slip into a pair of slippers and enjoy the relaxation they provide.
Step into Slipperland: A Whimsical Journey through Comfort, Fashion, and Hilarity
These quotes take us on a whimsical journey through the world of slippers, where comfort meets fashion and hilarity often follows. For instance, while some emphasize the importance of comfort, others, like David Lammy, humorously note that hoodies and slippers are a go-to choice, unless you happen to be a black male!
On a lighter note, Andre Leon Talley's collection of Uggs reaches epic proportions, even including bedroom slippers. One can only wonder how many pairs of slippers one truly needs!
And of course, there's Paul Hollywood, who prefers to trade in his TV persona for jammies and slippers by 8 P.M., proving that even celebrity chefs have their cozy moments. These quotes remind us that slippers aren't just footwear; they're often the source of comfort, fashion statements, and even a touch of humor in our lives.
"It's easier to put on slippers than to carpet the whole world." – Al Franken
"I'm rather happy with sweats, slippers and no make-up on." – Dahyun
"With fame comes opportunity, but in my opinion, it also includes responsibility – to advocate and share, to focus less on glass slippers and more on pushing through glass ceilings and, if I'm lucky enough, then to inspire." – Meghan Markle
"I have everything from leopard print slippers to leopard print sheets and pajamas." – Teresa Giudice
"I will never run out of cycling shorts, ballet slippers, denim shorts, socks and pyjamas." – Shakti Mohan
"For me, a hoodie is like a pair of slippers or pyjamas – something comfortable and well-worn that you can wear unthinkingly. Unless, of course, you happen to be a black male." – David Lammy
"Richard was in heavy, heavy costume, he could hardly sit, you know, and I turned up and they put me in two layers of silk, so I played him much lighter – you know, floating around in a pair of slippers, a bit of a hippy." – Michael Gambon
"Uggs are comfort shoes, and it's important to have a shoe that gives you a sense of comfort. I have about 15 pair of Uggs – the same shoe, the same color. And I also have the bedroom slippers." – Andre Leon Talley
Andre Leon Talley emphasizes the importance of comfort in footwear, particularly in Uggs, of which he owns multiple pairs, highlighting their comfort and versatility (Credit: Dulin / Shutterstock)
"I have no problem with the idea of comfort, but it is not an important thing aesthetically. If you look at a shoe and immediately say it looks very comfortable, in terms of design, it is not going to excite me. Of course, I am not putting nails in my shoes to ensure everybody is in pain, but a heel is not a pair of slippers and never will be." – Christian Louboutin
"My first thought in life was wanting to be an actor. I was in ballet slippers and on pointe as soon as I could walk. I always wanted to be an actress, not a mother or housewife." – Loretta Swit
"I'm quite shy, really. The figure you see on TV, that's just a persona. I like getting home, putting my feet up, getting into my slippers and dressing gown." – Paul Hollywood
"I search for items that have history, like vintage finds – I love fur kitten-heel house slippers from the 1950s – and pieces from fashion houses that have been around for a long time, like Chanel and Dior." – Andra Day
"I'm not big on fuzzy or fleecy slippers. I just don't like the texture and the heat. It just gets to be too much." – Aidy Bryant
"The Democratic party, respective to health care, is like a person who was sent into the store to purchase a gallon of milk and some butter for the evening's meal and instead walked out with a 'Gladiator' DVD, a can of Easy Cheese, and some Homer Simpson house slippers because how funny are they?" – Dana Loesch
"Three months before he died, I began to steal things from my father's house. I wandered around barefoot and slipped objects into my pockets. I took blush, toothpaste, two chipped finger bowls in celadon blue, a bottle of nail polish, a pair of worn patent-leather ballet slippers, and four faded white pillowcases the color of old teeth." – Lisa Brennan-Jobs
"I spend the majority of my time in the office and I usually wear a casual bandage dress and flip-flops or slippers." – Huda Kattan
"After a show or a long day, there's nothing better than some cozy slippers." – Carly Pearce
"Take off your bedroom slippers. Put on your marching shoes,' he said, his voice rising as applause and cheers mounted. 'Shake it off. Stop complainin'. Stop grumblin'. Stop cryin'. We are going to press on. We have work to do." – Barack Obama
"Anybody who wears slippers everywhere he goes can't be that intense." – Bobby Wagner
"Your slippers last a lot longer in your bedroom. On a film set, they do get very scuffed up." – Martin Freeman
"Ageing doesn't mean giving up on style and individuality; it doesn't mean abandoning fashion and living in comfy slippers and flannel knickers." – Twiggy
"I live out in the desert, in farm country. I'm around a lot of farmers, guys with packing houses, that sort of thing. Half the time, these guys are in their pajamas or in their slippers. It's their place." – William Devane
"I feel fortunate I have this amazing relationship with so many people in America, because I was in their homes at a very private time of day. They probably might have still had their robe on and their slippers and haven't made the beds." – Joan Lunden
"I'd say my best memory was climbing Mt. Fuji, and the worst memory was… trying to fit my feet into the free giveaway slippers at Japanese schools." – Bruce Feiler
"We determine whether a book is for boys or girls long before the reader gets a chance to decide: we package them with soldiers and ballet slippers on their covers, war machines and glittering gowns." – Marie Lu
"I love slippers, but I have five dogs. So unfortunately, I have a lot of single slippers." – Georgina Bloomberg
"When I get home at night, I always have a soak in the tub before changing into my dressing gown and slippers." – Paul Hollywood
"My wife doesn't let anyone wear shoes in our house, so we have a bench, and under the bench is all UGGs slippers." – Tom Brady
"I might feel a little bit empty, and it might get to me for a short time, but I'm hoping to keep my association with football and with broadcasting – I'm not retiring from everything; I'm retiring from the BBC. I'm certainly not going pipe and slippers." – John Motson
"My dream is to one day afford a real pair of ruby slippers. For me, they will always be the ultimate shoe." – Camilla Luddington
"I wanted to feel at home so I've brought Yorkshire Tea Bags in my suitcase, as well as my slippers!" – Michelle Keegan
"It is a known fact that RuPaul's dresses are in two chunks. Sometimes she'll work the runway and take off all of her padding and put on some sweatpants and Ugg slippers and walk around the studio." – Bob the Drag Queen
"We all need a big cushiony telly show to fall back on. Like the pair of slippers after you unexpectedly went Christmas shopping in your work shoes. Like the cup of tea when your deadlines are making you cry. Like the hug off someone who matters when it's cold and you wanted to look nice, not warm." – Sarah Millican
"There was a time when men thought it was sexy to have a housewife waiting for him to come home from work in her slippers, but in modern society, I think an independent woman is even more sexy." – Kat Graham
"You should never meet your heroes. Paul Newman… I was so excited about meeting him, but he turned up in shell suit bottoms, slippers, and a jumper. He was just so worn out and old, he wanted to go home." – Allan Carr
"Don't you stay at home of evenings? Don't you love a cushioned seat in a corner, by the fireside, with your slippers on your feet?" – Oliver Wendell Holmes, Sr.
"I was a daughterless mother. I had nowhere to put the things a mother places on her daughter. The nail polish I used to paint our toenails hardened. Our favorite videos gathered dust. Her small apron was in a box in the attic. Her shoes – the sparkly ones, the leopard rain boots, the ballet slippers – stood in a corner." – Ann Hood
"Bill O'Reilly is like a comfortable pair of shimmeringly angry slippers, but you know every night what you're going to get." – Piers Morgan
"I'd better be on the road, or I'll be going nuts. I'm not the kind of guy who sits around with a pipe and slippers watching soap operas." – Tommy Shaw
"I'm usually in jammies and slippers by 8 P.M." – Kate Dickie
"I tend to write some, then outline some, then delete some, then go back and rewrite some. I love revising and hate first drafts. I have to wear bedroom slippers. My current favorites come from the Zetter Hotel in London. They have little tobacco pipes on the toes." – Lauren Kate
"When you're an actor, you're mollycoddled, and you're treated with kid gloves. Everyone is like, 'Can I get you some water?' or 'Can I put on your slippers?'" – Tanc Sade
"There's nothing more comfortable or leisurely than having a pair of Ugg slippers on in the house." – Tom Brady
"By the end of his life, one has a far easier time picturing Hugh Hefner buying his girlfriend a comfy pair of slippers than one of the satin corsets the Bunnies used to wear." – Monica Hesse
"Most of the time, even if I'm at home in my sweatpants, I probably have a pair of slippers on." – Mary Helen Bowers
"Voiceover is probably the toughest of all the markets to get into. Everybody wants to do it because it's again three to five hours work. You can roll in there with your bedroom slippers and robe on if you wanted to. And it's fun." – Tony Todd
"My mother always said bringing me up was a tiring business, which I 'believe. For instance, when we lived in Singapore, the Chinese staff used to leave their slippers at the bottom of the steps. Every night, I used to go and remove their slippers. I stopped being tiresome at about 14." – Ann Widdecombe
"Since moving to New York City, I've become such an indoor slippers girl." – Tayshia Adams