How many shoes should you have in your closet? There's no perfect answer. It all depends on your lifestyle. Some people can survive with a capsule closet with a handful of shoes. Other people need a new style for every occasion.
Before building your dream closet, you need to know the different types of footwear for women. There are 20 different types of shoes that you'll find from almost every brand. They cover all the bases – from wedding guest footwear to sneakers that will take you from the office to the gym.
We've curated a list of 20 distinct types of shoes that should have a place in every woman's closet:
1. Ankle Boots: Versatile and Stylish Essentials
These boots were made for walking – and that's just what they'll do. Ankle boots are the most wearable boots you can add to your closet.
You can style them with everything from jeans and a T-shirt to a dress with tights. Ankle boots are universally flattering with their short shaft and the option of a flat sole or block heel.
Ankle boots are boots with short shafts that reach only to the ankles
2. Ballet Flats: The Essence of Parisian Chic
Ballet flats embody the idea of Parisian chic. They're lightweight shoes typically made of leather, giving you an understated but elegant look.
These shoes have evolved from the classic pointe shoes worn by ballerinas. Every fashion brand, from Chanel to H&M, has ballet flats in their permanent collection.
As its name suggests, ballet flats resemble ballerinas' pointe shoes featuring little to no heels
3. Brogue Shoes: Unisex Classics with Vintage Flair
While brogue shoes are typically considered menswear shoes, they're becoming more unisex every season. Brogues are low-heeled shoes with leather uppers with a broguing decoration along the edges.
What makes brogue shoes unique is their vintage-inspired look that is versatile enough to wear every day.
Brogues are low-heeled shoes that can be easily identified by the perforations along the edges
4. Boat Shoes: Nautical Comfort for Land and Sea
Some women's footwear is seasonal, including boat shoes. These shoes are typically made with canvas or leather and have a slip-on silhouette.
You'll usually wear these without socks; they're designed to protect your feet, whether on land or at sea.
Also known as deck shoes or topsiders, boat shoes are usually handsewn or topstitched and traditionally have a 360-degree lacing system
5. Cowboy Boots: Western Inspiration Meets Fashion
Cowboy boots are western-inspired shoes originally designed for horse riding before evolving into mid-height boots. Most cowboy boots are made with leather and incorporate distressing and heritage stitch patterning.
Cowboy boots are characterized by tall shafts, angled heels, and heritage stitchings
6. Clogs: From Woodwork to Everyday Style
Clogs began as shoes made using wood for agricultural work before becoming rooted in the tradition of tap dancing. The classic clogs style has evolved into the best-selling Crocs that are everywhere you look this season.

Clogs are a style of footwear that is traditionally constructed entirely or mostly of wood
7. Court Heels: Timeless Elegance for Every Occasion
Court heels – also known as pumps – are minimalistic heels that don't have a fastening. The name derives from the fact these shoes made their first appearance in royal courts.
Their plain silhouettes make them the perfect investment purchase to incorporate into your workwear closet or save for a special occasion.
Court heels are shoes with no straps and usually have a low-cut vamp and low to high-heel height
8. Espadrilles: The Perfect Summer Casuals
Espadrilles top the list of summer shoes for women. Brands like Gucci and Chanel have brought the humble loafer back into style.
Megan Fox in a Dolce & Gabbana strapless key print dress and Christian Louboutin "Cataclou" espadrille wedges at the 2014 Nickelodeon Kids' Choice Sports Awards held at UCLA's Pauley Pavilion in Los Angeles on July 17, 2014 / Lauren Silverman departs from Los Angeles International Airport (LAX) with her son Eric Cowell on January 16, 2015 / Jamie Chung has lunch at Joan's on Third in Los Angeles on August 6, 2014 / Pippa Middleton out and about in central London on May 25, 2011 (Credit: FayesVision / WENN)
They're casual shoes with a rope sole, typically a canvas or cotton upper. These shoes are an alternative to sandals and are available in a wedge-shaped silhouette, made famous by Yves Saint Laurent.
The perfect summer casual shoes, an espadrille's distinctive feature is its braided rope sole and canvas or cotton upper
9. Flip Flops: Lightweight Comfort for Your Feet
Flip flops are lightweight sandals usually made with rubber or plastic. The silhouette features a thong with a Y-shaped strap between your first and second toe.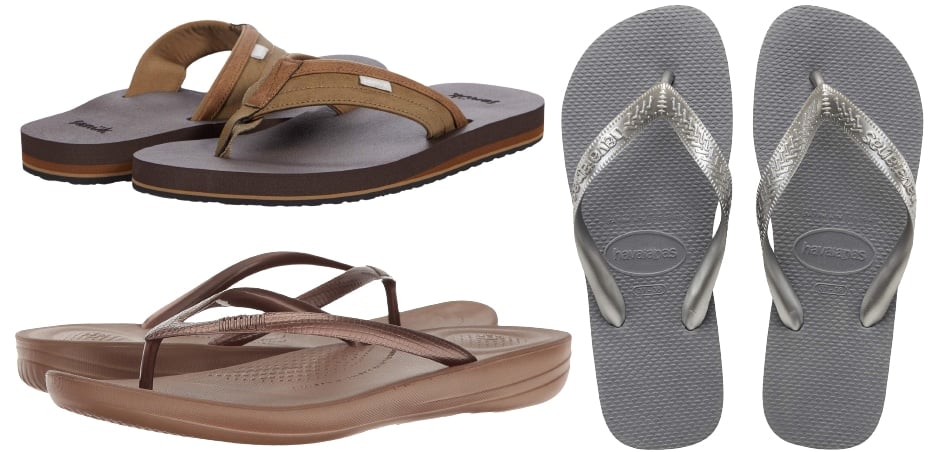 Flip flops are lightweight, casual open sandals with a thong toe post and a Y-shaped strap
10. Hiking Boots: Durable Footwear for Outdoor Adventures
Hiking boots are waterproof shoes designed for outdoor activities like walking and climbing. These durable boots are made with comfort in mind to protect your feet and ankles while traveling long distances.
Hiking boots are made of waterproof and durable materials designed to protect your feet
11. High-Top Sneakers: Casual Cool with Elevated Style
High-top sneakers are casual shoes that feature a higher shaft. The most popular high-top sneakers are the Nike Air Forces, with a lace-up silhouette.
High-top sneakers are sneakers that have high shafts extending over the ankles
12. Kitten Heels: Elegance Meets Comfort
Kitten heels give you the sophistication of a stiletto without the discomfort of an arch heel. It made its debut in the late 1950s and first rose to popularity thanks to Audrey Hepburn.
It's a feminine style that blends comfort with elegance and typically has a heel of 1 to 2 inches.
Kitten heels are usually any type of shoe with about 1-2 inch heels
13. Knee-High Boots: Chic and Flattering All-Season Favorites
Knee-high boots feature a long shaft that partly or fully covers your knee. They're popular during colder weather and make your legs appear longer and slimmer as a flattering silhouette.
Knee-high boots are any boots with tall shafts that rise to the knee
14. Loafers: Classic Slip-Ons with Timeless Appeal
A loafer is as comfortable as your favorite slippers but as elegant as ballet flats. These shoes started as workwear before evolving into everyday style. They have a similar silhouette to Oxfords but without the laces.
This slip-on silhouette comes in various styles, from tasseled to penny loafers and horse-bit shoes.
Loafers are laceless slip-on shoes that come in different styles, including tasseled, penny, and horse-bit styles
15. Oxford Shoes: Stylish Choices for Everyday Wear
Oxford shoes are like brogue shoes but feature shoelace eyelets under the vamp. They began as plain formal leather shoes before evolving into various styles, including more casual options.
Oxford shoes have become increasingly unisex, with feminine options usually incorporating vintage-inspired detailing and muted colors.
Oxford shoes are similar to brogues sans the perforations
16. Peep-Toe Shoes: Seductive and Stylish Footwear
A peep-toe is a shoe that features an open-toe box and varies in style from slingbacks to pumps. The shoes originated in the 1940s before making a comeback in the 1990s. They are a more seductive alternative to classic court shoes.
Peep-toe shoes have open-toe boxes and vary in style from slingbacks to pumps and mules
17. Platform Heels: Bold and Confident Night Out Choices
A platform shoe features a thick sole, usually between 3 and 10 cm. Most platform shoes have a high heel, although some can be a boot or sandal style.
Platform heels can be tricky to walk in due to the way it arches your foot. These shoes are popular for clubbing and going out.
Platform shoes are pumps, sandals, or boots with thick soles
18. Slingbacks: Effortless Style with a Hint of Retro
Slingbacks are a type of heel that features an ankle strap along the back and sides of the ankle. Most slingbacks feature a short kitten heel and have low vamp fronts.
Chanel's two-tone styles are the most iconic slingbacks, but you'll find hundreds of interpretations of the look.

Slingbacks are distinguished by a strap that wraps around the back, sides, and heel of the foot
19. Slippers: Cozy Comfort for Relaxation
Every closet needs a pair of cozy slippers to wear at home. You'll slip into these shoes after work or on a lazy weekend. Slippers are indoor shoes that protect your feet from the cold and typically have a soft texture insole.
Slippers are thin shoes that are meant to be worn indoors to keep your feet warm
20. Sneakers: Athleisure Favorites for Active Lifestyles
Sneakers are casual athleisure sneakers that have evolved beyond gym attire to everyday footwear.
The shoes were made popular by brands like Converse and Nike, who each put their own twist on the silhouette. Sneakers are designed to support your feet, whether running or working out.
Sneakers are lightweight shoes with a rubber sole and a textile upper that are mostly used for sports
These 20 different types of footwear for women cover every style you need in your closet.