Ankle-strap heels are one of the most popular styles of shoes – but they're not for everyone. These shoes naturally flatter those with a longer and slimmer silhouette, giving you extra height and an elevated look.
Figuring out how to style your ankle-strap heels can be difficult at first, especially when they can be notoriously uncomfortable.
Mastering the art of ankle-strap heels can make them an asset for your closet. We're sharing our tips on wearing ankle-strap heels and which styles you need in your closet.
Why they make your legs appear shorter
When you wear a traditional heel, the silhouette gives the illusion of elongating your legs to make them appear slimmer. We've all tried the trick of wearing a nude-colored heel for a more flattering silhouette.
The difficulty with ankle strap heels is that the strap cuts off the illusion. Instead of making your leg appear longer, it can do the opposite.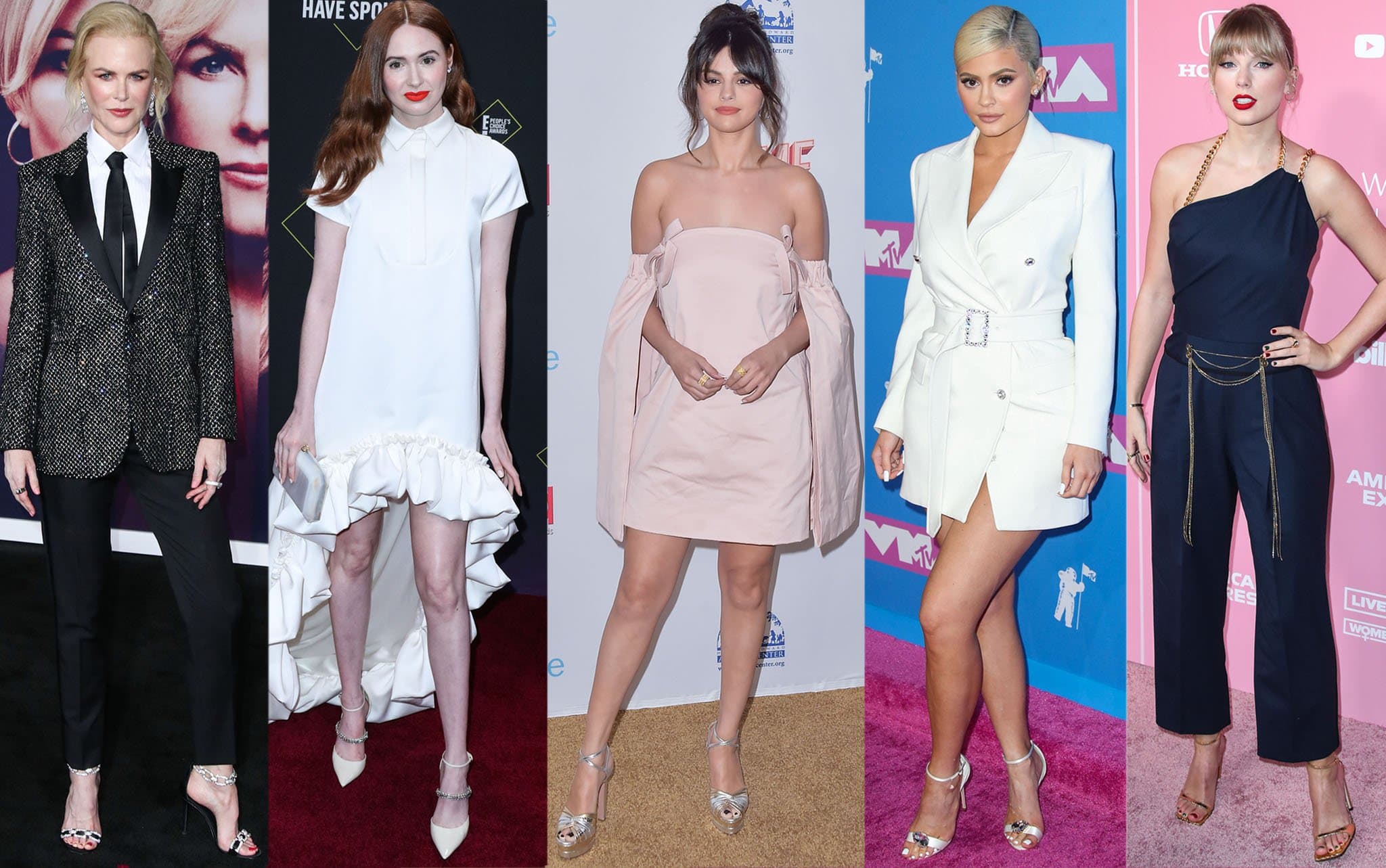 Nicole Kidman, Karen Gillan, Selena Gomez, Kylie Jenner, and Taylor Swift show how to wear ankle strap sandals to avoid looking shorter (Credit: Avalon / WENN)
As the strap sits just above your ankle, it creates a harsh line between your calf and foot. If you're petite in height and have a fuller figure, this can sometimes be a less than flattering combination.
It all depends on how you style your shoes. Dresses are naturally harder to style as they show off more of your legs, while trousers and jeans are an easier choice.
How to make them more comfortable
You might think that wearing ankle strap heels would guarantee you comfort and keep your feet firmly in your shoe. In reality, most people find ankle straps to be less than ideal for walking in.
When you wear an ankle strap heel, you might end up feeling like your foot is sliding forward in the shoe. It's usually caused by the arch of the heel and the thinner ankle strap.
You need a balance between keeping the strap tight enough to stop your foot from slipping but without being too tight.
As your foot starts to slide forward in your shoes, it can shift your weight to the ball of your feet and make the heel shake. This uneven weight distribution can make it harder to walk in your heels.
Most ankle-strap heels have an open-toe silhouette, which means you can end up with your toes overhanging the front of your shoe as they slip forward.
Aside from purchasing the right size of ankle-strap heels, sandals with wider or square toes should prevent overhanging toes
When you're shopping around for ankle-strap heels, it's a good idea to try every style on in at least two sizes. You never know which size might better suit your foot type, and a half-size might be your best choice.
You also want to consider the material of the ankle strap. Most ankle-strap heels come with a leather or PVC strap and a limited number of pre-punched holes.
Depending on the width of your ankle, you might find that none of these is a perfect match. If you have a wider or slimmer ankle, choose a strap with a leather fabric that you can punch extra holes into.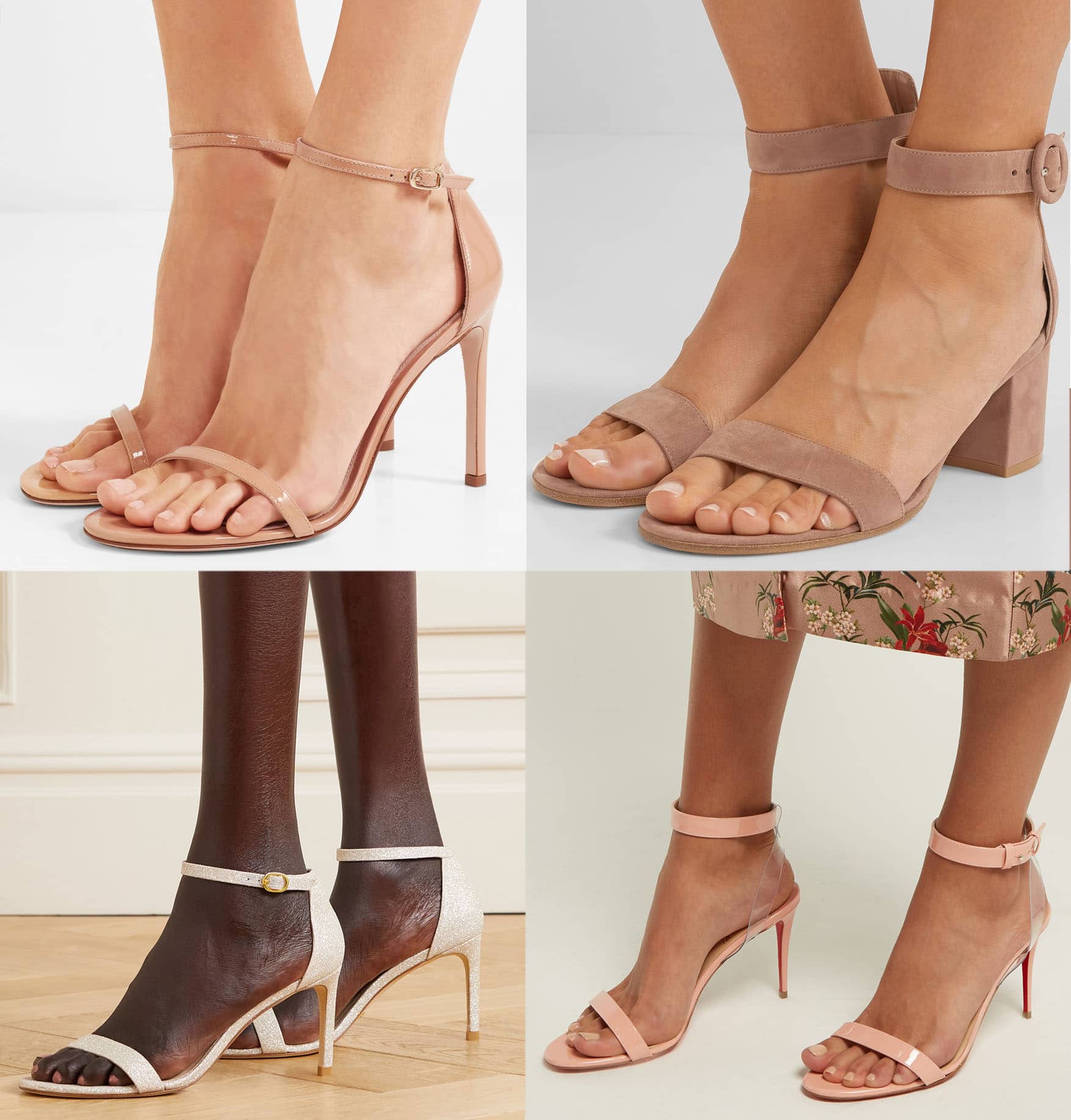 Choose ankle-strap sandals with leather fabric straps that you can punch holes into for any needed adjustments
If you can stop your foot from slipping forward in your shoes, you can keep the pain off the balls of your feet, avoid the wobbliness of the stiletto, and stop your toes from coming out of the shoes.
Don't overlook the lining of your shoes. You want to try and keep as much grip in your soles as possible to prevent your feet from slipping forward as you walk.
Otherwise, you'll be shifting extra weight to your foot with every step. If you find a style you like but need a little extra grip, you can add an insole into your shoes to make them more comfortable.
Classic ankle-strap shoes
The appeal of ankle-strap shoes is their versatility. You can style them with everything from pantsuits to cocktail dresses and jeans. They're a classic silhouette that will never go out of style. You want to have at least one pair in your closet that you can reach for on any occasion.
The secret to finding a comfortable pair of ankle-strap heels is to choose ones that are well designed.
The shoe should fit snug around your heel while cushioning the arch to prevent it from slipping and to keep your foot firmly in place. You might need to hunt high and low for the perfect combination, but it's worth the hunt!
Here are three examples of classic ankle-strap heels that are worth adding to your wishlist:
1. Saint Laurent Amber Sandals, $645 at Net-a-Porter
Ankle-strap heels are one of the most minimalistic silhouettes that you'll find in any shoe department. They're usually made of a small amount of material with a slender stiletto heel.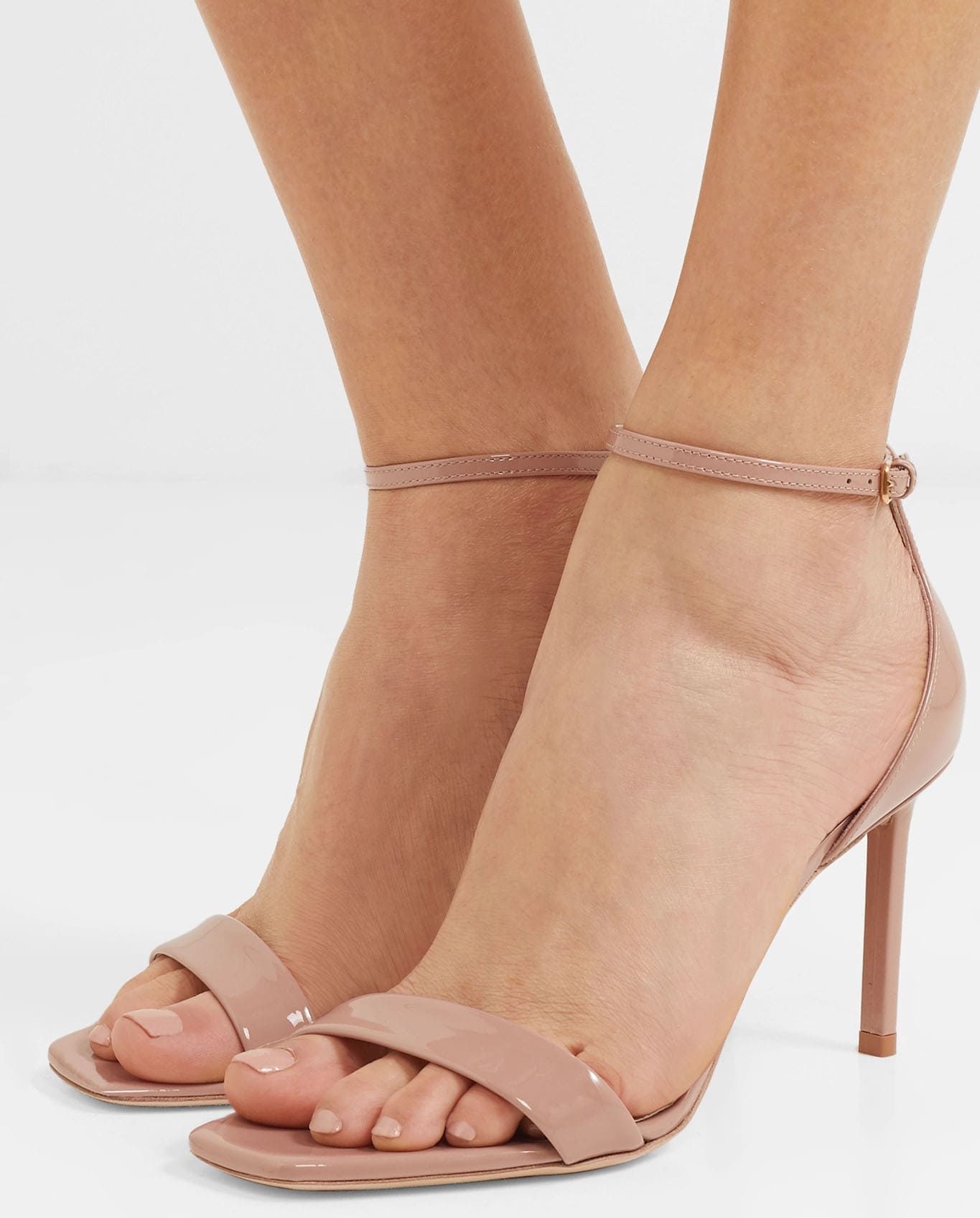 The Amber sandal features a delicate ankle strap and a square toe to keep your toes inside the shoe
The slender strap means that you don't have as harsh of a line between your calf and ankle, with a delicate gold buckle. The front strap just above your toes is a classic shape for ankle-strap heels.
What makes this Saint Laurent style different is the slight square toe, making it easier to keep your toes inside the shoe. It's looking for small changes like this that can make the shoes more comfortable.
If you want a more budget-friendly version, you can check out the 'Stecy Natural' by Steve Madden.
2. Gucci Leather Mid-Heel Sandals, $770 at Matches Fashion
Not every ankle-strap heel has a slim stiletto. These block heels by Gucci are a classic example of a signature silhouette that's been updated with an ankle strap.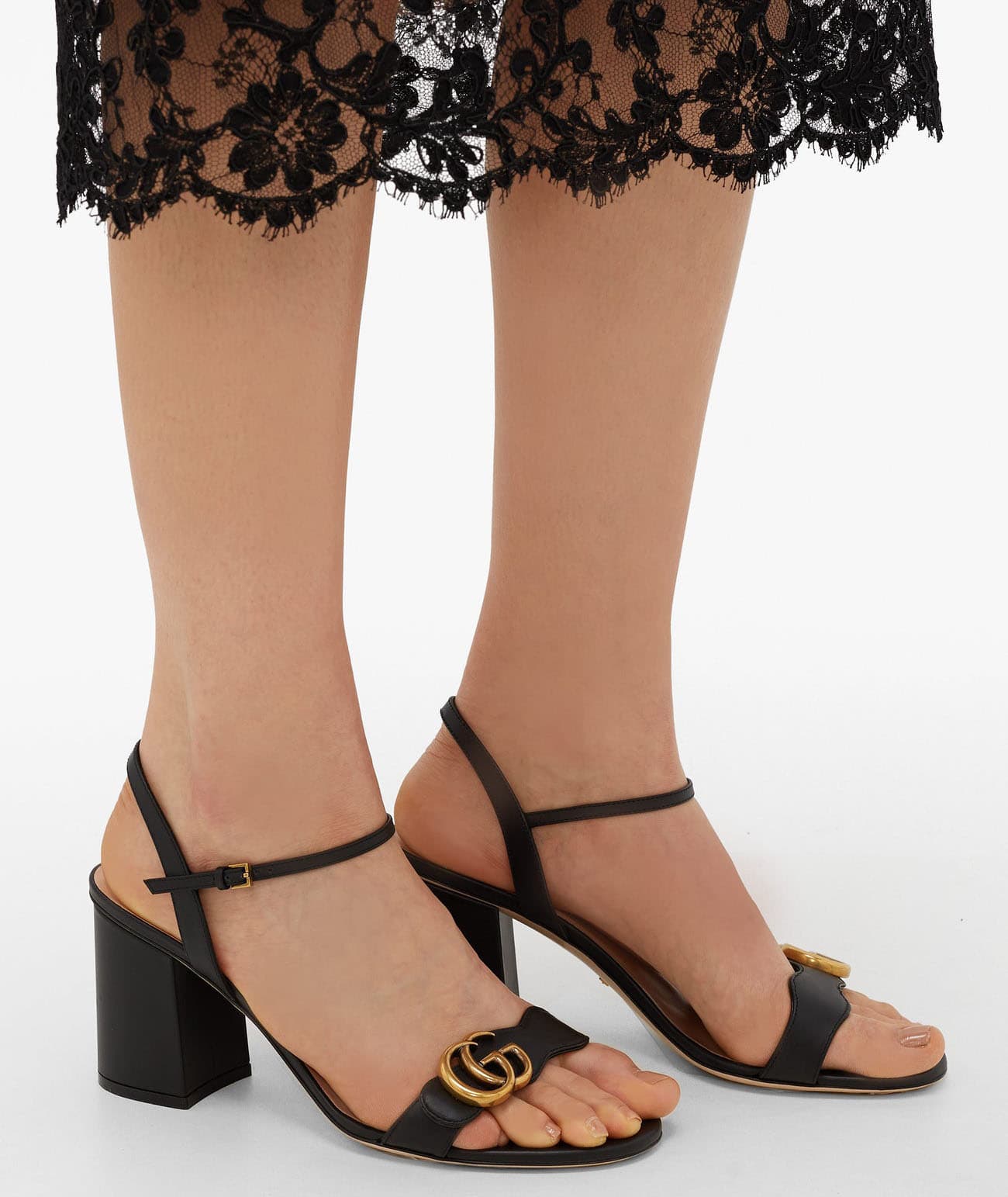 The Marmont's slingback ankle-strap design helps keep your foot in place, while the block heel makes them comfy enough for all-day wear
While you get the look of an open-toe ankle-strap heel, you get the added comfort of a slingback.
As the slingback sits slightly higher than the ankle strap, it keeps your foot in place and means you're less likely to slip out of your shoes.
Gucci also offers a higher block heel in the same style.
3. Valentino Rockstud Ankle Strap Pumps, $1,090 at Farfetch
Not every ankle-strap heel has an open-toe. The classic Valentino Rockstud shoes give you a pointed-toe shoe with a slingback and ankle strap.
These shoes are one of the most popular styles of designer shoes, available in every color of the rainbow.
One of Valentino's most popular styles is the Rockstud Slingback Ankle-Strap Pumps with closed pointed toes
These glamorous shoes have a feminine silhouette with a contemporary twist of the stud embellishments. If you don't want to pay the Valentino price tag, you can buy a similar style from Steve Madden and other high-street brands.
Finding the perfect pair of ankle strap heels is all about choosing a comfortable style for you to walk in and that flatters your body shape. It might take a little trial and error, but you're guaranteed to find the style for you.