Everyone loves to save a dollar. Buying shoes can be an expensive hobby, so it's always great to be able to take advantage of a discount.
If you're a savvy shopper, you can find almost any type of shoes on sale, even designer shoes from brands like Salvatore Ferragamo and Christian Louboutin.
You need to know where to shop and what websites to be checking every few days to see the current offers. Make sure to stay away from scam websites such as Shein, Romwe, Rose Gal, and Zaful.
We're sharing the ten best discount shoe websites for buying cheap shoes online so you can save money and keep ahead of the trends.
1. The Outnet – Luxury shoes at exceptional prices
The Outnet was launched in 2009 and quickly became the home of discounted luxury shopping.
The website is the little sister of Net-a-Porter, one of the most popular destinations for designer shopping, offering brands like Valentino, Tory Burch, and Jimmy Choo.
The Outnet buys more than 90% of its stock directly and often offers exclusive products that you can't find anywhere else.
The website has its own clothing brand, Iris & Ink, which launched in 2021 and focuses on minimalistic separates that are easy to wear.
Discounted red shoes from Valentino, Ralph & Russo, and Francesco Russo at The Outnet
If you're always on the hunt for discounted shoes, you'll want to bookmark The Outnet website and download their app.
They release new products five days a week, with shoes often selling out within a few hours depending on their discount. The Outnet ships to over 100 countries and offers same-day delivery for customers in New York City.
The Outnet regularly holds sales throughout the year, giving you the chance to snag an even bigger discount on your shoes.
You'll regularly find Valentino shoes at 30% off, with Sergio Rossi and Stuart Weitzman shoes usually discounted by around 50%. Along with luxury shoe brands, you can also find more affordable brands like Sam Edelman, Adidas, and DKNY.
2. Nordstrom Rack – Off-price department store chain
Nordstrom Rack is the discounted sister shop of the department store Nordstrom. The website runs limited-time flash sales, so you'll want to check back as often as possible to see the latest offers.
Nordstrom Rack is similar in concept to The Outnet, but you can expect to see a larger selection of brands at a mixture of price points.
You can find shoes for less than $10 with options for men, women, and children. Whether you're looking for hiking boots or formal evening shoes, you're guaranteed to find something that will work for you at Nordstrom Rack.
Unlike other discount shoe websites, you can find a specific section for shoes with extended widths and larger sizes.
You can find discounted winter boots at Nordstrom Rack that are warm and waterproof
Nordstrom Rack also runs clearance events, where you get shoes for more than 80% off their recommended retail price.
The website has a dedicated Nike and Ugg shop, letting you take advantage of the cut-price offers to pick up some of the most popular shoe styles for men and women.
Nordstrom Rack also offers hundreds of boots at under $50, with most shoes at least 50% off with other styles available at more than 80% off.
Along with saving you a few dollars on your shoes, Nordstrom Rack regularly runs free shipping promotions, and you can have your order sent to a Nordstrom store if you find it more convenient.
3. Amazon – Latest shoes for cheap, discounted prices
Amazon is the go-to shopping destination for millions of online shoppers. While you might be used to buying your books and daily essentials from Amazon, they've also got an extensive selection of shoes. You can get deals on Amazon all year round, not just on Prime Day.
On Amazon, you can find household names like Puma, Nike, and Tommy Hilfiger. You'll often find affordable and new brands that are exclusive to Amazon. The trick to getting shoes at a discount on Amazon is to all be on the lookout.
Amazon will regularly run sales in their fashion department, and it's worth making a list on the site of the shoes you're looking at.
Amazon is one of the cheapest places to buy shoes online
You can often find shoes that are randomly discounted out of the blue. Amazon will let you know how much the shoes have gone down in price since you added them to your list.
If you're planning to take advantage of Amazon's discounted shoes, you'll want to get a Prime membership so that you can get free next-day delivery. Amazon also recently launched its Prime Wardrobe program, which lets you try shoes before you buy them.
You can choose up to 6 eligible items and have them sent to your home to try on. You get a 7-day try-on period before you have to decide whether you want to keep or return your items. The 'Prime Wardrobe' program is offered as part of the regular Prime membership.
4. DSW – Clearance shoes, boots, and sandals
Whether you're looking for the latest pair of Gucci sneakers or a comfortable pair of Crocs, DSW has something to offer everyone.
Designer Shoe Warehouse (DSW) sells shoes at every price point, from luxury brands to their private-label brands such as Kelly & Katie and Poppie Jones.
The store shifted its focus to athleisure and loungewear-inspired shoes due to the pandemic, making it the perfect place to look for discounted sneakers and running shoes. DSW offers shoes for men, women, and children.
You can find discounted soft-as-cloud boots at DSW
The brand has recently launched a collection with singer Jennifer Lopez, which focuses on comfortable shoes, including sneakers, high-heel boots, and combat boots.
DSW also has a clearance section, with hundreds of shoes for less than $30. If you're interested in shopping at DSW, make sure to sign up for their free VIP program to take advantage of free shipping offers.
You can also pick up your order in-store if you have a DSW near you. You can also buy all your shoe accessories, such as socks and hosiery, from DSW.
5. Zulily – Deals on shoes for moms, babies, men and kids
At Zulily, their offers are changing every day. It is a flash sales website that lets you access a full range of brands, such as Clarks, Hunter, and Tahari.
You'll find primarily women's and children's shoes on Zulily, as they originally intended the website to be for children's apparel before it expanded to include a full spectrum of products.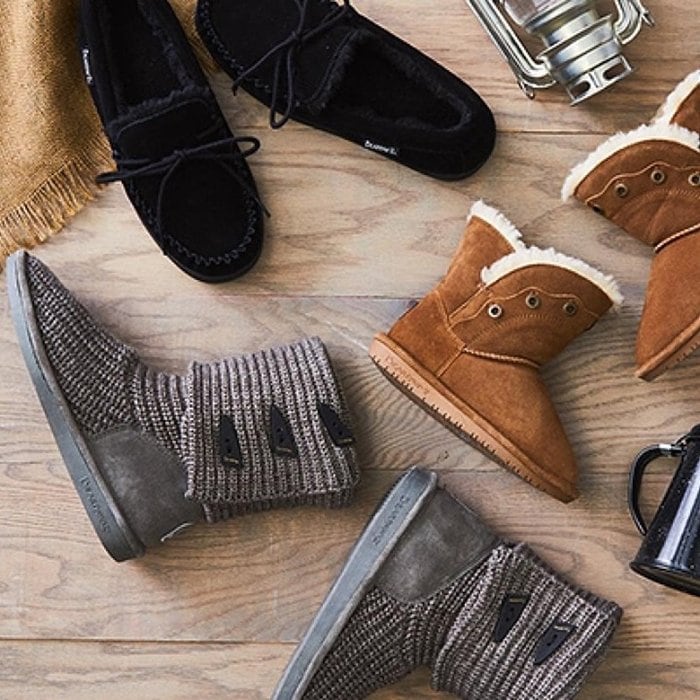 Save on cozy Bearpaw slippers and shoes for children, men, and women at Zulily
You'll typically see brands offering at least 45% off their shoes on Zulily, with discounts available at up to 75%. These offers run for a limited time only, usually only a few days, so you want to check back regularly to see the latest offers.
If you think that Zulily partners with the type of shoe brands that you're interested in, make sure to sign up for their daily newsletter to keep up-to-date with the newest flash deals.
6. Saks Off 5th – Up to 70% off designer shoes
Similar in concept to Nordstrom Rack, Saks Off 5th is the sister company of Saks 5th Avenue. It was launched in 1990 as one of the first outlets for a major department store.
Saks Off 5th offers a selection of the brands that you would find at The Outnet, Nordstrom Rack, and DSW. They offer their own private label brand, as well as Stuart Weitzman, Salvatore Ferragamo, and Yeezy.
Whether you're looking for affordable brands at a discount or are looking to snatch a designer deal, Saks Off 5th is the perfect place to look.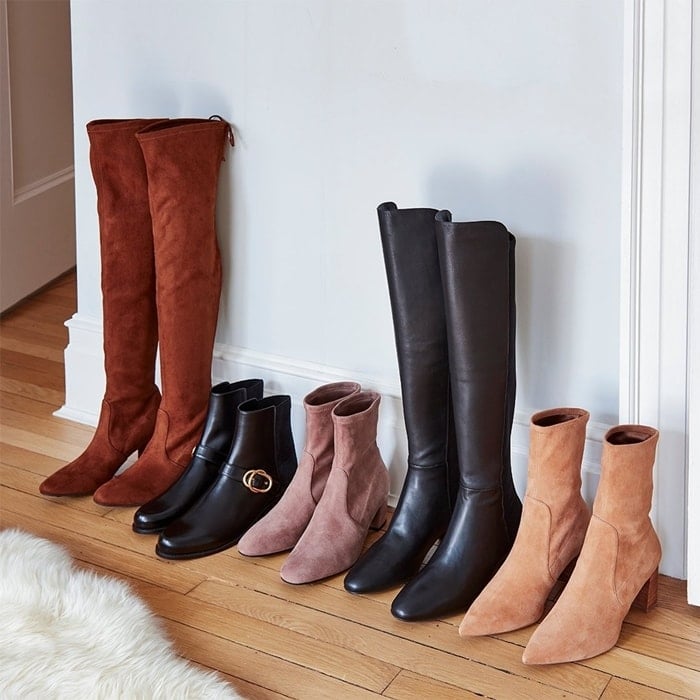 Shop luxury fashion boots on sale at Saks Off 5th
As well as offering their typical discounts of between 20% and 50% off, Saks Off 5th has a clearance section. You'll find increased discounts of around 60% and more.
Like other discounted shoe brands, Saks Off 5th runs a daily newsletter to let you know about the latest arrivals and flash sales.
If you're looking to make a luxury purchase, you can split the cost of your discount designer shoes with Klarna on Saks Off 5th.
If you're based in the UK, you'll be familiar with 'Schuh' stores. The 'Imperfects' section of their website allows you the chance to buy shoes at a discounted rate.
These shoes have minor scuffs, discoloration, and other imperfections that mean they have been taken off the shop floor.
The imperfections are often hardly visible and the sort that would naturally come with normal use. You can usually save at least 50% off shoes that are not in perfect condition.

Ex-display shoes purchased from Schuh Imperfects may have some marks or fading
You can find shoes from brands like Adidas, Tommy Hilfiger, Birkenstock, and Ralph Lauren. You can view the exact pair of shoes to see exactly what the imperfections are before buying them.
If you're not picky about your shoes looking brand new and untouched, then the Schuh Imperfections offers are an ideal way to save money. You will want to make sure to check back regularly to see what shoes they have added.
8. ASOS Outlet – Shop your favorite shoes on clearance
ASOS is one of the most popular online clothing retailers in the world. Stocking its own brand along with labels like Topshop, London Rebel, and Nike.
Whether you're looking for a pair of over-the-top sneakers or understated heels, the ASOS outlet will have something for you.
Discover the discount store on ASOS and shop your favorite shoes and footwear brands
Sometimes we assume that discounted and outlet shoes are out of date and from several seasons earlier. At the ASOS Outlet, you're guaranteed to find shoes that are on-trend and offer you the latest fashion at a discounted price.
With ASOS, you can shop through a collection of brands offering every style of shoe you want. Whether you're a streetwear fan who loves to wear combat boots or you're a fan of wearing flip-flops, you'll find the perfect pair of shoes for you at a discounted rate.
9. Shoeaholics – Discount designer shoes
Shoeaholics is a website that is powered by its love of shoes. It's operated by the British brand Kurt Geiger and offers international delivery.
They offer 6000 different styles of shoes to choose from with over 100 brands that they stock online. Along with discounted shoes, Shoeaholics also stocks the latest releases from all your favorite brands.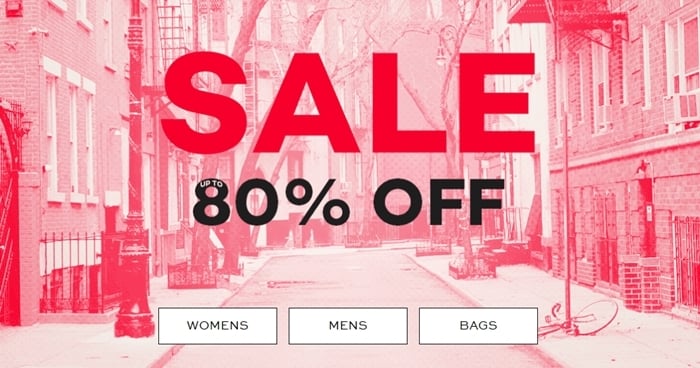 Shop discount designer shoes, boots, bags, and accessories for men and women at Shoeaholics
Keep an eye out for the Shoeaholics flash sales, so you can grab the shoes you've been looking at for a discounted price. They also offer exclusive discounts and styles on their app, with daily arrivals of new shoes and discounts.
Shoeaholics also offers a referral program where you can save 20% off a future order by referring a friend.
The outlet on Shoeaholics offers more than 50% off shoes from brands like Michael Kors, Timberland, and Steve Madden. You can find hundreds of shoes at their outlet, along with other accessories like matching handbags.
10. Offcuts by Office – One-off exclusive last pairs
Similar to Schuh Imperfections, Offcuts by Office allows you to buy shoes that are available in a limited quantity as remaining sale stock, as well as former display shoes. It is the sister company of Office, one of the main shoe stores in the UK.
You can see any of the imperfections in the shoes before buying them, and Offcuts has a grading system to help you narrow down your search. You can see photos of the exact shoes that you're considering buying.
The Offcuts website updates weekly, and it is worth checking back regularly, especially if your shoe size is less common. You can pick up shoes from brands like Ugg, Dr. Martens, Timberland, and Converse at a great discount.
Offcuts by Office is a discount store making high-quality shoes affordable
If you never got around to buying those shoes you were looking at a few months ago, you might now be able to find them at Offcuts for a little bit less.
You can also take advantage of the sales and offers that Offcuts runs to grab some shoes at an even bigger discount.
Buying discounted shoes online is great for saving money while staying ahead of fashion trends. One thing to remember is that discount shopping differs from shopping at traditional stores.
You'll want to check out the returns policy to make sure that you can get a full refund or if you are only able to exchange your shoes. Several of the websites on this list offer in-store returns.
You can consider this option if you're buying a pair of shoes from a brand you're not familiar with, as it can make the returns process easier.
If you see a pair of shoes that you want at a discounted rate, make sure to grab them before they're gone!