You know the ionic swoosh when you see it: Nike is one of the biggest shoe brands in the world!
The athletic brand has been outfitting the feet of students, athletes, professionals and celebrities since the late 1970s.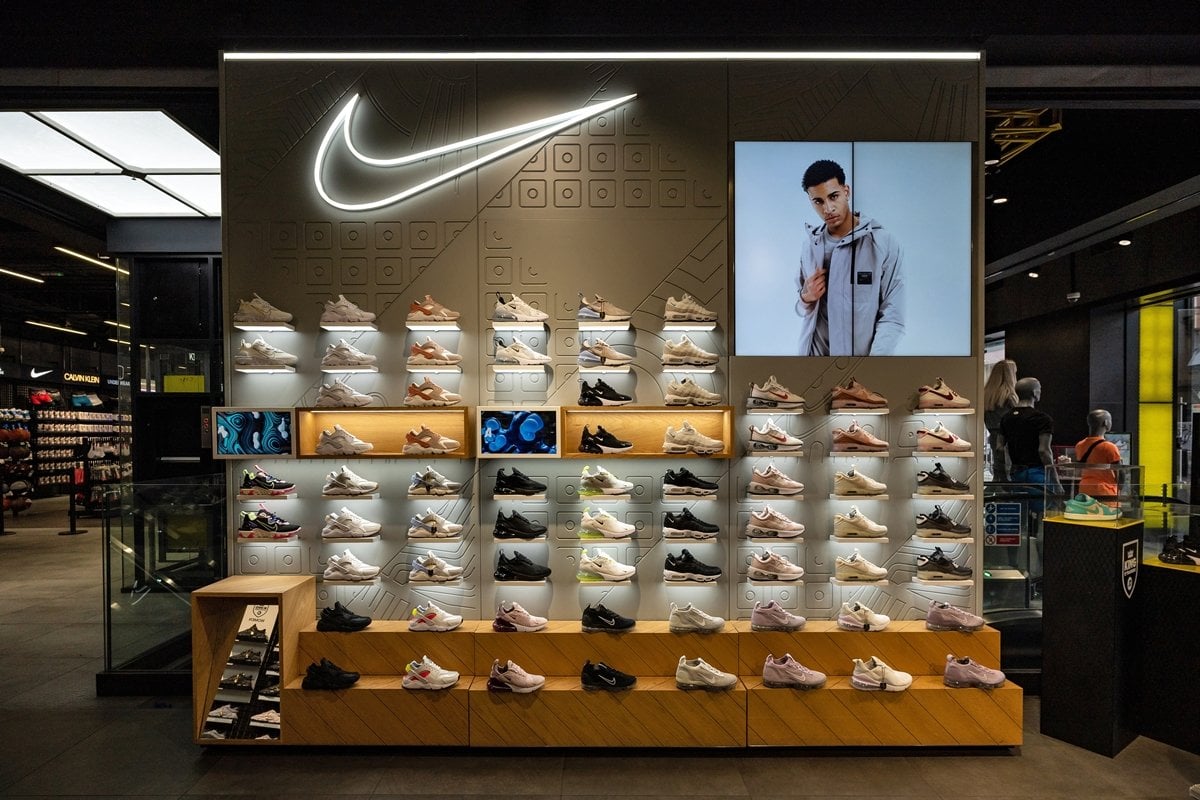 There are thousands of Nike shops located all over the globe (Pio3 / Shutterstock)
While Nike has recently been scaling back its third-party retail list, there are still tons of places to buy the popular kicks online.
DSW, Urban Outfitters, Dillard's and Zappos no longer carry Nike products. However, we've found 10 legitimate retailers that still proudly sell the swoosh-emblazoned shoes.
While you can always get authentic resale Nikes online via StockX and Goat (make sure you do a ton of research to ensure you get the real thing), the following stores offer a large, diverse collection at great prices: the best of what Nike has to offer.
While Kohl's may have originated in 1927 as a small grocery store in Wisconsin, today, it's one of the biggest department stores in the U.S.! Kohl's has more than 1,100 locations and has a good selection of Nike shoes at all of them.
While Kohl's doesn't seem to have as large of a variety of Nike shoes as some of the other online stores on this list, the retailer does often have incredible sales and the lowest prices.
In fact, many of the Nike shoes at Kohl's are less than $50!
The notorious department store offers more than 150 men's styles and 144 women's styles, and everything available in-store is also available online.
If something isn't available in-store, you can shop online and have your Nikes shipped to your home — or to your closest Macy's store for curbside or in-store pickup — for free! Macy's also offers free returns if you return your purchase within 90 days of receipt.
It's not an online retailer list without Amazon. Amazon sells pretty much anything — including, of course, Nike shoes.
Amazon is the best place to shop if you need your Nikes in a hurry. The massive online retailer offers next-day delivery with Amazon Prime, and Amazon is well known for having a generous return policy as well.
Amazon's selection is also expansive. The online retailer offers some Nike shoes for as low as $65, but also keeps collector's items stocked as well. These rare finds retail from a few hundred to just under $2,000 a pair.
Foot Locker — perhaps the best-known footwear retailer —first opened in 1974, and has been selling Nike shoes from the very beginning.
Foot Locker boasts an impressive array of Nike shoes for the entire family (Credit: Massimo Todaro / Shutterstock)
Foot Locker has a great selection of Nike shoes, with thousands of shoes for men, women and children on its website.
If you're looking for an elusive large size: Odds are that you can find it at Foot Locker. The retailer caters to notoriously-large-footed basketball players and athletes.
Is there a particular pair of Nike shoes you are looking for that is no longer in stores? If so, eBay is the place for you! Considering a quick search for "Nike shoes" reveals roughly 250,000 listings, there's a good chance you can find close to every style ever made.
Most of these listings feature a "Buy It Now" option, which means you don't have to enter an auction to get the shoes. You won't often find free shipping on eBay, and shipping fees can be quite steep depending on the seller's location.
Returns can also be a bit more challenging. When purchasing a unique pair of Nikes on eBay, make sure you read the description carefully. Again, unless you are looking for a pair that you cannot get anywhere else, the other nine retailers listed here have better shipping and return policies.
If you are a self-proclaimed "sneakerhead," a collector — or just want a unique pair Nike shoes that nobody else seems to have, then you should check out Sneakerhead.
Sneakerhead tends to focus more on fashion than function. The site offers a slew of Nikes featuring bright colors, wild patterns and eclectic styles. So, if you're looking for something to make a statement or add to a collection? Sneakerhead is your best bet.
There are lots of choices with more than 400 men's styles and over 193 women's styles.
Who better to run a sneaker-focused website than a sneaker collector? Sneakersnstuff launched with the founder's personal sneaker collection. In addition to Nike shoes, Sneakersnstuff features several small boutique European brands.
If you are looking for limited edition styles and colors, this is a great store to buy from. They currently have nearly 500 different men's styles and over 400 women's styles of Nike shoes.
However, the return policy isn't the best. U.S.-based customers are eligible for returns, but consumers must ship returns to a New Jersey warehouse and pay all the return shipping fees.
Dick's Sporting Goods has historically been one of Nike's strongest partners. In fact, Nike and Dick's even integrated their loyalty programs in 2021.
Dick's offers exclusive Nike footwear and apparel online. Nike customers can drop off returns or pick up online orders at brick-and-mortar Dick's locations.
Nike and Dick's Sporting Goods have a strong relationship and integrated their loyalty programs in 2021 (Credit: Tada Images / Shutterstock)
"We have a very diverse set of consumers at Nike, and we need to be able to serve that diverse group of consumers," said Sarah Mensah, the first black woman vice president at Nike North America, about their partnership with Dick's Sporting Goods.
"We really believe that it represents the future of retail … and this is really what partnership means — to the next level."
Obviously, shopping directly from Nike will give you a great selection of Nike shoes. There are more than 900 different styles of men's Nike shoes and more than 600 styles of women's sneakers available direct on Nike's website.
While such an expansive catalog could quickly get overwhelming, Nike has taken the time to thoughtfully categorize its offerings. Shoppers can select a specific footwear category, such as lifestyle, Jordan, running, soccer, skateboarding, basketball, football, training, baseball and golf.
This makes the online shopping experience easier.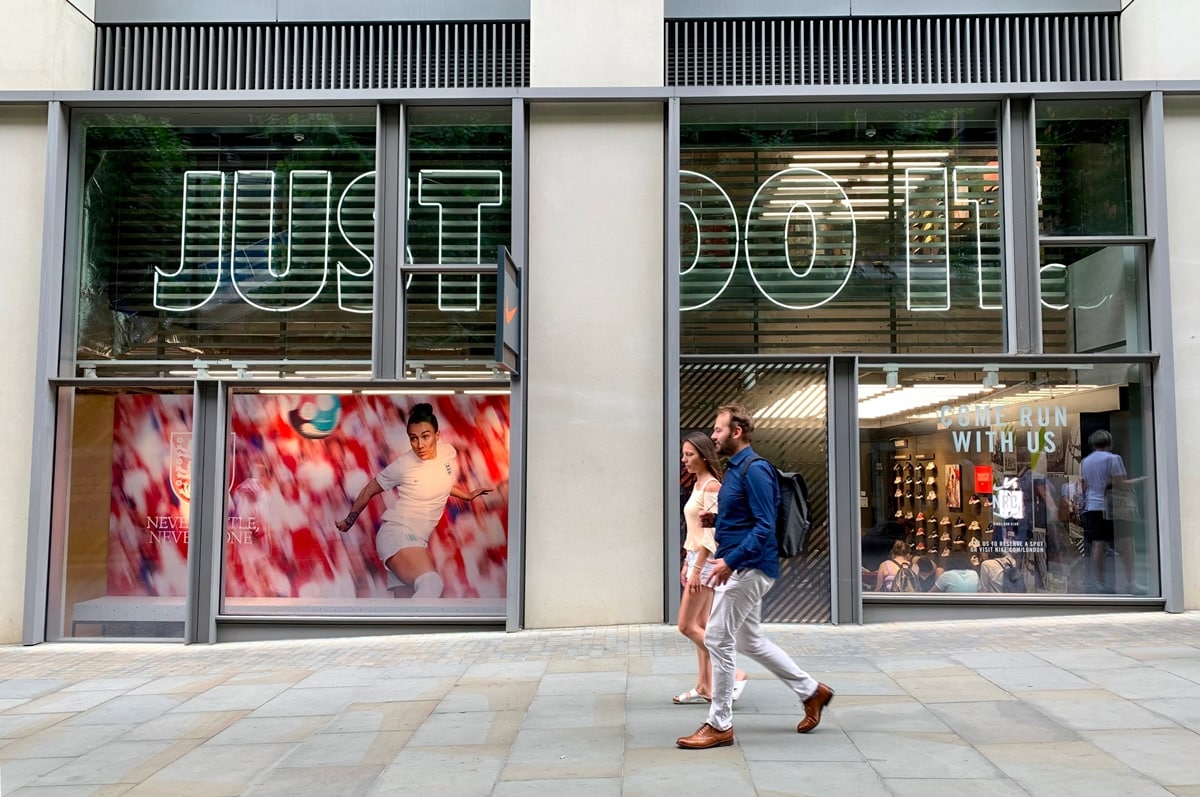 Nike is concentrating on growing its direct-to-consumer business and is opening stores all over the world (Credit: Nigel J. Harris / Shutterstock)
And, if you wear a larger-than-average size? You're in luck. Nike men's sizes go up to size 22, and women's sizes go up to 23.5. These sizes are not often found in stores and must be purchased online.
However, styles and sizes sold on the Nike website do sell out fairly quickly since it's typically the first retailer fans check for new Nikes.
If you can't find the size or style you want on the official Nike website, check one of the other retailers on this list. You might have better luck.
Stadium Goods is the best online shoe store to buy Nike shoes. The retailer has 1,005 styles of Nike Air Max sneakers alone!
With an incredible 2,863 styles in men's Nike shoes and 424 styles in women's, Stadium Goods has the largest selection of shoes – more than Nike!
Looking for limited edition collector's items like the SB "What The Dunk" that goes for over $25,000? Or the Nike Dunk Pro "Quasimoto:" which goes for $20,000? Stadium Goods is the answer.
But, don't worry. While Stadium Goods offers a lot of luxury Nike products, its website sells tons of affordable pairs at less than $100 a pop.