When it comes to lifestyle and athletic shoes, Nike is among the leading names in the industry.
The brand's sporty shoes are not just built with the best support and cushioning technology, but Nike also offers trendy styles, making them an easy choice of casual footwear for fashionistas, athletes, and celebrities alike.
Kelly Brook, Paloma Mami, and LeBron James wearing Nike shoes (Credit: WENN)

Because they're so popular, Nikes are some of the most counterfeited products in the whole world.
In October 2019, CNN reported that US Customs and Border Protection officers seized 14,806 pairs of fake Nike shoes at the Los Angeles/Long Beach Seaport. If authentic, they would've been worth a total of more than $2 million!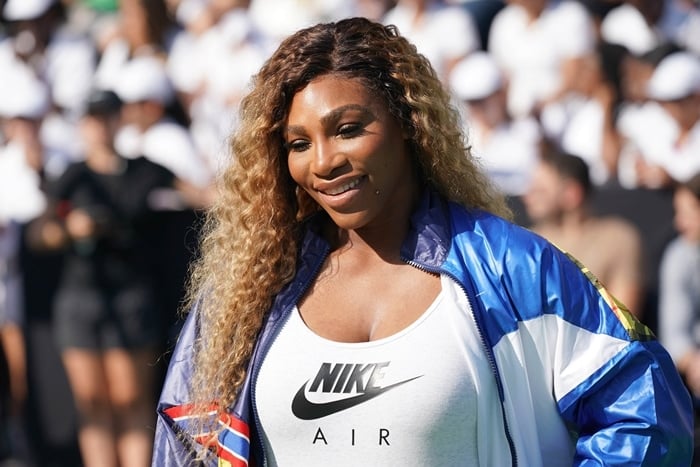 Serena Williams attends the "Queens of Tennis" experience hosted by Nike at William F. Passannante Ballfield on August 20, 2019, in New York City (Credit: WENN)
Just two years earlier, CNBC reported that Nike had agreed to start selling shoes on Amazon in exchange for stricter policing of counterfeits and restrictions on unsanctioned sales of its products. However, the two companies ended their relationship in November 2019.
Where to Buy Nike Shoes
To protect your hard-earned money from scammers that sell substandard imitations and cheap knockoffs, it is essential to arm yourself with the proper knowledge.
Buying Nike products from authorized retailers like Foot Locker and Nordstrom is arguably the simplest way to ensure that you get the real thing.
You can also purchase authentic Nike shoes at the official Nike website and Farfetch. Authentic discounted clothing and shoes can be purchased at Nordstrom Rack.
Lucy Hale leaving the gym wearing Nike sneakers in Los Angeles on September 11, 2015 (Credit: WENN)
Before clicking that purchase button online, read our short guide below and learn how to spot fake Nikes. Also, don't miss our guide showing how to clean Nike shoes!
1. Check the Seller
Before making the commitment to buying Nike shoes online, the first step is to check the seller or the store you are buying from.
Always take time to read feedback and reviews of the online seller if you are not buying from authorized stores.
Tennis star Naomi Osaka signed an endorsement deal with Nike in 2019 (Credit: WENN)
Nike does not allow other stores to use its trademark in the domain name. For example, the website Nikebetterworld.com was quickly shut down and now redirects to Nike's official store.
2. Compare the Price
One of the most obvious signs of fake Nikes is an unbelievably low price tag. If the shoes seem ridiculously low-priced, they're most likely not authentic. However, this does not mean that all discounted Nikes are fakes.
You should be suspicious if the marked-down price is less than 50 percent of the original price.
Fake or possibly stolen Nike and Adidas sneakers sold for €10 (approximately $10) in Side, a city on the southern Mediterranean coast of Turkey (Credit: ad-foto / Shutterstock)
Unless you are buying from an authorized Nike store and there's a clearance sale happening like Black Friday, big markdowns on Nike are not common. Compare the seller's price with the posted prices on authorized stores or the Nike website.
If you want to buy Nike shoes on sale, the best websites to browse are Nordstrom Rack and Amazon. You need to be particularly careful when buying shoes on eBay.
You can buy Nike products up to 45% off at Nordstrom Rack
3. Check the Box
All Nike shoes come in a box that is labeled and tagged properly. The box color and print will differ depending on the style you purchase, but the most common boxes used are orange, brown, and red.
The side of the box should display important information, including style, size, SKU and/or serial number, and barcode.
Keep your sneakers in mint condition with a Nike shoebox bag

Counterfeiters try to imitate these boxes but lack the essential prints on the side. Some online sellers ship fake Nikes in plastic bags, without the box.
4. Check the Style
To familiarize yourself with the details of the style you are looking for, it is helpful to do a little bit of research first.
Visit the Nike website to browse the most recent sneakers
Visit the Nike website and browse product photos. Make sure also to check the color combinations available for the specific product you want.
A lot of counterfeiters sell popular Nike sneakers, but the colors and shades are very different from the originals.
5. Check the Uppers
Authentic Nike shoes boast quality design and production. Aside from high-quality materials, Nike also uses advanced technology to craft shoes that are both stylish and comfortable.
Regardless of the style you purchase, your Nikes should look and feel like good-quality shoes.
Counterfeit Nikes and knockoffs might look authentic from afar, but if you inspect them closely, there will be inconsistencies and flaws in the design. Watch out for uneven stitching, overlapping colors, and stiff uppers.
6. Check the Tongue
The tongue on the upper should display the brand name and the swoosh, sometimes with the style or model name.
The inside part of the tongue should have a tag printed with information, including size, country of manufacture, and the SKU (Stock Keeping Unit) or serial number.
The tag inside your shoe provides a wealth of information
This unique alphanumeric code, typically 9 digits long, should match the number printed on the side of the box.
Fake Nikes will usually display random numbers on the tag, but they won't match the ones on the box.
7. Check the Weight
Fake Nikes do not just look different, they also feel different. Because cheap materials are used to make fake products, these counterfeiters have a hard time imitating the real feel of Nikes.
Most of the time, fakes will feel heavier and more rigid than authentic ones. Real Nike shoes should be lightweight so that you do not feel any dragging while moving around in them.
8. Check the Midsoles
The midsoles of authentic Nike training and running shoes are typically glued and not stitched. They are made from ultralight advanced foam that provides arch support and cushioning.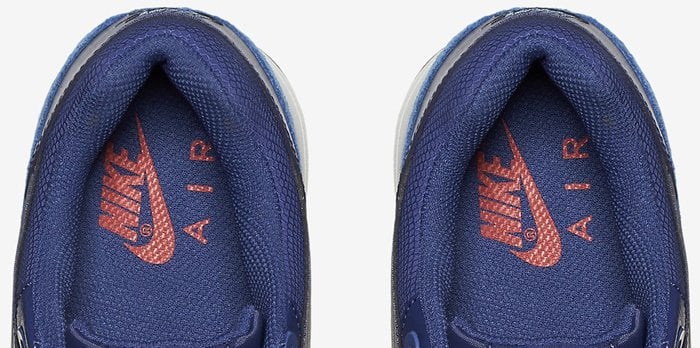 Nike's logo was designed by Carolyn Davidson in 1971
On most new models, the brand name — along with the swoosh and sometimes the model name — is also printed on the insoles.
9. Check the Outsoles
The outsoles of authentic Nike shoes provide traction and support because they are made with high-grade rubber. Imitations have cheap rubber that feels very plasticky and heavy on the foot.
Nike offers a 6-month rubber outsole durability guarantee
The ridges and patterns on the soles should be uniform and evenly spaced. Fakes typically have badly spaced patterns and stiff soles that are not flexible.
10. Inspect the Logo and Small Details
Other telltale signs of imitations can be seen in the small details of the shoe. The font on the prints should match, and the font size should also be even.
Look out for bad or crooked stitching details on the uppers, which can indicate fake shoes.
The Swoosh is one of the most recognizable brand logos in the world
Additionally, counterfeit Nike shoes can have misspellings and swoosh logos that are too big or facing the wrong side.
Where Are Nikes Made?
The company has contracted with more than 700 stores around the world and has offices located in almost 50 countries.
Most of Nike's shoe factories are located in Asia, including Indonesia, China, Taiwan, India, Thailand, Vietnam, Pakistan, the Philippines, and Malaysia.
For an updated list of where Nike shoes are manufactured, check the most recent manufacturing map.
Why Are People Boycotting Nike?
Protesters started burning their Nike shoes, and some investors sold shares after Nike launched an advertising campaign featuring Colin Kaepernick.
The controversial NFL quarterback sparked a national controversy by kneeling during the national anthem to protest multiple police shootings of unarmed black men.
Many Americans called for a boycott of Nike after the company included controversial NFL player Colin Kaepernick in its 30th-anniversary campaign
In 2014, Colin Kaepernick was investigated for sexual assault by Miami police about an incident involving a woman at the Viceroy hotel in downtown Miami. Hopefully, that helps explain why "everyone" is mad at Nike.
If you're planning to boycott Nike to protest the company's support of player Colin Kaepernick, instead of burning your shoes, why don't you donate them to people in need?
How to Buy Nike Stock?
You can easily buy shares through a brokerage account. Once you've deposited money into your investment account, you can use that money to buy Nike stock. Some of the most popular online brokers include Merrill Edge, Ally, and E-Trade.
What Does Nike Stand for?
The company was named after the ancient Greek goddess of victory, Nike, which is pronounced ni-key. Her Roman equivalent was Victoria. The mythological associations for the brand are flight, victory, and speed.
Nike is named after the ancient Greek goddess of victory, which is pictured on the cover of Nike: The Origins and History of the Greek Goddess of Victory by Charles River Editors and Andrew Scott
Names stemming from Nike include, among others: Nikolaos, Nicholas, Nicola, Nick, Nicolai, Niccolò, Nikolai, Nicolae, Nils, Klaas, Nicole, Ike, Niki, Nikita, Nikitas, Nika, Nieke, Naike, Niketas, Nikki, Nico, and Veronica.
What Companies Does Nike Own?
Its subsidiaries include Brand Jordan, Hurley International, and Converse. Previously, Nike also owned the shoe brands Cole Haan and Umbro.