Real shoe lovers have some of the most meticulously cared-for shoes anywhere. So when it comes time for us to donate used shoes, we are a prime source for like-new and gently worn footwear.
Beyond Goodwill and The Salvation Army, we've listed down seven more groups with far-reaching networks where you can donate your pre-loved pairs. You can also check with churches near you to see if they accept shoe donations.
You could also do like Kim Kardashian and auction off your shoes before donating the proceeds.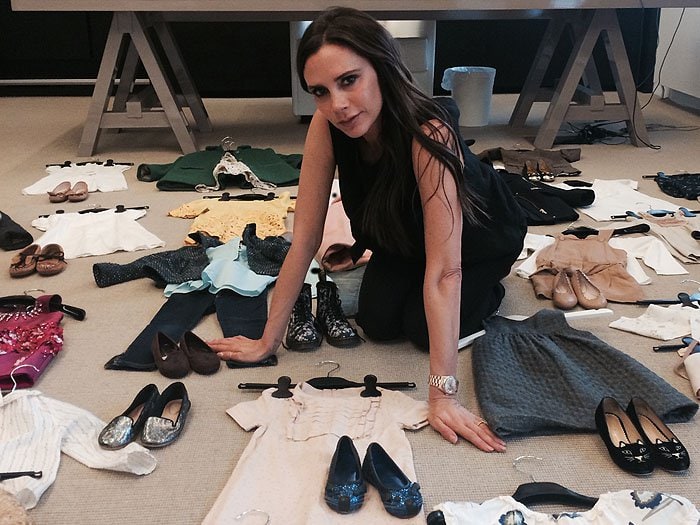 Victoria Beckham posing with her daughter Harper's clothes and shoes that she donated to the charity Save the Children's Fashion Saves Lives sale held at Mary's Living & Giving Shop in Primrose Hill, London, on June 18, 2015 (Credit: WENN)
From your trusty trainers to your everyday flats to your sparkliest of stilettos, your used shoes can have a second life in the hands of these charities and nonprofit organizations.
One of the most popular places to donate gently used shoes is The Salvation Army, which will sell the donated items at the charity's thrift store locations (Credit: Margarita Young / Shutterstock)
Did you know that the average woman has 11 pristine or hardly worn shoes that'll never see the light of day?
1. Soles4Souls
Nashville-based charity Soles4Souls collects new and used shoes and gives them to people in need or uses them in micro-enterprise and recycling programs.
Since 2006, the organization has collected and distributed more than 53 million pairs of shoes to people in over 127 countries and all 50 U.S. states.
What shoes the organization accepts: All types of shoes, including pumps, heels, sandals, flip flops, dance shoes, and sneakers, as long as they are new or gently used. Soles4Souls even accepts shoes with missing pairs.
Where to send your shoes: Drop them off at the drop-off location nearest you or ship them to any of the charity's local and international warehouses. You can also ship your old and unwanted shoes through DSW VIP Ways To Give and Zappos for Good.
Where your shoes go: All gently-worn shoes donated by individuals are used to help create sustainable job opportunities in developing countries through Soles4Souls' micro-enterprise programs.
Holly Madison at the Soles 4 Souls booth of the World Shoes & Accessories convention at the Sands Expo Center in The Venetian on Aug. 9, 2010 (Credit: INFevents)
Entrepreneurs in places like Haiti, Honduras, and Sierra Leone are able to start small businesses selling shoes in their local marketplaces.
This allows them to earn an income and purchase necessities like food, housing, and education. Unwearable shoes are recycled.
2. Share Your Soles
The Chicago-based nonprofit organization Share Your Soles has brought more than 4 million pairs of shoes to impoverished families all over the world in the 19 years it has been operating.
What shoes the charity accepts: All types of new and gently worn shoes. All donations are requested to be in new or good condition to respect the dignity of those receiving them.
Where to send your shoes: Drop them off at the organization's distribution center in Chicago or any of the available drop-off locations.
Where your shoes go: Shoes in clean and good condition are shipped and distributed to people in need. Shoes that are impractical to donate to impoverished areas like high heels are sold in an annual shoe sale.
The organization's vision is to educate, provide, inspire, and change the world. They strive to respect the dignity of those who receive the shoes.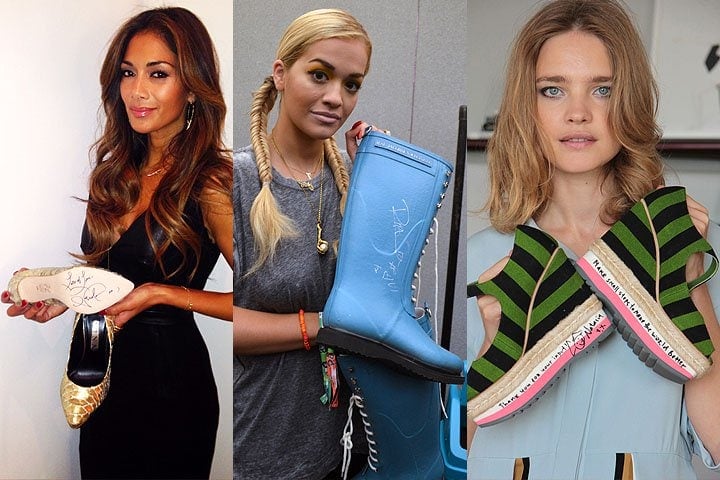 Nicole Scherzinger, Rita Ora, and Natalia Vodianova with the shoes they autographed and donated to the celebrity shoe auction of the charity Small Steps Project, which aims to raise awareness and aid for children working on landfills (Credit: WENN)
3. Pickup Please
Pickup Please is a free donation pick-up service that supports the Vietnam Veterans of America.
What shoes the organization accepts: New and gently used shoes of all styles, sizes, and genders.
Where to send your shoes: Select a date for your donation pick-up using the Pickup Please scheduling form or call 1-800-775-VETS (8387). Pack your donations in boxes or bags labeled "VVA" and leave them outside of your house on the designated day. Wait for the charity's truck drivers to come to pick up your donation.
Where your shoes go: Donated items are sold to private companies at an annual bid. The generated profits from the sale are used to fund the local, state, and national programs of the Vietnam Veterans of America.
4. Becca's Closet
Becca's Closet is a Florida-based nonprofit organization that collects formal dresses and accessories year-round and gives them to teenage girls with financial needs.
What shoes the charity accepts: Prom-worthy shoes that are in new or gently worn condition.
Where to send your shoes: To any of the more than 70 Becca's Closet chapters nationwide.
Where your shoes go: To high-school-age girls who otherwise cannot afford the formal attire required to attend prom, homecoming, and other formal school events.
5. Dress for Success
Founded in 1997 in New York, Dress for Success is a global nonprofit organization that gives low-income women access to professional business attire needed in the job searching process.
What shoes the charity accepts: New or in-good-condition work-appropriate shoes that you would wear to a job interview.
Where to send your shoes: Drop off or ship to any of the organization's affiliate locations in the US and worldwide.
Where your shoes go: To the charity's female clients who need clothing and confidence to enter the workforce.
6. Nike Reuse-A-Shoe
Nike's Reuse-A-Shoe is the one program that accepts old and worn-out athletic shoes for recycling. Since the program began in the early 1990s, it has collected more than 28 million pairs of athletic shoes.
What shoes the program accepts: Athletic shoes in any condition and of any brand. Nike's recycling equipment is set up to process athletic shoes only, so it cannot accept any other types of shoes or those that contain metal such as cleats or spikes.
Where to send your shoes: Bring your used athletic shoes to Nike and Converse stores or mail them directly to Nike's recycling facility at Ras/IOK Afvalbeheer, Ambachtstraat 4A, 2450 Meerhout, Belgium.
Where your shoes go: Your shoes are processed into Nike Grind material, which is then used to construct sports and playground surfaces and to manufacture sustainable Nike apparel, footwear, and equipment.
7. One World Running
Established in 1986 in Boulder, Colorado, One World Running is an international program that has distributed thousands of running shoes to those in need in the U.S. and around the world.
What shoes the organization accepts: New and gently used athletic shoes.
Where to send your shoes: To the charity's drop-off locations within the country. Individuals can also mail shoes to One World Running c/o Boulder Storage, 6439 Arapahoe Rd., Boulder, CO 80303.
Where your shoes go: The new and near-new athletic shoes are shipped and donated overseas. Those that are too worn and beat-up are given to Nike's Reuse-A-Shoe program.