The internet is full of false advertisements made up of celebrity scandals and relationships. In January 2021, Saturday Night Live co-stars Leslie Jones and Kate McKinnon were the target of the next round.
There were two ads suggesting Leslie and Kate were in a relationship together, even married. So, what is actually the truth? We'll dive deeper and sort all the details out.
Many fans believe Leslie Jones and Kate McKinnon are married in real life (Credit: BBC1 / WENN)
There have been two false ads posted online about Leslie and Kate's relationship. The first ad read "[Pics] Celeb Couples We Totally Forgot Were Married." The photo showed the two holding each other.
The second ad was titled "17 LGBTQ Celebs that Overcome Many Challenges and Eventually Became Couples" with another similar photo of the two. News quickly and falsely spread that the two were together, and the internet went crazy.
These ads, however, were simply a clickbait ploy for generating traffic and probably selling a product completely unrelated to the content. The images used in the ads were more than likely from SNL skits they performed together.
Attorney General Jeff Sessions (Kate McKinnon) chats with a stranger (Leslie Jones) at a bus stop in an SNL skit (Credit: SNL)
While some of the couples they mentioned were in fact married, Leslie Jones and Kate McKinnon are not married to each other, nor anyone else. Kate is the first female to come out as openly gay on the set of Saturday Night Live, but Leslie is not gay.
Leslie Jones's love life
If you love comedy, there's no denying you haven't heard the name Leslie Jones unless you're living under a rock. She's accomplished many things throughout her work between SNL, Netflix, and various movies. But where does that leave her love life?
Like many celebrities choose to do, Leslie has kept her love life private. However, she did sign up for the dating app Hinge in 2021 and hilariously took to the internet a day after when she was blocked.
Leslie Jones in a Lia Stublla dress and Vince Camuto sandals at the Los Angeles premiere of 'The Angry Birds Movie 2' held at the Regency Village Theater in Westwood, California, on August 10, 2019 (Credit: Avalon / WENN)
Leslie Tweeted "Ok why did @hinge banned me". "I literally just signed up yesterday! And they don't even tell you why. So f****** lame after taking my money! WTF?!"
Hinge publicly responded by Tweeting back "So sorry about that, Leslie! Guess people thought seeing you on Hinge was just too good to be true."
Leslie Jones and Saturday Night Live co-star Kyle Mooney play a married couple on SNL (Credit: NBC)
We also now know that Leslie is not married to Kate McKinnon, but there have been many rumors linking her to former SNL co-star Kyle Mooney.
These two are also not married, nor are they in a relationship together, despite some of the SNL sketches in their infamous bit "Leslie and Kyle."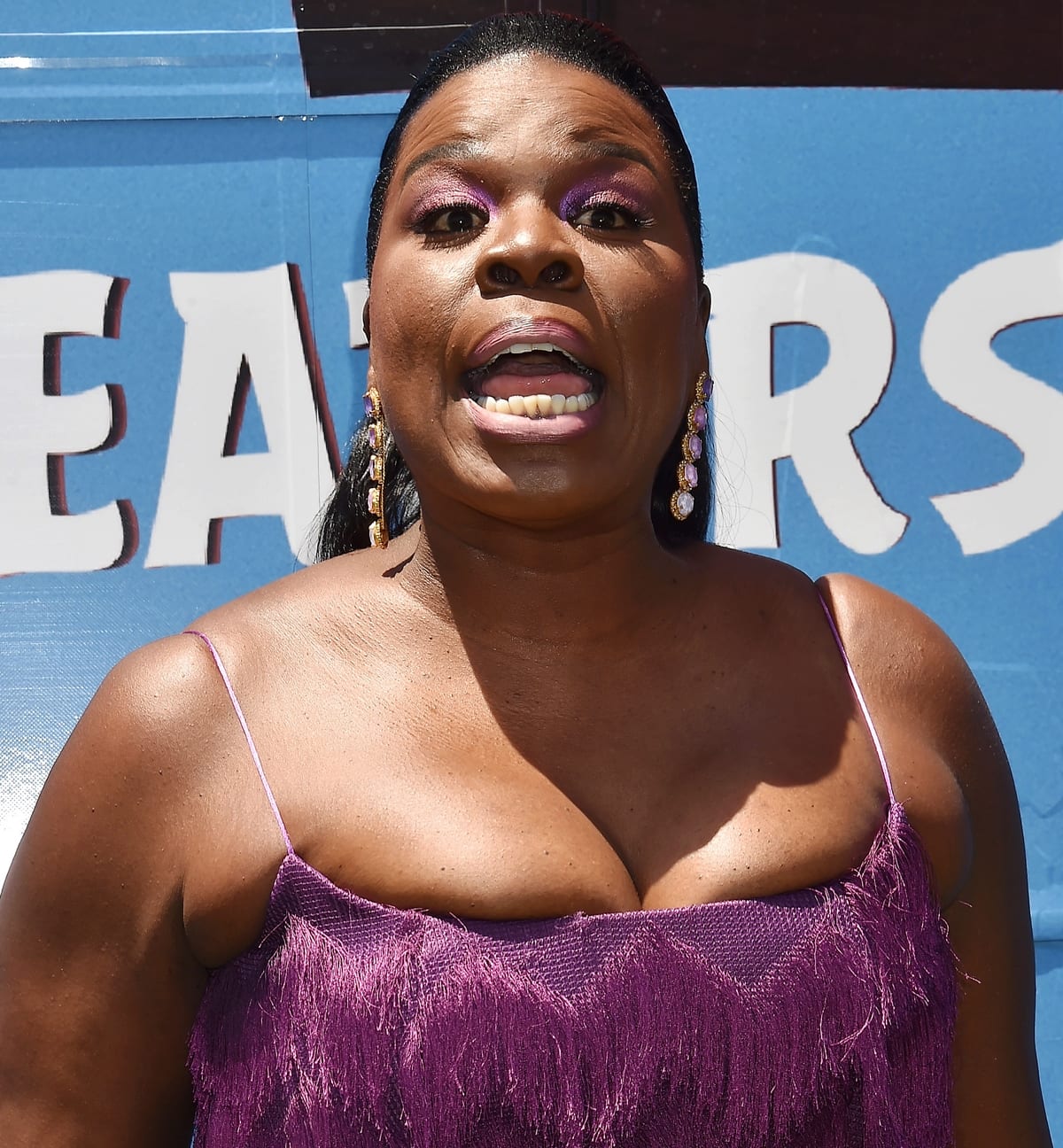 Leslie Jones has always been secretive when it comes to her boyfriends and love life (Credit: Avalon / WENN)
This SNL segment was based on two people in a fake relationship but had viewers convinced it may have been the real deal. Leslie and Kyle were laughing and joking together, with Kyle noting "they truly thought it was real," but then moving on to flirt with one another.
Despite all of this, Leslie and Kyle are not together, and Leslie says she's single and looking for the right guy to come along.
Is Leslie Jones gay?
According to a conversation with talk show host Conan, she's not lesbian. "If I were gay I'd be crushing bro. I would have so many women," Jones said in 2017.
Leslie Jones claims she's not gay but that she'd get a lot of women if she were lesbian (Credit: Faye's Vision / Cover Images / INSTARimages)
"I would be a pimp, I ain't gonna lie. If I were gay I'd be the worst lesbian ever, she told Conan Christopher O'Brien, adding that Kate McKinnon believe she'd make a successful lesbian.
"Kate tells me that all the time, 'you would be so busy.' It's a nice compliment!"
Kate McKinnon's love life
Kate McKinnon has been very private about her love life.
The Verizon commercial actress told GQ in May 2018, "I just… I decided in my mid-20s that I didn't feel comfortable sharing personal details like I had in the previous few years. And I just have run with that ever since."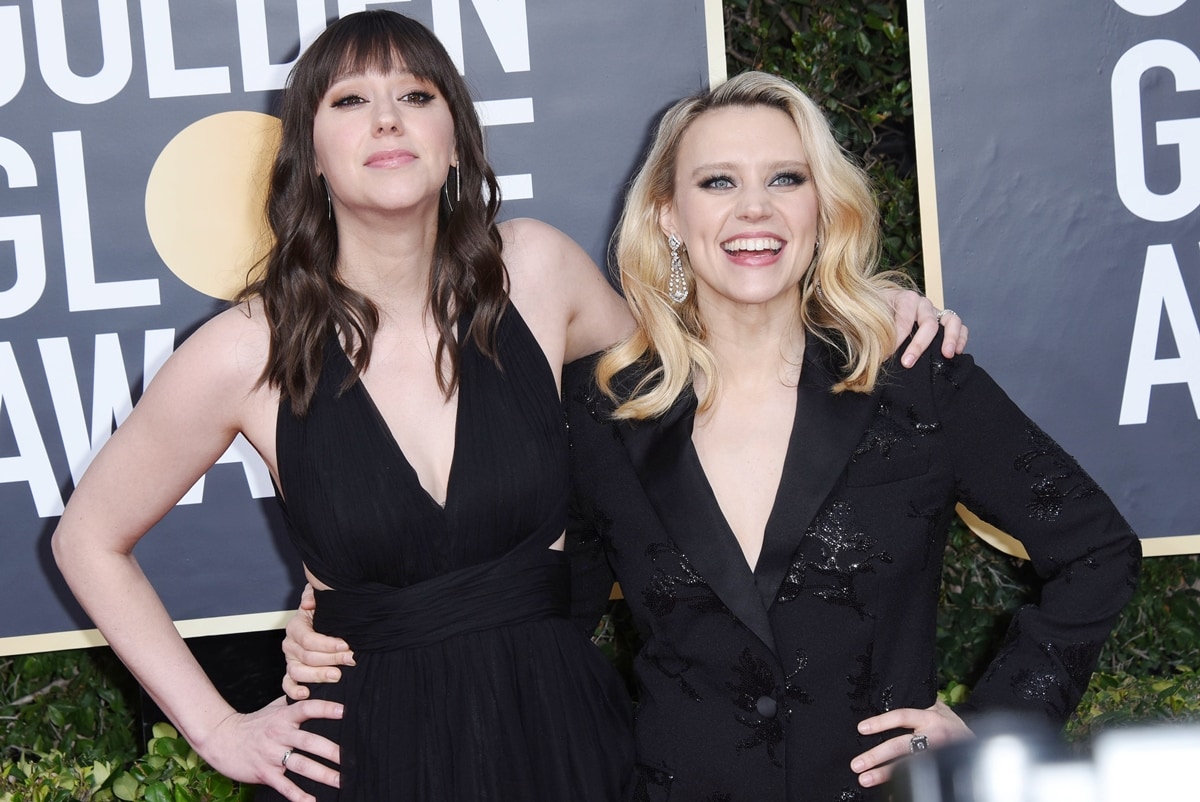 Kate McKinnon (R) and her younger sister, comedian Emily Lynne, attend the 77th Annual Golden Globe Awards at The Beverly Hilton Hotel on January 5, 2020, in Beverly Hills, California (Credit: Avalon / WENN)
Kate is dating Jackie Abbott, who is an actor and professional photographer. They keep their relationship private outside of award show appearances.
Kate, surprisingly, is not on social media, and Jackie's Instagram is dedicated to her profession. While Kate's faced some criticism for keeping her love life so private, she does so to protect her relationships from the media, and rightfully so.
In 2020, Kate had the privilege of presenting Ellen DeGeneres with the Carol Burnett Award for Achievement at the Golden Globes and tributed her bravery in herself coming out to Ellen publicly coming out in 1997.
It was a very risky time in society for Ellen to have done so back then. Kate found strength at that moment to publicly live her truth.
Gal Gadot kisses modern-day lesbian Kate McKinnon on Themyscira, the Amazonian home island of Wonder Woman (Credit: NBC / WENN)
Kate has said that if it weren't for seeing Ellen on TV and so public with her sexuality that she wouldn't have believed it were possible to be on TV as a gay female. She praises Ellen for risking her life and career to tell her truth, so many others could feel the freedom to do the same.
Prior to dating Jackie Abbott, Kate dated Bari Weiss off and on throughout her undergrad years at Columbia University. They remain friends to this day.
As you have read by now, the internet is full of clickbait content that's written about some of the biggest stars to get your attention.
It's no surprise that Leslie Jones and Kate McKinnon were romantically linked, given their friendship and work together. We can say for sure that they are not married, nor have they ever been.
Lesli Jones portrays Metropolitan Transportation Authority (MTA) staffer Patty Tolan in the 2016 American supernatural comedy film Ghostbusters (Credit: Michael Boardman / WENN)
In July 2016, the highly-anticipated reboot of "Ghostbusters" was finally ready for its release. The movie's cast gathered at the TCL Chinese Theatre in Hollywood for the world premiere of the film.
The unsuccessful reboot featured an all-new female ghost-busting team played by Melissa McCarthy, Kate McKinnon, Leslie Jones, and Kristen Wiig — who all looked stunning at the event. One of our favorite looks was that of "Saturday Night Live" star Leslie Jones.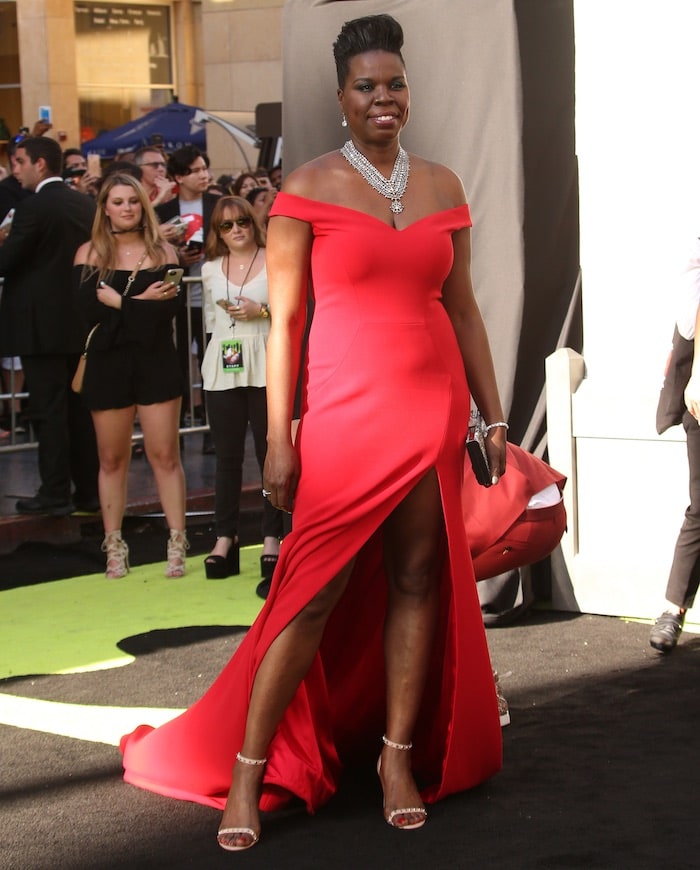 Leslie Jones had problems finding a designer to create a dress for her (Credit: FayesVision / WENN)
After lamenting on Twitter a few weeks earlier about how no designer was willing to work with her for a dress for the premiere, Leslie ended up working with Christian Siriano for her sultry red carpet look.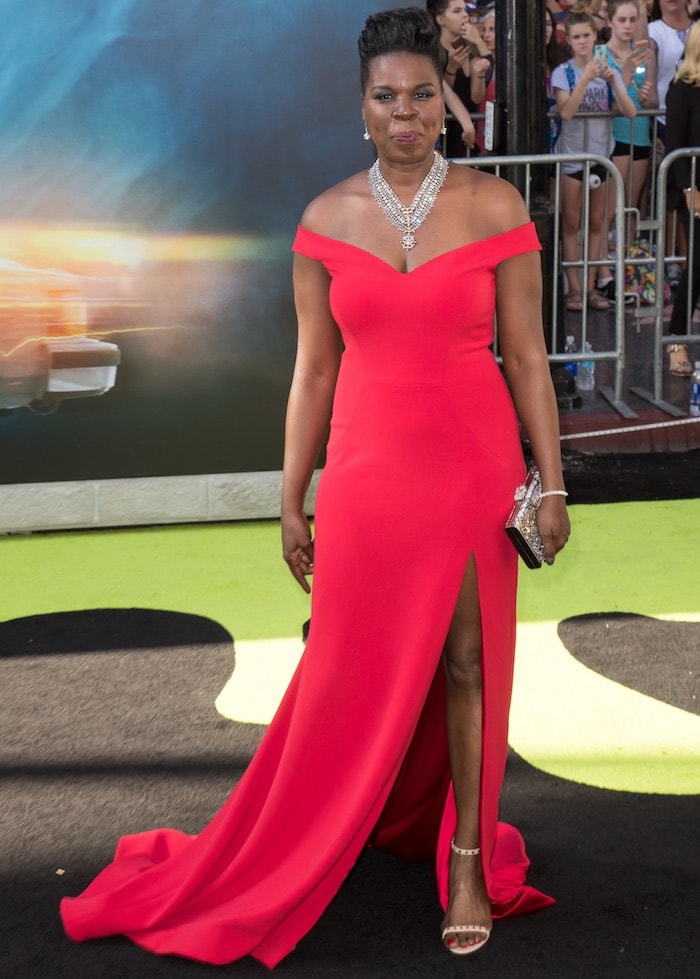 Leslie Jones rocks an off-the-shoulder red gown with a thigh-high slit (Credit: Michael Boardman / WENN)
The "Project Runway" alumnus did a fantastic job in showing off her long, lean 6-foot figure in a red, off-shoulder gown with a thigh-high slit.
She turned heads on the carpet in her form-fitting attire. "I knew I wanted a slit, I knew I wanted to look 'sexy' and show off my body a little bit," she shared.
Leslie Jones in a Christian Siriano gown for the "Ghostbusters" premiere at the TCL Chinese Theatre in Hollywood on July 9, 2016 (Credit: Michael Boardman / FayesVision / WENN)
"He's getting married, right now, as we speak," Jones told reporters about her designer, who married his longtime boyfriend Brad Walsh the same day. "As I walk up this aisle, he is walking up his aisle! Christian, Happy Wedding Day!"
Leslie finished off her look with blush "Cassandy" sandals from Vince Camuto. The ankle-strap sandals feature 3.5-inch heels and studs on the straps.
Leslie Jones shows off her feet in powder blush Vince Camuto "Cassandy" sandals (Credit: FayesVision / WENN)
The American comedian accessorized with a chunky Danni Jo necklace, Chris Aire earrings, and a Judith Leiber clutch.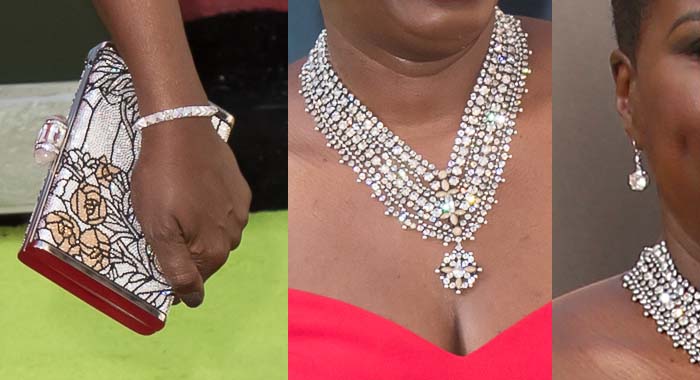 Leslie Jones added bling with a Danni Jo necklace, Chris Aire earrings, and metallic Judith Leiber clutch (Credit: Michael Boardman / FayesVision / WENN)
The "Cassandy" sandals are available in three different colors at Nordstrom and Zappos.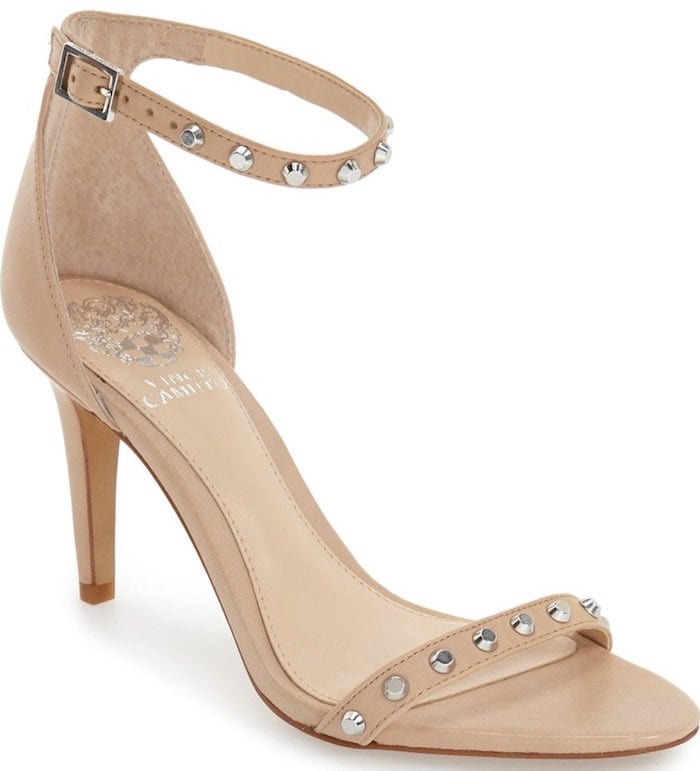 Vince Camuto "Cassandy" Studded Sandals in Powder Blush Napa Leather, $127.71 – $129
Vince Camuto "Cassandy" Studded Sandals in Black Napa Leather, $127.71 – $129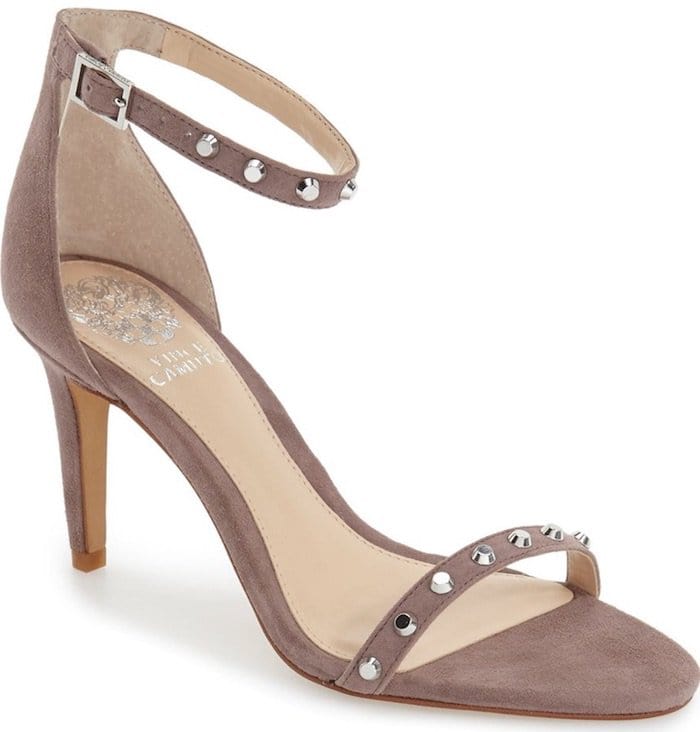 Vince Camuto "Cassandy" Studded Sandals in Mystery Muave Suede, $127.71 – $129