Are you a fan of "Saturday Night Live?" The long-running NBC comedy show has been a weekend staple since 1975 and has turned tons of once-amateur comedians into household names.
Take, for example, Kate McKinnon.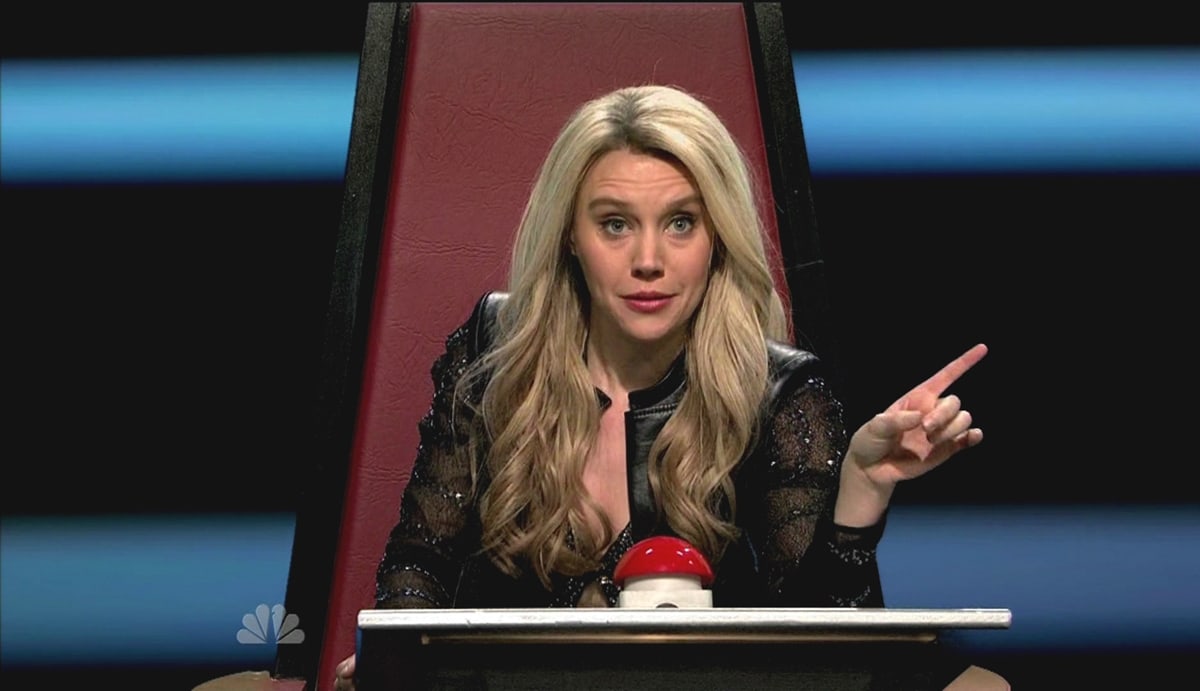 Kate McKinnon joined the cast of "Saturday Night Live" in April of 2012 (Credit: NBC / WENN)
Kate joined the "SNL" cast as a featured player in 2012 and was promoted to a permanent position the following season.
She's been making late-night comedy fans laugh ever since.
How Kate McKinnon Shot to Stardom
Before Kate found seemingly-overnight success on "SNL," she kept busy putting in the work to up her comedy game.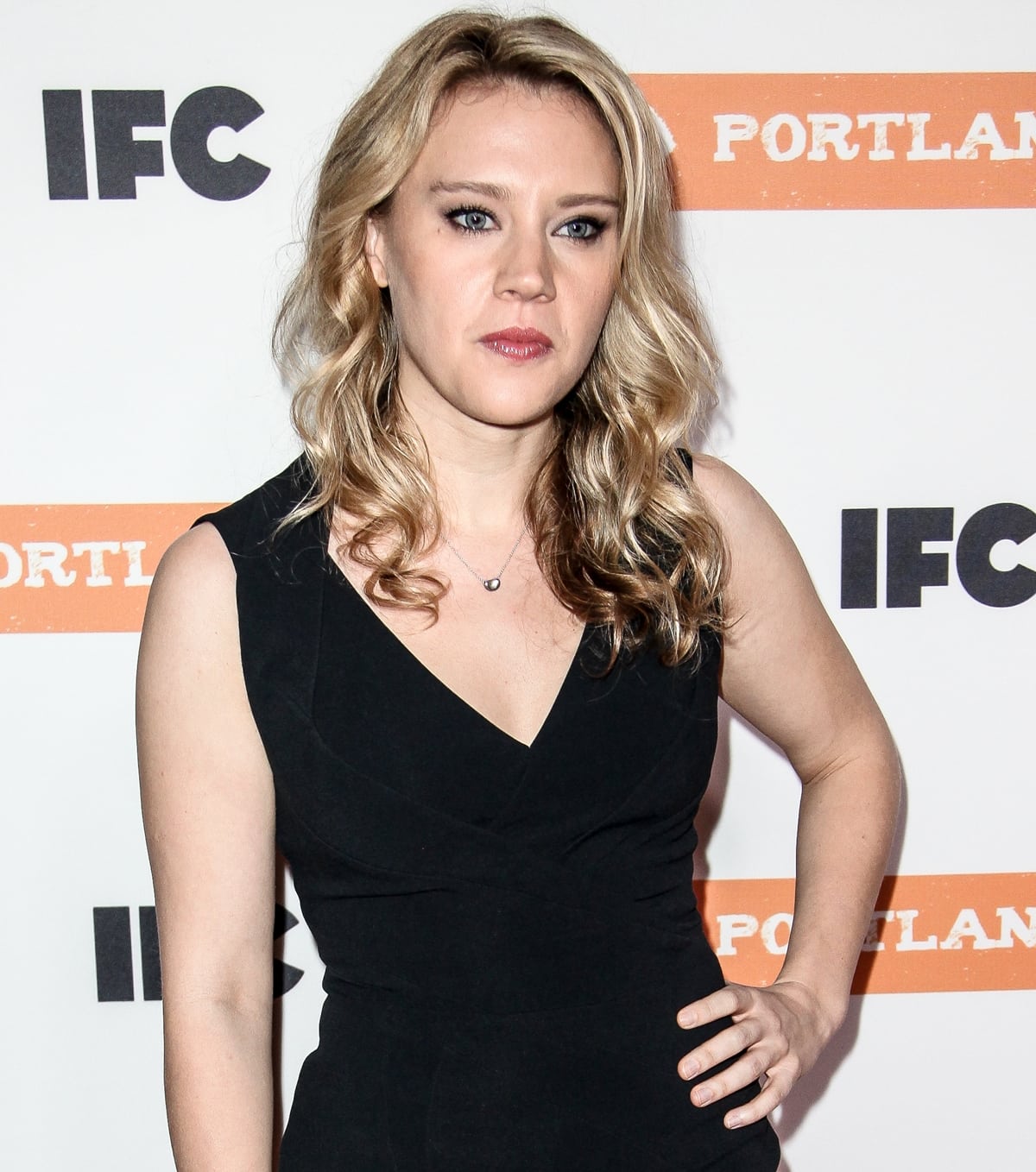 Kate McKinnon attends the Season 3 premiere of IFC's "Portlandia" held on December 10, 2012, at the American Museum of Natural History in New York City (Credit: Kyle Blair / WENN)
Kate, born and raised in Long Island, New York, majored in theater at Columbia University.
After six years of working as a voiceover actress, performing at the Upright Citizens Brigade Theater and working on Logo TV's "The Big Gay Sketch Show," she landed her role as an "SNL" cast member.
Kate McKinnon's Success as A 'Saturday Night Live' Cast Member
Kate was an instant hit on "SNL."
She became well-known for impersonating politicians — such as Hillary Clinton, Rudy Giuliani, Anthony Fauci and KellyAnne Conway — as well as celebrities like Ellen DeGeneres and Justin Bieber.
Her "Close Encounter" sketch performed with Ryan Gosling and Cecily Strong is frequently heralded as one of the best "SNL" sketches of all time.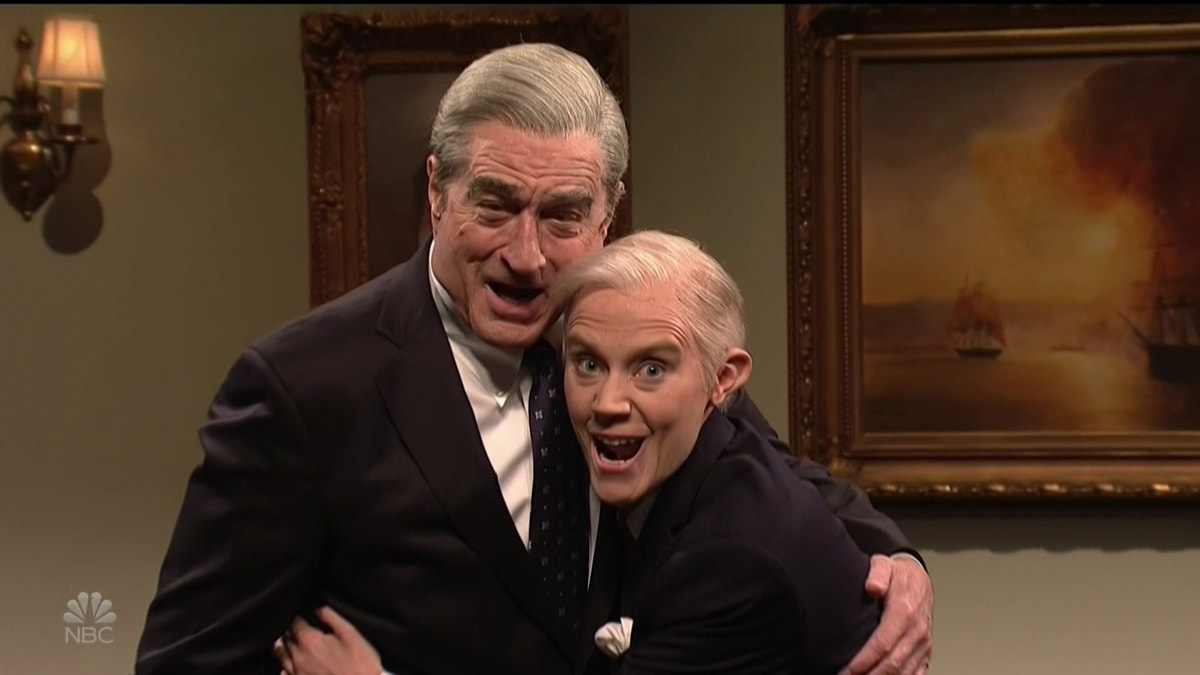 Robert De Niro portrays Robert Mueller and Kate McKinnon portrays Jeff Sessions during the 855th episode of "Saturday Night Live," which aired Nov. 10, 2018 (Credit: WENN / NBC)
Outside of some incredibly hilarious comedy bits, "SNL" also gave Kate some close friendships with other female comedians such as Leslie Jones and Aidy Bryant.
Aidy Bryant and Kate McKinnon attend the 2014 Creative Arts Emmy Awards held on August 16, 2014, at the Nokia Theatre L.A. Live in Los Angeles (Credit: Apega / WENN)
In addition to fame and friendships, "SNL" gave Kate another thing: Money.
Kate makes $25,000 per episode of "SNL."
Kate McKinnon's Net Worth as A Fully Established Comedian and Actress
But, "SNL" isn't the only thing adding to Kate's net worth.
The comedian has also been featured in several hit movies, such as "Ghostbusters," "Office Christmas Party" and "Finding Dory."
Kate has also found success as a spokeswoman for Verizon Wireless.
Her net worth is now at almost $9 million.
Kate McKinnon wears a Versace floor-length dress and David Yurman jewelry to the Los Angeles premiere of "Ghostbusters" held on July 9, 2016, at the TCL Chinese Theatre in Hollywood (Credit: Nicky Nelson / WENN)
Kate McKinnon Facts
| How much is Kate McKinnon's net worth? | She is an American actress and comedian with an estimated net worth of $9 million. |
| --- | --- |
| Full Name: | Kate McKinnon Berthold |
| Born: | January 6, 1984, in Sea Cliff, a village located within the Town of Oyster Bay in Nassau County, on Long Island, in New York. |
| Did Kate McKinnon really sing on SNL? | Yes, she sang West Side Story songs with veteran Broadway star Ariana DeBose during the "SNL" opening monologue on January 15, 2022. |
| How tall is Kate McKinnon? | 5′ 3″ (161 cm) |
| Feet/Shoe Size: | 8 (US) |
| Is Kate McKinnon a vegetarian? | No, she reportedly was vegan for a while but now occasionally eats animal products. |
| Is Kate McKinnon's sister an actress? | Yes, her sister Emily Lynne Berthold is an American actress, director, writer, and stand-up comedian. |
| Does Kate McKinnon have a wife? | Open about being a lesbian for years, she's in a romantic relationship with photographer and actress Jackie Abbott. |
Kate McKinnon wears a Narciso Rodriguez dress at the CinemaCon Big Screen Achievement Awards held on April 26, 2018, at Caesars Palace's Omnia Nightclub in Las Vegas (Credit: Judy Eddy / WENN)
Kate McKinnon's size 8 feet in black studded sandals (Credit: Judy Eddy / WENN)