It has never been easier to shop for shoes online with shoe retailers like Nordstrom and Zappos offering free return shipping and unbeatable customer service.
Sadly, it also has never been easier to create a fake website. To help protect fellow shoe lovers from these scammers, we put together this guide showing many ways to determine if a website is fake, fraudulent, or a scam. You will soon be able to tell if the website you're shopping on is only out to rip you off.
You don't even need to do a Whois search, a domain name registration check, or anything technical. The following 8 red flags should already tip you off that a website is a scam right at first glance. We'll also show you websites to avoid and the 10 best shoe stores online!
1. The URL looks wrong or suspicious
You can't expect a legitimate transaction to happen from a website with a URL that reads "cheapdesignershoes," "designershoeswholesale," or "brand-name-shoes-outlet." However, some scam websites have gotten creative.
In the image below, you can see how they have worked around the suspicious URL problem by using other seemingly innocent-looking albeit non-shopping-related URLs. If you click on them, they redirect to another website, which is a clear sign that a shopping website is fake.
2. The website uses poor English
If a shopping website makes you ask if you're on an online store or Engrish.com, then you should probably close the tab. No legitimate e-commerce site would publish misspellings and bad grammar. Valid sites would put more effort into the product names, descriptions, and overall content.
Stay away from a website that instructs you to get your shoe size like this:
There's a lot more leeway for mistakes in the product feedback, but be suspicious if a buyer reviews "sexy red stiletto heel platform shoes" when the actual item is a pair of polka-dotted pumps.
3. The product images are stolen
If the photos of the products a site is selling are not uniform, it's a big, flashing red sign that they were just taken from other websites. Legitimate websites use their own images taken by their own photographers. Fake websites, on the other hand, just take images off the internet.
Below are two examples of images that were obviously lifted from other websites. We've been shoppers at Bergdorf Goodman for a long time, so we know that the shoe images on the left are theirs. In the image below to the right, you can even still see the celebrity cropped out of the original pic.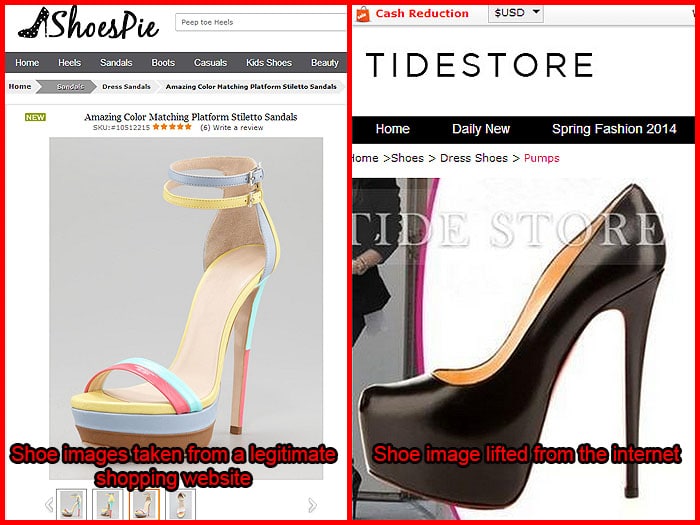 Scam sites also typically offer many of the same products using the same pictures.
4. They don't accept credit cards
It's very easy to copy and paste credit card images on a website, but on fake ones, they are only there for show. Scammers don't like credit card payments because credit card companies can give the customer his/her money back if a dispute is filed.
Watch out for a website that accepts Western Union and Moneygram. Through those anonymous direct cash payment services, scammers can run away with your money scot-free.
5. The deals are too good to be true
Limited edition, out-of-production Christian Louboutins for $205? Get outta here! No, seriously, get out of the website.
The shoes sent to you will most likely be pirated or fake, that is if they are even sent to you at all. The old adage prevails: if it sounds too good to be true, it probably is.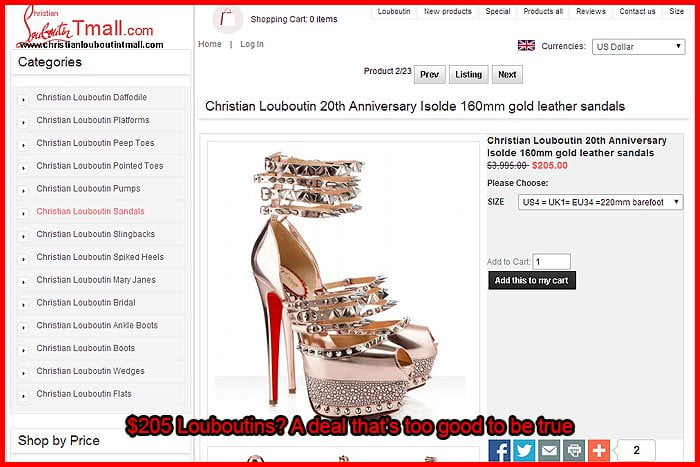 6. The contact email addresses are free ones
You don't even have to contact a website that uses a free Hotmail email account to know that it's fake. If they provide a phone number, call during business hours to check if anyone answers.
If they provide a street address, look it up on Google Maps to see if a business at that location really exists. Be wary if a website only has a contact form and provides no contact information whatsoever.
7. The site's payment or checkout page does not begin with "https."
Any kind of payment, checkout, or shopping cart page must have a URL that starts with "https." If a website asks you to fill out a form and the URL for that page only begins with "http," don't enter anything and exit that page immediately.
On unsecured pages, anyone can hack your information, and you can stand to lose a lot more than just your hard-earned cash.
8. Still in doubt? Do a Google search
A reputable shoe retailer like Zappos has been mentioned millions of times on the Internet. Try looking up the retailer that you're planning to buy from. You should quickly be able to get an idea of how long the website has been around and which websites are linking to it.
Examples of Fake Shoe Websites
Be extremely careful if you intend to purchase shoes from the following websites. They are known to steal product images from other retailers and the shoes are often knockoffs of poor quality from China.
Dresswe
DHgate
AliExpress
Tidebuy
FSJ Shoes
Mollyca
Sandkini
Joy Shoetique
Chellysun
Chic Me
Make Me Chic
TBdress
Pearlzone
Coochic
Joygos
J20Style
Storenvy
Putshy
Elegant Shoe Girl
Bagsincart
MeetYoursFashion
Calceus (always be suspicious of retailers using .org domains)
Yokest Shoes
Gift Her Shoes (Gifthershoes)
Sneaker Wholesale
Lazajoy
Pearlfeet
Yeesone
Teacalgary
Oxanne
A.M.Z Shoes (Amzshoes)
Ameliazz
Tristta
Kaaum
Honey Star
Eilyken
Hizada
Fullino
Honeycocoon
Is Yokest Shoes a legit website?
Registered in China in March 2019, Yokest Shoes appears to be a scam website. They use product images that are copied from other retailers. The company behind Yokest Shoes also operates Lazajoy, which is another site you should stay away from.
Are Pearlfeet and Pearlzone legit companies?
No, they are not. The reviews are horrible and both websites (likely owned by the same company) do their best to hide the identity of their owners.
Where is Gifthershoes based?
As of March 2020, Gifthershoes is no longer in business. The company shipped shoes of extremely low quality from China.
Is Yeesone a legitimate company?
No, it's definitely a scam. The fraudsters behind Yeesone also operate a number of other websites including Teacalgary, Oxanne, Ameliazz, and Tristta.
Are Kaaum shoes any good?
No, the reviews of Kaaum are awful. We've not read a single good review about this company.
If you purchase from a fake shoe website, please note that it's possible that you'll get a shoe of some kind. However, we can almost guarantee that you will be disappointed. Don't end up like the lady below!
A racegoer suffers a broken heel during day one of Royal Ascot at Ascot Racecourse on June 19, 2012, in Ascot, England
Best Online Shoe Stores To Buy Shoes
While we think Nordstrom is the best shoe store online, there are hundreds of legitimate retailers to choose from. To make your shoe shopping experience way easier, we'll show you the best online shoe stores to start your shoe shopping:
Credit: WENN