Recently I was scrolling through my Facebook page when a gorgeous bohemian summer dress caught my eye.
It was so beautiful and unique that I clicked on the link (something I don't often do). The ad directed me to Chicwish, and I immediately felt disappointed.
Why the disappointment? Well, I initially believed it was a "scam site" like many other low-priced fashion websites that advertise online that seem to use Influencer model pictures.
Chicwish Facebook ads targeting consumers in the United States
Along with many others, I have become skeptical about the low-prices and stylish apparel in online advertisements; however, I wasn't familiar with Chichwish and decided to do my own research.
Here's what I found out…
The company is based in China (with a risk of slave labor)
A quick search on the website, and it looks like they may be based in the U.S or U.K. On their About page, it reads, "Our team works in the U.S., U.K., and Asia, where dynamic lifestyle and cosmopolitan outlook blending the best of East and West."
There are also two addresses provided, one in the U.S and one in the U.K. When you search these addresses, it is a complex of offices. Seeing this, it's easy to see why people would assume it's a U.S company and that their items would be shipped from the U.S.
Unfortunately, this is not the case. After further investigation, you can see under their Delivery page that items are shipped from China. Their Chinese address is listed on their Contact Us page – Floor 3rd, Building 2, Dong Cheng Li, East District, Zhong Shan, China 528400.
Further, from the poor English, it's clear to see it wasn't written by a native speaker, nor edited by one.
Chicwish is a scam retailer operating out of China
Many consumer goods come from China, and it's not always a bad thing. However, there are very different labor and manufacturing standards that harm the environment and the people who work in these conditions.
Forced labor is a big part of the Chinese economy and political structure. There are prison factories with forced labor where workers are exposed to toxic chemicals and harsh, sometimes deadly work environments.
The Guardian reported on how many of these forced labor prisons are filled with ethnic minorities like the millions of Muslim Uighurs and Kazakhs who are imprisoned for "wearing veil or headscarf" and the "avoidance of alcohol."
This often explains the poor manufacturing of cheap clothes from China. With bizarre stitching, strange cuts, and a terrible design – it looks like someone who has never sewn before made it.
Although many influential brands have lobbied against this, there are others who take advantage to make their clothes cheap.
In this case, it is hard to tell if Chicwish uses these forced labor prisons to manufacture their clothing but based on the prevalence of these prisons and the price of their goods, it wouldn't be that surprising.
Many reviews are fake, but genuine reviews are very telling
The unfortunate reality of online review sites like Sitejabber and Trustpilot is that many reviews are fake, affecting the overall rating. Unless a person were to look at the reviews critically, they would see a higher overall score and probably make the mistake of ordering.
After looking at the reviews closely, it is reasonable to assume that many of them are fake.
Companies have been caught paying for bots to create fake positive reviews on these websites, and it appears as if Chicwish has done the same. What's worse is they even bribe their customer base to leave a positive review.
When you place an order on the website, you will receive a notification that says you will earn $20 in-store credit when you leave a positive review on both Sitejabber and Trustpilot and send the company a screenshot of it. Very unprofessional.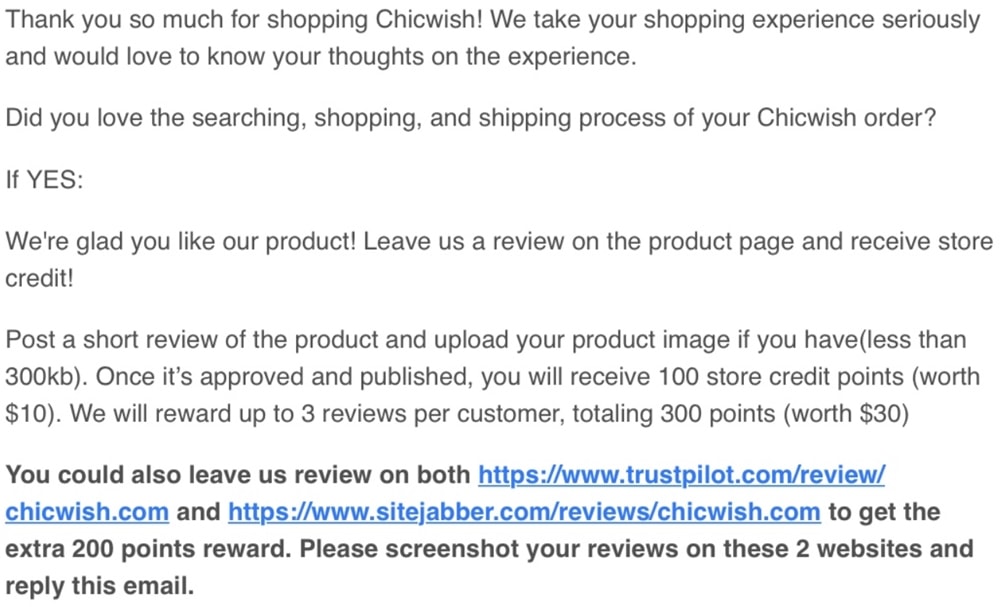 Email from Chicwish asking customers to leave positive reviews on Sitejabber and Trustpilot
In my investigative pursuit, I went to these two websites to see what I could find for myself. On Sitejabber, Chicwish has an impressive 4.5-star rating with 366 reviews. Yet, this is the first review I came across:
1 – star – Terrible quality, lots of obviously fake reviews
"There's no way that the vast majority of these other reviews are not fakes. The fabric is incredibly cheap, and they're not well designed at all. Two of the five dresses I ordered had defects. If you're going to pay $70 for a dress, order from Modcloth or another reputable company. The dresses from Chicwish are literally what you'd expect when you pay $15 for a Chinese-made dress on Amazon. It's such a ripoff."
From this review, it sounds like it was made by someone with no clothes-making experience or training (perhaps someone who was forced to make a dress?). The proceeding reviews weren't any better – "didn't ship," "scam artists," and "fake positive reviews, awful clothes and service."
The best way I can describe the reviews on Trustpilot is chaotic. Some of the fake reviews are so ridiculous, and then you have Chicwish commenting, "THIS FAKE REVIEW IS LEFT REPEATEDLY BY A COMPETITOR."
The all-caps reply isn't the level of professionalism you would expect from a reputable brand. The trending problem seen in many of the reviews here is from people never receiving their order and being unable to get in touch with customer service.
1 – star
"It has been 3 weeks since I place my order. When I go to find my order number on the website, the website tells me there is no order with that number. I have written an e-mail asking where my order is and received no response. I have called the phone number on the website, and it is disconnected. The website asks you to reach out via their live chat and there is no such feature on their website. This is a scam, do not give this company your business. I don't know why the reviews are so high on here, but they also have an F on the Better Business Bureau website. Do not give these people your money."
After reading this review, I moved over to the Better Business Bureau website. It's true – they do have an F rating, and it says, "this business is not BBB accredited."
For those who have escalated their issues to BBB (many don't bother), it appears as if 7 people have filed formal complaints in the past 12 months. The reviews state the website is a scam, and they often didn't get what they ordered.
Influencer reviews aren't any better. Although many people are already well aware, influencers are paid to say products are good.
A company will send them great products that are nothing like the ones they sell customers and pay them to speak positively about their items. Most influencers will now include #ad and disclose this, but many won't.
Their intellectual property policy is also quite outrageous
You would assume a company wouldn't steal photos off your personal Instagram and use them in their marketing, right? Not the case with Chicwish.
This is a massive part of their marketing strategy. The gorgeous pictures they use are not often their clothes! Obviously, this is a huge issue, especially for those who find their photos and face used in advertisements they didn't agree to.
Chicwish's Intellectual Property Policy is disturbing. They essentially acknowledge what they are doing and put the blame on the person – "Intellectual property owners are ultimately responsible for protecting their own IP. As Chicwish.com does not claim to hold legal expertise on IPR matters, we expect your assistance in identifying potentially IPR infringing items".
Chicwish's intellectual property policy is essentially a joke
I had to read this a couple of times as it left me in a state of shock. How could this company steal people's photos, designs, and branding and then say they should have protected it better, and it's their responsibility to understand IPR matters!
This applies to stealing other companies' designs, fashion, and marketing. They take the designs of other reputable brands and designers and remake them while using the original brand's pictures.
If you believe they are infringing on your intellectual property, you have to jump through hoops, providing signatures, written descriptions, personal contact information, personal statements, and more. There are 6 action items you need to take even to get them to address the issue.
To conclude this investigation, Chicwish is not legit. The reviews and information I found on their own website seem very much like a typical scam retailer. When you spend $30 on a shirt, you, of course, hope it arrives, but how long will you fight with a company to get a refund?
Most people will eventually give up, thinking the $30 isn't worth any more of their time, and this is how the website continues to make money and happily maintain its disturbing business model.
If you are like me and come across one of their advertisements on your social media pages – stay clear. Avoid the headache and heartbreak of either never receiving the item or getting a poorly made dress. As the saying goes, buyer beware.