What do you know about Shein? At first glance, the online retailer seems like a legitimate option to save money on clothes, shoes, accessories, and more.
The company spends a significant percentage of its revenue advertising to new consumers like you through your favorite social media platforms. Unfortunately, there are several problems with the website, and information about the site varies throughout the last year.
1. Who Owns Shein?
Shein is owned by parent company Zoetop Business Company, Ltd, operated by CEO Xu Yangtian (Chris Xu). Zoetop Business also owns Romwe, a similar fashion online retailer.
Fast-fashion company Shein is known for human rights abuses and poor customer service (Credit: T. Schneider / Shutterstock)
All are headquartered in Shenzhen, China, but also partner with companies in other countries.
The company has a notorious reputation for being reclusive, and reports vary about the inner workings of the fashion giant.
2. What Companies Are Similar to Shein?
First, it's important to note that Shein is not the first name this online retailer has gone by.
Shein was first born as ZZKKO in 2008. This company only sold wedding dresses at first and branched out to womenswear in 2012 under the new name "Sheinside."
In 2015 the company rebranded once more, wanting a name that was easier to remember and search for online. Cision PR Newswire reported that the name change was critical for continued development.
Today, Shein ships to 220 countries worldwide and offers kids' and men's clothing.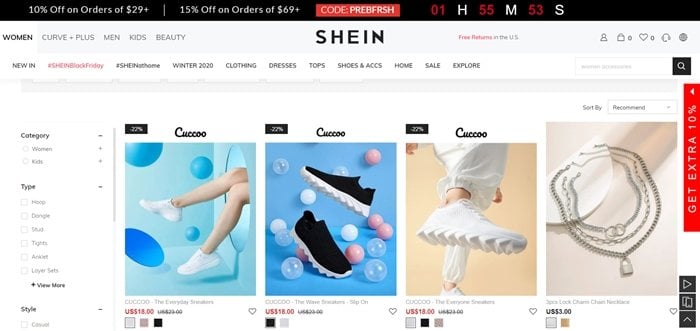 Sheinsider changed its name to Shein in 2015
Other company examples you may recognize are Choies, Dress Lily, RoseGal, Zaful, BeckyDress, Twinkledeals, SammyDress, Trend Gal, RoseWe, Modlily, Tidebuy, and more.
These websites tend to follow the same business model and have the same customer complaints lodged against them. There are also serious issues when it comes to transparency.
3. Shipping Practices at Shein
Relatively speaking, ordering from Shein can be a quick process. The company requires 1 to 3 days to process your order in China. From there, your order will be placed on a cargo plane and shipped through customs. Then, it is sent to a product warehouse before being delivered to your front door.
This process is different from other B2C companies that originate in China. Those companies generally rely on sea freight, which is less expensive.
Few companies can match Shein's speed when it comes to overseas delivery. Shein averages a 10- to 15-day delivery, and also offers free shipping when a customer spends a minimum amount.
4. Understanding Fast Fashion
So, why is Shein so cheap? It's actually quite simple. Shein is an example of fast fashion. The retailer's clothes are not made to last forever. Rather, they're made to match current fashion trends and are only intended to last one or two seasons.
Extinction Rebellion protesters in central London demonstrate against the environmental harms of fast fashion on September 9, 2020 (Credit: WENN / Instar)
Shein's clothes are not created with quality in mind. The company's designs only stand up to about six wears before significant product issues appear. Seams will separate, materials will tear and embellishments will come undone. This is done intentionally. Shein products are not intended to last forever.
Because fast fashion designers like Shein only craft ensembles meant to last for a few wears, products quickly end up in landfills. This generates excessive waste and is horrible for the planet.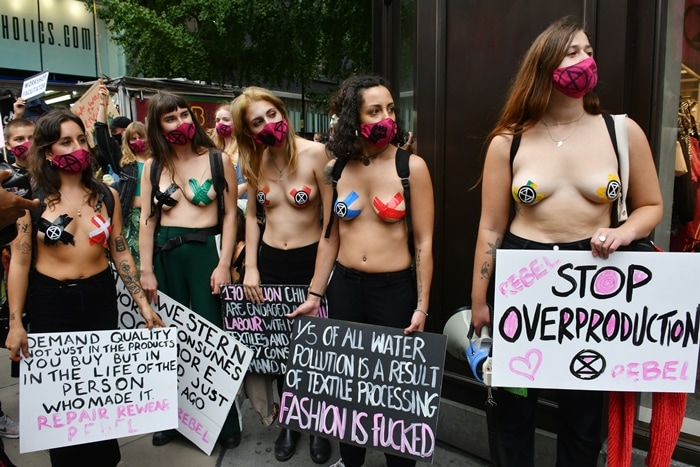 Extinction Rebellion, a global environmental movement, focuses on fast fashion as a major factor in the climate crisis (Credit: WENN / Instar)
Part of the reason fast fashion exists is because of social media. Consumers can now view different styles and trends at incredibly fast speeds, which means retailers work incredibly fast to pump out those new products before consumers move on to new styles and trends.
Companies like Shein deliver these products at too-good-to-be-true prices using cheap material and low labor costs, often in developing countries.
5. What are Special Economic Zones in China?
Special economic zones in China operate with free-market principles that allow Chinese companies to compete. These small geographical areas were initially developed as testing grounds for how capitalism interacted with the Chinese state.
Shenzhen was one of the first special economic zones established and one that flourished well. It supplies many of the factories necessary for brands like Shein.
In particular, the Special Economic Zones help businesses get ahead in the market. Each one limits the power of authorities and facilitates as much free trade as possible.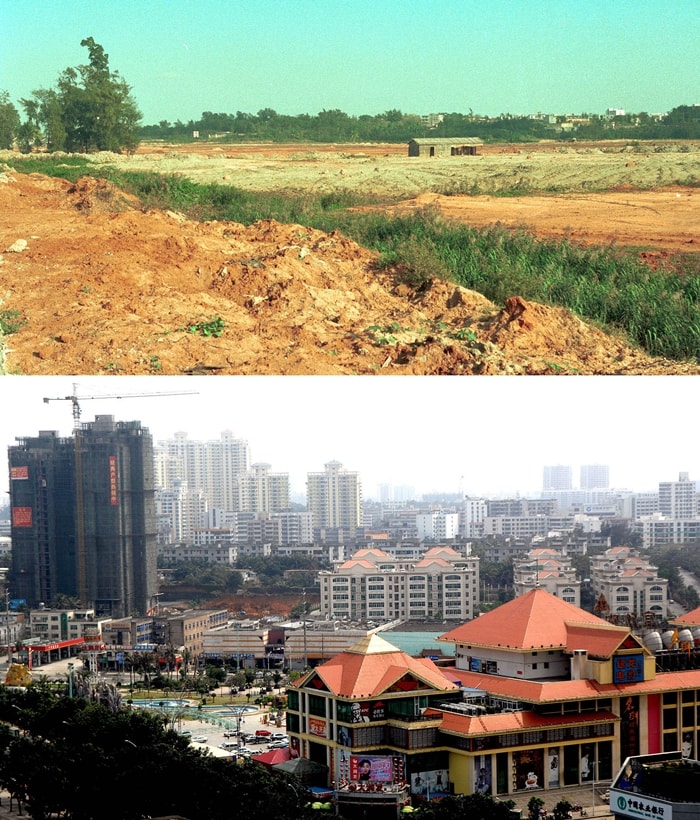 This combination photo shows the financial trade district in Haikou of southernmost China's Hainan Province on March 14, 2008 (bottom) and the same location nearly two decades ago in January 1990. Founded in April 1988, Hainan special economic zone (SEZ) is one of the five SEZs of China. Over the past two decades, Hainan's economic and social development has made remarkable progress, leading to a change in the appearance for cities and villages (Credit: WENN / Instar)
Consequently, these zones quickly became factory towns with support structures like transportation.
Special economic zones attracted many people due to the increased job opportunities, and now other countries also use this model. However, these zones offer few protections for workers, and conditions tend to be abysmal.
Low wages, overcrowded living conditions, and unscrupulous contract practices are common in China's special economic zones.
6. The Child, Forced, and Slave Labor Problem
It's not a secret that the garment industry is plagued with human rights abuses, such as child labor, slave labor, and forced labor.
Shein was the subject of speculation recently after a documentary, "Untold: Inside the Shein Machine," was released. The documentary was part of an undercover investigation done by Channel 4 and The i newspaper in the UK, according to Business Insider.
It is reported that a woman used a fake identity to secure two jobs at Shein factories. The documentary, which is available on YouTube, mentions that workers in the supply factories in Guangzhou receive 0.14 Yuan per item.
There are further reports of employees only being allowed one day off per month, two-thirds of daily wages being deducted for errors made, and 18-hour work days. Some workers received a base salary of only $556 per month to make 500 pieces of clothing per day.
The documentary also mentions how some employees have to wash their hair during lunch breaks because there is simply no other time for them to do so.
The Guardian believes at least one in five garments was created using exploitative labor.
A warehouse in Dongguan, an industrial city in China's Pearl River Delta (Credit: WENN / Instar)
When discussing slave and forced labor, it's vital to understand the term. Slave labor occurs when someone is given no choice as to whether to work, perhaps to pay off a debt.
Forced labor means the person must work or face dire consequences. In China, this occurs at the Uighur reeducation camps, among other locations.
Zhang Xubo was forced to work in freezing conditions in Shaanxi, China, and lost his legs after being imprisoned as a slave in an illegal factory (Credit: WENN / Instar)
Some companies, like Shein, have social responsibility policies that are available for the general public to read. These policies detail how these companies can work around human rights laws and regulations.
In November 2020, Shein stated that it works within the local laws and expects its partners to do the same. Because some countries allow children to work starting at age 14, the brand is not breaking any laws.
Slave Labour, a mural by British graffiti artist Banksy, depicts a poorly dressed child at a sewing machine assembling a bunting of Union Jack patches (Credit: WENN / Instar)
By relying on slave labor, child labor, and forced labor, companies can save money on labor costs by paying workers low wages and, sometimes, no wages at all.
That's a big reason why these companies can offer their products to you at a low cost.
7. Shein Customer Service Issues and Reviews
Shein is one of many Chinese companies with customer service issues and poor reviews posted on consumer review sites like Trustpilot and Sitejabber. According to these sites, all of Shein's customer service agents are located in China, which makes it difficult for U.S. consumers to get in touch with the company.
However, there's a good reason Shein relies on Chinese labor for customer service. Because China has a lower cost of living and a lower minimum wage, Shein can pay China-based customer service associates less than it would have to pay U.S.-based customer service associates. That's why — after years of global business — Shein still doesn't have a customer service phone number.
The only way to contact Shein customer service is by chat. When customers use the website's chat function, they report a myriad of issues, such as broken English, unresolved questions, and unsatisfactory problem resolutions. Customers often become frustrated and discontinue their quest for compensation, which also means that Shein saves money.
Customers frequently complain about Shein's customer service, shipping delays, and credit card problems
Another frequent complaint by Shein customers is the return process. While orders typically ship for free with the use of a coupon, Shein requires customers to ship returns directly back to China at the cost of the customer. Because shipping from the U.S. to China is so costly — often, the price of postage exceeds the original cost of the order — customers are reluctant to do it.
Current reviews of Shein paint an overall bleak image. In addition to complaints about product quality, customers often complain about shipping and delivery.
Many would-be customers never receive their orders and have no package tracking data. Others complain about the difficulty of returns and how often — even when Shein customers properly send returns — they never receive a refund.
8. The Counterfeit Parade
Shein's marketing and promotion practices are also sketchy, to say the least.
While Shein now claims to photograph its products in-house, Shein products were previously advertised using images taken from various parts of the internet, including Instagram.
Not only did the products not match the pictures, but the company violated copyright laws in many cases. While it kept costs down, it also angered the fashion community.
Many shoes and products sold on Shein are knockoffs and counterfeits
Often, advertised products and delivered products did not match. Photos and product descriptions would tell one story, and the product itself would tell another. A consumer could order something advertised as "100 percent cotton" and actually receive a product made of plastic.
This mimicking helped Shein continue to add new products with less design and marketing work — which, again, led to cost savings.
If you're planning on ordering something from Shein, be wary. It might seem like a good deal at first but could become a potential headache later down the road.