Romwe targets social media users hard to lure in shoppers to purchase trendy clothes and accessories at "too good to be true pricing," but is it safe to enter personal info and click that "buy" button?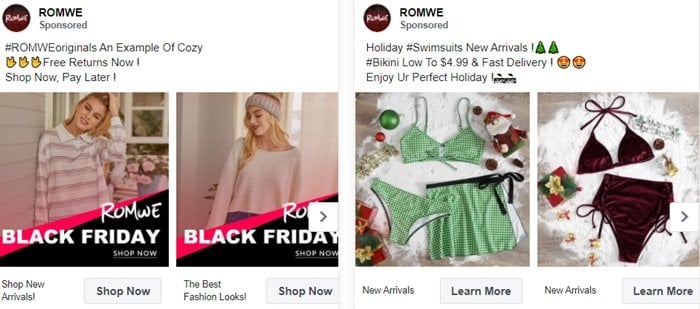 Romwe is a prolific advertiser on Facebook, Instagram, and other social media platforms
Sadly, many problems and inconsistencies have been found in both Romwe's products and practices and it has proven better to avoid shopping with them at all.
Are Romwe and Shein the same?
Romwe is a discount online retailer that sells trendy fashion items at super discounted prices. Founded in 2010 in Nanjing, Jiangsu Province, China, the company is linked to mysterious Chinese billionaire Yang Jianxin. According to Forbes, he resides in Taiyuan, China.
Romwe has warehouses in multiple locations throughout the world. It is owned by Globalegrow E-Commerce, which also is the parent company of Shein and a number of other scam websites. Romwe also has a storefront on Amazon.
The Chinese website Romwe targets many countries including the United States, Australia, Canada, and the United Kingdom
Their website is published in several languages, including English, French, and Spanish. These are the top 10 reasons why you should not buy anything from Romwe:
1. Quality
The items advertised, and the models used are cleverly styled to be deceptive. Colors are deeper, the material appears thicker and high quality and the models are rarely above a size 2.
Owned by the same company Shein and Romwe sell identical products and use the same models
Reviewers state that items advertised as what was supposed to be "sweater material," often shows up as a poorly made, almost novelty, like a piece of clothing that resembles felt. Pleats, embellishments, and other details are often non-existent or sloppy in their design.
2. Shipping
Although Romwe claims to ship "from the warehouse closest to your location," reviewers have stated they wait on average two to four weeks to receive their shoddy merchandise even when opting for "express," or "fast," shipping at $15 to $20 additional cost.
Some customers even said they after placing an order and being charged, they never received what they purchased or even a valid tracking number.
3. Bait and Switch Fur
Romwe has been cited by the Advertising Standards Authority for selling real fur as faux fur after a humane society in the UK tested a few of the items advertised as fake on their website.
Romwe has been penalized for selling real animal fur as faux fur
Claire Bass, executive director of Humane Society International/UK said in a statement published by Fashion United: "It's completely unacceptable that compassionate consumers setting out to buy fake fur are being misled into buying cruel animal fur. The vast majority of British shoppers want nothing to do with the horrors of fur farming and trapping, but because of mislabelling shoppers face a minefield trying to avoid it."
Selling animal fur as fake fur is not only completely unethical but should make any potential customer run the other way, because honestly if they lie about something so serious, what else are they lying about?
4. Unethical Labor
Romwe and similar discount clothing manufacturers often set up shop in impoverished countries with little to no labor standards. The workers, some as young as 8, are forced to work long shifts, often 13-14 hours in length in unsafe conditions with no protection from the elements.
In April 2013, over 1100 factory workers died in Dhaka, Bangladesh, when an eight-story commercial building called Rana Plaza collapsed. The deadliest garment-factory disaster in history, most of the dead were fast fashion garment workers.
Supporting these practices through purchasing from these shoddy retailers only reinforces their bad behavior towards fellow humans, and who wants to be a part of that?
5. Invalid Coupon Codes
The prices are already ridiculously cheap by most standards and yet it is not at all uncommon to find "coupon codes" advertised by Romwe or through a quick internet search.
Applying Romwe discount coupons can be more difficult than you'd think
The problem is most of these "coupons" do not work when applied. It will appear as though the price was adjusted, but the consumer quickly realizes after purchase that they were never applied.
6. Deceptive Reviews
Romwe has been the target of several investigations regarding the companies' manipulation of reviews of their business to the positive. This corrupt practice deceives consumers into a false sense of security about patronizing the website.
7. No Returns
Most clothing and accessories purchased are not eligible for returns and if by some chance they are, the return process is a hassle.
Romwe gives you 60 days from the purchase date to decide if an item is right for you
No matter the reason for the return, the consumer is responsible for paying the shipping fees, which are often more expensive than the clothes themselves.
8. Environmental Impact
From the chemical-laden dyes used for coloring to the harmful pollution produced via shipping merchandise by planes from China to all over the world, the negative environmental implications run far and deep and will inevitably touch everyone at some level.
Air pollution, water pollution, and depletion of natural resources affect all of us. Choosing to buy from these retailers contributes to the detriment of our planet.
9. Intellectual Integrity
Romwe and sites like it, "copy" from well- known and popular designers, attempting to duplicate intellectual property and passing it off as their own. This damages responsible companies' reputations and hurts their profits.
10. Poor Customer Service
Romwe claims to have "24/7" customer service available to assist if any problems arise. However, most shoppers that have attempted to contact Romwe representatives report that there is rarely any response to emails and there is no published phone number to call.
Romwe is a Chinese fast fashion retailer selling poor quality clothes
Many have been left with unanswered questions about their purchases or returns and this includes merchandise that was never received but charged to their credit cards.
Romwe's cheap prices and glossy ads end up costing customers a lot more in the end, not only in monetary terms but also environmental and humanitarian. Avoid Romwe and instead support local and reputable merchants who have ethical practices and quality merchandise.