Sometimes you will come across a website that seems to be too good to be true. You might be wondering how trustworthy the website is and whether you can trust Yokest Shoes to be a reputable seller.
If you have ever come across Yokest Shoes, then you might be thinking similar thoughts. In our opinion, we believe that Yokest Shoes is a scam website that you are going to want to avoid.
By providing you with the information that we have found on Yokest Shoes, as well as real customer reviews, we will show you why Yokest Shoes is not a legit website.
Yokest is a website that was registered in Guangdong, China, in 1999
A glance over some of the reviews for Yokest Shoes will give you a taste of the nightmare experiences that their customers have endured. Their Trustpilot rating is 1.3, while their SiteJabber rating is 1 star.
That does not give us any confidence in their customer service or their business practices. We were unable to find a single positive review for the company on any of the popular customer review sites, with almost every review giving Yokest Shoes a one-star rating.
While the photographs on their website make you think that you are getting a high-quality pair of shoes, it is another act of deception. A quick reverse image search on any of the listings on their website will show you that photos are not original.
If we use the 'casual classic platform shoes' as an example, a quick google search will show you that the photographs are all over the internet. There is no guarantee that, if you are lucky enough to receive your order, it will look like the photos in real life.
Yokest steals images from other retailers and does not stock the shoes that are sold on its website
One customer reported that their shoe sizing was incorrect and that a size 14 was even smaller than a standard size 13. As the customer put it, they "might as well have shipped me a broken pencil."
It appears to be a common issue that their sizing chart is all over the place and not standardized. A reviewer on TrustPilot said that when his order arrived after two months, the sizing was not what he ordered.
Receiving an incorrect size appears to be a common issue amongst those who are lucky enough to receive their order. For the orders that do arrive, they take anywhere from 2 to 4 months to eventually show up.
With modern delivery solutions, there is no reason why it should take so long for you to receive a product that is in stock.
A reverse image search shows that the same shoes are sold on many other scam websites
Pretty much every review that we could find on Yokest Shoes spoke about their credit cards being charged and never receiving the product.
How Yokest Scams Customers
Their primary method of driving customers to their website is through google ads on reputable websites to make them appear genuine. Just because an ad appears on the Weather Channel, it does not mean it necessarily is a legit website.
A tell-tale sign of any scam website is when your credit card provider will not allow you to checkout on the website.
Yokest Shoes encourages visitors to use Paypal to process their order, thereby bypassing the additional security checks that are carried out by your bank or credit card provider. While you can open a dispute with Paypal to try to get your money back, it can be a long process.
Unfortunately, customers often forget that they can raise a dispute through Paypal or they wait too long after ordering to dispute a case.
A reviewer on SiteJabber wrote about how they had paid for an order that they never received and how they felt cheated by the company.
The customer had tried reaching out to Yokest Shoes directly to resolve the situation and was not offered a refund or any form of compensation for their order.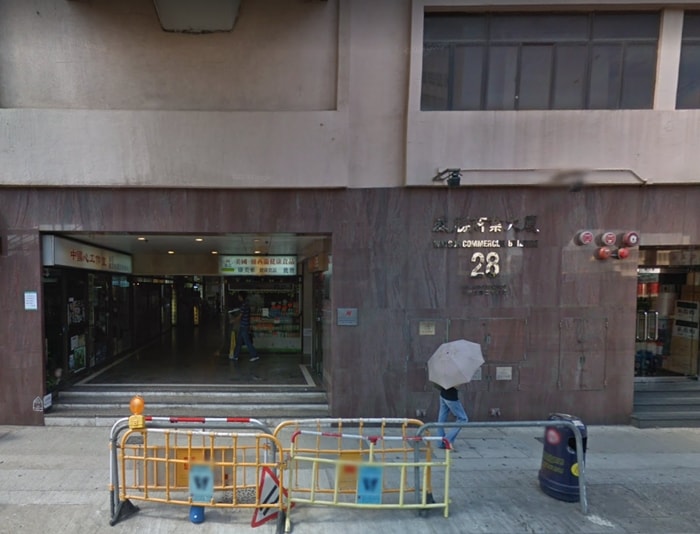 Yokest claims to be located in Wayson Commercial Building in Hong Kong
Another reviewer ordered shoes in December for their son and still has not received them in August, suggesting that Yokest Shoes was using fake tracking information to make it appear as though the order was dispatched.
What Country Is Yokest From?
Although Yokest Shoes gives the appearance that it is a US-based website, it is located in Hong Kong. The website features American flags and regularly runs promotions around American holidays, as well as listing their prices in US dollars.
Appearances can be deceiving, and this is one of the reasons why people fall into the trap of this scam website. At least one reviewer on SiteJabber fell for the idea that they were buying directly from a US company and not a China-based reseller.
Another reviewer on TrustPilot was led to believe that the company was UK-based due to a targeted google advertisement. Thankfully, in this case, the reviewer was diligent and decided to check online for other reviews before completing their order.
A Yokest customer wrote to us and said returning shoes to China costs a fortune.
Please tell people that I tried to return the shoes I bought from Yokest and they told me it would cost $40 to $50 to return them. You are sending them back to China. If you go on their website all the shoes have 5 stars. That is because there is no where to put any reviews. They all must be fake. I hate to get scammed.
Like most scams, Yokest Shoes appears to be part of a network. It looks as though the parent company of Yokest Shoes, Danjun Ecommerce Ltd, also runs Vekmall and Lukvip, and no doubt other websites.
Vekmall, Lukvip, and Yokest appear to be operated by the same company
None of the companies in this network appears to have many positive reviews online, and each of them comes across as being a scam.
When we looked into the set-up of the business, their registered address in Hong Kong is a virtual address that is used by multiple companies. It appears as though there is no legitimate space for the business operations of Yokest or a warehouse where their products are stored.
There also appear to be issues around data protection with the website, as one reviewer on TrustPilot believes that their order through the Yokest Shoes website is responsible for dozens of spam emails arriving in their inbox every day.
Our recommendation is to learn from the mistakes of other shoppers and to stay away from Yokest Shoes. Before you purchase from any website, you should look up reviews on TrustPilot and other sites to check the brand's reputation.
If it looks too good to be true, it usually is. It pays to do your research into the websites you are interested in ordering from. We hope this article will help you avoid making the mistakes that other customers have made by purchasing from Yokest Shoes.