The rise of e-commerce has seen both endless praise and controversies throughout the last few decades. The benefits are easy to list – it's convenient, it offers variety, and you can compare prices at a faster rate than wandering around a shopping center.
And with international shipping opening up endless doors for entrepreneurs, China has risen as a market giant in offering cheaper solutions.
AliExpress is one of the more popular and common online retail services based in China. Launched in 2010, its annual revenue is currently in the billions.
Unlike sites like Amazon, AliExpress doesn't actually sell products to its customers but creates a platform for businesses to sell to customers on a global scale.
AliExpress is an online retail service based in China owned by the Alibaba Group
It's popular for companies that are founded on dropshipping, and because of how quickly it sprung up in popularity, it created room for discrepancies on the overall quality of these products.
A number of the products offered on AliExpress are fakes, counterfeits, or even potentially dangerous. According to a February 2020 report from CBC News, cosmetics purchased from AliExpress "contained heavy metal levels exceeding Health Canada's standards for cosmetics."
But buying shoes or other products from AliExpress isn't necessarily a waste of time or money – you just have to take the time to ensure the reliability of the seller and their products.
1. How Does AliExpress Work?
Instead of selling products directly to its buyers, AliExpress creates a marketplace where businesses can offer their products online to buyers. Once they're set up, browsing clients can buy their goods just like in any other online retailer.
The pro is that it works just like any other platform. Different departments, like shoes or phones, are divided into their respective areas, and you're free to browse the variety of the stores offered.
Thousands of fake phones and shoes pile up at a warehouse in China after a massive crackdown on counterfeit goods
It ships everywhere but mainland China, and buying is just as simple as it is on Amazon – create a free account, add your wanted items to your shopping cart, and head out to the checkout.
AliExpress uses the standard e-commerce model. After ordering an item, you'll receive a tracking number, and you'll be able to track any and all of the ordered products until they reach your door.
2. Is AliExpress Safe?
If the whole marketing platform was based on counterfeits and fakes, then it wouldn't be such a successful, global e-commerce business.
AliExpress is one of the most visited online shopping websites and continues to ramp up its numbers of orders and customers on a daily basis – so it's safe, but to a limited degree.
Many shoes sold on AliExpress are counterfeits and fakes
It's not a website based on scamming – it incorporates major Chinese brands like Huawei, along with thousands of smaller businesses.
However, there are definitely some limitations with regard to the quality of their products. Made up of small businesses in China and other locations such as Singapore, it's important to check the reliability of the seller before ordering.
3. Does AliExpress Offer Refunds?
If your products arrive late, damaged, or simply don't arrive, AliExpress offers a full refund under its Buyer Protection.
The biggest con of the website's Buyer Protection is that it has a time constraint – there's a certain period when the buyer can claim their rights, so if your phone arrives with a cracked screen and the time runs out, you won't have any chance of getting your money back.
It is fair, though – a business can't be responsible for the product until the end of time.

AliExpress promises your money back if the item you received is not as described, or if your item is not delivered within the Buyer Protection period
So if the goods you receive don't match the product description, are damaged, have been delivered late, or haven't been delivered at all, you can rely on AliExpress' Buyer Protection. This feature is often overlooked and is a strong pro that does, in fact, make it more legit and safe than it appears to be.
AliExpress also offers other guarantees – Returns & Refunds, Domestic Returns, and Guaranteed Genuine, so there's a range of guarantees to fall back on if you're not satisfied with your goods.
Lipstick purchased on AliExpress was found to contain 751 times the amount of lead Health Canada considers acceptable in cosmetics
If you pay by credit card, the return protection gives you extra time to get a refund on items you don't want to keep. You also get complimentary insurance for damaged or stolen purchases.
4. How Not To Get Scammed On AliExpress
There are thousands of businesses on the platform – so the bigger the business and the more reliable it looks, the higher guarantee it has that it can offer goods worth your money.
The easiest way of checking if a business on AliExpress is legit is by checking the reviews. The more of them, and the more positive they are, the higher the chance of the business is more than just a one-time reseller. Reviews with poor grammar or suspicious content are likely to be fake.
Nike Pegasus and Air Max 270 shoes usually retail for around $160. The Nike sneakers you'll find on AliExpress are likely fakes.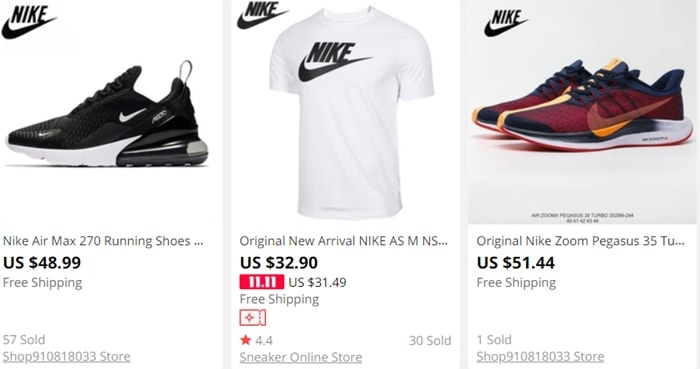 Nike Pegasus and Air Max 270 shoes are selling for around $50 on AliExpress
Buying a product – especially shoes – without any reviews is a risky gamble, especially on sites like AliExpress. It's better to go for a similar product from a business that's more trustworthy, even if it means a higher price.
Speaking of prices – goods that take the idea of being 'affordable' to another level, and price their products at a low range that doesn't make sense are probably too good to be true.
AliExpress is a great platform for finding inexpensive alternatives, but if these alternatives just seem too cheap, you can save yourself the frustration and time of getting a refund, and simply steer yourself away from it.

In 2017, Alibaba and the IOC announced a long-term partnership to help transform the Olympic Games for the digital era
Products from MAC Cosmetics, Canada Goose, Louis Vuitton, Hermès, Chanel, Sephora, and Tiffany & Co. never go on sale.
Other ways to check the reliability of the business – high-quality photography, a range of products, and a quick response time.
Remember to check your product when you receive it – the AliExpress Buyer Protection has the drawback of being limited by time, so check your delivery when it arrives. Make sure nothing is damaged, and that it actually matches the product description.
5. Why Are Products On AliExpress So Cheap?
Because of how large the platform is, businesses are constantly competing and trying to set the price as low as they can to attract buyers' attention.
Thousands of counterfeit products are destroyed by customs officials in China after being confiscated from shops
Most of the offered products have been produced in China, which boasts low production costs, including slave labor according to End Slavery Now, as well as low taxes and duties.
6. What Payment Methods Are Accepted?
AliExpress accepts a wide range of payment methods – such as Visa debit/credit cards, Mastercard credit cards, Maestro debit cards, and American Express.
7. How To Open a Dispute
Depending on your situation, you can get a partial or full refund from the seller. You can enquire for a dispute for a variety of reasons, examples being: your product not arriving, the goods being fake, or the product not matching the description.
You'll have to log into your account, select the product, and click the 'Open Dispute' button. Remember, the Buyer Protection rights are time-constrained, so open the dispute as soon as you can.
How to get your money back from AliExpress
You will have to specify the nature of your claims, such as refund only or a return of the goods and money, and fill in a dispute application. Usually, the buyer will respond to the dispute promptly.
However, it's best to avoid the hassle of receiving sub-standard products. By seeking out only the most reliable sellers on AliExpress, you can avoid having to ask for a refund.
Credit: WENN