Every corner of the internet is full of brands promising you the best quality shoes. Sometimes they are true to their word. Other times, not so much. There is nothing worse than being scammed online.
Sometimes, you can get your money back. Other people, unfortunately, are not as lucky. There are companies online that are masquerading as legitimate fashion stores to steal your money.
We believe that Bellelily is one of these businesses. I'm going to set out the reasons why you should avoid Bellelily, also known as Belle Lily, at all costs.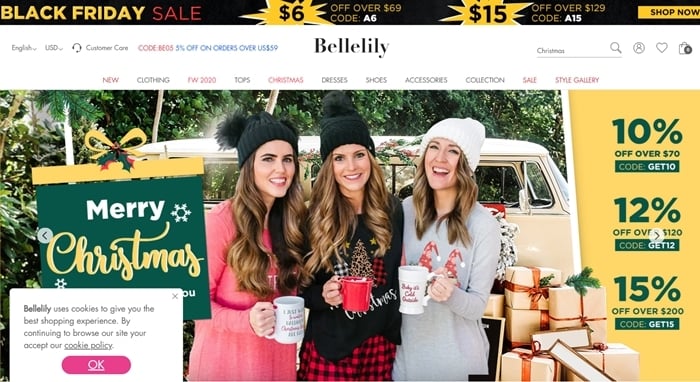 Bellelily is a Chinese scam website targeting American consumers
Bellelily claims to have over ten years of experience in the fashion industry. It even goes as far as claiming that it has "blessed fashion trend finders and high-quality product providers".
Bellelily is essentially a provider of fashion and homeware pieces that are mass-produced and available from millions of websites online.
A search on Google will show you that their products are also available on Amazon and smaller e-commerce websites, all with similar stock images.
Where is Bellelily shipped from?
The Bellelily website is registered to 'Chengdu West Dimension Digital Technology Co. Ltd', which is in Chengdu, China. It deliberately presents the idea that it is an American based brand as it lists all their prices in USD.
The photographs that are used throughout the website purposefully feature women who look American to give the impression of a genuine advertising campaign.
Bellelily steals product images from other websites
This sort of website content is a common trick used by scam websites to deceive customers into believing that they are purchasing from a trustworthy company within their own country.
Like most scam websites, it's highly likely that Bellelily is part of a network of websites selling mass-produced products based in China. When I googled the parent company of Bellelily, I could find information about them being involved in a website scam.
This blog post at Domain Name Wire from 2014 refers to 'Chengdu West Dimension Digital Technology Co. Ltd', using a scam website to email people with false renewal notices to get their credit card information.
It appears as though the parent company has almost 3 million domains registered, so there is no telling how many scam businesses they are operating.
Bellelily was registered in China in 2012
That's definitely not the kind of company you want to give your credit card information to willingly.
A glance at the reviews online for Bellelily will quickly show you some of the problems associated with it. On Trustpilot, 45% of their reviews fall into the 'bad' category and have a one-star rating.
How do I return to Bellelily?
The main issues for customers revolve around the returns policy of Bellelily – or the lack of one. Their website claims that their "quality control teams will inspect your item prior to shipping" and that they are "committed to doing our best to find a solution" in the event that you're unhappy with your order.
One of the realities of online shopping is that sometimes clothes don't fit. Ordering an incorrect size is perfectly normal, and a legitimate business will always have a return policy. If you receive the wrong size, you probably won't be able to return it.
One reviewer on TrustPilot said that they were expected to cover the cost of returning the parcel to China. Genuine sites will always have a return policy, while scam websites will make you pay for a return as a way to stop you from getting a refund.
Bellelily claims to be located in Shenzhen in southeastern China
Multiple reviews online refer to customers only being offered a small discount – usually 10% – off a future order by way of compensation.
Speaking of their return process, their customer service leaves something to be desired.
One of the many horror stories on TrustPilot includes a customer being asked to send a photo of themselves wearing the ill-fitting clothes so that the brand could determine if it was actually the wrong size.
Unfortunately, this customer isn't alone in her experience, and it's a common one that you will see mentioned in almost every negative review.
Bellelily is known for posting fake reviews on review sites like Trustpilot and SiteJabber
In some cases, Belle Lilly has replied to negative reviews and only added fuel to the fire. One negative review spoke of the horrors of trying to deal with the brand's return process.
Bellelily publicly admits to offering a higher refund in exchange for customer's deleting negative reviews.
There are multiple other reviews which mention customers being offered a 50% refund on their order in exchange for deleting negative reviews.
This behavior suggests that Bellelily frequently contacts customers who have left a negative review by using the personal information provided at the time of their order and cross-referencing it with the reviewer's display name.
Bellelily has a popular Facebook page with more than 1 million likes
Hundreds of negative reviews may have been deleted by people who have accepted the compensation offered in exchange.
It's also highly likely that the brand itself posts false reviews to attempt to outweigh the number of negative reviews on websites like Trustpilot.
There's no doubt that Bellelily's business practice prioritizes making a quick dollar over providing a quality product or any proper form of customer service.
Amongst the reviews complaining about the return process – or lack thereof – other customers are saying that they never received their order in the first place.
One customer contacted Bellelily three months after ordering and told them that their parcel had not arrived. Bellelily then said that the only way they could get a refund was to return the product that was not delivered in the first place.
Bellelily's blog is written in extremely poor English
A reviewer by the screen name 'Service Critic' had an experience that should warn us all of the dangers of Bellelily. They placed an order for 28 items, spending almost $400 on the website.
One item was shipped, another was refunded, and the remaining 26 never showed up. When the case was taken to Paypal, Bellelily manipulated the situation by providing the tracking information for the one item that was shipped. Not very ethical, is it?
You should learn from the mistakes that have been made by hundreds of other people who have been scammed by Bellelily. As one customer put it "you would be better off just throwing your money in the garbage".