Just like fashion trends, sneaker styles are also constantly evolving. Design and function-wise, sneakers have indeed changed a lot over the years. They were originally invented for athletics purposes, but they eventually turned into a fashion statement.
But while shoe designs are changing, there are shoe brands and styles that will always remain iconic. Take, for example, Nike.
Air Force 1 is one of the most shoe popular and iconic shoe silhouettes by Nike (Credit: Sport Car Hub / Shutterstock)
From their small beginning in Oregon, Nike has grown into the world's largest athletic footwear and apparel manufacturer, with a brand value of $109 billion in 2021.
Their iconic Swoosh logo has also become one of the most recognized and counterfeited brand logos of all time.
A Brief History of Nike
The company was founded in 1964 as Blue Ribbon Sports by Bill Bowerman and Phil Knight. It initially operated as a distributor for Japanese shoemaker Onitsuka Tiger, but by 1971, the company decided to launch its own footwear line, which was rebranded as Nike. It was named after the Greek goddess of victory.
The company then hired Carolyn Davidson, a graphic design student, to create a logo for their new brand. She made the Swoosh logo, which stands for speed, while its shape is inspired by the wing of the Greek goddess Nike. Carolyn charged a mere $35 for the logo, which has remained unchanged up until today.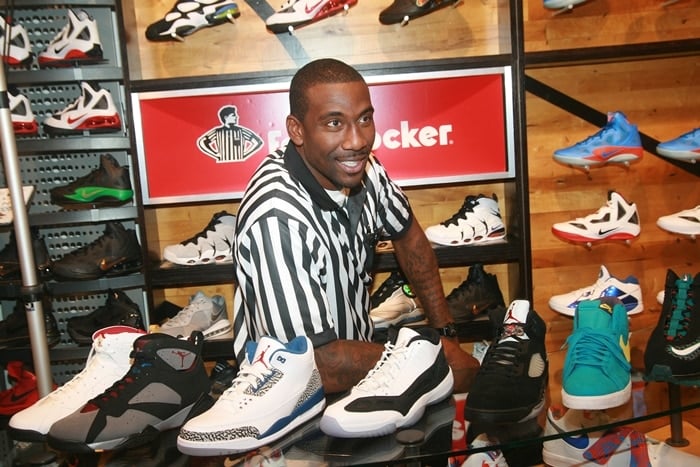 Amare Stoudemire showcases a sampling of his very own shoe collection, including the new Nike Air Max Sweep, at Foot Locker Store in New York City on October 11, 2011 (Credit: WENN)
By 1980, Nike's share of the US athletic footwear market reached 50%. The company then invested in marketing with a series of TV and print advertisements. Their use of emotional branding and celebrity endorsers has made them the brand they are today.
One of their most successful endorsements has been with Michael Jordan. Their collaboration resulted in the launch of the Air Jordan line of sneakers, which now has 33 flagship models.
Forbes reported in May 2020 that Nike had paid the former basketball player an estimated $1.3 billion since they signed the deal with him in 1984.
Mark Wahlberg's feet in Air Jordan sneakers with Michael Jordan's name and world-renowned "Jumpman" silhouette (Credit: WENN)
Nike is undeniably one of the most popular shoe brands in sports fashion. The brand has produced timeless sneaker designs that can be used for sports, casual wear, and other recreational activities.
If you want to add another pair of Nike shoes to your closet, we've compiled some of Nike's most notable shoe designs below.
1. Nike Air Force 1, $119 – $150 at Farfetch and Nike
First introduced in 1982, Air Force 1 is the first basketball shoe to use Nike Air technology.
Its key feature is the small medallion secured to the bottom of the laces. It's engraved with the inscription AF-1, which refers to the official air traffic control sign of a US Air Force aircraft that carries the President of the United States.
The Nike Air Force 1, often called the "Air Force 1" or "AF1," was first introduced in 1982 (Credit: I.C.R.7 / Shutterstock)

This classic silhouette is sold in five different styles—low, mid, super low, high, and super high—but the difficult-to-clean low white-on-white is the best seller. It reportedly sold an estimated 12 million pairs in 2005 alone.
The Air Force 1 remains a classic up to this day, and it has become a favorite among sneakerheads.
The Nike Air Force 1 is one of the most recognizable and enduring sneaker silhouettes in the world (Credit: Artyaroslav / Shutterstock)

2. Nike Air Jordan 1, $269 – $730 at Nike and Farfetch
Originally released in 1985 for basketball legend Michael Jordan, Air Jordan 1 is Nike's first signature sneaker, and it remains one of the most popular Nike silhouettes on the market today.
The Nike Air Jordan 1, often simply referred to as the Air Jordan 1 or AJ1, is a popular and iconic basketball sneaker designed by Peter Moore and first released by Nike in 1985 (Credit: Phil_Berry / Shutterstock)

The red and black Air Jordan 1 is also known as the "Banned" sneakers for not complying with the uniform guidelines set by the NBA.
Michael Jordan was reportedly fined $5,000 each time he wore his red-and-black shoes. Nike paid all of MJ's fines and capitalized on the attention by launching a series of commercials that censored the controversial shoes.
However, there is no evidence or proof of MJ wearing the Air Jordan 1 at an official game during the regular season. Chicago Tribune reported that the shoes MJ wore were the black-and-red version of the Air Ship, not the AJ1s. There was a photo of Michael Jordan, however, wearing the real red-and-black AJ1s during the 1985 slam dunk competition.
The Nike Air Jordan 1 is a signature shoe for the legendary NBA basketball player Michael Jordan, who was a rising star at the time and is widely regarded as one of the greatest basketball players of all time (Credit: Rama Rafael / Shutterstock)

The iconic Air Jordan 1 now comes in a variety of colorways. They feature a color-block design with the Swoosh and Air Jordan Wings logos on the outer sides.
Every Air Jordan model utilizes Nike's flagship Air cushioning system, which provides lightweight support. They also have durable rubber outsoles with a pivot circle for better traction.
3. Nike Dunk, $120 – $445 at Farfetch and Nike
The now-iconic Nike Dunk was Nike's original team shoe. It debuted in 1985 as College Color High and was designed for basketball performance.
The Nike Dunk is a popular line of athletic shoes that was first introduced in 1985 as a basketball shoe (Credit: Madcat_Madlove / Shutterstock)

Nike originally released Dunk High in several colorways to match the school colors of popular basketball programs. They then used the advertising tagline "Be True to Your School."
Seven colleges and universities, including the University of Michigan, University of Kentucky, University of Iowa, Georgetown, St. John's, UNLV, and Syracuse, represented the first colorways of the Dunk shoe, making it their teams' official shoe.
The Nike Dunk has become a cultural icon and a fashion statement, particularly in the streetwear and sneaker enthusiast communities (Credit: Phil_berry / Shutterstock)

The Dunk took a cue from Air Jordan 1 for its outsole, with an evolved design and silhouette from Air Force 1.
In 1998, the Dunk returned to the market as a casual street-style sneaker. Eventually, it turned into a skater shoe. Low-cut versions were also made in the first run of the retro Dunks.
4. Nike Air Max 1, $125 – $775 at Farfetch and Nike
Nike's Air Max 1 debuted in 1987 as the first shoe to use the Max Air cushioning technology. It is identified by its unique midsole, which incorporates flexible, translucent urethane pouches filled with pressurized gel.
This visible Air unit, inspired by the Centre Georges Pompidou in Paris, revolutionized the footwear industry.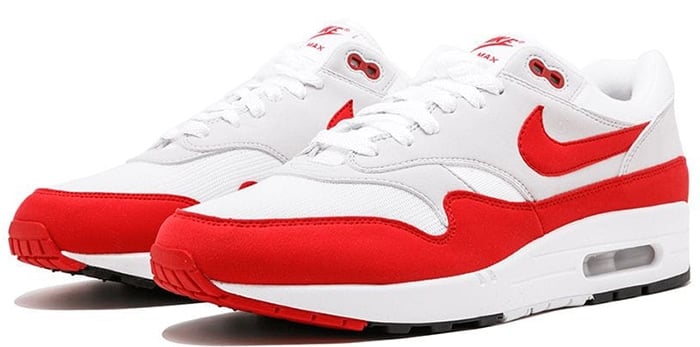 Nike Air Max 1 Anniversary
While it is marketed for running, it has become a street-style staple. It was initially sold in a university red-and-white combination, but Nike has eventually released retro'd Air Max 1s and numerous Air Max 1 collaborations and colorways.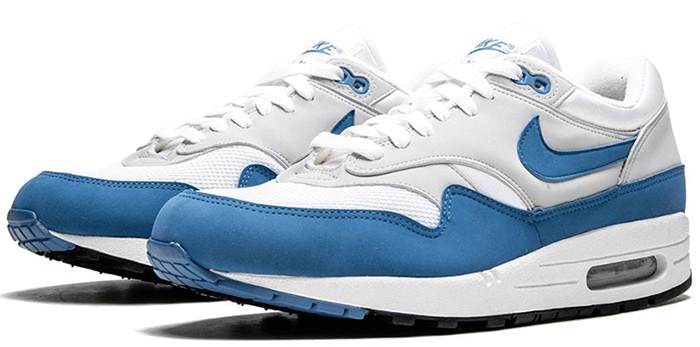 Nike Air Max 1 Classic sneakers
The Cortez was the first modern track shoe released by Nike at the peak of the 1972 Summer Olympics. Many US Olympic athletes wore the shoes, and the demand for the Cortez grew.
It then became Nike's best-selling shoes throughout the '70s and has since remained an icon.
Nike Classic Cortez
One of its key features is the thick sole with a full-length sponge midsole cushion designed to absorb shock and reduce leg fatigue. It also has a raised heel to reduce Achilles tendon strains and provide maximum comfort and a rubber outsole that's molded in a herringbone pattern.
Design-wise, it features a clean upper with the Swoosh logo on the outer sides and a streak across the lower portion to highlight the different densities in the midsole.
Nike Classic Cortez in Black and White
Over the years, the Cortez has undergone changes and been released in several materials and colorways. It has also shifted from being a running shoe to casual footwear.
Released as a basketball sneaker in 1973, the Nike Blazer has remained popular among sneakerheads to this day. Nike has, in fact, collaborated with several clothing brands to create new Blazer colorways.
The company has worked with luxury fashion label Off-White, Japanese luxury brand Sacai, streetwear labels Stüssy and Supreme, and even the Netflix web series Stranger Things.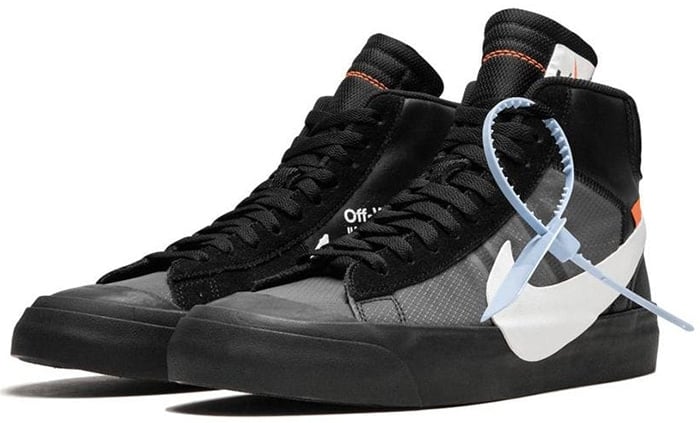 Nike x Off-White Blazer Hi sneakers
Named after their hometown's professional basketball team, Portland Trail Blazers, the Blazer was the third sneaker released under Nike and was originally worn by NBA player George "The Iceman" Gervin. This particular shoe exposed the Nike brand to NBA fans for the first time.
From a basketball shoe, the Blazer has transitioned into an everyday casual shoe, thanks to its minimalist and versatile design. You can still get the Blazer in low and mid-top silhouettes on the market.
Nike Blazer Mid 77 sneakers
7. Nike Air Huarache, $54 – $343.50 at Nike and Farfetch
Named after a Native American sandal, the Nike Air Huarache was released in 1991 as a cutting-edge running shoe.
It revolutionized athletic footwear with its neoprene inner lining—inspired by neoprene water-skiing booties—that works like an exoskeleton as it molds to the shape of the entire foot for a snug fit.
Nike Air Huarache sneakers in red, burgundy, and gray
Synthetic overlays and a rubber heel strap for support surround the neoprene inner bootie. The Huarache also features a Phylon foam midsole with Nike's signature Air-Sole units in the forefoot for all-day comfort.
Aside from its unique and eye-catching construction, it also has Nike's waffle-patterned rubber outsole for traction and durability.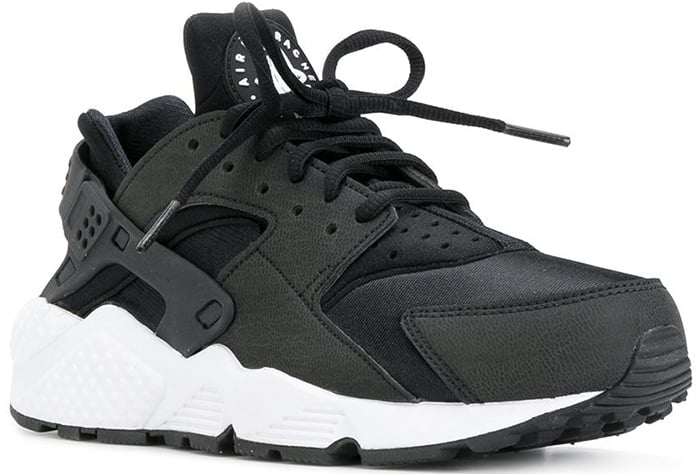 Nike Air Huarache sneakers in black and white
This innovative and comfortable footwear has become popular among runners, and it has seamlessly transitioned into the mainstream as a streetwear staple. Up to this day, the Air Huarache continues to turn heads with its unique design and comfort.
8. Nike Air Presto, $98.95 – $775 at Nike and Farfetch
The Air Presto hit retailers in the year 2000 during the Sydney Olympics.
Inspired by sock-like running shoes like the Air Huarache, the Nike Air Presto was marketed as a "T-shirt for your feet" as it is made from mesh fabric, which is more breathable than neoprene.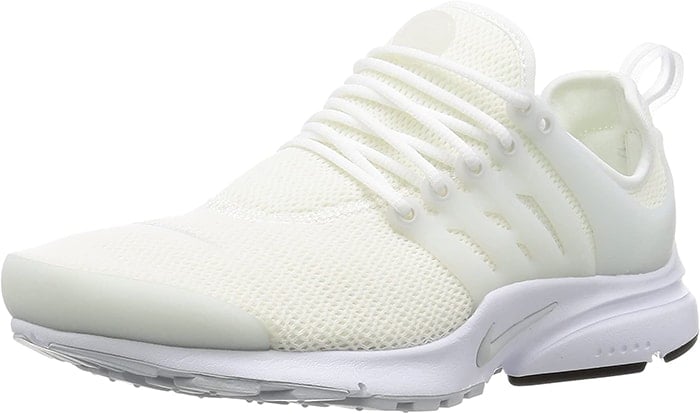 Nike Air Presto Ultra BR Low-Top
The Air Presto is easily identifiable by the mesh upper and signature Thermoplastic Polyurethane cage. It also features a Phylon foam midsole and a cushioned Duralon outsole, which has remained unchanged over the years.
The Air Presto also has five dots on the outsole, which signifies that the shoe is part of the Alpha project—Nike's short-lived program that represented the brand's most innovative and progressive footwear.
Nike x Off-White The 10 Presto sneakers
Fifteen years after its initial launch, Nike re-released several original versions of the Presto sneaker. The brand also released an updated version with a Flyknit upper and several colorways in a mixture of mesh and neoprene materials.
9. Nike Air Zoom Pegasus 36, $86 – $249.95 at Farfetch and Nike
The Air Pegasus is one of Nike's most successful line of running shoes. It was introduced in 1983, and four decades later, it remains a popular go-to option for runners.
Over the years, the Air Pegasus has undergone several major changes in design and technology. Nike has been releasing an updated version of this iconic shoe style annually since its original release date.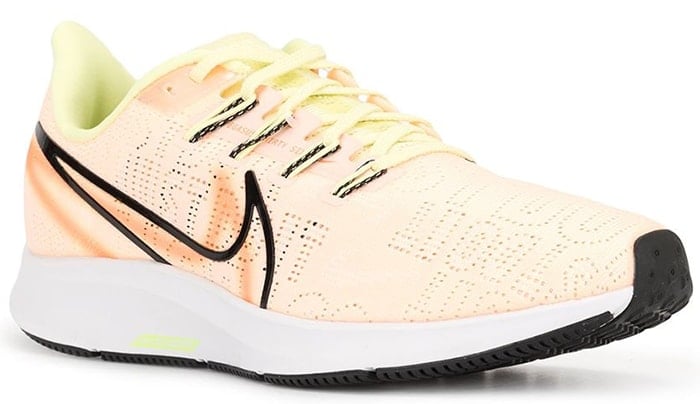 Nike Air Pegasus 36 Premium sneakers
One of the most popular Pegasus versions today is the Air Zoom Pegasus 36. It's a neutral running shoe that's perfect for long-distance running.
Compared to its predecessor, the Air Zoom Pegasus 36 has an improved lockdown-fit seamless Flymesh upper, a lace-up closure with Dynamic Flywire cables for a secure fit, a thinner tongue, and a slimmer instep for better grip around the ankle and heel.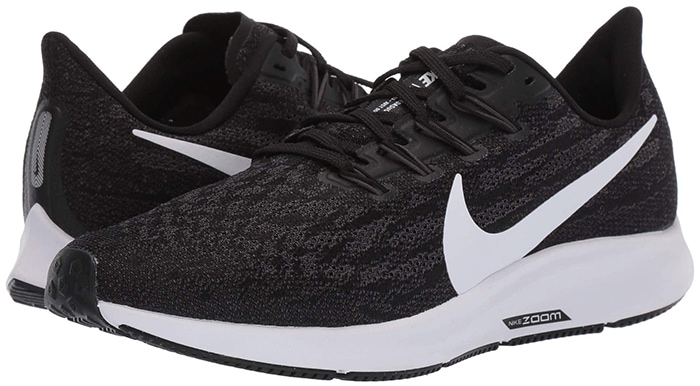 Nike Air Zoom Pegasus 36
This shoe also features the signature Air Zoom cushion with a waffle-shaped outsole, rubber crash rail on the lateral outsole, and shock-absorbing raised rubber for better traction.
10. Nike Air Max 97, $115 – $1,805 at Nike and Farfetch
Inspired by Japan's high-speed bullet train, the Air Max 97 is distinguished by its iconic water-rippling design and innovative full-length visible Air unit.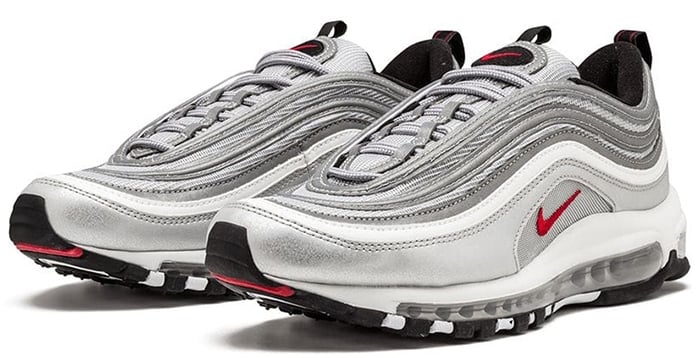 Nike Air Max 97 OG QS sneakers
It has been over a quarter of a century since the Air Max 97 debuted, but it's continuously making waves in the sneaker community.
Originally released in Silver Bullet with reflective 3M stripes, plenty of new colorways and collaborations have already been released following its 20th anniversary in 2017.
The Air Max 97 comes in either leather, synthetic or textile uppers and features full foam soles with rubber outsoles for traction.
Nike Air Max 97 Have a Nike Day in Space Purple
11. Nike Air Max 90, $74.96 – $775 at Nike and Farfetch
Known as the greatest Air Max design ever, the Air Max 90 is the second flagship shoe in the Air Max line after the Air Max 1.
It debuted in 1990 as the Air Max III in Hyvent Orange colorway, nicknamed "Infrared." It was reissued in 2000 and took its name from the year of its initial launch.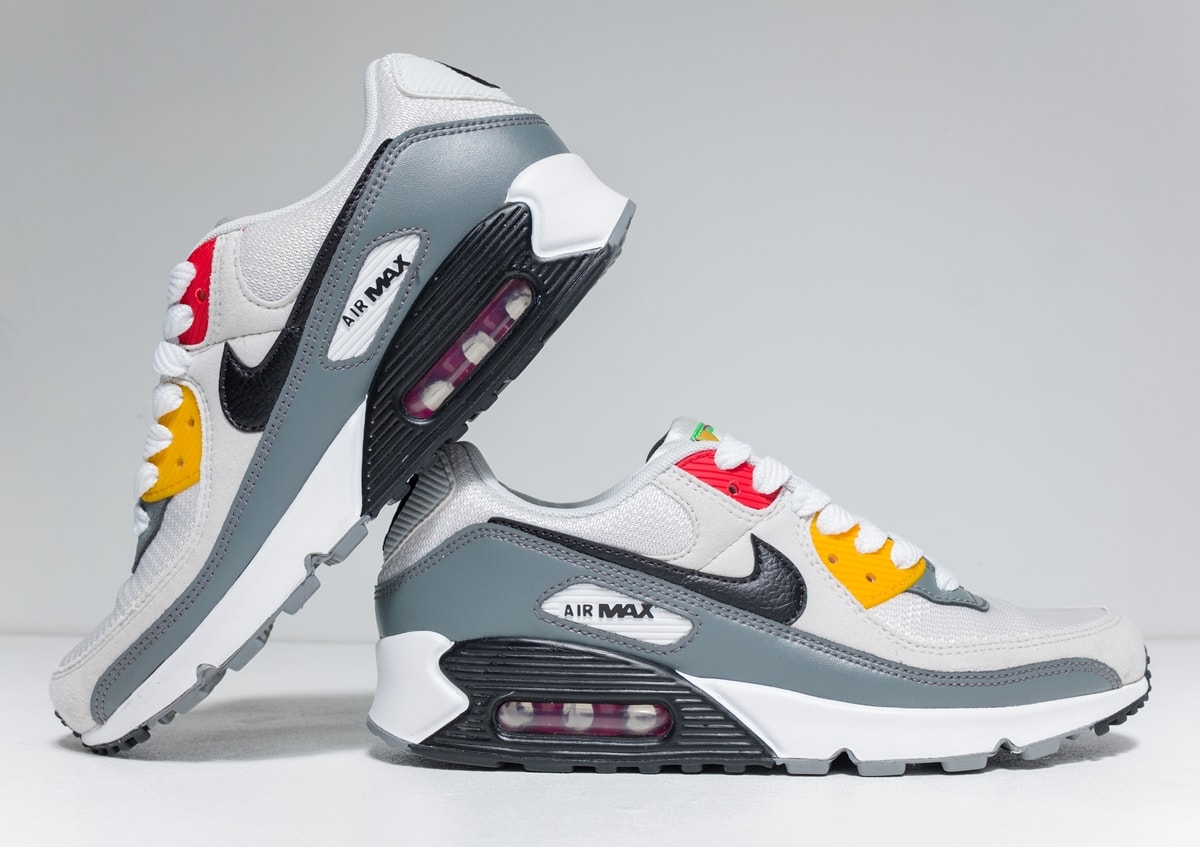 The Nike Air Max 90, also known simply as the "Air Max 90" or "AM90," was first released in 1990 and quickly became a cultural and fashion phenomenon (Credit: Seeshooteatrepeat / Shutterstock)
The Air Max 90 has more plush padding and a thicker Air sole unit than its predecessor. Its upper features a combination of Duromesh, synthetic felt, and synthetic leather, while down below is a foam sole cushion and a rubber outsole.
Over 30 years later, the Air Max 90 is still the most popular Air Max of all time, with a hundred colorways, upgrades, and various collaborations released through the years.
It remains a significant model for runners, sneaker collectors and the entire sneaker market.
The Air Max 90 has played a significant role in sneaker and streetwear culture (Credit: Pcperle / Shutterstock)

12. Nike SB Dunk, $205 – $1,276 at Nike and Flight Club
Nike introduced its SB line in 2002, following its failed attempt to enter the skateboarding market in the late 1990s.
The SB Dunk Low was the first model released under the SB division. It's a skate-ready version of the 1985 basketball Dunk High, tailored specifically for skateboarding.
The SB Dunk has a thicker padded tongue and collar, Nike's Zoom Air insoles, and modified rubber outsoles for traction.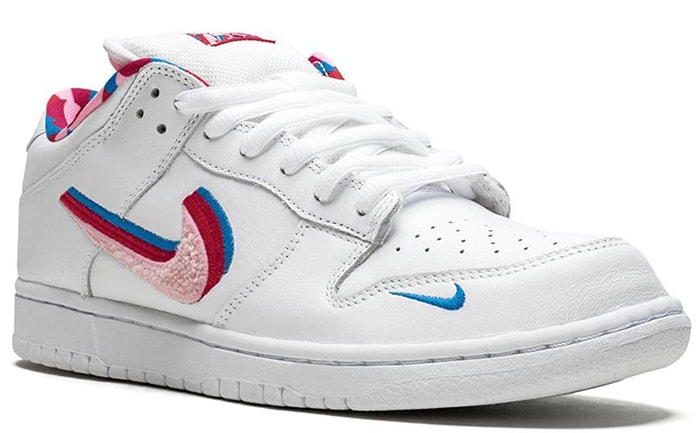 Nike SB Dunk Low
Skater pros Richard Mulder, Danny Supa, Gino Ianucci, and Reese Forbes were given the first four SB Dunks in their own signature colorways.
Following the release of the four original colorways, streetwear brand Supreme collaborated with Nike, and it helped jumpstart the success of the SB Dunk silhouette.
Other skate labels, including Zoo York, Diamond Supply Co., and Stüssy, then followed suit and collaborated with the footwear giant.
Nike x Supreme SB Dunk Low sneakers