Streetwear has ruled the fashion magazines and the streets it was named for since the 1990s. Despite being one of the most enduring styles in fashion, it's hard to pinpoint precisely what streetwear is.
Streetwear grew from subcultures like the New York hip-hop scene and the Californian skate and surf groups. Many of these influences persist today, but streetwear's modern iteration draws on so much more.
If you're still confused about how to define streetwear but want to rock the trends, you're not alone. In no particular order, here is our list of the hottest streetwear brands shaping the future of fashion.
1. Cactus Plant Flea Market: A Mysterious Leader in Streetwear
First founded in 2015 by Cynthia Lu, Cactus Plant Flea Market is the epitome of a mysterious streetwear brand that knows what it's doing.
This brand can frequently be seen releasing both expected and unexpected collaborations, as they have previously worked with the likes of Nike, Anti Social Social Club, Travis Scott, and McDonald's.
Also known as CPFM, Cactus Plant Flea Market has collaborated with several brands, including McDonald's and Nike
Cactus Plant Flea Market pieces are instantly recognizable, using asymmetrical, puffy typography and incorporating its smiley-face logo in intriguing ways.
Be prepared to pay top dollar for Cactus Plant Flea Market clothes, as many of their previous collaborations frequently sell for upwards of $800 on platforms like GOAT.
Cactus Plant Flea Market Pieces You Need to See:
1.1 Cactus Plant Flea Market x Coachella Long-Sleeve Tee, $89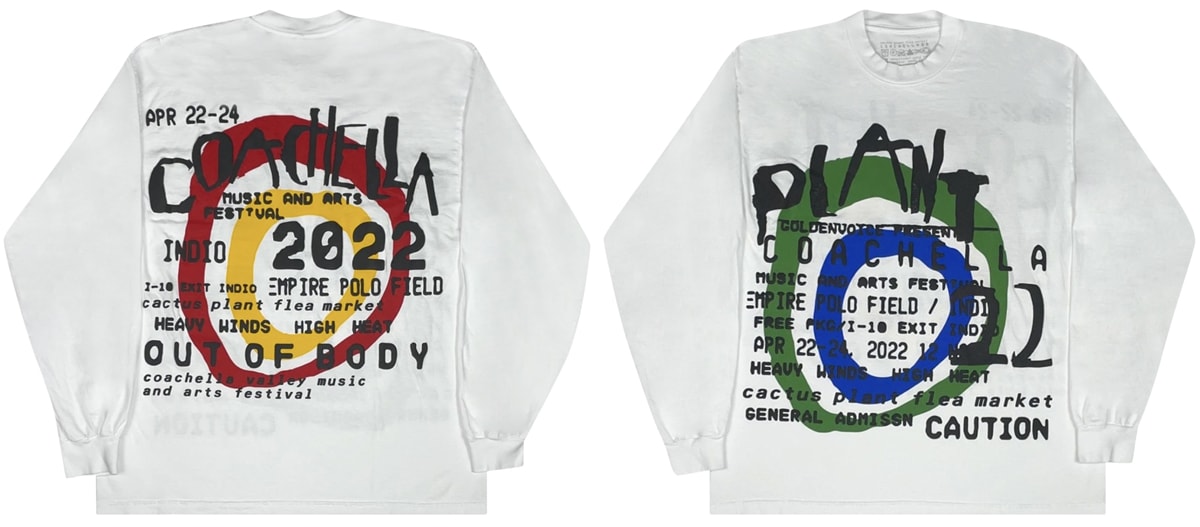 Cactus Plant Flea Market has collaborated with music festival Coachella early this year for a "first-of-its-kind artist residency," releasing apparel designs that feature details about the festival
1.2 Nike x Cactus Plant Flea Market Fleece Crewneck, $554
Nike and CPFM have teamed up to create a unique apparel collection that includes bold and eye-catching designs
1.3 Cactus Plant Flea Market x Swarovski x Dunk Low Pure Platinum, $4,194

An opulent take on the classic Dunk Low, this CPFM x Swarovski collaboration is entirely covered in Swarovski crystals and features detachable double lace flaps, a heavily padded tongue, and oversized Swoosh
2. Palace: British Streetwear with a Skateboarding Heart
Like Supreme before it, Palace is one of those skateboarding brands that has exploded into a streetwear phenomenon.
This British brand, founded by Lev Tanju in 2009, takes a more subdued approach to streetwear, pairing utilitarian pieces with unexpected textures and styles, usually bearing Palace's infinite triangle logo.
View this post on Instagram
Palace is a bit more wallet-friendly when compared to some of the other brands on this list, but their inventory is scarce and prices go up exponentially when purchasing on reselling websites.
Palace Pieces You Need to See:
2.1 Palace Yin Yang Knit, $324
From the Spring 2022 collection, the Yin Yang knit sweater comes in cream and black colors, featuring the yin yang symbol
2.2 Palace Colour Block Crew Neck, $294
Also from the Spring 2022 collection, the color-block crew neck sweater features multiple pastel colors, complete with the Palace infinite triangle logo
2.3 Palace x Evisu Multi Pocket Jacket, $1,079
This denim jacket is decorated with multiple pockets and a mix of Palace logo and Evisu's signature seagull
3. GOLF WANG: Tyler the Creator's Whimsical Streetwear Vision
Rocawear, Yeezy, Billionaire Boys Club—there have been dozens of clothing lines started by rappers, and Tyler the Creator's GOLF WANG (or just GOLF for short) is the cream of the crop in today's streetwear trends.
Named after Tyler the Creator's rap collective, Odd Future Wolf Gang Kill Them All (OFWGKTA), GOLF WANG is a spoonerism of 'Wolf Gang'.
Rapper Tyler, the Creator established the streetwear brand Golf Wang in 2011 (Credit: Marechal Aurore / ABACA / INSTARimages)
GOLF incorporates this same lighthearted attitude into each of its pieces, creating whimsical clothes that can be worn as statement pieces or as a part of a well-styled outfit.
Taking influence from brands like Supreme, GOLF also offers branded items for the home or simply for bragging rights.
GOLF WANG Pieces You Need to See:
3.1 Golf Wang x Chuck 70 Low 'Blue Python', $107

Showcasing Tyler, the Creator's penchant for bold prints, the iconic Chuck 70 low silhouette replaces traditional canvas construction with snakeskin-embossed leather in Blue Topaz
3.2 Levi's x Golf Wang Vintage Fit Trucker Jacket, $204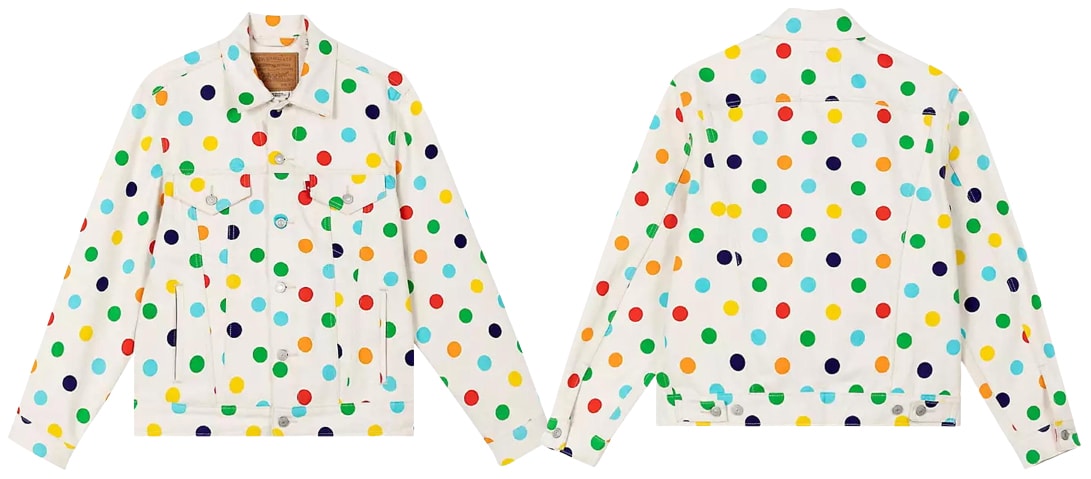 Levi's Vintage Fit Trucker Jacket is given an update with Golf Wang's eye-catching polka-dot pattern in multiple colors
3.3 GOLF WANG Galaxy Logo Collared Sweater, $164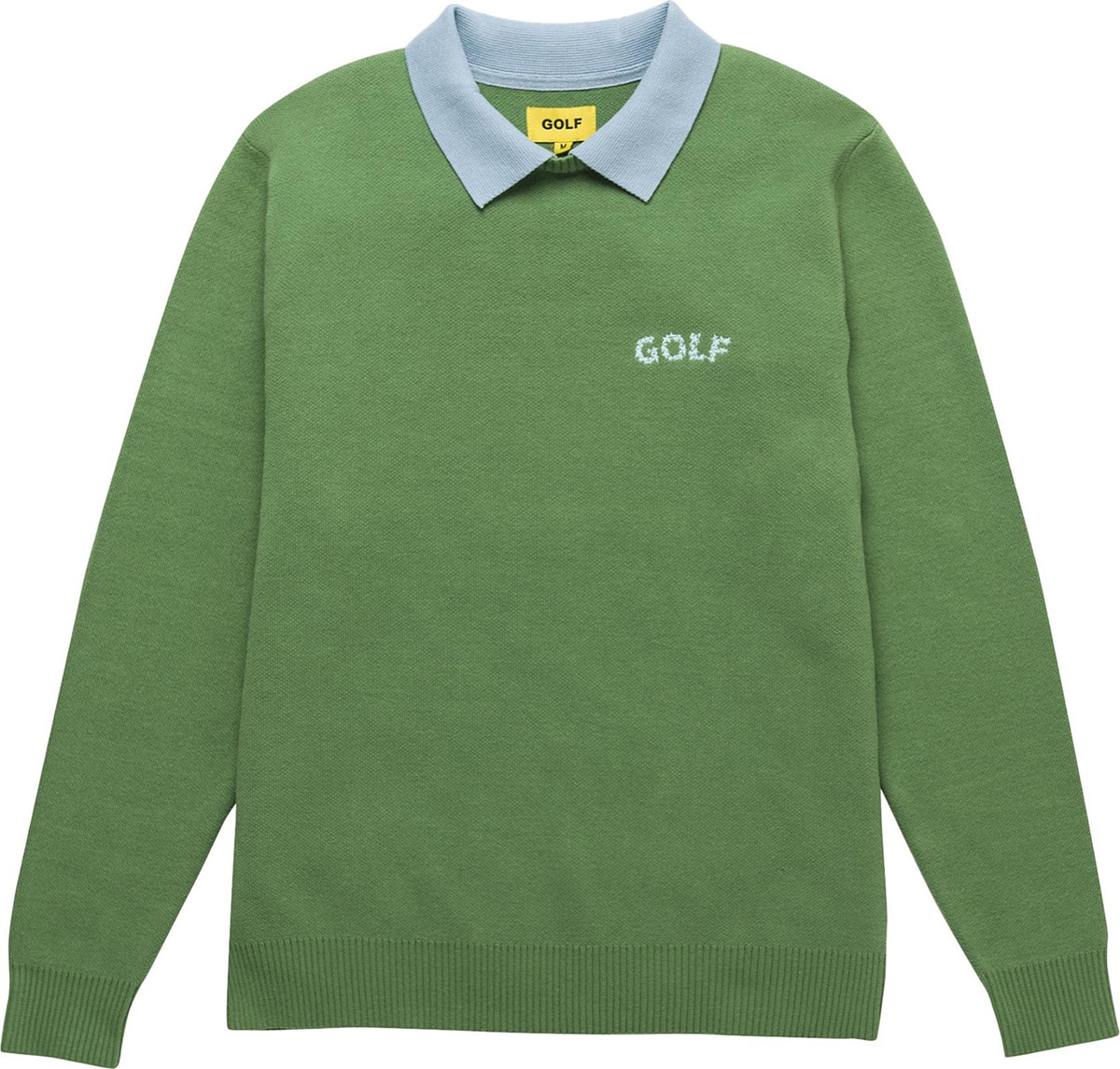 From the Fall/Winter 2022 collection, this collared sweater boasts Golf Wang's star-patterned galaxy logo
3.4 Cupid Ceramic Vase by GOLF WANG, $60
Aside from shoes and apparel, Golf Wang also offers branded items for the home like this ceramic custom-shaped heart and arrow vase
4. Carhartt WIP: Reworking Classics with Street Savvy
Carhartt has been a streetwear staple for the last few years, as hypebeasts and fashionistas alike have embraced the brand's utilitarian styles and cozy comfort.
Still, like many streetwear brands, skateboarders were at the forefront of championing this brand.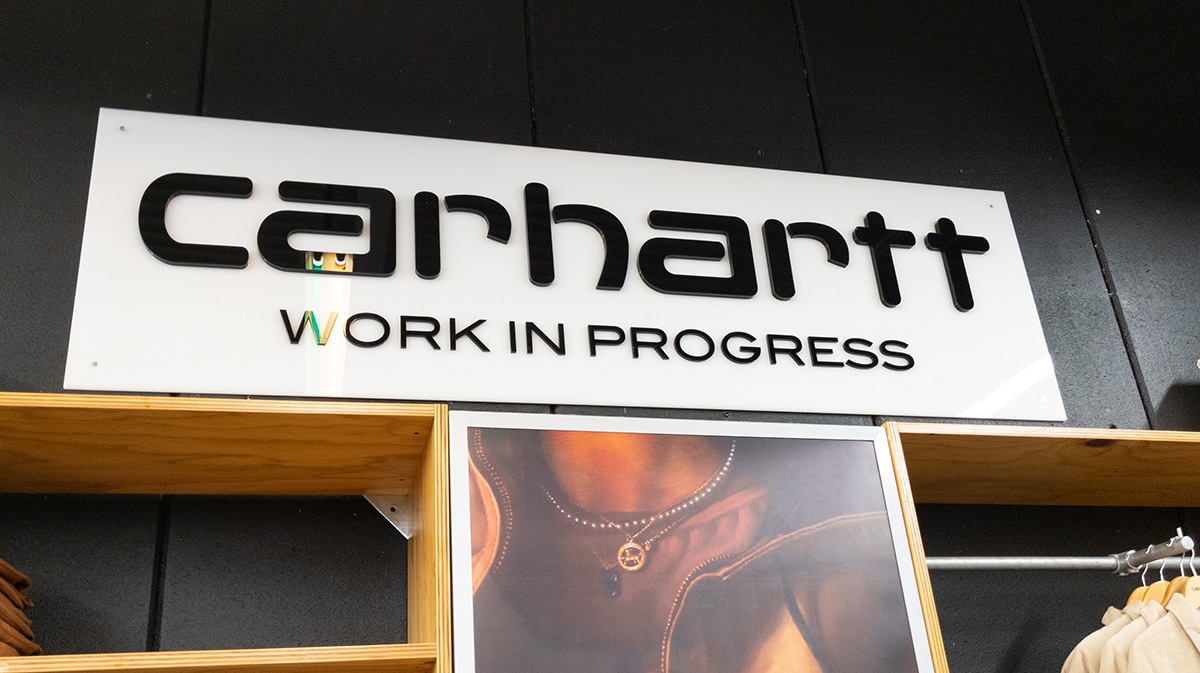 Carhartt WIP is the streetwear counterpart of the workwear and outdoor apparel brand Carhartt (Credit: sylv1rob1 / Shutterstock)
Carhartt noticed, taking the opportunity to create an offshoot, Carhartt WIP, which focuses on loose, skater-friendly silhouettes and sleek streetwear styles meant to be seen out on the town, not just at a blue-collar job.
Unfortunately, since it's designed to be streetwear, Carhartt WIP is far more expensive than the brand's original workwear line.
Carhartt WIP Pieces You Need to See:
4.1 Carhartt WIP Siberian Cold Parka, $558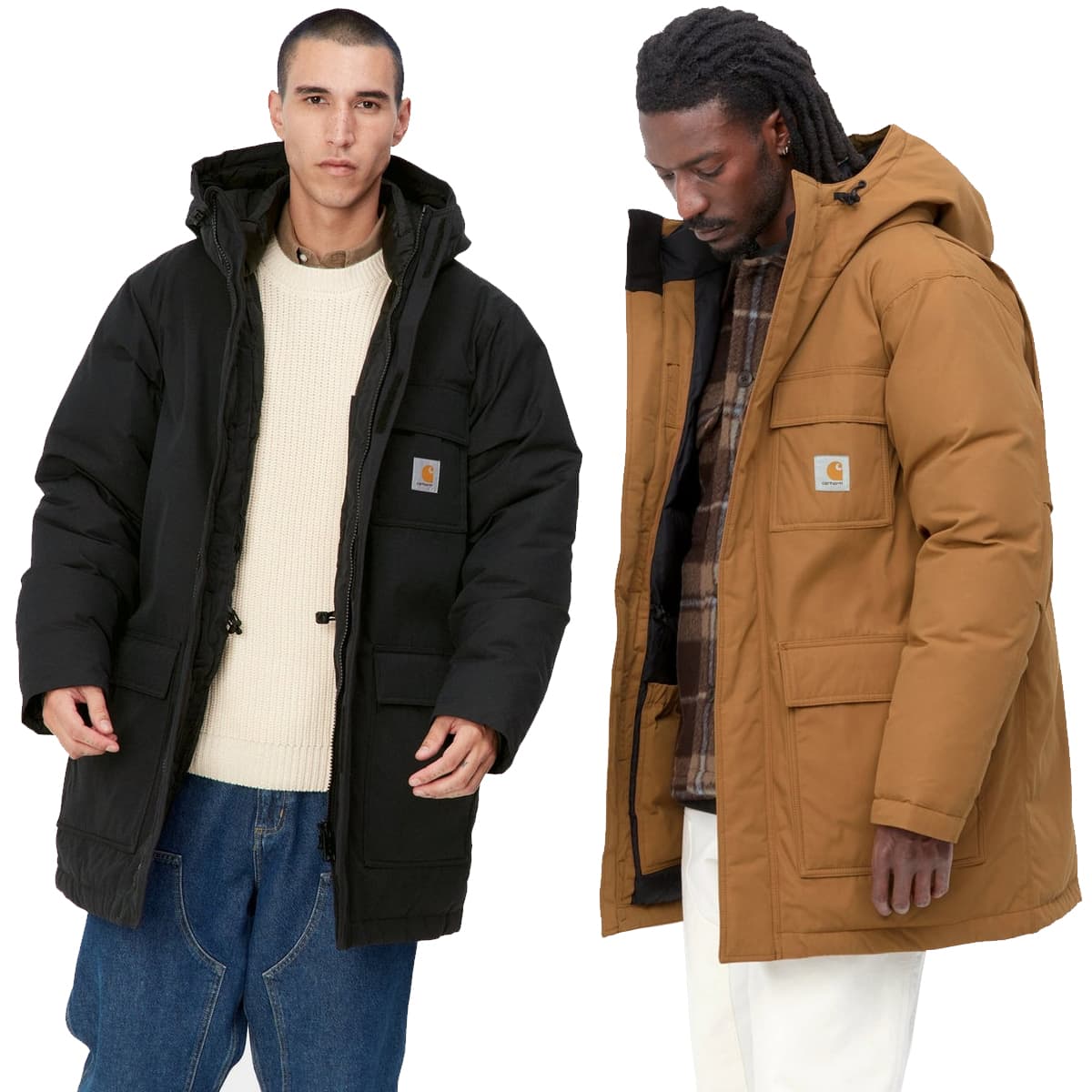 The Siberian Cold Jacket is constructed from a water-repellent poly-cotton fabric and lined with nylon taffeta with artificial down
4.2 Carhartt WIP Salinac Shirt Jacket, $178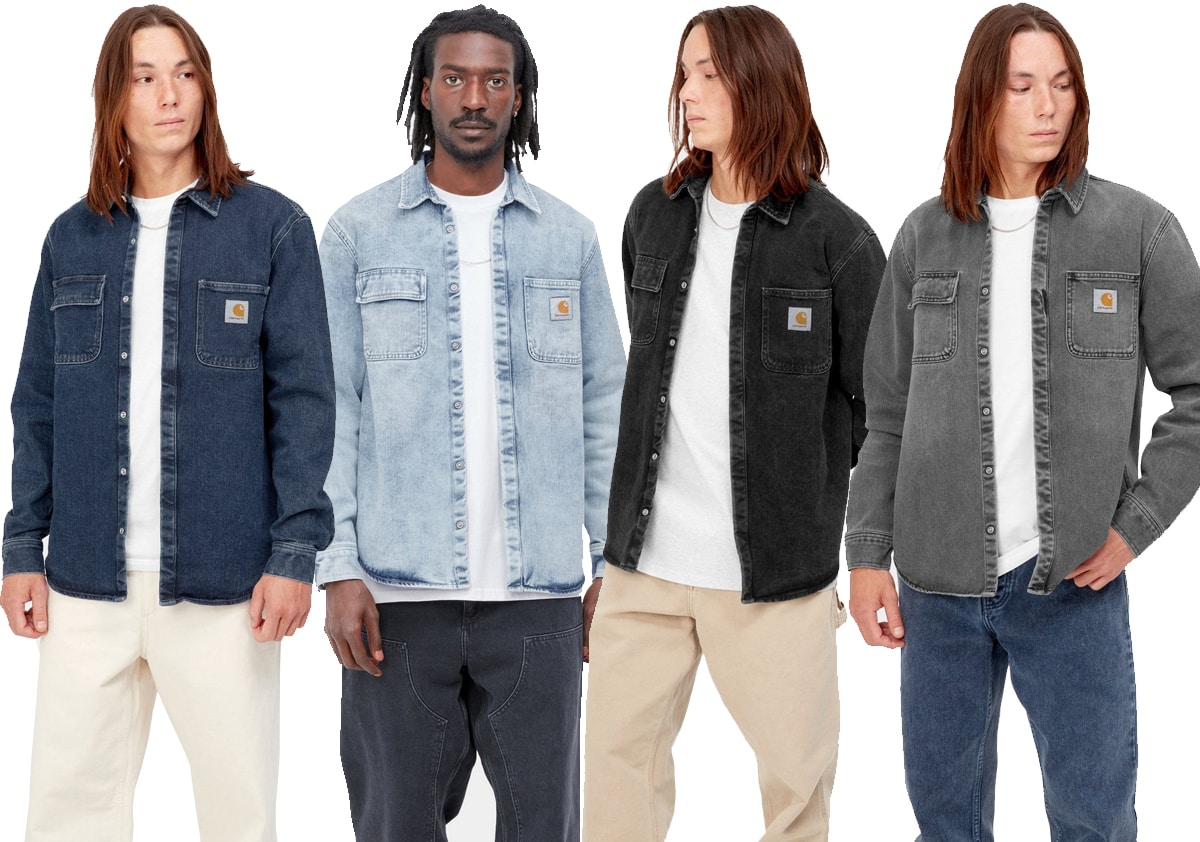 A perfect winter layering piece, the Salinac Shirt Jacket is constructed in washed denim and features two chest pockets and a concealed placket
4.3 Carhartt WIP Layton Jacket, $438
Constructed from midweight stretch corduroy, the Layton Jacket is filled with artificial down for warmth and lined with nylon taffeta
5. Stüssy: The Original Surf-Inspired Streetwear Icon
Unlike many of the other brands on this list, Stüssy is nothing new. This brand has been around since the late 1980s, born out of the Southern California surf culture.
Since then, Stüssy has been wholeheartedly adopted by the skateboarding community and, as a result, the streetwear community, too.
Stussy benefited from the surfwear trend originating in Orange County, California, but was later adopted by the skateboard and hip-hop scenes (Credit: Nikkimeel / Shutterstock)
Stüssy's popularity has come in waves, most recently seen in the early to mid-2000s before petering off into obscurity. However, Stüssy is back and better than ever, offering on-trend selections that still echo the brand's roots.
Stüssy Pieces You Need to See:
5.1 Stüssy Sherpa Jacket, $408
A reversible sherpa fleece and nylon jacket with a three-piece hood and a Taslan zip chest pocket with a Stussy logo embroidery
5.2 Stüssy x Air Force 1 Mid 'Fossil', $142
Stussy revamps the classic Air Force 1 by replacing the traditional leather uppers with a hemp canvas built in off-white finish with an embroidered Swoosh logo
5.3 Stüssy Shaggy Cardigan, $903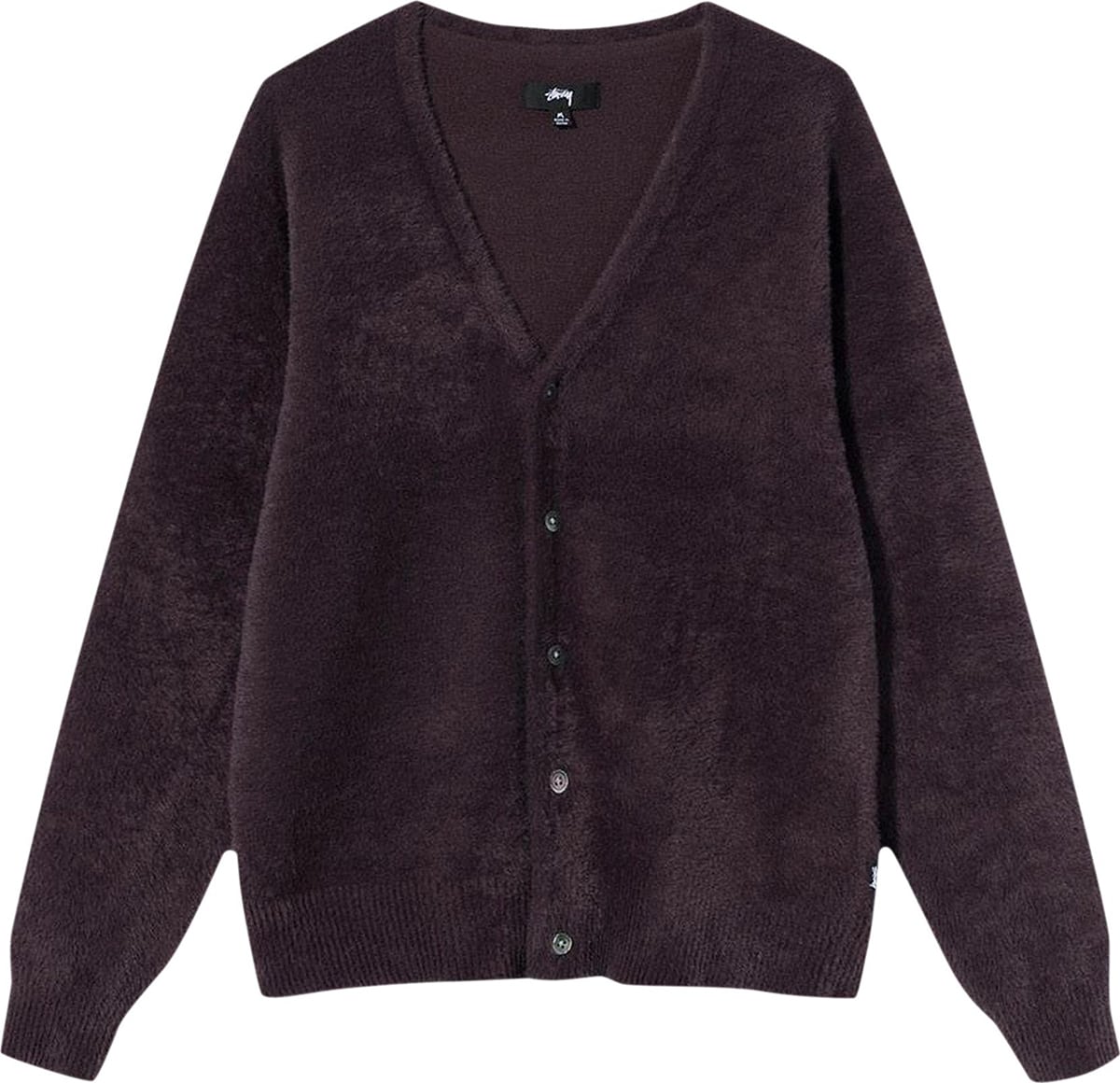 A shaggy knit cardigan with ribbing at the cuffs and hem, pearl buttons, a V-neck, and Stussy's big stock flag label at the side seam
6. Fear Of God: Redefining Luxury in Streetwear
An American brand founded in 2013 by designer Jerry Lorenzo, Fear Of God is a streetwear brand that prioritizes neutrals. Neutrals are huge in streetwear, so Fear Of God's elevated basics are a must-have in any hypebeast's closet.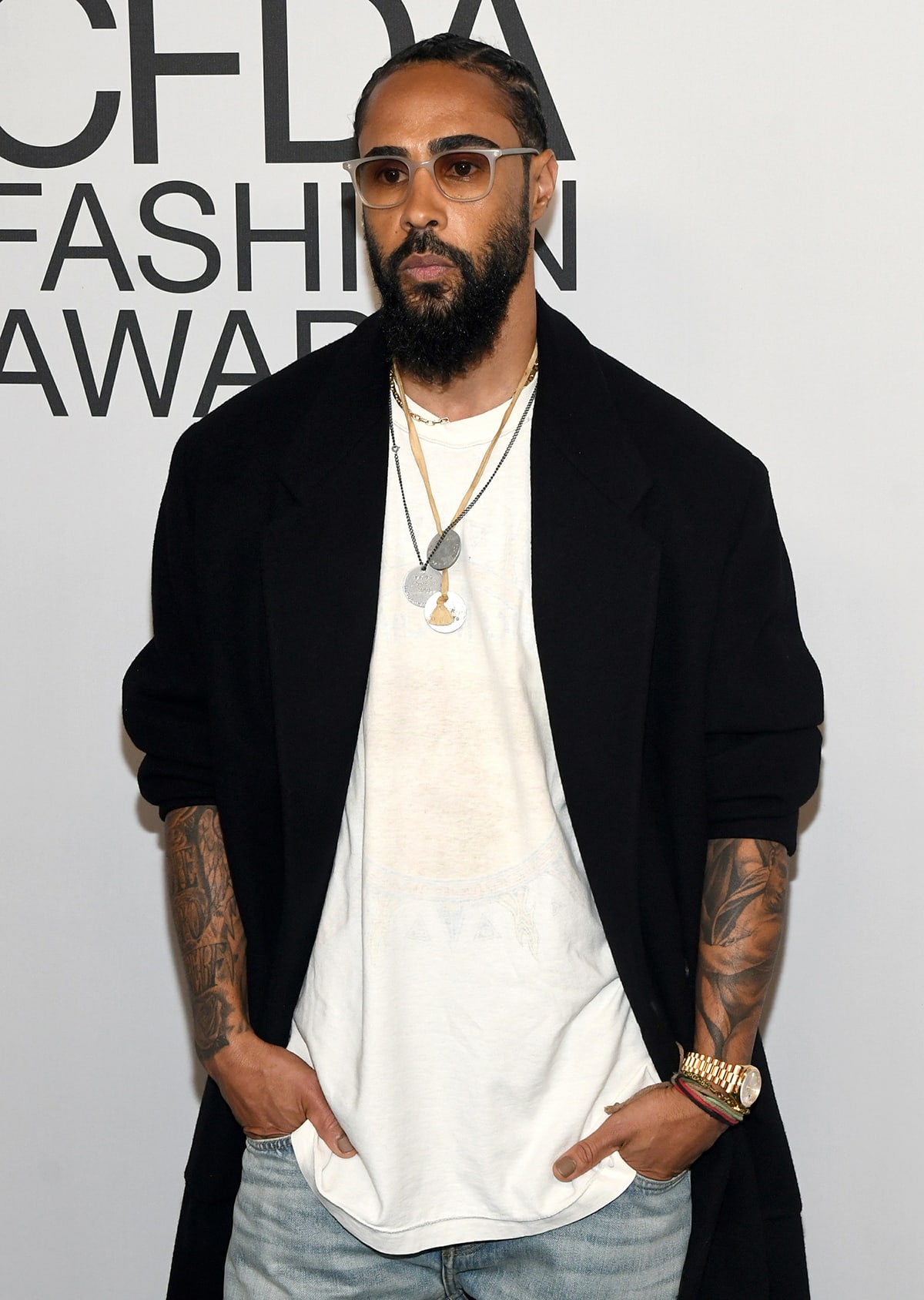 Fashion and sneaker designer Jerry Lorenzo founded the luxury streetwear label Fear of God in 2013 (Credit: Media Punch / INSTARimages)
Unlike many streetwear brands, Fear Of God focuses less on bright, eye-catching pieces and instead creates clothes that are understated, well-crafted, and more than anything else, comfortable. Fear Of God uses luxurious fabrics that make their clothes perfect for a night out or lounging on the couch.
Fear Of God Pieces You Need to See:
6.1 Fear Of God Chelsea Wrapped Boot, $999
The Chelsea Wrapped features leather hand-wrapped sole, which provides a sculpted appearance
6.2 Fear Of God Nylon Track Jacket, $892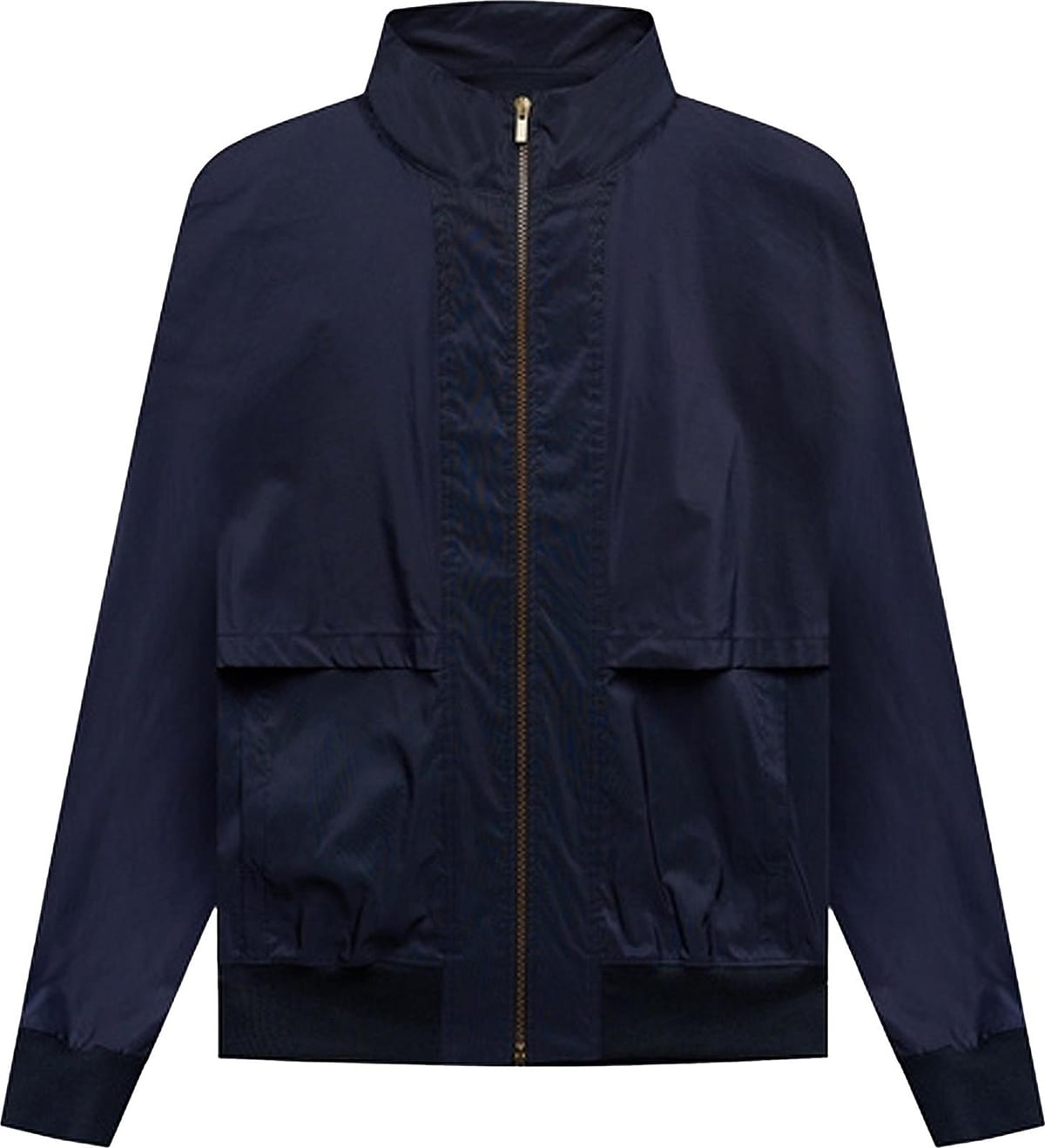 This Fear of God jacket is a fully lined nylon satin jacket with a stand collar, storm flaps, and rib-knit cuffs and hem
6.3 Fear Of God Essentials Pullover Hoodie, $175
Made from 80% cotton and 20% viscose blend, the Fear of God hoodie boasts rubberized logos on the chest, wrist, and hood
7. Undercover: Where Japanese High Fashion Meets Streetwear
Founded in 1993 by Japanese designer Jun Takahashi, Undercover is an essential streetwear brand that combines the casual nature of the style and traditional Japanese high fashion influences to create truly unique and timeless pieces.
The brand's slogan is "We make noise, not clothes"—which is certainly evident when viewing the label's selections.
Japanese fashion designer Jun Takahashi created the high-end streetwear label Undercover in 1993 (Credit: Yoshie Tominaga / Undercoverism)
Undercover has won design awards all over the globe and frequently does collaborations with all of the biggest names in fashion. As you can imagine, this results in some pretty expensive items.
Undercover Pieces You Need to See:
7.1 Supreme x Undercover Witch T-Shirt, $789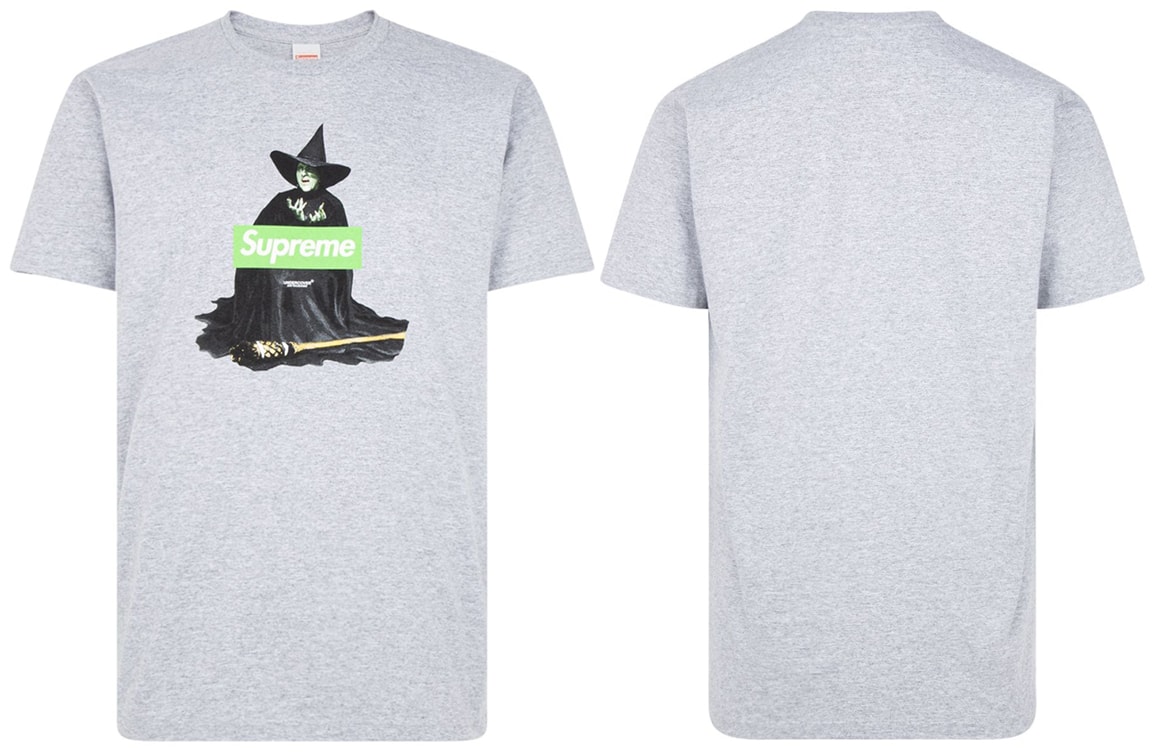 Known for its intriguing graphics, Undercover teams with Supreme to create the Witch tee, featuring a witch print and Supreme's signature box logo
7.2 Undercover Dancing Printed Sweatpants, $419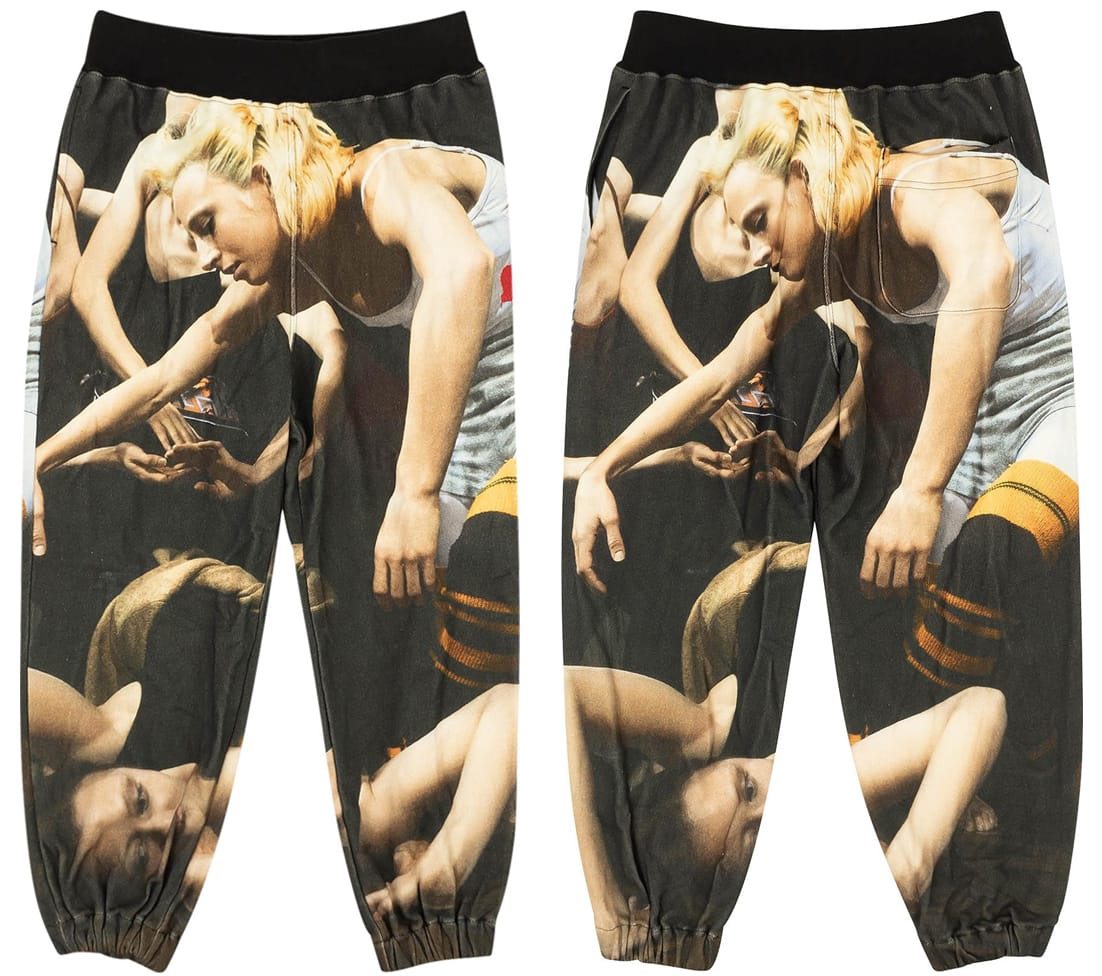 These quirky yet comfy Undercover sweatpants feature prints of dancing ladies
7.3 Undercover x React Presto 'White', $125
The Undercover x React Presto combines the classic look of the Presto with design details that pay homage to the previous collaboration between Undercover and Nike, the React Boot
8. A Bathing Ape (BAPE): A Streetwear Trendsetter
A Bathing Ape, more lovingly known as BAPE, is by far one of the most influential streetwear brands in the last ten years. Soulja Boy sang about this brand in his iconic song "Crank That," but BAPE is far more than just a brand name-dropped in a song.
Japanese fashion designer Nigo founded A Bathing Ape (BAPE) in 1993 (Credit: Zabulon Laurent / ABACA / INSTARimages)
The brand was launched in 1993 by founder Nigo, and the Japanese cult brand soon became a favorite in the hip-hop scene and quickly spread globally.
Since then, BAPE has had a hand in nearly every streetwear trend to date, and its longevity is something that many brands strive for.
BAPE Pieces You Need to See:
8.1 BAPE Color Camo Shark Full Zip Hoodie, $638
The iconic Camo Shark hoodie is one of Bape's most recognizable designs
8.2 BAPE College Tee, $102
The Bape College Tee features A Bathing Ape's iconic motif, the ape head
8.3 Kaws x Bapesta FS-029 Low 'Chompers – Pink', $4,504
The Kaws x Bapesta FS-029 Low Chompers are done in patent leather with striped midfoot paneling, a signature teeth motif around the toe, and Kaws' 'X' graphics on the lightning bolt
9. Kith: A Lifestyle Brand Beyond Streetwear
Founded by footwear designer Ronnie Fieg in 2011, Kith is unique in the streetwear fashion industry as it doesn't just focus its efforts on hypebeast-style menswear. Instead, Kith aims to be a "lifestyle brand" for men, women, and children.
Ronnie Fieg, the new and first-ever Creative Director of the New York Knicks, opened up his own apparel and footwear boutique, called Kith NYC, in 2011 (Credit: Media Punch / INSTARimages / Cover Images)
Kith only has a minimal amount of brick-and-mortar stores and is known for the scarcity of its inventory, making pieces from the brand highly sought after by fans. With a bevy of collaborations under its belt, Kith has offerings for nearly every type of fashionista.
Kith Pieces You Need to See:
9.1 Kith For GoodFellas Heist Vintage Tee, $341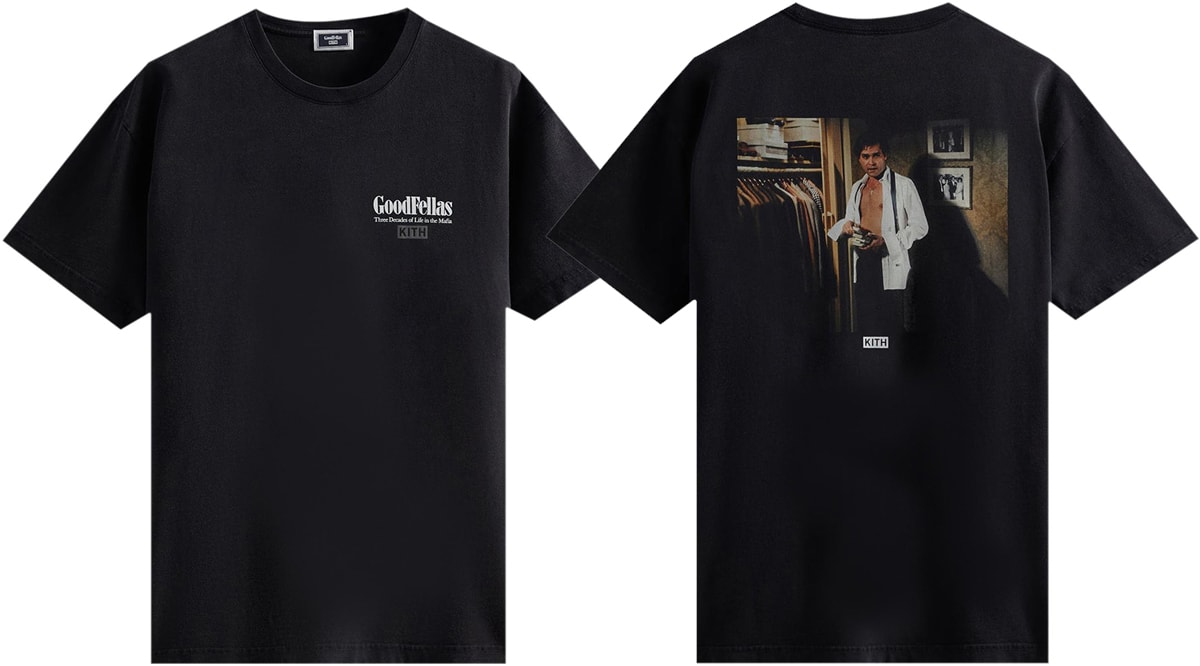 Inspired by the biographical crime film, GoodFellas, the Kith for GoodFellas Heist Vintage tee shows a graphic print of a scene from the '90s movie
9.2 Kith x Sailor Moon Mott Tee, $549
From the Spring/Summer 2020 collection, the Sailor Moon Mott tee boasts a Sailor Moon print behind the pink Kith logo
9.3 Kith x Coca-Cola Simran Hoodie, $379
The Coca-Cola Simran crop hoodie was first released in August 2020 as part of Kith's Spring/Summer 2020 collection
10. Comme des Garçons: The Artful Play in Street Fashion
Like Stüssy, Comme des Garçons had its time in the limelight before losing the public eye for a bit. However, as trends resurface, the brand is back for another go around.
Also known as CDG, this Japanese brand was first founded in 1969, making it one of the oldest labels on this list. Founded as a "borrowed from the boys" womenswear brand (the name translates to "like boys" in French), Comme des Garçons quickly expanded its lines to include menswear and lifestyle clothing.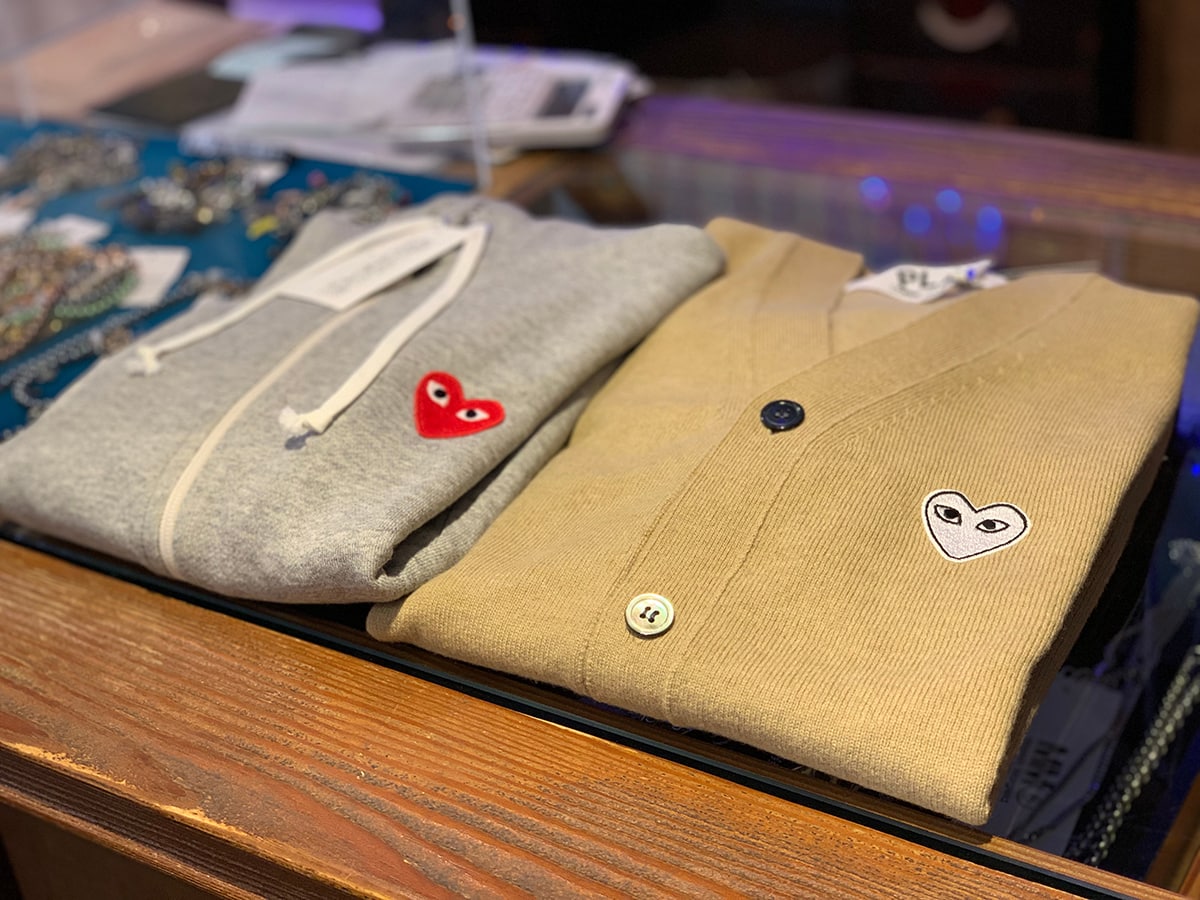 Easily recognizable for its iconic heart face logo, Comme des Garçons is a Japanese brand founded in 1969 as a "borrowed from the boys" womenswear brand (Credit: Pornrattana Benjakul / Shutterstock)
The brand's style has gone through many iterations during its long tenure, but the iconic heart face logo can be spotted on fashionistas everywhere.
Currently, streetwear enthusiasts seem to enjoy the understated CDG pieces—often from the brand's casual (and slightly cheaper) PLAY line—as the heart face logo peeks out as a slight flex.
Comme des Garçons Pieces You Need to See:
10.1 Comme des Garçons x Chuck Taylor All Star Hi 'Play', $150
The all-time favorite Converse Chuck Taylor All Star High Sneakers are adorned with CDG PLAY's heart-and-eyes, a motif created for Rei Kawakubo by Filip Pagowski in 2010
10.2 Comme des Garçons PLAY Small Heart V-Neck Pullover, $329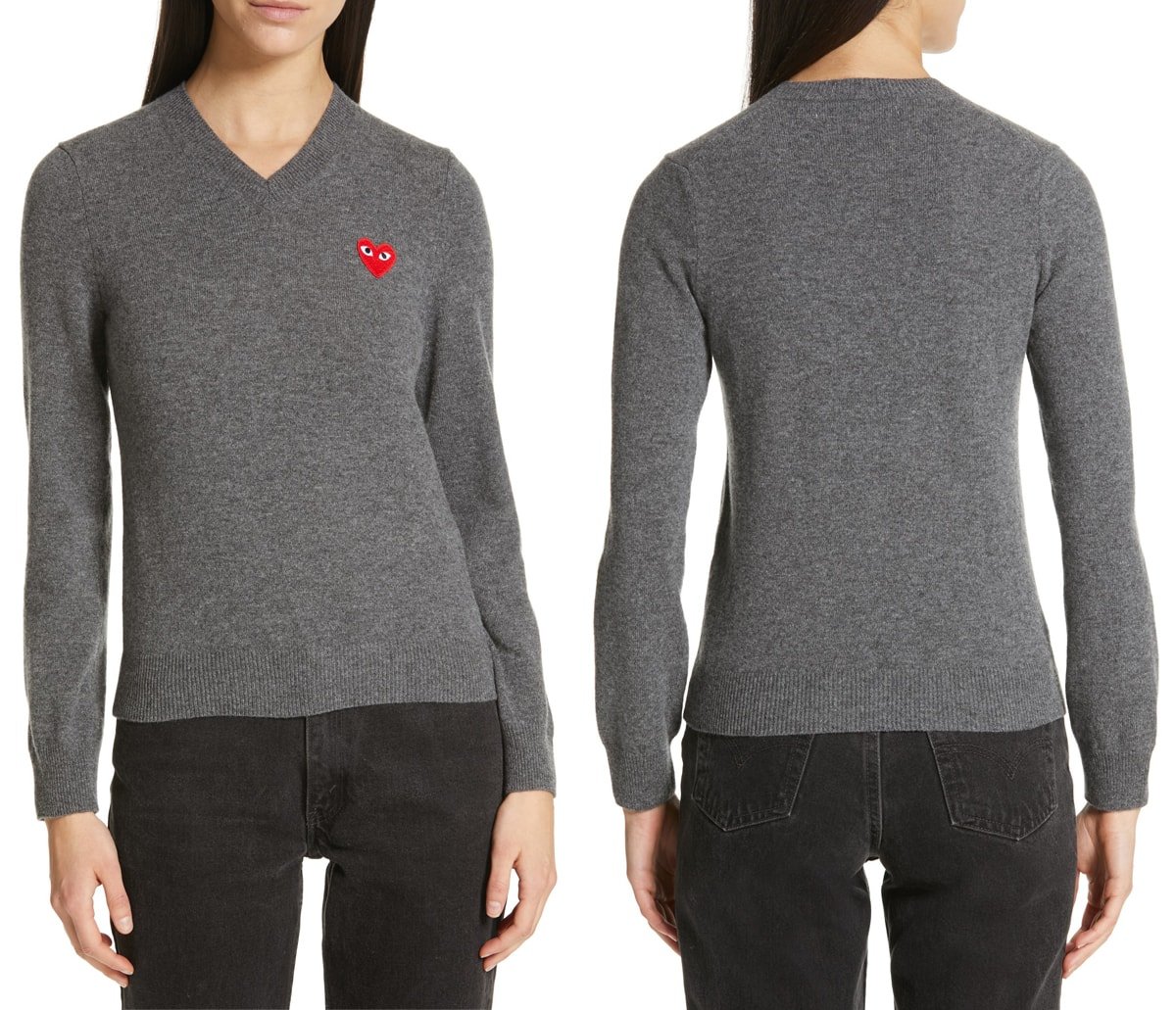 The iconic PLAY heart logo graces the chest of this lightweight wool sweater
10.3 Supreme x Junya Watanabe x Comme des Garçons MAN Zip Up Hooded Sweatshirt, $310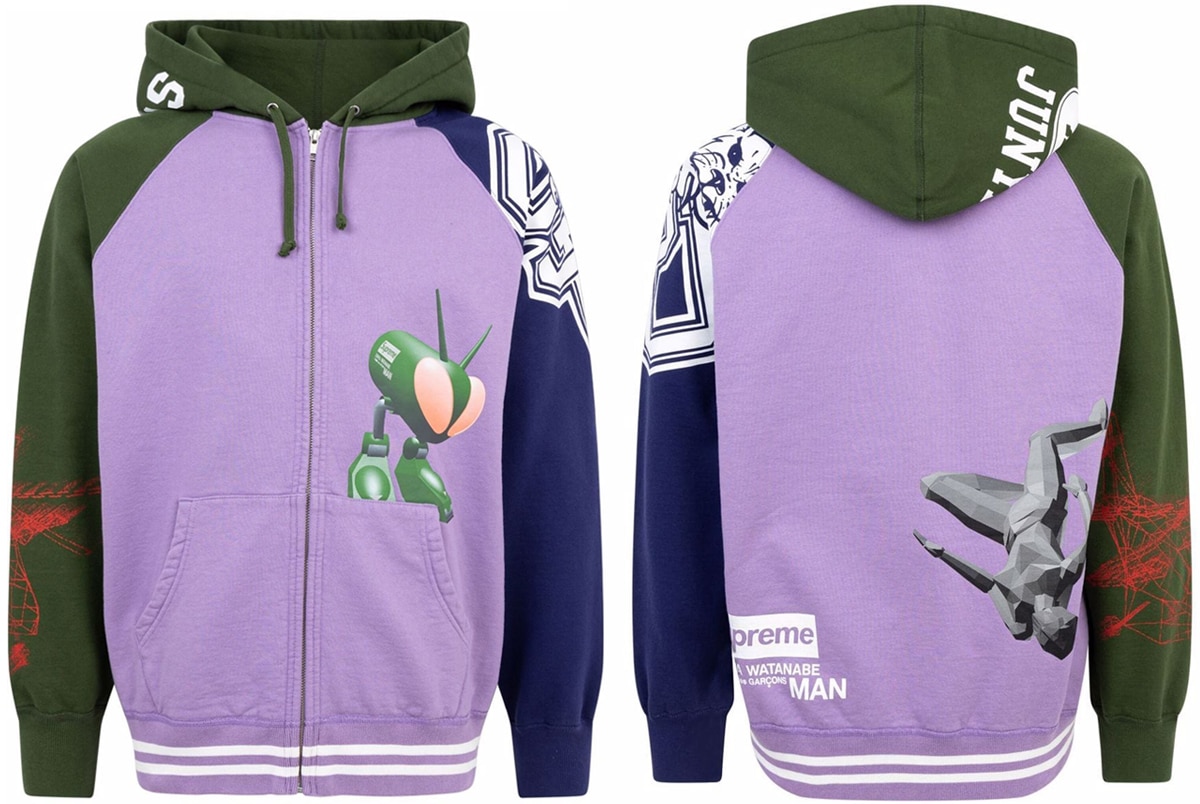 Designed in collaboration with Japanese fashion designer, Junya Watanabe, this zip-up hoodie features a bold color-block design crafted from cotton with a graphic print on the lower front, sleeves, and back
11. Noah: Classy, Tailored Streetwear with a New York Edge
An American menswear brand founded by Brendon Babenzien and Estelle Bailey-Babenzien, Noah draws on its New York City influences for each of its lines.
Before launching his own line, Brendon Babenzien was a head designer at Supreme for many years, and the influences from skateboarding culture are evident in his designs for Noah.
View this post on Instagram
Unlike Supreme, Noah's pieces are a bit classier, focusing on long, tailored lines that compliment and accentuate the body, rather than hiding it in stereotypical oversized skateboarding pieces.
Noah's collaborations are seamless, perfectly displaying the brand's own style even when joining forces with unexpected brands and designers.
Noah Pieces You Need to See:
11.1 Noah Corduroy Puffer, $242
Stay warm and cozy in this corduroy puffer in striking emerald green color
11.2 Noah Long-Sleeve Rugby Crew Neck, $402
A classy take on the classic rugby crewneck, this Noah creation is done in Vegas Gold with navy and dark red stripes across the front and sleeves
11.3 Adidas x Noah Turtleneck, $184
This Adidas x Noah turtleneck is made from stretch nylon and wool-blend jersey, complete with a turtleneck collar and a logo embroidery at the chest
12. Stone Island: Italian Craftsmanship Meets Street Culture
Despite streetwear having prevalent American influences, it is a global phenomenon that draws on countries from all over the world. Italian brand Stone Island is a perfect example, as it was founded in 1982 by Massimo Osti.
The brand was acquired by Moncler in 2020, raising Stone Island's profile exponentially. This was a great move, as both houses are well known for creating luxury outerwear built to stand the test of time.

Stone Island is an Italian luxury men's apparel and accessories brand established in 1982 in Ravarino by Massimo Osti (Credit: Stone Island)
Though Stone Island's coats are by far their most recognizable and popular pieces, the brand creates nearly every type of clothing item, each with the same attention to detail.
Like every other streetwear brand, Stone Island has done a number of collaborations—many with other brands on this list—that are impressive due to the fact that Stone Island's trademark design is never lost in another brand's vision.
Stone Island Pieces You Need to See:
12.1 Stone Island Hooded Down Jacket, $1,510
This Stone Island down jacket has a unique iridescent look thanks to the brand's garment-dyed regenerated nylon
12.2 Stone Island Hooded Sweatshirt, $235
This versatile hooded sweatshirt from Stone Island hails from the Fall/Winter 2022 collection
13. Patta: Amsterdam's Sneaker and Streetwear Aficionados
Founded by Edson Sabajo and Guillaume 'Gee' Schmidt, Patta grew from a shared love of Dutch nightlife and sneakers.
The brand itself is named after the Surinamese slang term for shoe, which is perfectly sensible considering the brand's amazing selection of footwear.

Patta is a Dutch streetwear and sneaker boutique based in Amsterdam, founded by Edson Sabajo and Guillaume Schmidt in 2004
Though Patta has expanded to some clothing items, the brand's shoes are still the crowning jewel. Patta's styles feature bold colors and designs, making them a wonderful addition to any streetwear aficionado's outfit.
Patta Pieces You Need to See:
13.1 Patta x Experimental Jetset x Chuck 70 High 'Patta Psychogeographic Practice', $169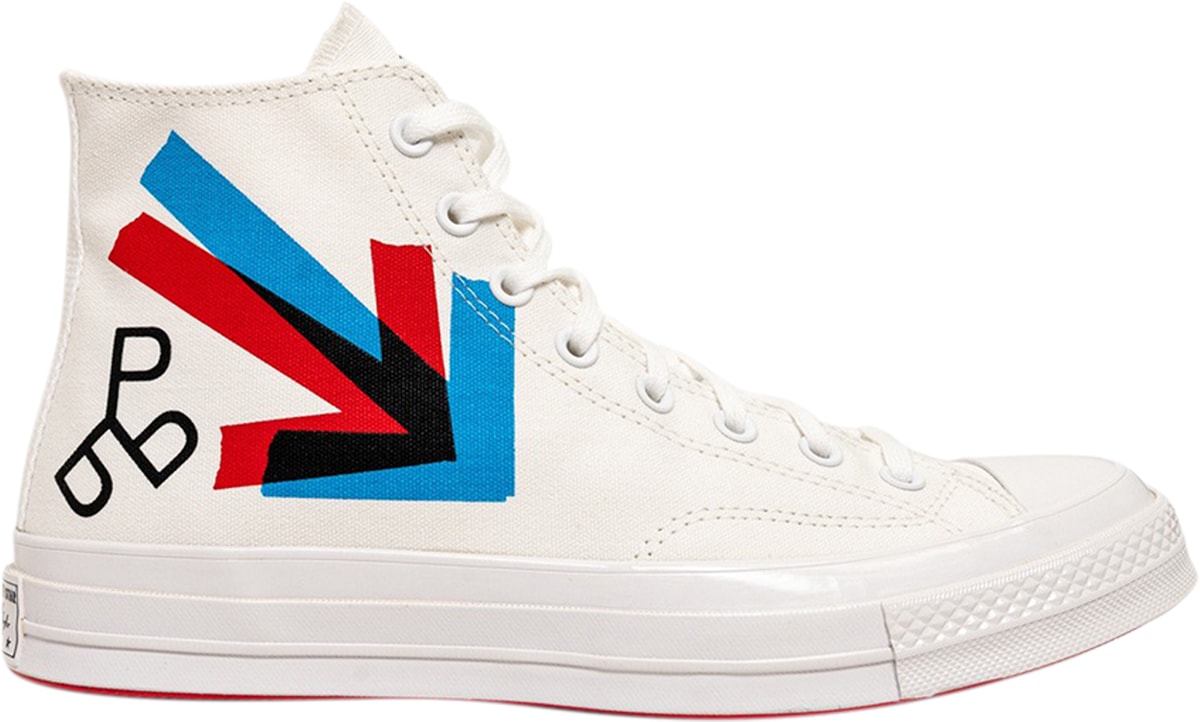 Converse has teamed up with Patta and design agency Experimental Jetset on a conceptual Chuck 70, inspired by unexpected city exploration
13.2 Patta x Air Max 1 Premium Chlorophyll, $1,454

Patta teams up with Nike to celebrate the boutique's fifth-year anniversary with a collaborative rendition of the Air Max 1 in 2009
13.3 Patta x 990v3 Made in USA Keep Your Family Close, $351

The Patta x New Balance 990v3 Made in USA 'Keep Your Family Close' showcases leafy hues on a lifestyle runner, with a subtle khaki green finish on the mesh and suede upper and neon green microperforated overlays at the toe box and collar
14. Supreme: The Undisputed King of Streetwear
After mentioning their collaborations with nearly every other brand on this list, we would be remiss not to mention the single most influential streetwear brand of the last 15 years: Supreme.
Launched in 1994, Supreme began as a simple skate shop. The brand quickly became popular in the New York City scene, expanding past skateboarders and inching its way into a multitude of other subcultures.
Since then, Supreme has grown into a global phenomenon, selling everything from branded underpants to skateboard decks, shoes, and housewares.
Supreme is an American clothing and skateboarding lifestyle brand founded by James Jebbia in New York City in April 1994 (Credit: Hu Siyuan / Shutterstock)
The brand has collaborated with almost every brand under the sun, always offering new and unexpected pieces in limited amounts, causing prices to skyrocket.
Due to demand, it's nearly impossible to buy items directly from the Supreme website, so their most sought-after pieces go for extraordinary prices on reselling websites.
Nowadays, Supreme is one of the most recognizable brands in the world, as its iconic box logo can be spotted in nearly every streetwear enthusiast's closet.
Supreme Pieces You Need to See:
14.1 Red Ribbon Recon x Air Jordan 1 Retro High 'Supreme & Louis Vuitton' Custom, $33,504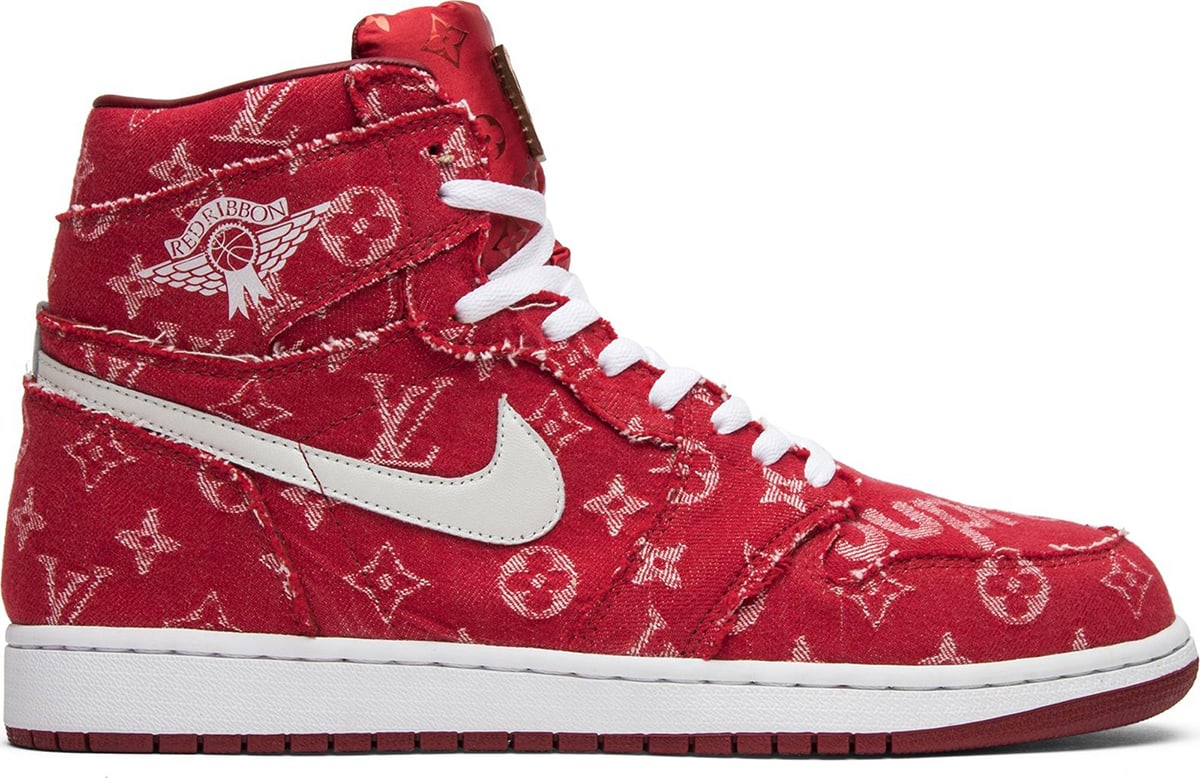 This custom Supreme x Louis Vuitton x Red Ribbon Recon x Air Jordan 1 Retro High sneaker features the body of the Air Jordan 1, with its upper constructed with the LV logo-heavy red denim baseball jersey from the 2017 Supreme x LV collaboration
14.2 Supreme x The North Face By Any Means Nuptse Jacket, $3,504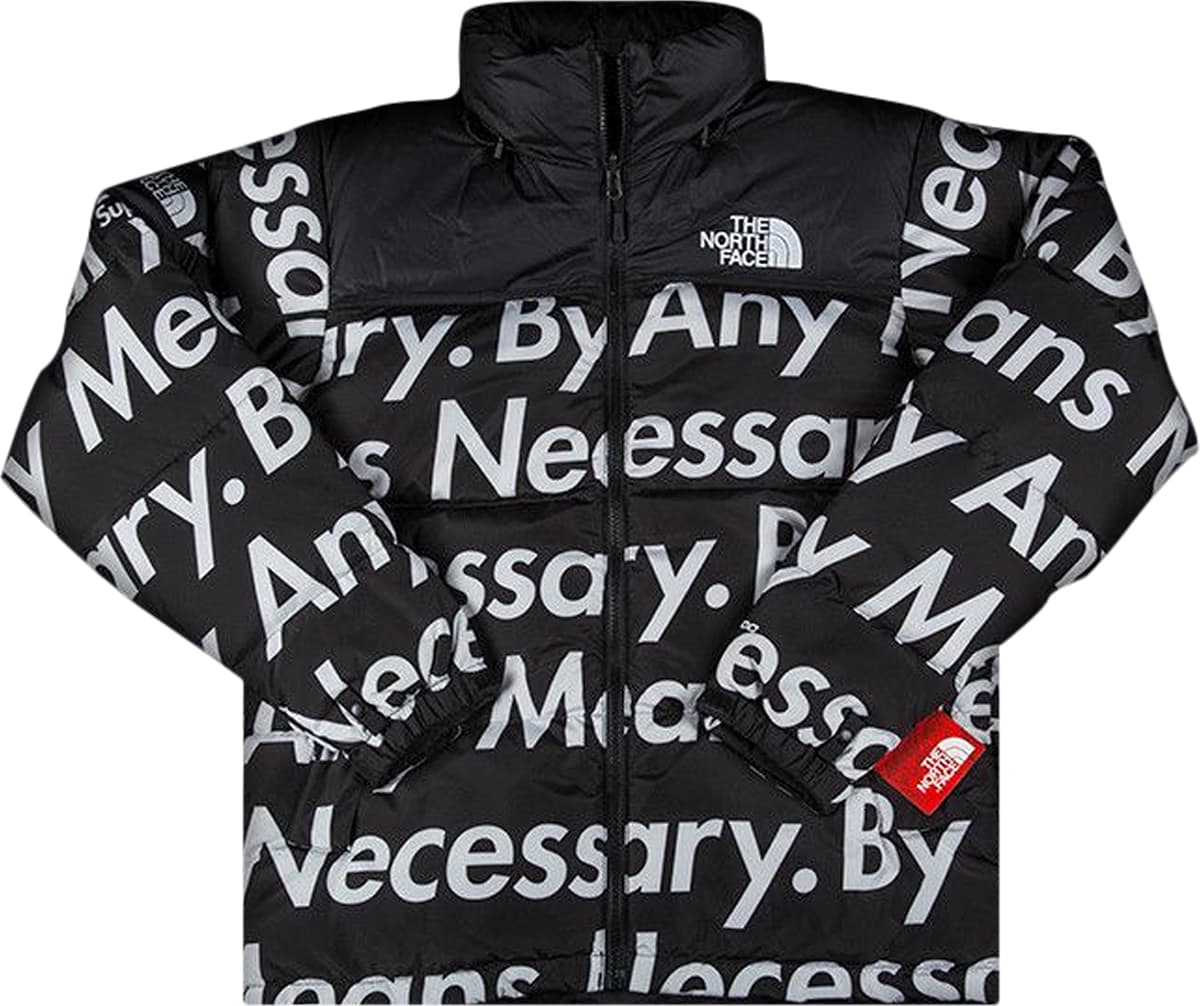 From the Supreme x The North Face Fall/Winter 2015 collection, the By Any Means Nuptse Jacket features a water-resistant shell with 700-Fill down insulation
14.3 Supreme Patches Denim Trucker, $1,992
An edgy, all-cotton denim with button front closure and custom patches on the front, back, and sleeves