In 1979, The Dukes of Hazzard premiered on television, and the legendary show ran for nearly 150 episodes, a major milestone for the silver screen. Dukes has had a lasting legacy in many regards, but perhaps the most significant is a term it spawned.
Catherine Bach played Daisy Duke in the series, and she became famous for wearing super short shorts, coining the term "Daisy Dukes."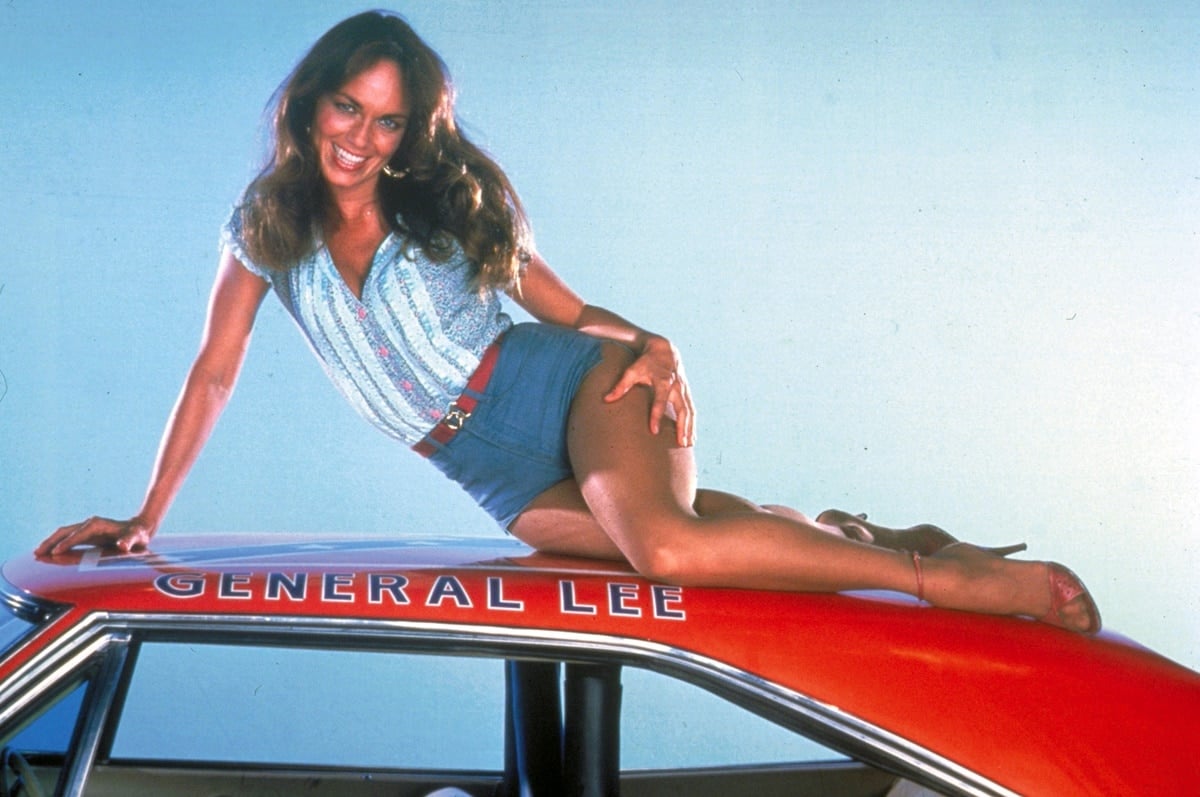 American actress Catherine Bach became known for her provocatively high-cut jean short shorts playing Daisy Duke in the television series The Dukes of Hazzard (CBS)
Catherine Bach, the actress who played Daisy Duke in the American TV series "The Dukes of Hazzard," was born on March 1, 1954. The first episode of the series aired on January 26, 1979, and the last episode aired on February 8, 1985.
In the first episode of the series, Catherine Bach was 24 years old, and in the last episode of the series, she was 30 years old.
Catherine Bach's famous "Daisy Duke" shorts almost didn't make it to the screen due to network executives' objections. However, after some debate, they were allowed on the condition that she wore pantyhose beneath them. But this actually ended up highlighting her legs and making her a sex symbol of the 70s TV show.
Actress Catherine Bach, who played Daisy Duke in the television series The Dukes of Hazzard, attends the 2018 Carousel Of Hope Ball at The Beverly Hilton Hotel on October 6, 2018, in Beverly Hills, California (Credit: Featureflash Photo Agency / Shutterstock)
In 2005, when the television series was adapted into a modern movie, casting agents were tasked with finding someone to play the part who would be just as memorable in her Daisy Dukes.
The winner? Jessica Simpson. Here's everything you need to know about Simpson's stint as the iconic character.
Jessica Simpson as Daisy Duke
Before making her film debut as Daisy Duke, Jessica Simpson was working in Hollywood as a singer.
She was best known for hits such as "With You" and "I Think I'm in Love with You," and she gained further notoriety thanks to her marriage to 98 Degrees member Nick Lachey, with whom she starred in the reality show Newlyweds: Nick and Jessica.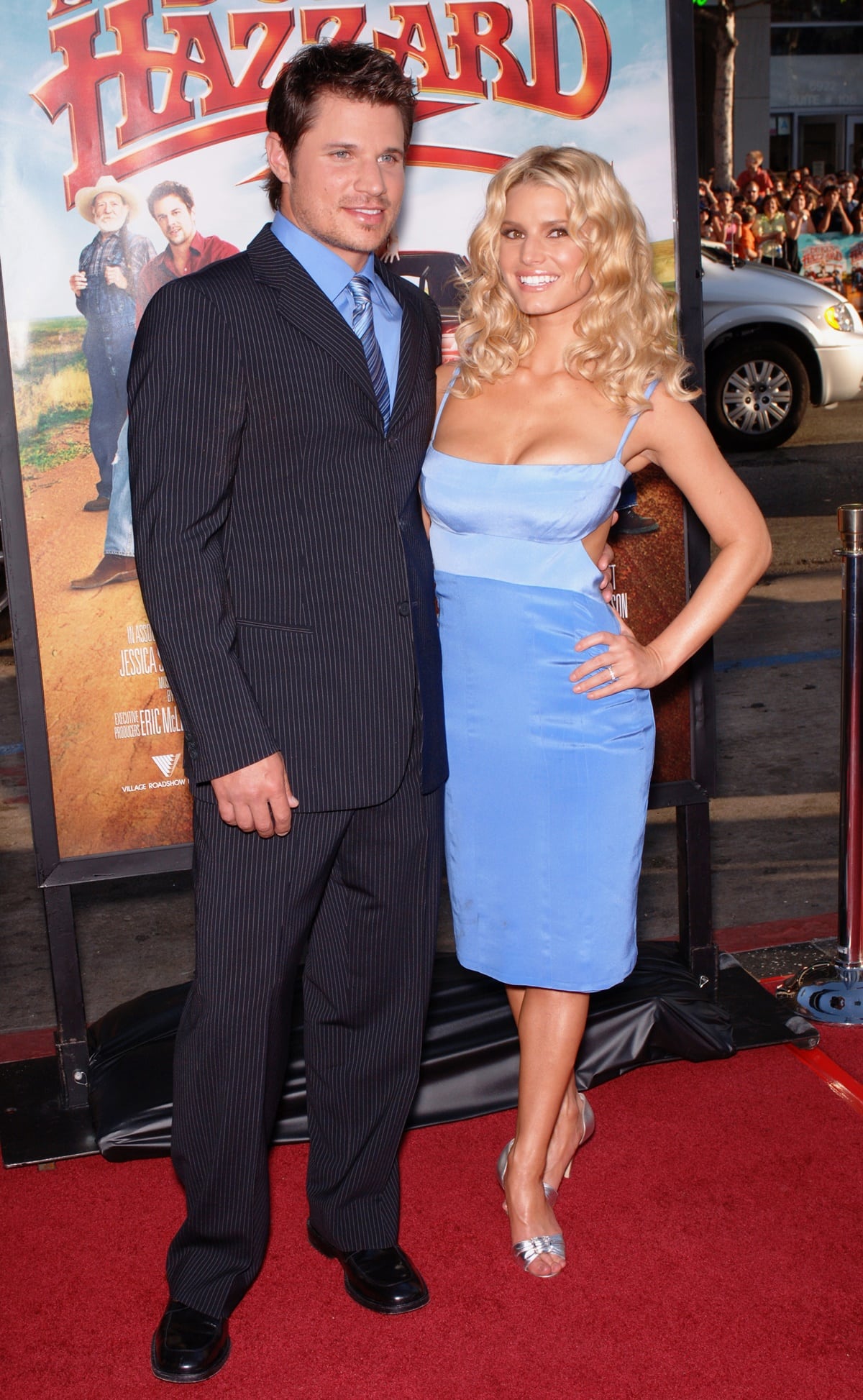 Nick Lachey and Jessica Simpson during "The Dukes Of Hazzard" Los Angeles Premiere at Grauman's Chinese Theatre in Hollywood, California (Credit: Featureflash Photo Agency / Shutterstock)
But in Hollywood, it's rare for a star to stick to one profession, and in 2005, at the age of 25, Simpson made her film debut as Daisy Duke in The Dukes of Hazzard. The singer beat out Jessica Biel, Mandy Moore, Britney Spears, and others who were considered for the role.
The film was released on August 5, 2005, just under one month after Jessica Simpson celebrated her 25th birthday on July 10, 2005.
The stars of the original television series – Tom Wopat, John Schneider, and Catherine Bach – all refused to star in the movie as they hated the script.
Although the film opened to poor critical reviews, it still generated over $100 million at the box office worldwide, cementing it as one of the most popular movies of the year by revenue standards.
Other Celebrities Who Could've Been in the Film
The Dukes of Hazzard featured an all-star cast, boasting names like Johnny Knoxville, Seann William Scott, Lynda Carter, Willie Nelson, and Burt Reynolds on its cast list, but it could've looked a lot different had others who were tapped to play certain roles signed on.
Danny McBride, Ashton Kutcher, Paul Walker, John Goodman, Danny DeVito, Dolly Parton, Matthew McConaughey, Ben Stiller, and Owen Wilson were all reportedly either interested in or considered for roles, but many declined parts due to unhappiness with the script.
Johnny Knoxville as Luke Duke, Seann William Scott as Bo Duke, and Jessica Simpson as Daisy Duke in the 2005 American action comedy road film The Dukes of Hazzard (Credit: Warner Bros. Pictures)
Even the three original Dukes – Tom Wopat, John Schneider, and Catherine Bach – turned down offers to appear in the film over their disapproval of the script.
The Movie's Impact on Jessica Simpson's Career
Despite the widespread disapproval, the movie was a commercial success, and it had a major impact on Jessica Simpson's career.
She went on to act in other films, and that same year she founded Jessica Simpson, a company that sells clothing, shoes, luggage, accessories, and more, and once cleared over $1 billion in annual sales.
Jessica Simpson in Daisy Dukes poses with Seann William Scott and Johnny Knoxville in front of a vintage car to promote The Dukes of Hazzard outside the Windsor Arms Hotel in Toronto, Canada, on August 2, 2005 (Credit: Sean O'Neill / INFGoff)
Another impact the role had on Simpson? Like many, it inspired her love of Daisy Dukes, and in 2022, she paid homage to her role by posting a photo of herself in the short shorts on Instagram. We'll keep waiting to see what Simpson does next.
In April 2011, The Dukes of Hazzard actress Jessica Simpson was named Us Weekly's Style Icon of the Year. She attended the magazine's Hot Hollywood party at Hollywood's Eden Lounge.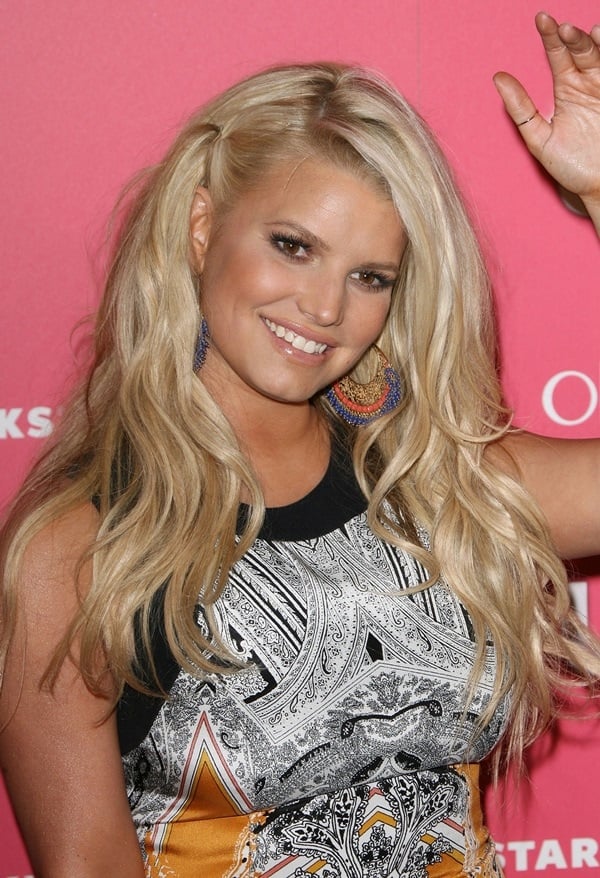 Jessica Simpson shows off her blonde hair extensions as she arrives at the Us Weekly Hot Hollywood party held on April 26, 2011, at Hollywood's Eden Lounge (Credit: Adriana M. Barraza / WENN)
Jessica wore a playfully printed mini dress from the Etro Spring 2011 collection.
She accessorized the mini dress with a circular gold clutch and extreme 6.5″-high black satin cork wedge pumps from Giuseppe Zanotti.
Jessica proudly sported obvious blonde hair extensions, which was quite fitting for her personal brand.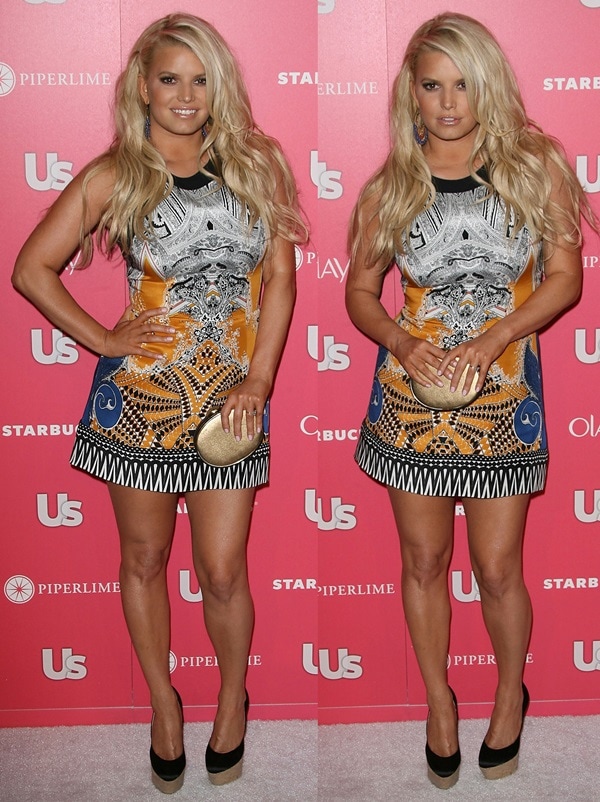 Jessica Simpson wears a colorful Etro mini dress on the pink carpet (Credit: Adriana M. Barraza / WENN)
Jessica's Giuseppe Zanotti shoes are the Italian luxury brand's ankle-strap-less version of the "La Rocque" wedges.
The American singer, songwriter, actress, reality television personality, and fashion designer never tries to be anything other than who she is, and that's what makes her relatable to a lot of women.
It's also what makes her eponymous clothing line wildly successful! The line sold more than $750 million worth of merchandise in 2010, which boosted Miss Simpson's net worth by a cool $100 million.
Giuseppe Zanotti 'La Rocque' Wedges