Most Italian luxury footwear brands can be associated with elegance and grace.
Giuseppe Zanotti also adds a healthy dose of magic to his designs. His exquisite footwear brings motifs from fantasies and myths to life, from delicate petals to deadly beasts.
Over the past three decades, Giuseppe Zanotti's footwear has become the go-to choice for fashion's most daring individuals. Here's how the Italian designer has built an empire based on boldness and fantasy.
From Humble Beginnings to Luxury Shoe Empire
Footwear has always been part of Giuseppe Zanotti's surroundings.
The luxury shoe designer was born in the small village of San Mauro Pascoli, Italy, where footwear manufacturing has been the primary industry for decades.
Giuseppe has often joked that you can smell the leather in the village air.
Giuseppe Zanotti was born in 1957 in San Mauro Pascoli, a town known for its high-end shoe-making tradition (Credit: DELBO ANDREA / Shutterstock)
Young Giuseppe was not just inspired to get into the trade because of proximity. He always considered himself a creative person and was particularly inspired by the beautiful women in his region.
Giuseppe wanted to design shoes that accentuated their features. Growing up, he often believed that women's shoes didn't do their beauty justice or didn't reflect the changing times of society.
Giuseppe Zanotti launched his eponymous label in 1994 (Credit: Casimiro PT / Shutterstock)
With a clear vision, an 18-year-old Giuseppe started working in a local shoe factory to learn the foundations of the craft.
Eventually, he began consulting for major international fashion houses and finally launched his eponymous label in 1994.
Giuseppe Zanotti Design (pronounced Juh-seh-pee Zuh-na-tee) was established to create boundary-pushing footwear for stylish women, all while using traditional Italian craftsmanship techniques.
Italian Craftsmanship and Daring Designs
Giuseppe Zanotti's footwear is the best example of Italians holding onto traditions where they matter most. His headquarters are still in his hometown of San Mauro Pascoli, where artisans have been creating high-quality footwear for decades.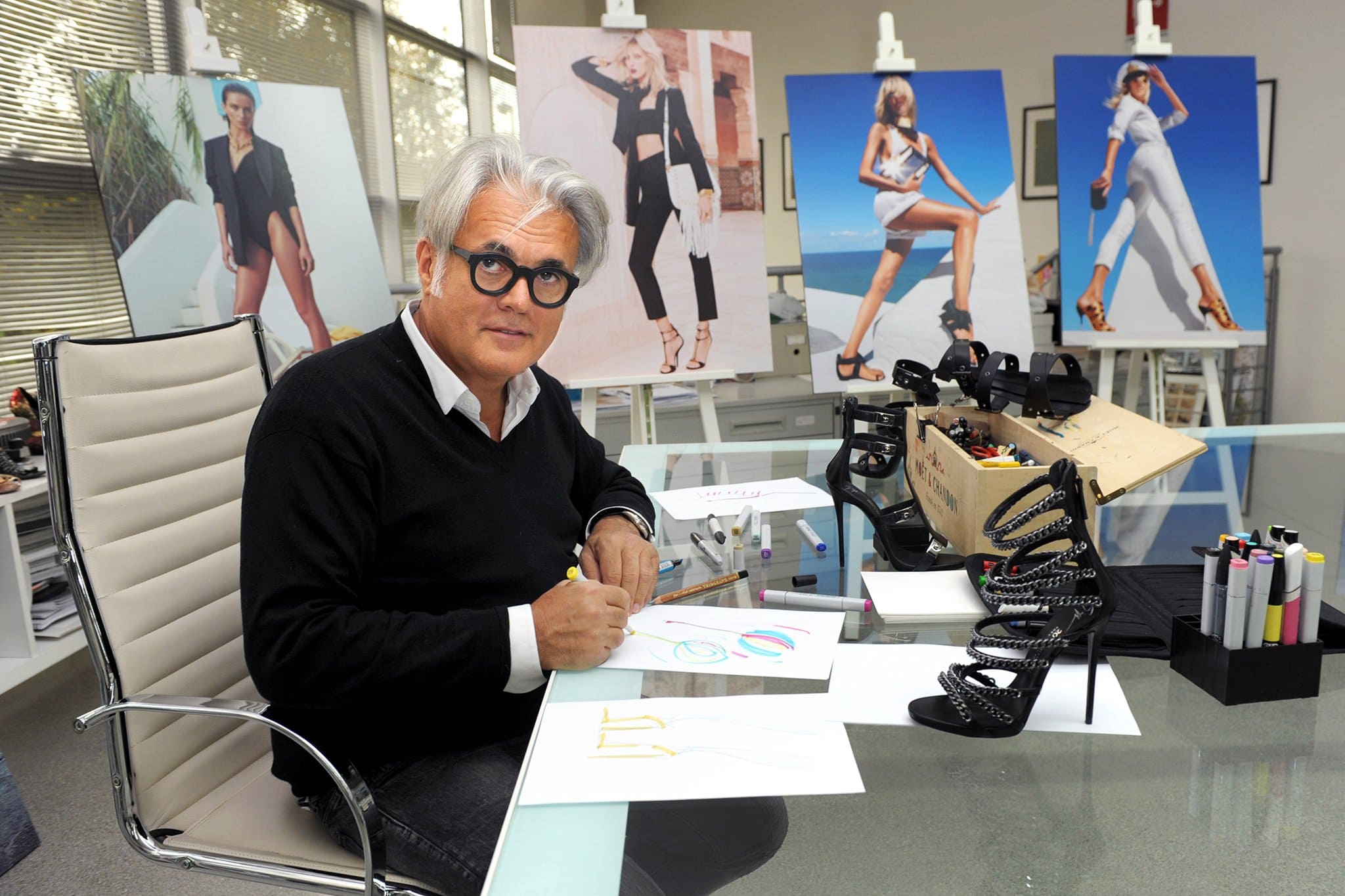 Giuseppe Zanotti is headquartered in his hometown of San Mauro Pascoli in Italy (Credit: DELBO ANDREA / Shutterstock)
The luxury heels, sneakers, and boots are renowned for their lightness and eye-catching silhouettes. Giuseppe has always wanted his designs to have an airy feel while creating the perfect mixture of elements.
He favors natural materials, such as high-quality full-grain Italian leather and silk, that create a stunning contrast.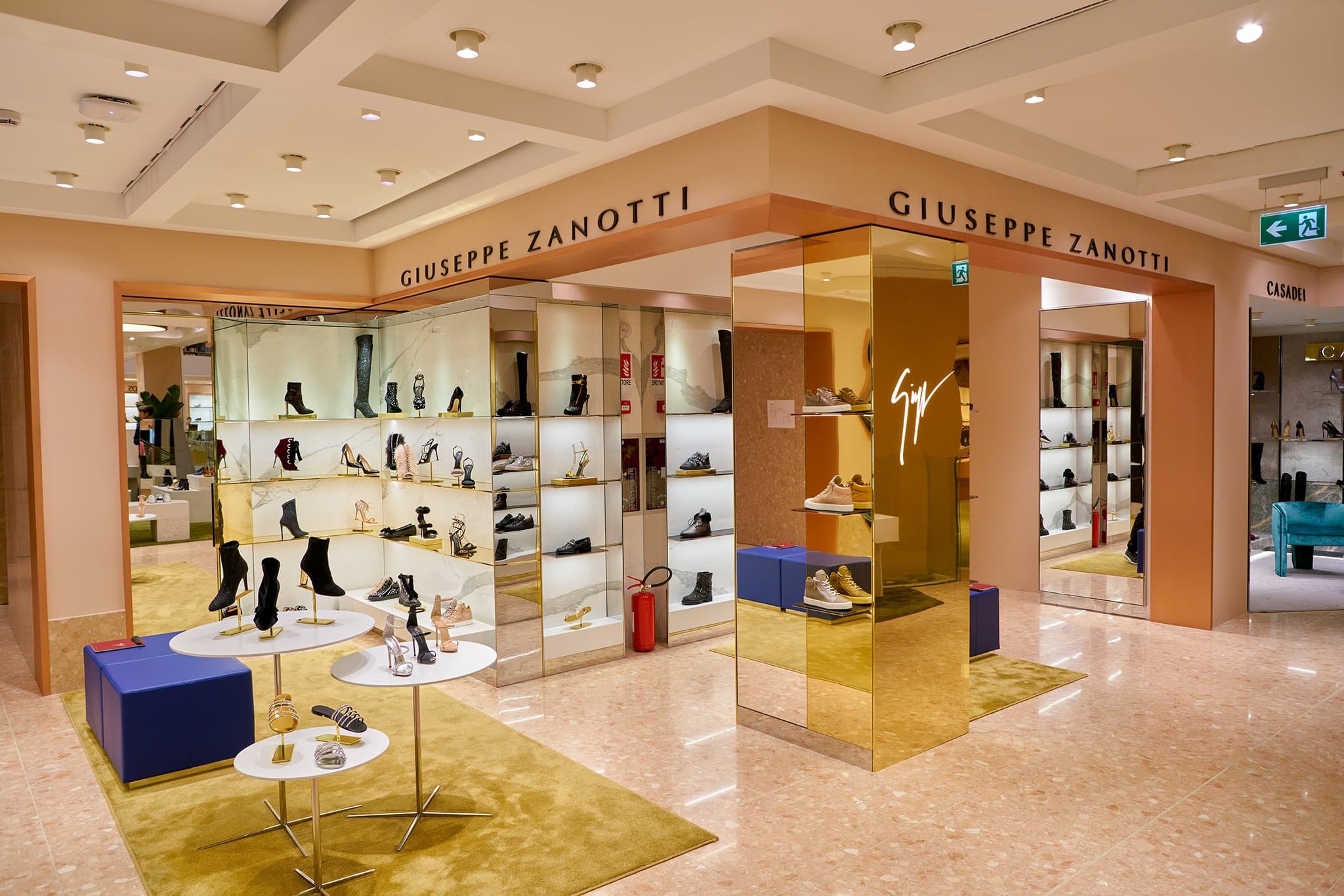 Giuseppe Zanotti is known for his unique and meticulously hand-crafted shoe designs (Credit: Sorbis / Shutterstock)
All Giuseppe Zanotti shoes are handmade in Italy to the very last detail. Even crystals and embellishments are individually hand-set in his San Mauro Pascoli factory.
The Giuseppe Zanotti team considers safety and comfort as important as quality and style. Each shoe is meticulously designed to fit perfectly so that wearers feel comfortable and balanced.
A Passion for Music and Collaboration
The Italian designer has always been inspired by art and culture, but music holds an extra special place in his heart. Giuseppe actually trained to be a DJ when he was a teenager and has always maintained strong ties to the music industry.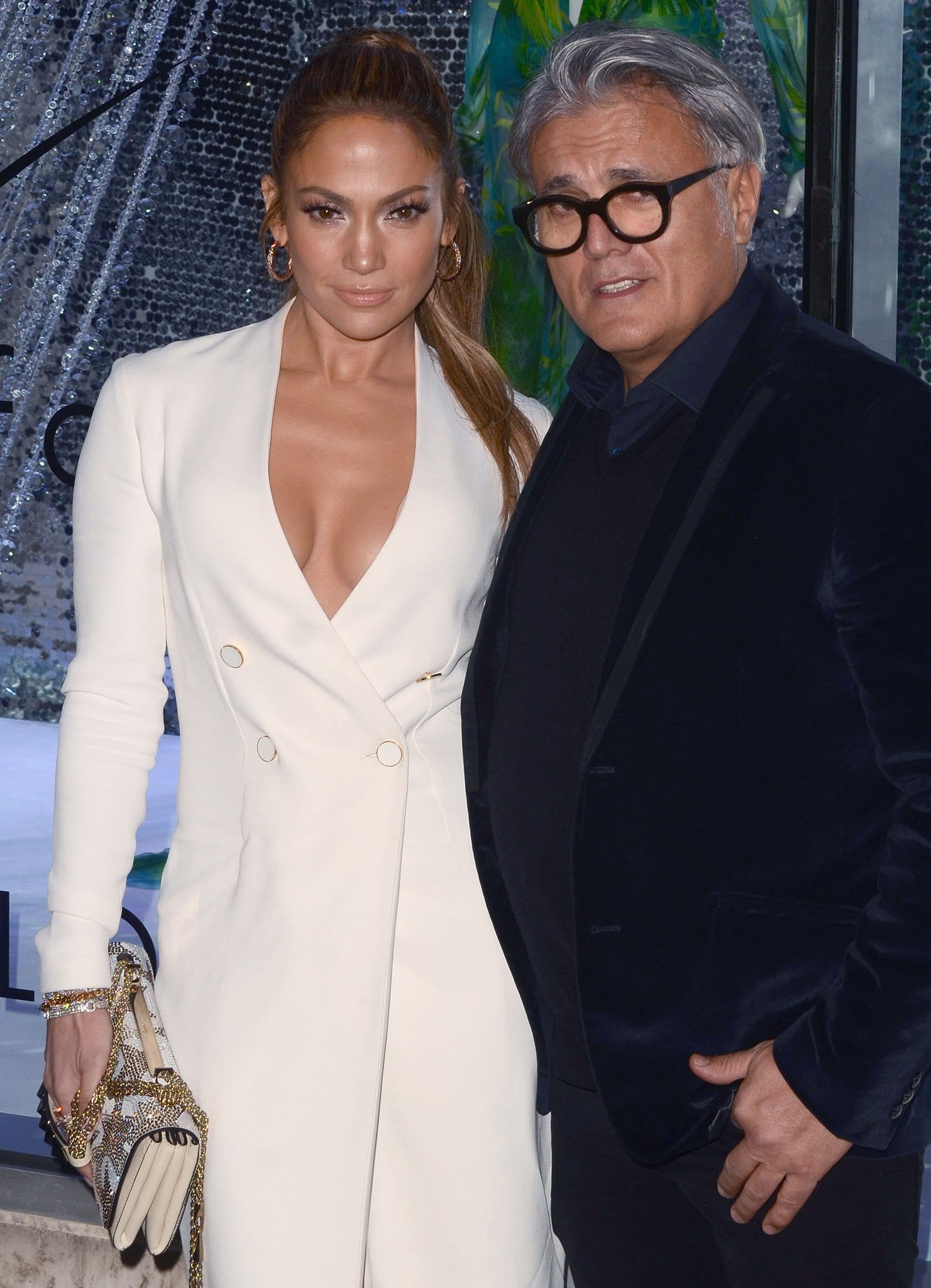 Jennifer Lopez and Giuseppe Zanotti celebrate their new shoe collaboration at Neiman Marcus on January 26, 2017 (Credit: Kathy Hutchins / Shutterstock)
The brand has worked with some of the biggest names in the industry, including Kanye West, JLo, Lady Gaga, Rihanna, and Rita Ora.
He's been more inspired by the art world lately, having recently collaborated with visual artist Joshua Vides.
Giuseppe Zanotti's 3 Most Iconic Designs
The Italian luxury label has become famous for its sculptural, fantasy-like footwear. Here are some of Giuseppe Zanotti's most famous styles:
1. Venere
The designer described this striking style as a fusion between a serpent and a woman's body.
Named after the Italian word for venus, this sensual stiletto features a curved strap that glides around the ankle like a snake. The Venere has also been reimagined as a flat sandal for the summer holidays.
Launched in 2012, the Venere is defined by the gold metal detail that curves along the foot
2. Cruel
With their stunning wing detailing and sleek stiletto heels, we'd say that adding a pair of these exquisite sandals to your shoe collection is more of an act of kindness.
The Cruel shoe is one of the brand's most memorable designs and has been recreated into flat and block-heeled versions.
These conversation starters feature Giuseppe Zanotti's iconic firewing design
3. Harmony
The Harmony heels show the beauty of simplicity. Their minimal design features three thin straps, placed at a harmonious equal distance from each other, countered by sky-high stiletto heels.
Versatile and chic, the Harmony heels can be paired with just about anything.
The iconic Harmony style is characterized by its minimalist silhouette with three dainty straps and a stiletto heel
How To Identify Genuine Giuseppe Zanotti Shoes
Want to invest in an authentic pair of Giuseppe Zanotti shoes? Make sure you're getting the real thing by checking for the following details:
1. Black and silver packaging
The shoe box should be black with a silver logo. The inside should contain a silky silver dust bag with the Giuseppe Zanotti logo and a black and silver care card.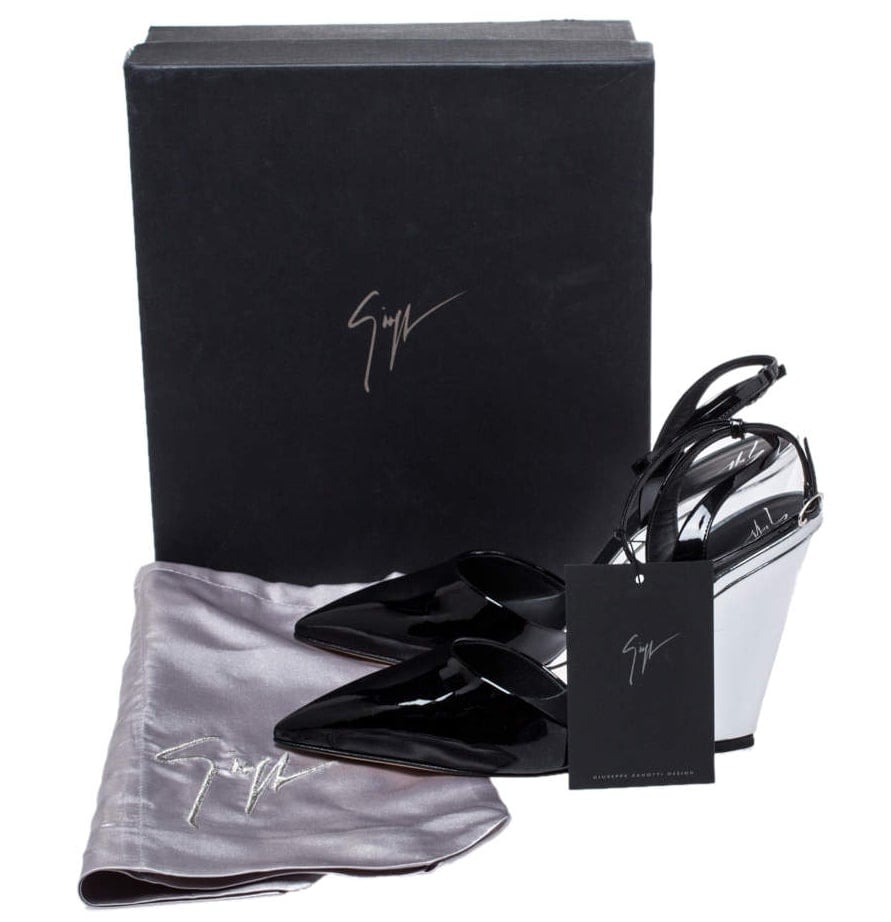 Giuseppe Zanotti shoes come in a black box with a silver logo and a silky silver dust bag (Credit: The Luxury Closet)
2. Logo on the sole
The insole should have an evenly spaced and aligned Giuseppe Zanotti Design logo. The outsole should also have an engraved logo, a 'Vero Cucio' (real leather) label, a Made In Italy label, and the size.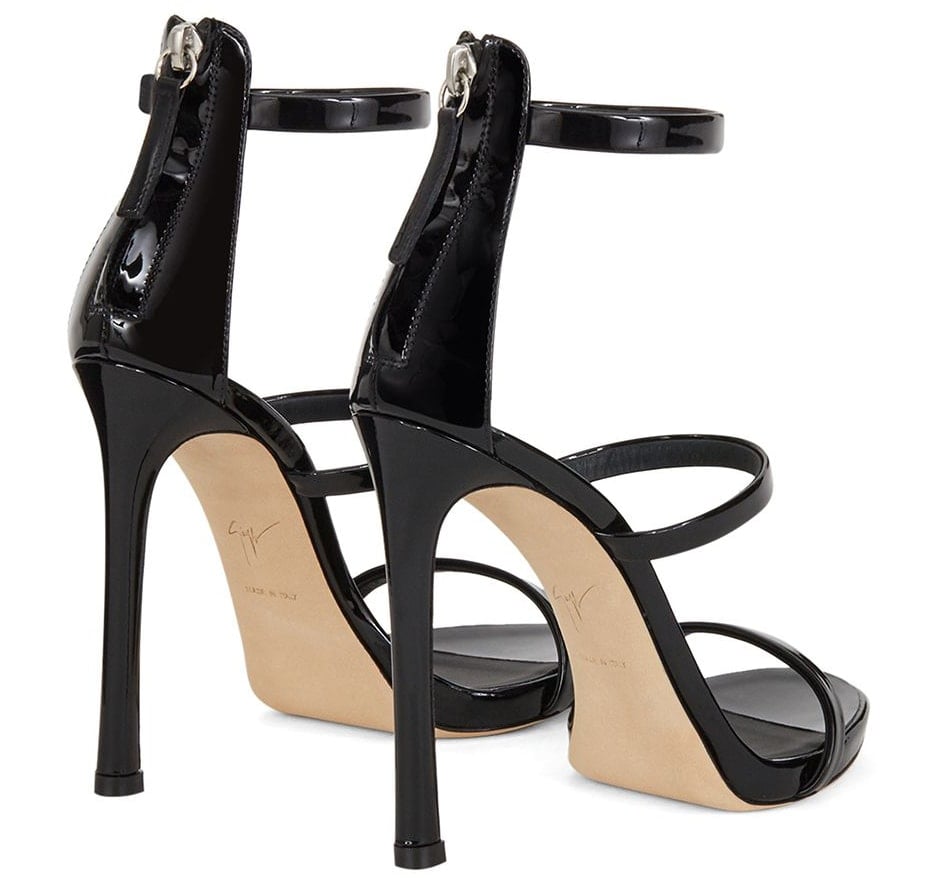 A logo and a Made in Italy label should be engraved on every Giuseppe Zanotti shoe outsole
The Giuseppe Zanotti team is dedicated to authenticating their shoes, so you can also check with the Giuseppe Zanotti customer service to see if the seller you are buying from is part of their authorized reseller list.
Where To Buy Giuseppe Zanotti Shoes
Add a piece of fantasy to your footwear collection with Giuseppe Zanotti. Here's where to buy his designs:
● Giuseppe Zanotti Official Site
● Amazon
● Farfetch
● Outseason (old-season shoes)
Scroll down to see celebrities wearing the best boots, heels, sandals, and shoes by Giuseppe Zanotti.
Giuseppe Zanotti Facts
Who is Giuseppe Zanotti?
He is an Italian luxury footwear and fashion designer known for his sculptural, jeweled heels and sneakers.
Where to buy Giuseppe Zanotti
You will find the best selection of Giuseppe Zanotti shoes at Giuseppe Zanotti, Nordstrom, Farfetch, and Bergdorf Goodman.
How do Giuseppe Zanotti shoes fit?
His shoes normally run true to size.
How to pronounce Giuseppe Zanotti
It is pronounced Juh-seh-pee Zuh-na-tee.
Where is Giuseppe Zanotti from?
He grew up in San Mauro Pascoli, in the Emilia Romagna region of Italy which is located just outside the seaside resort of Rimini.
How much are Giuseppe Zanotti shoes?
They normally sell from $300 for flat sandals and up, with crystal-encrusted shoes costing up to $3,000.
How much is Giuseppe Zanotti worth?
He has a net worth of at least $10 million dollars.
How to spot fake Giuseppe Zanotti sneakers and shoes
The popular Italian footwear designer is unfortunately targeted by counterfeiters and there are plenty of illegitimate websites selling fake shoes.

When buying shoes online, the best way to how to verify authenticity is to purchase from an authorized retailer of Giuseppe Zanotti shoes.

Don't' miss our guide showing how to identify fake shoe websites.

If you have purchased from a third-party retailer and want to verify the authenticity, you can contact Giuseppe Zanotti customer service by email: [email protected] or by phone: 844-492-6688. They will be happy to carry out the necessary checks.
Who owns Giuseppe Zanotti?
In 2014, Giuseppe Zanotti sold 30% off his wholly owned company, Vicini S.p.A, to luxury conglomerate LVMH.

However, he still remains in control of the company, which in addition to his epynomymous shoe brand owns five factories specializing in all the phases of luxury shoe making.

"In this moment, strengthening our company with a global partner represents an additional investment," he said in a statement. "One which will allow the company to get better structured, reinforce our penetration into the international markets, and keep growing. It is a great new project which make us really proud and optimist [sic] for the future."
Where are Giuseppe Zanotti shoes made?
His shoes are made in San Mauro Pascoli, a comune in the Province of Forlì-Cesena in the Italian region Emilia-Romagna