Girlfriends typically choose to keep pictures to remind them of their boyfriends, but not Kim Kardashian. While her baby daddy, Kanye West, is away, Kim keeps him close by wearing the 'Cruel Summer' sandals he designed in collaboration with Giuseppe Zanotti!
The ShoeDazzle founder wore the sandals to run around New York City all day yesterday and to actually meet up with Kanye West later on. We're guessing that was her way of saying she had been thinking about him while they were apart. Either that or Kim felt she had to wear them to impress Kanye who supposedly has been dressing her since they started dating.
Kim contrasted the stark white sandals with a fitted black dress, a black cardi, big black sunglasses, and a black croc-embossed clutch. Although the outfit doesn't look like the most comfortable thing to wear for a six-months-pregnant woman, we think it's a big step up from her previous maternity looks.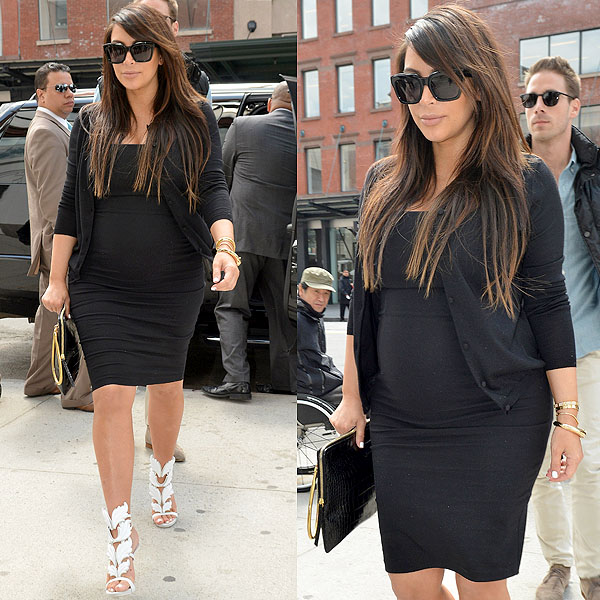 A pregnant Kim Kardashian seen heading to Jeffrey for some shopping after having lunch at Serafina's in New York City on April 22, 2013
Here's a closer look at Kim Kardashian's keepsake of Kanye West:
Kardasdian Kardashian wearing Giuseppe Zanotti x Kanye West "Cruel Summer" sandals
These sandals were inspired by the cover art for Kanye West's G.O.O.D. music compilation. Both are in alabaster white, feature a sculpted leaflike design, and are named "Cruel Summer."
Giuseppe Zanotti x Kanye West "Cruel Summer" Sandals, $1,625
These sandals, which cost a staggering $1,625 and are now all sold out, were most likely just a gift from Kanye to Kim — just one of the fabulous perks of dating a fashion designer even if it is one who only does designing part time.
This black color of the Cruel Summer sandals, alternatively called "Firewings," is still available at Farfetch.
Giuseppe Zanotti "Firewings" Sandals, $1,345.89
Credit: WENN