If you're a fan of reality television, you are more than likely familiar with Nick and Vanessa Lachey, Hollywood's reality television power couple.
Both entertainment powerhouses in their own right, Nick and Vanessa have seen both professional success and uber-publicized past relationships that ended up on the rocks.
These days, we love to see them appearing side-by-side in interviews, giving us insight into their life and family. As two experienced television hosts, they never disappoint in an interview, often captivating us with glimmers of their humor and wit.
Nick Lachey: A Brief History
Originally growing up in Ohio, Nick Lachey was a member of the boy band, 98 Degrees. They released their first, self-titled album (98°) in 1996. Following its re-release in 1997, it sold over half a million albums in the United States alone.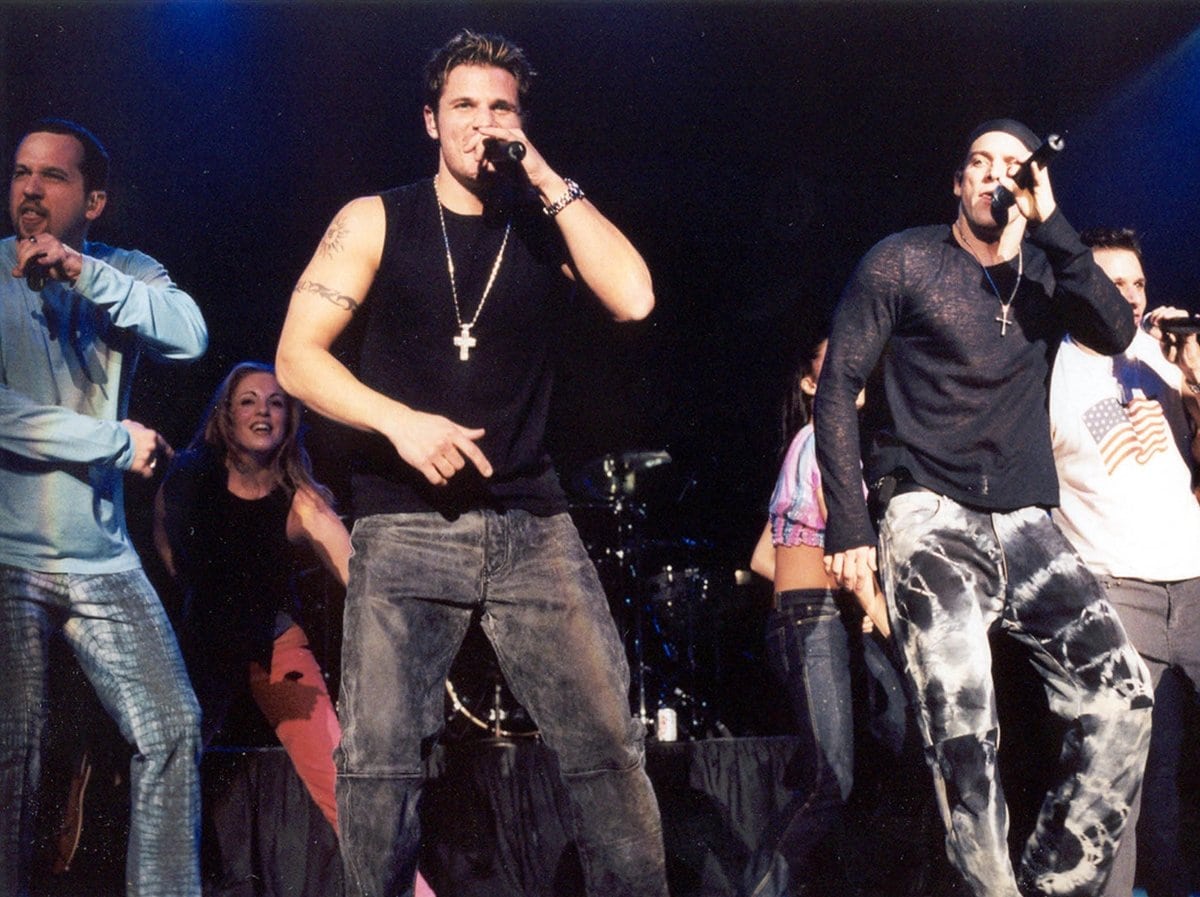 American pop and R&B vocal group 98° consists of Jeff Timmons, brothers Nick and Drew Lachey, and Justin Jeffre (Credit: WENN / Christina Radish)
Having been thrust into the spotlight, Nick found himself at The Hollywood Christmas Parade in 1998. It was there that his manager introduced him to another one of his up-and-coming talents, Jessica Simpson. Nick claims that he was "looking through the crowds for her all night."
Their relationship only heated up from there. The two singers collaborated on Jessica's subsequent albums, including on her first album, "Sweet Kisses."
The pair were spotted together frequently, even buying condos in the same Los Angeles highrise. The two also toured together, with Jessica performing as an opening act for 98 Degrees.
Jessica Simpson and Nick Lachey met at The Hollywood Christmas Parade in 1998 (Credit: WENN / Scott Harrison)
Nick and Jessica continued their on-and-off-again romance for years before Nick proposed to Jessica in 2002. They were wed in Austin in 2002, with 350 guests and a camera crew in attendance.
This would jumpstart both of their careers in reality television, as their nuptials were recorded and revealed for VH1's "All Access Celebrity Weddings." The footage was also earmarked for an episode of their later reality show on MTV, "Newlyweds: Nick and Jessica."
"Newlyweds: Nick and Jessica" went on to be a resounding professional success for the couple, but the camera-ready relationship may not have been what it seemed.
Lachey has been quoted as saying that Simpson's close-knit and highly religious family weighed heavily on their marriage. While it hasn't been indicated as directly leading to the demise of their marriage, it has been noted as a contributing factor by both parties.
Jessica Simpson and Nick Lachey announced their divorce on November 23, 2005 (Credit: WENN / Scott Harrison)
The news of the decision to dissolve their marriage arrived abruptly in late 2005, with Nick strongly inferring that he felt blindsided. Jessica maintains that they had simply grown apart.
"It breaks my heart that I couldn't make Jessica happy. I wanted to be everything to my wife," Lachey told Rolling Stone in April 2006.
"I wanted her to look at me with love in her eyes, the way she did at the beginning, and have her feel like I was the most wonderful, awe-inspiring man on the planet. And when that stopped, it was the worst feeling in the world."
Jessica Simpson and Nick Lachey do not have any children together (Credit: Nikki Nelson / WENN)
"He is a good guy. And neither of us wanted to let anyone down, including ourselves," Simpson revealed Glamour in August 2006. "I don't have anything bad to say about him at all. I don't. And I do have something to lose by talking about it."
Lachey has been connected with celebrities like Kim Kardashian and Cheryl Burke, as well as a brief relationship with Holly Letchworth, a student of the University of Louisiana at the time.
Jessica Simpson was romantically involved with Tony Romo and John Mayer before she met now-husband Eric Johnson.
Vanessa Minnillo: Career Girl and Relationships
Vanessa Minnillo was born in the Philippines, and as part of a military family, she moved frequently throughout her childhood across the United States and in Japan.
She made her debut in the public eye when, at age 18, she was named Miss Teen USA. In the following years, Vanessa would be seen on sitcoms, but more notably working with MTV.
Named Miss Teen USA in 1998, Vanessa Joy Lachey (née Minnillo) is an American actress, beauty pageant titleholder, fashion model, and television host (Credit: LK / WENN)
Vanessa's career on MTV's Total Request Live (TRL) spanned from 2003 to 2006, covering some of the time that Nick Lachey's solo career ignited following his work with 98 Degrees.
Miss Minillo has made frequent appearances on soap operas, sitcoms, and game shows like Wipeout. She also collaborated on beauty products for Flirt! Cosmetics. She's also graced the covers of a slew of magazines, including Maxim, Parenting, Shape, and Lucky. Talk about range!
On a more personal note, Minnillo has been reported as having brief romantic connections with a small handful of celebrities, including actors Topher Grace and Orlando Bloom.
However, her rocky relationship with New York Yankee, Derek Jeter, spanned the better part of three years.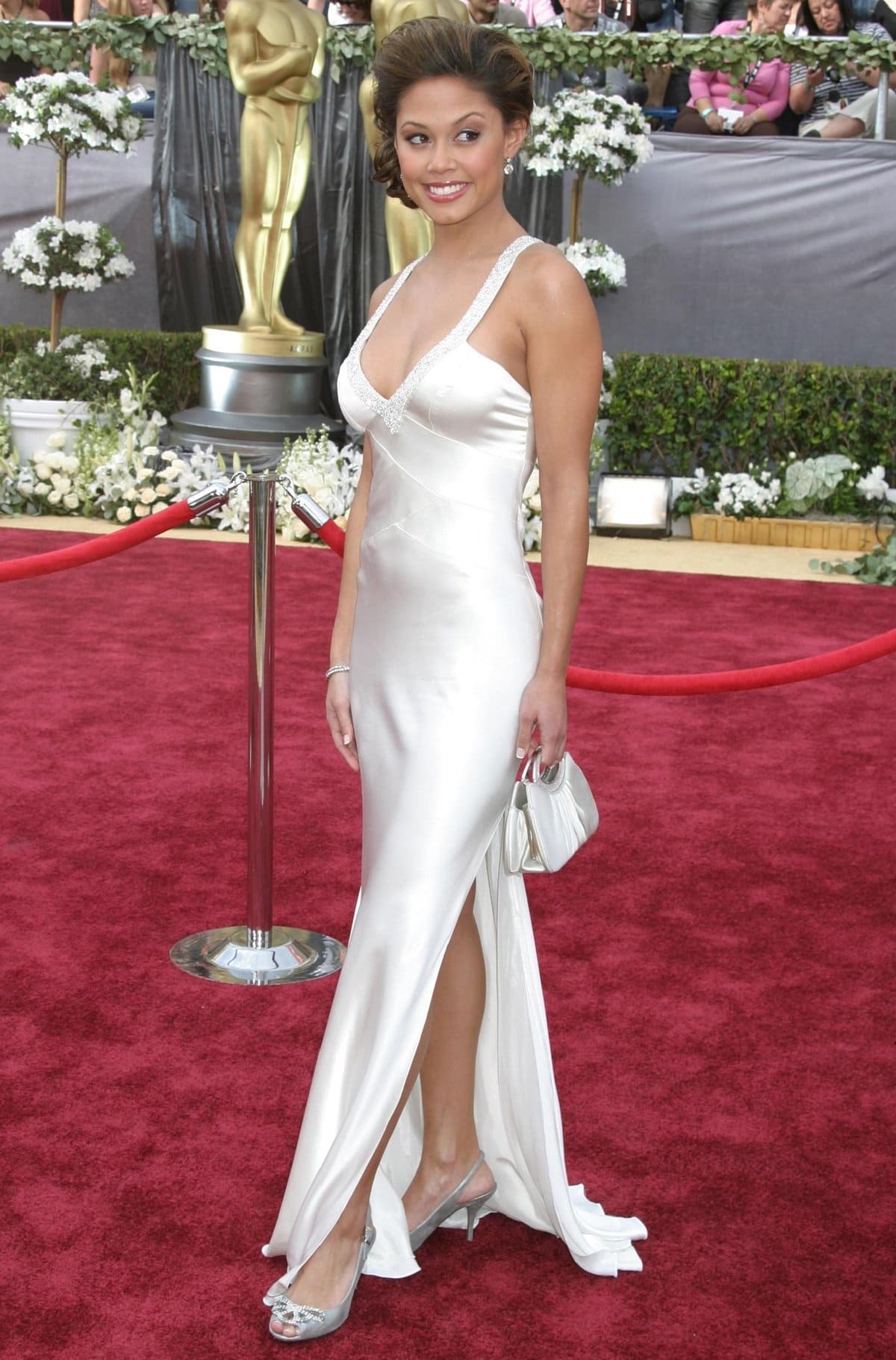 Television host Vanessa Minnillo arrives at the 78th annual Academy Awards at the Kodak Theatre in Hollywood on March 5, 2006 (Credit: Nikki Nelson / WENN)
Vanessa Minnillo met Derek Jeter in 2003, and their relationship has been described as on-again-off-again. They finally pulled the plug officially in 2006 – the same year she would work closely with Nick Lachey.
How Nick and Vanessa Met
Nick and Vanessa met on the set of TRL (Total Request Live). Nick would frequent the set to promote new projects with 98 Degrees.
He even made an appearance where he sat between his then-wife, Jessica Simpson, and Vanessa. It was this appearance where Nick called Jessica "the most beautiful woman in showbusiness."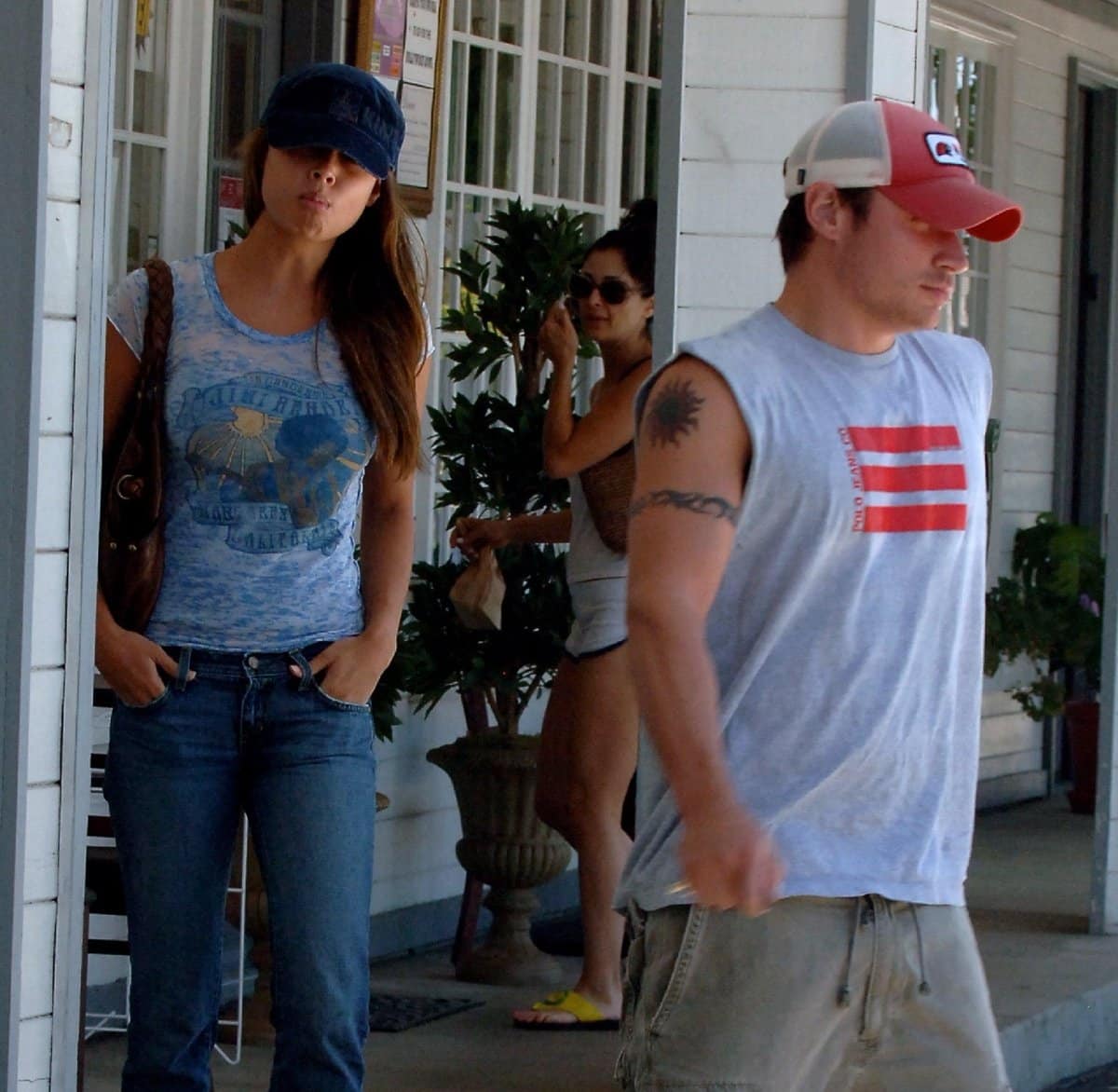 Nick Lachey and Vanessa Minnillo first met during one of his many appearances on TRL (Credit: JFXimages / WENN)
Soon after the appearance, Nick and Jessica's marriage came to an abrupt end. Nick's solo album, "What's Left of Me," is said to capture his feelings about the divorce.
In a strange turn of events, the music video of the album's title track cast none other than Miss Vanessa Minnillo as the female role.
During an interview, Vanessa comments on how revealing her wardrobe was for the video. Nick maintained that it was a dress, with Vanessa describing the outfit as a skimpy tank top, selected by Nick, himself!
During filming, the two became close after discovering they had both ended relationships recently. Nick had recently ended his marriage with Jessica Simpson, and Vanessa had recently called it quits with Derek Jeter. They also found that they shared the same birthday, November 9th!
Nick Lachey and Vanessa Minnillo started dating in 2006 and took their romance public in December 2006 (Credit: Jody Cortes / WENN)
The couple revealed that their first date was actually at a Hooters restaurant in Trenton, New Jersey. Nick found himself working in New Jersey, and Vanessa took the train from New York to meet with him. As luck would have it, their dining options were pretty limited late at night, leading them to choose the wing joint.
Over the next year, Nick and Vanessa's relationship evolved remotely, sometimes spending hours on the phone and exchanging text messages. Nick was still based in Los Angeles while Vanessa lived in New York to film Total Request Live with MTV at the time.
Once reunited face to face, they confirmed the spark that had been smoldering at a distance for months.
Nick Lachey and Vanessa Minnillo Tie the Knot
The irony of Vanessa appearing in Nick's music video about his divorce came full circle when Lachey proposed to Miss Minnillo in late 2010. On July 15, 2011, a small guest list of 35 individuals was treated to a very secretive wedding.
In true reality star form, the nuptials were filmed to create Nick and Vanessa's Dream Wedding for TLC. The special aired in 2011, taking viewers on the journey of planning Nick and Vanessa's wedding as the weeks counted down to the surprise.
Wedding guests were simply asked to dress in "island chic" garb, as the couple secretly bought plane tickets that would shuttle the guests to Sir Richard Branson's, very private, Necker Island in the Caribbean for the occasion.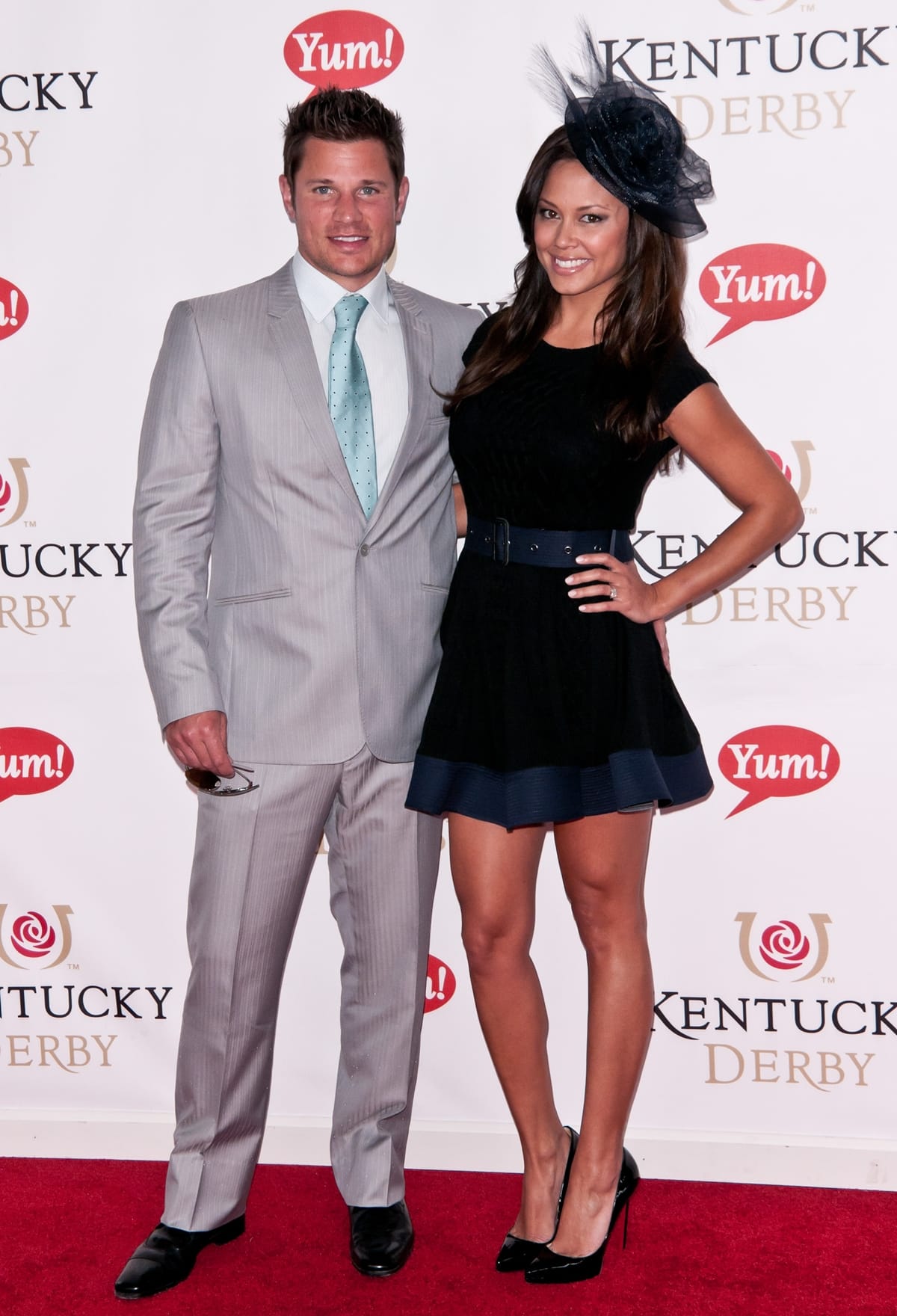 Nick Lachey and Vanessa Minnillo got engaged in November 2010 and tied the knot in October 2002 (Credit: C.Smith / WENN)
In the age of invasive paparazzi, the couple sought out the uber private locale and told no one, including family members, of the wedding's destination.
Nick said he feared the secret location would casually "leak out" by an innocent family member at a nail salon, exposing their nuptials to prying eyes. So they agreed it was better to keep it under wraps, even kept from the family.
Mrs. Lachey stunned guests in a corseted ball gown by Monique Lhuillier on the big day.
Starting a Family Together
The Lacheys are proud parents of three beautiful children, Phoenix Robert, Brooklyn Elisabeth, and Camden John. They are currently ages four, six, and nine.
While Vanessa hints at wanting another girl, the couple maintain that they are done expanding their family.
View this post on Instagram
As busy, prolific entertainers, they are still remarkably involved in parenting their children. It's said that at times they'll resort to rock-paper-scissors to settle disputes in the family and even about parenting.
The Lachey Family: Still Hard at Work
The Lacheys charged ahead in their careers in recent years. Nick has continued to rack up multiple filmography credits hosting reality shows like Love is Blind.
He has even returned to his musical roots by winning as a contestant on season five of The Masked Singer.
Vanessa has made the leap to the big screen in movies like Fantastic 4: Rise of the Silver Surfer and Disaster Movie.
Nick Lachey in a Hugo Boss suit and Vanessa Lachey in a Steven Khalil dress, Kallati jewelry, Andrea Wazen shoes, and an Edie Parker clutch after the 2021 Emmy Awards on September 19, 2021, held at The Event Deck at L.A. Live in Los Angeles (Credit: Guillermo Proano / WENN)
She also continues to rock the small screen on sitcoms like 30 Rock and NCIS: Hawai'i, as well as making the most of hosting opportunities and interviews.
Both Nick and Vanessa competed against one another in Dancing with the Stars in season 25. They publicly joked that the competition led to friction at home. Neither progressed to the final round, but Vanessa remained on the show one week longer than her husband Nick.
We Just Can't Get Enough of the Lachey Family
We still occasionally see the couple appearing side by side occasionally on talk shows and interviews. While Nick is a little more reserved, Vanessa is very much a spitfire, revealing the sometimes-steamy, sometimes-unglamorous side of their marriage and family life.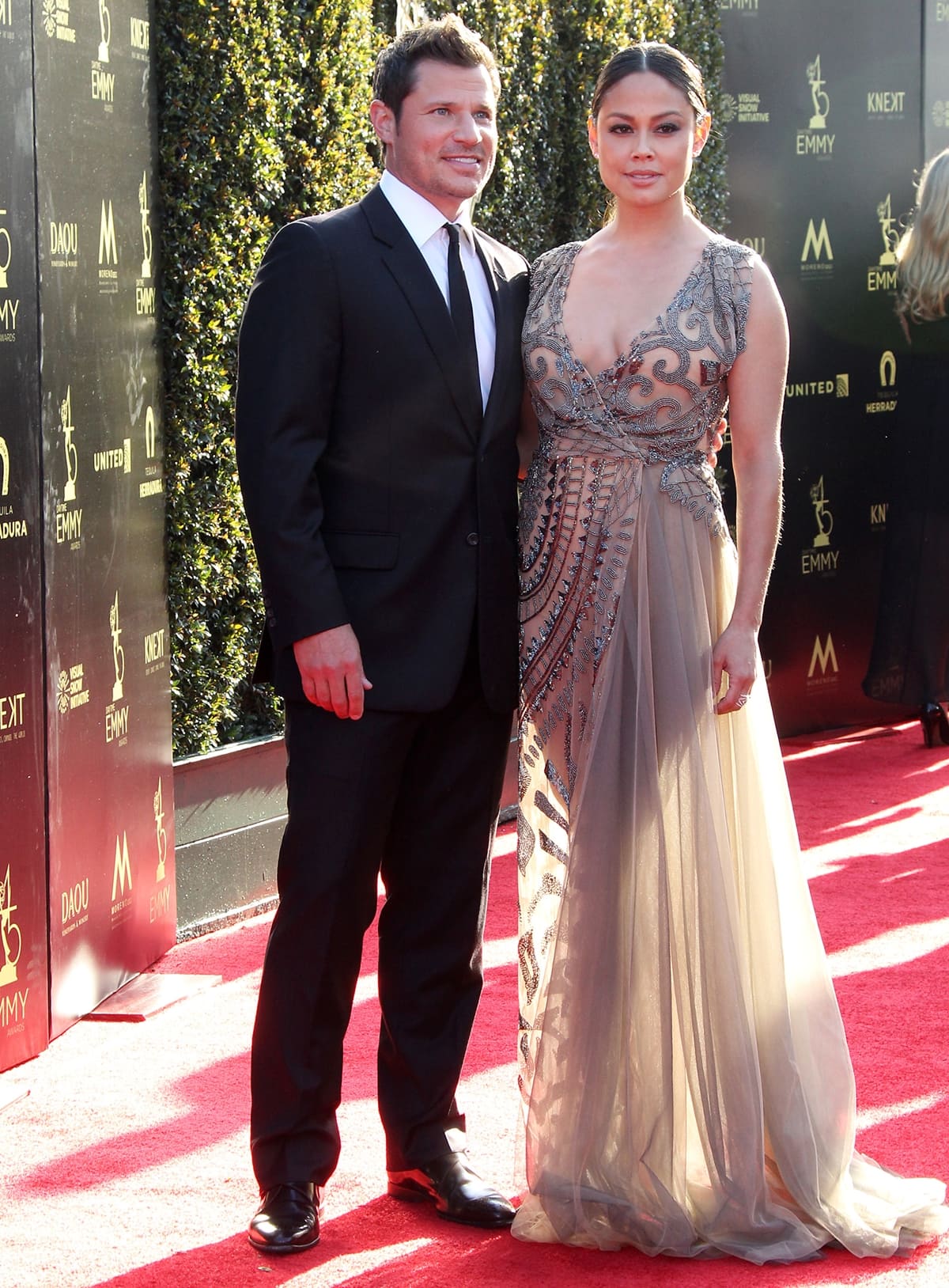 Nick and Vanessa Lachey on the red carpet at the 2018 Daytime Creative Arts Emmys (Credit: Adriana M. Barraza / WENN)
These two are absolutely enchanting, and we love seeing Nick and Vanessa Lachey glowing together on screen. Their chemistry is real, and the proof lies in their 14-year relationship- somewhat unheard of in showbusiness!
We just hope to see more of them and the potential star power of their entire family in the future!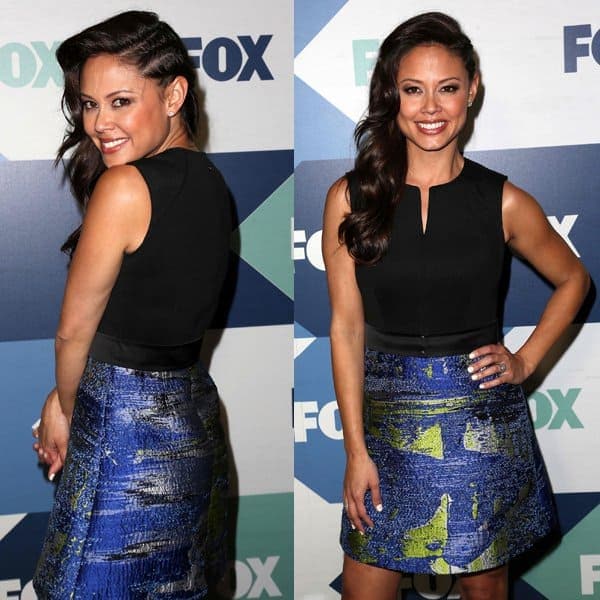 Vanessa Lachey styled a simple black tank with a printed skirt (Credit: Brian To / WENN)
In August 2013, new mom Vanessa Lachey looked absolutely stunning at the FoxSummer TCA All-Star Party, earning her a good amount of public nomination for best-dressed of the night. She was joined by her Dads co-stars Brenda Song and Seth Green.
Vanessa gave birth to her son Camden John Lachey on September 12, 2012, gaining 65 pounds from her pregnancy and quickly losing all of it in preparation for her latest show, where she also plays a mother.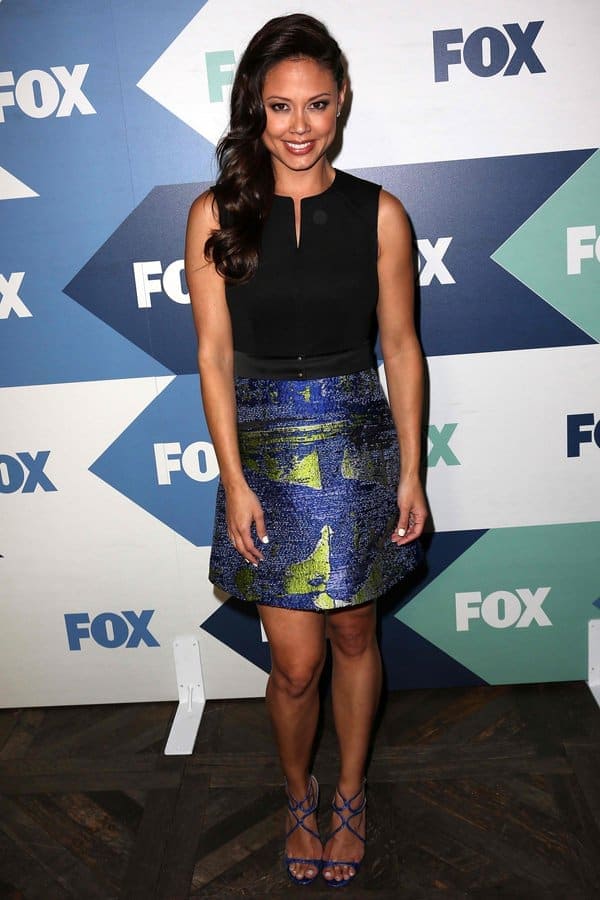 Vanessa Lachey flaunts her legs in Jimmy Choo Lance leather sandals (Credit: Brian To / WENN)
"It's actually a great balance because multi-cam television is the best job schedule," the actress gushed, "it's kind of like a nine to five."
"I can wake up in the morning with him at 7:30, I can give him his bottle and breakfast, put down and go to work – and I'll still be home to bathe him, sing to him, and put him down at night. That's the best. I play a mom and I am one in real life!" Vanessa added.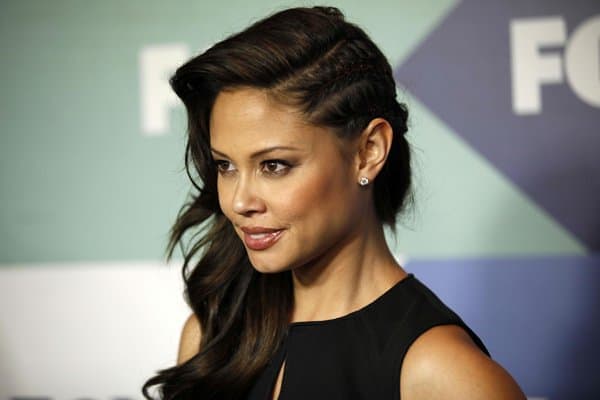 Vanessa Lachey plays Camilla Whittemore in the American live-action sitcom Dads (Credit: Brian To / WENN)
The former Ms. Teen USA married former 98 Degrees main vocalist Nick Lachey, who turned 40 on November 9, 2013.
Vanessa shares that their secret to a healthy relationship is honesty, stating that she loves the woman she becomes around her hubby.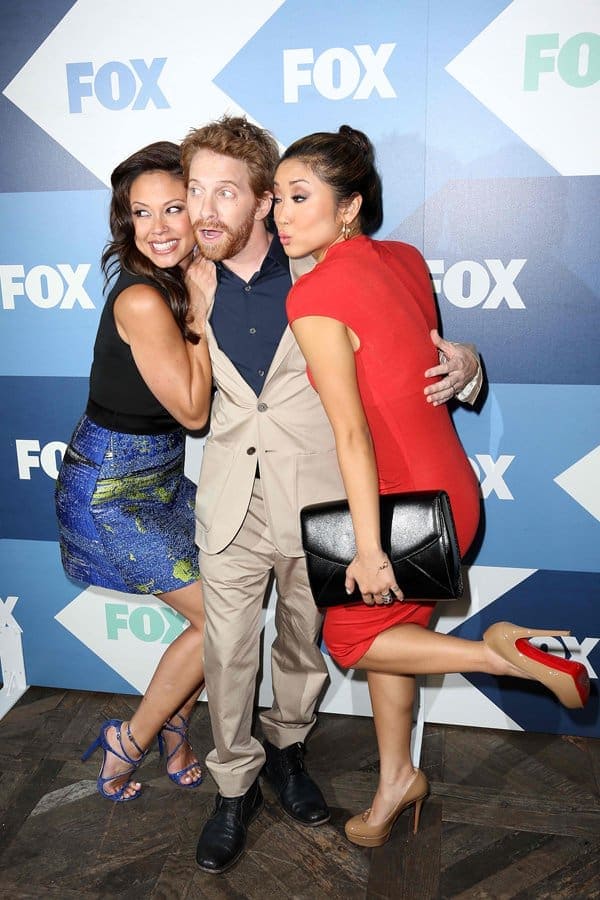 (L-R) Vanessa Minnillo Lachey, Seth Green, and Brenda Song attend the FOX All-Star Party on August 1, 2013, in West Hollywood, California (Credit: Brian To / WENN)
The Filipino-American actress wore a Proenza Schouler skirt to the all-star event, pairing it with a structured black top and a pair of the much-coveted Jimmy Choo Lance sandals.
Vanessa secured her wavy locks to one side with a single braid – a look that could have turned ugly real quick but one that she was able to pull off.
The exact skirt has yet to circulate around cyberspace, but we did find a very similar one from the same designer: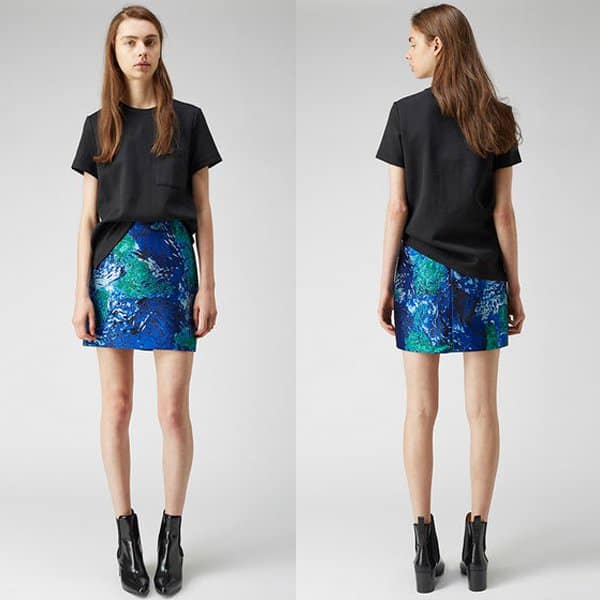 Proenza Schouler Jacquard Mini Skirt, $990.00