According to online rumors dating back to 2007, Jessica Alba contracted herpes when dating Derek Jeter in 2004.
A source told the now-defunct gossip magazine L.A. Rag Mag that one of Alba's assistants helps replenish her prescription for Valtrex. This antiviral medication is used to treat oral herpes and genital herpes.
Just one of his many rumored girlfriends in 2004, the New York Yankees baseball player was reportedly also dating actress Scarlett Johansson and television personality Vanessa Minnillo.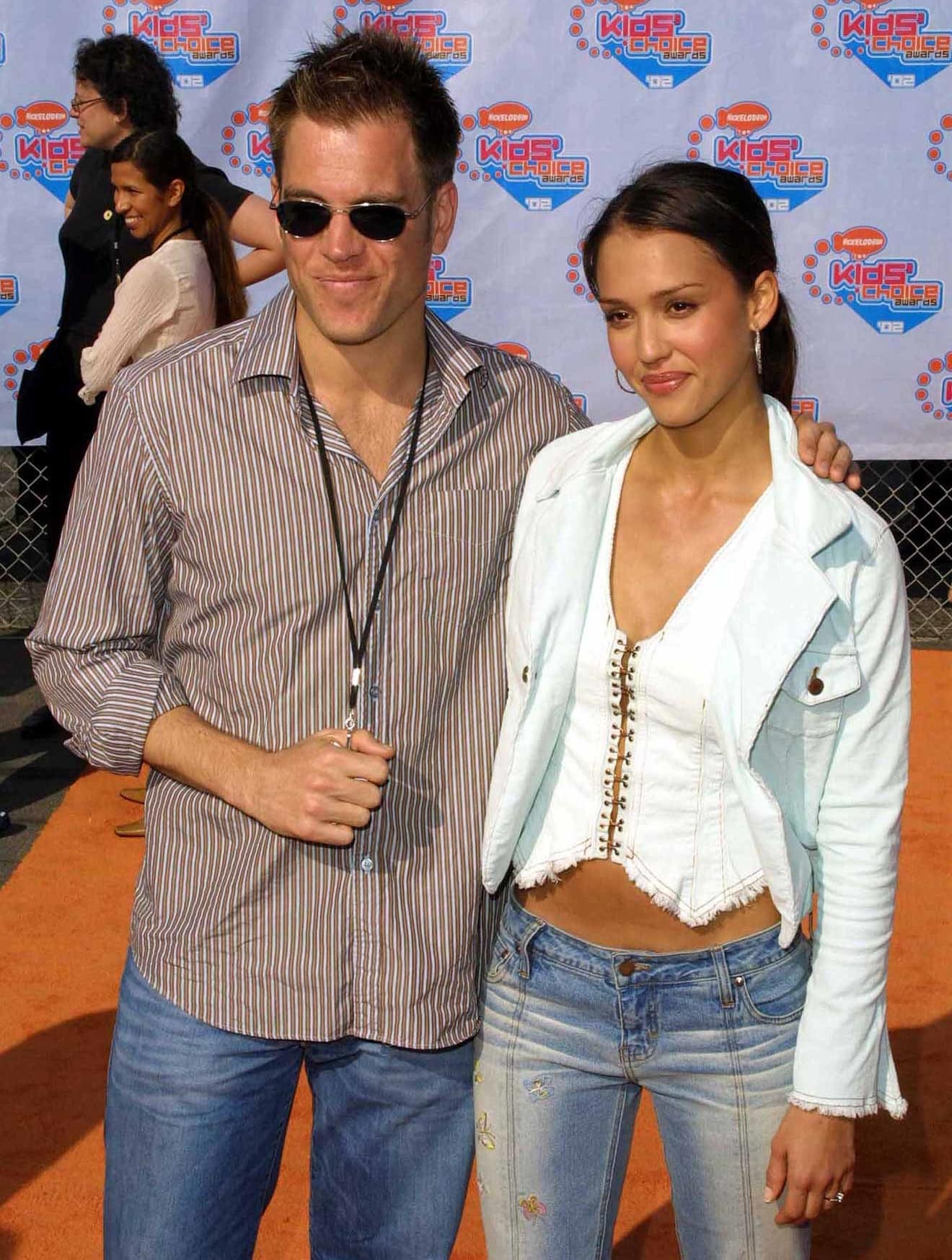 Despite their nearly 13-year age gap, Michael Weatherly took Jessica Alba's virginity after meeting on the set of Dark Angel (Credit: WENN / Nikki Nelson)
Before meeting his future wife Hannah Davis in 2012, Derek Jeter had confirmed romantic relationships with songwriter Mariah Carey, model Vida Guerra, former Miss Universe Lara Dutta, singer Joy Enriquez, and actresses Jordana Brewster, Jessica Biel, and Minka Kelly.
We believe it's highly unlikely that the relatively chaste Jessica Alba got an STD from Derek Jeter, who is also known for his expensive Air Jordan sneakers.
Growing up in a conservative family, Jessica Alba was still a virgin when she got engaged to Dark Angel co-star Michael Weatherly in January 2000. They ended their engagement in August 2003.
"Relationships can be tough . . . I've only had two boyfriends. In the first one, with Michael [Weatherly], I didn't have a voice yet, and he was so much older . . . I was so young, 18, when I started dating him. I was a virgin. I knew I wanted to be in love with the first person I slept with, because for almost everyone I knew, the first experience made them feel like s–t . . . I wanted to be careful that he was going to be in love with me, and wasn't just going to leave me," Alba told Cosmopolitan in October 2015.
When asked about her rumored relationships with Derek Jeter and Mark Wahlberg, Jessica Alba refused to provide details.
Derek Jeter is rumored to have given Jessica Alba herpes while dating briefly in 2004 (Credit: WENN / Nikki Nelson)
"I don't want to say, but I will say they're both really nice guys. It's funny because my mom would [read about my dating someone and] go, "I want to meet so-and-so." Or she'd say, "You're not dating him as far as I'm concerned because I haven't met him." I had a wild period with men for a second, but I wasn't dating any more guys than any other girl—it's just that most people aren't written about in magazines," Alba told Cosmopolitan in the same interview.
While filming the 2005 American superhero film Fantastic Four, Jessica Alba met her future husband. In the September 2010 issue of Cosmopolitan, The Honest Company founder spoke about her relationship with Cash Warren.
"Right after I met [Cash], I called my best friend and was like, 'I met this guy and I feel like I've known him forever and I'm gonna know him for the rest of my life.'"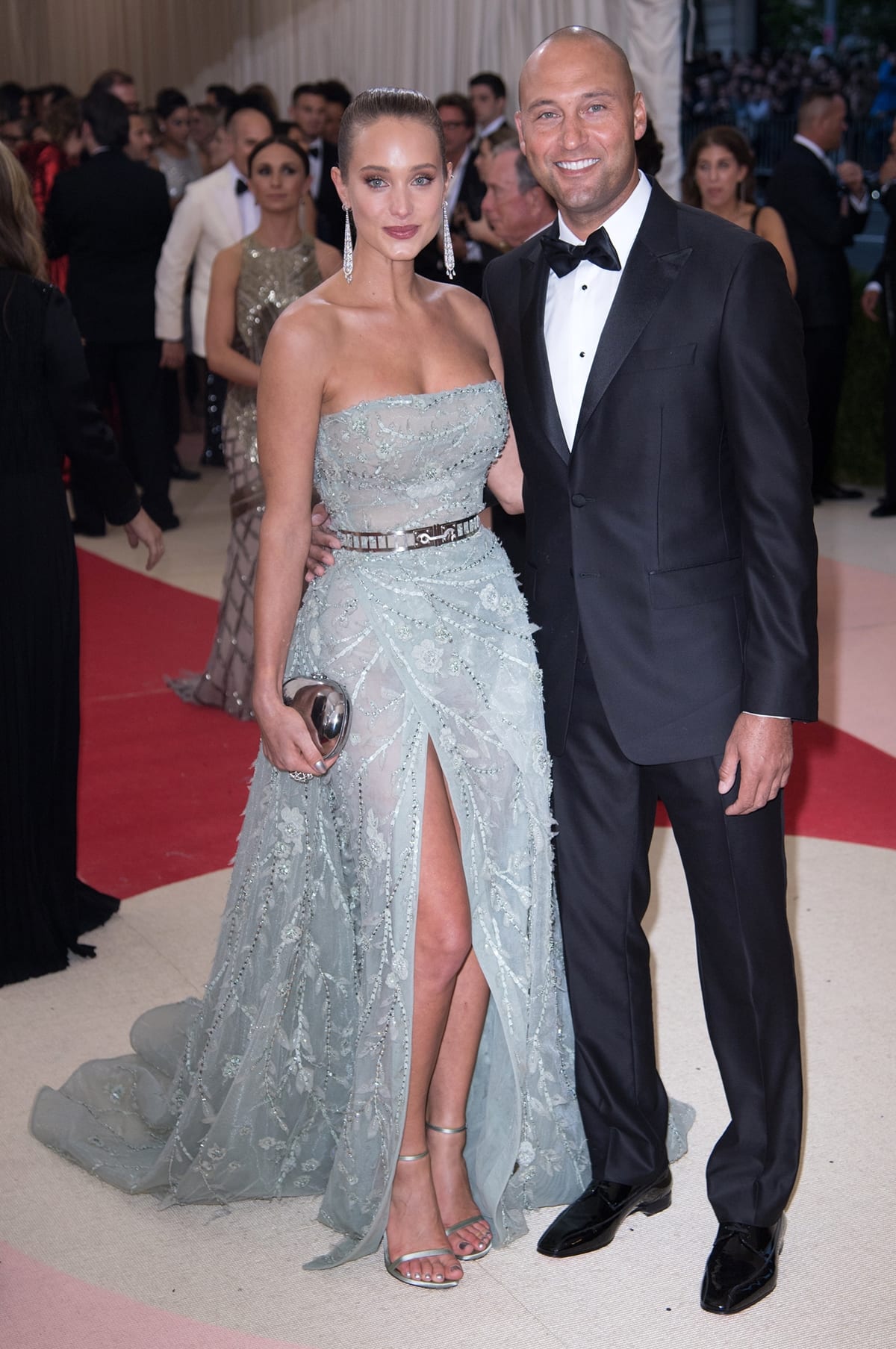 Sports Illustrated Swimsuit Issue model Hannah Davis and former New York Yankees shortstop Derek Jeter married on July 9, 2016, in Napa Valley (Credit: WENN / Nikki Nelson)
Jessica Alba's Stylish Post-Workout Look: Get the Kendall Jenner-Inspired Outfit
Kendall Jenner has been trailblazing fashion trends anywhere she goes. So, naturally, it was only a matter of time before big Hollywood celebrities — like Jessica Alba — picked up her easygoing style.
In January 2016, Jessica was spotted shopping for homewares and running a few other errands while wearing Kendall's now-popular post-workout look.
Jessica Alba wears her hair up as she shops for homewares and runs errands in Beverly Hills on January 17, 2016 (Credit: WENN / Nikki Nelson)
The Never Been Kissed actress showed off her slender figure in navy blue leggings and a gray shirt, which she wore under a navy blue leather jacket.
Jessica Alba carries a Williams-Sonoma bag while strolling through Beverly Hills in a navy leather jacket (Credit: WENN / Nikki Nelson)
Jessica completed her look with Adidas x Stella McCartney glove sneakers.
Jessica Alba's feet in blue-and-yellow Adidas x Stella McCartney glove sneakers (Credit: WENN / Nikki Nelson)
One departure we like from Kendall's look here, however, is Jessica's use of the velcro glove workout shoes.
Jessica Alba pays for a parking meter in a black-and-navy post-workout look (Credit: WENN / Nikki Nelson)
Kendall's look, on the other hand, is a younger take on the leather-and-spandex look: she usually opts for a crop top to show off her abs.
We were pleasantly surprised to see Marni coming up with its own versions as well — we can only wonder if this will become the next thing in sportswear.
You can purchase Marni's velcro sneakers over at Matches Fashion and Farfetch.
Marni 20mm Neoprene Strap Slip-On Sneakers, $660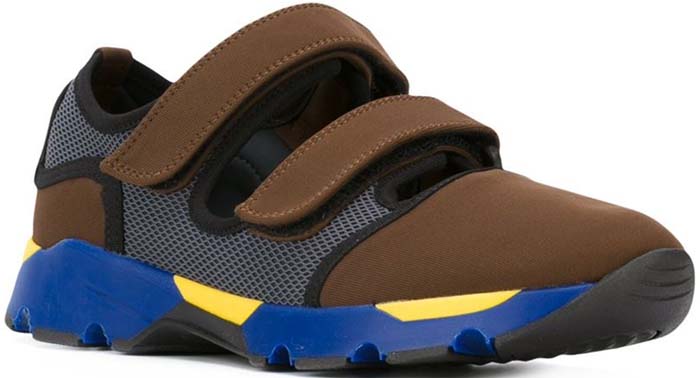 Marni Velcro Straps Cutout Sneakers, $610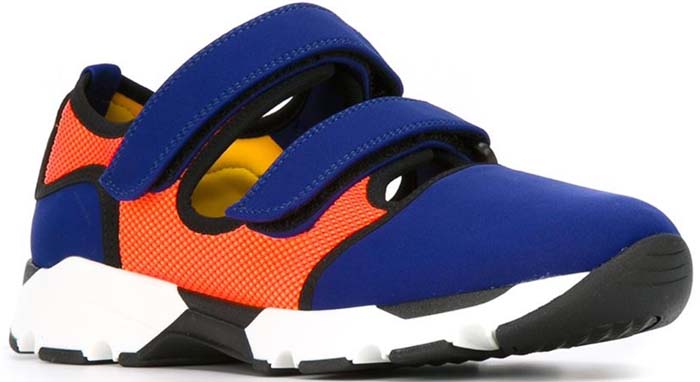 Marni Velcro Fastening Sneakers, $610