One of the top memes of 2019, Keke Palmer uttered "Sorry to this man" when asked to identify former U.S. Vice President Dick Cheney from a photo of him sitting on a plane.
Requested by Vanity Fair to take a lie detector test in September 2019, the former Nickelodeon star answered questions about her birthplace, her real name, and her dating preferences.
When asked whether her character True Jackson on the Nickelodeon show of the same name was a better VP than Vice President Dick Cheney, she balked.
On the American teen sitcom "True Jackson, VP," Lauren Keyana "Keke" Palmer starred as a teenager who serves as the Vice President of the Youth Fashion Department at Mad Style.
"I don't know who this man is," Keke said, shaking her head. "He could be walking down the street and I wouldn't know a thing. Sorry to this man."
Keke Palmer was not able to recognize former U.S. Vice President Dick Cheney, who served two terms under George W. Bush from 2001-2009
The lie detector showed that Palmer was telling the truth when she said that she did not know Dick Cheney. Unfortunately for Keke, the clip was shared by MTV video producer Matt Gehring and quickly went viral on Twitter.
Of the iconic incident, Palmer told Harper's Bazaar in March 2020, "I honestly give credit to Twitter. It was like a perfect little sound bite that people could add to a million different stories."
"That's why I say our generation inspires me so much. The voice. The creativity. I mean, it's masterful. They gave it life," she added.
Keke Palmer portrayed the titular character in the sitcom True Jackson, VP (2008–2011)
Seeing the reactions to her Vanity Fair interview, Keke Palmer studied up and is now able to identify former U.S. Vice President Dick Cheney.
"After finding out who he is," Palmer said while appearing on Watch What Happens Live, "I'm glad I didn't know."
Keke Palmer rocks a western chic look as she rides a mechanical bull for Good Morning America in Times Square in New York City on January 7, 2020
In November 2016, the then 23-year-old had debuted blue hair at a boutique opening and totally rocked the look.
Keke Palmer's long-sleeve dress features black and white buttons
Another risky fashion move? Her "puritan chic" look at the 2016 Glamour Women of the Year Awards.
Keke Palmer blows a kiss on the red carpet
At the event, the "Scream Queens" star showed off her style in a black-and-white buttoned mini dress, which highlighted her flawless legs and her great curves.
Keke Palmer rocked a vintage YSL black mini shirt dress
If you didn't know, Keke is a huge shoe lover. We have never seen her wear the same pair of shoes more than once. That is probably why ShoeDazzle tapped her to design a line of footwear for the brand.
ShoeDazzle asked Keke Palmer to curate two special footwear collections for its members
The first wave launched in October 2016, and the second Keke Palmer for ShoeDazzle collection was released in January 2017.
"I love to express myself through fashion and have fun with my choices so I was thrilled to curate a collection for ShoeDazzle," Palmer said in a statement. "I hope I can assist women in the many different ways they can rock their style in their shoes."
Keke Palmer flaunts her legs attends at the Glamour Women Of The Year 2016 at NeueHouse Hollywood on November 14, 2016, in Los Angeles, California
This time around, Keke showed off her feet in Saint Laurent's "Jane" ankle-strap sandals. The shoes feature 4.25-inch heels and are made with leather.
Keke Palmer displays her sexy toes in gold ankle-strap heels
We would have picked a different pair to complement her ensemble. Perhaps a pair of knee-high stiletto boots would have been a better choice. She still looked fabulous and chic nonetheless.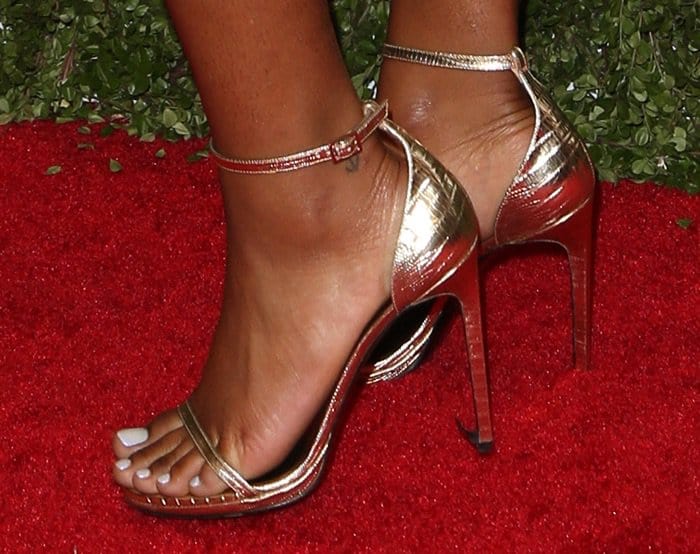 Keke Palmer shows off her feet in Saint Laurent "Jane" ankle-strap sandals in gold
The "Jane" sandals are available for purchase at Nordstrom and Farfetch.
Saint Laurent Paris Jane Ankle-Strap Sandals in Gold, $695
Skinny straps cast in alluring patent leather adorn a minimalist Saint Laurent sandal lifted by a chic stiletto heel
Saint Laurent Paris Jane Ankle-Strap Sandals in Rose Clair, $695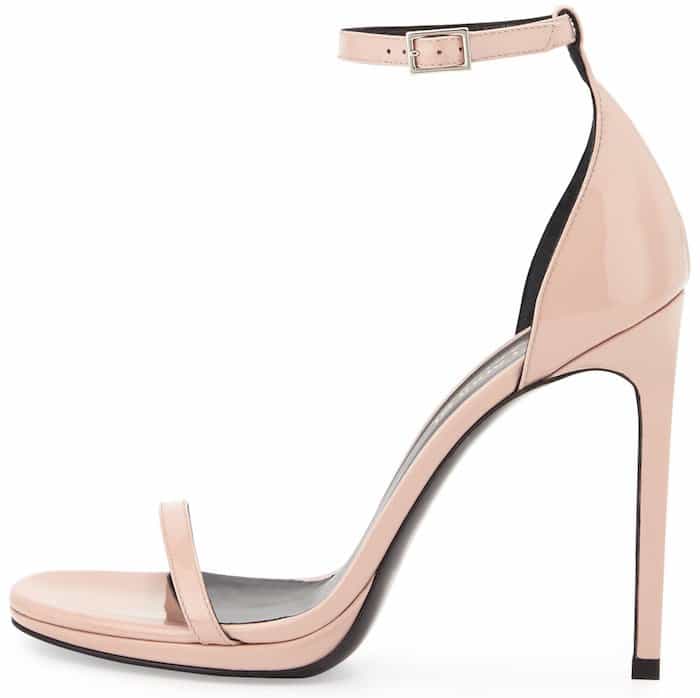 Credit: FayesVision/ Adriana M. Barraza/ WENN / Instar