Kim Kardashian's Skechers Shape-Ups Super Bowl ad, the one she excitedly revealed on her blog in January 2011, finally premiered one month later.
Kim Kardashian promoting Skechers Shape-Ups
In the commercial, Kim basically breaks up with her personal trainer and trades him for a pair of Skechers trainers all while being sweaty, sultry, and scantily clad.
"My mom and I are thrilled to be joining the SKECHERS family to help promote health and wellness," Kim said in a statement.
"Shape-ups have already impacted my fitness routine for the better. I am always on the move and never know exactly when I can fit in my next workout. SKECHERS Shape-ups help me get the most out of every step."
Skechers announced a multi-platform marketing and brand partnership for Shape-ups with Kim Kardashian and Kris Jenner
"You're amazing. The best I've ever had," Kim says to her trainer, but ends up leaving him thanks to Shape-Up's ability to tone legs without having to go to the gym.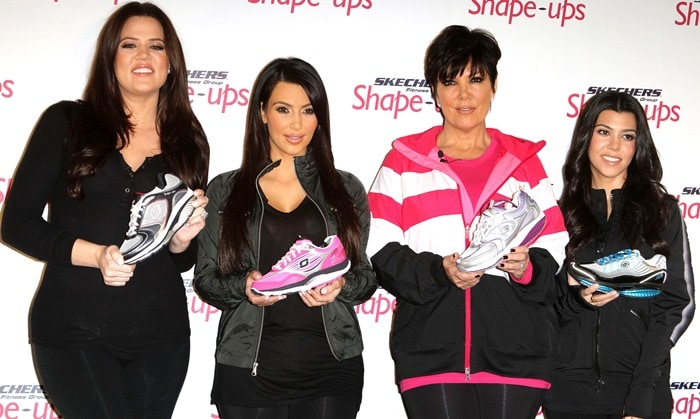 Kourtney Kardashian, Kim Kardashian, Kris Jenner and Khloe Kardashian at Skechers Shape-Ups Announces Global Partnership With Kardashian sisters and Kris Jenner at a special event held at the Beverly Hills Regent Hotel on November 22, 2010
In May 2012, Skechers agreed to pay $40 million to settle charges it deceived consumers by making unfounded claims that its toning sneakers would help them lose weight and make their "bottom half their better half" without ever going to a gym.
Just months earlier, Reebok settled similar FTC charges for $25 million.
Kim Kardashian wearing Skechers trainers
Watch Kim Kardashian's Skechers Shape-Ups ad for the Super Bowl below:
So what do you think – sexy, so-so, or sleazy? Or more importantly, since not even Kim's famous curves can take our attention away from shoes, we want to know if this commercial makes you want to buy sneakers from Skechers.
Kim Kardashian's black/hot pink Skechers Shape-Ups Kinetix Response SRT, the one she's wearing in the commercial, is available for $89.95 at Amazon.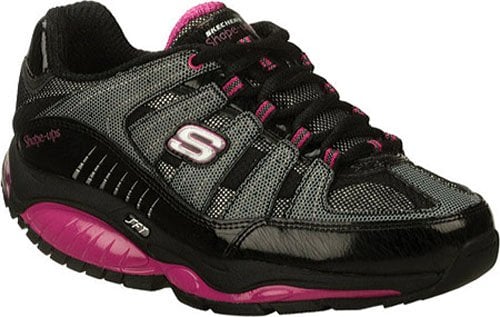 Black/hot pink SKECHERS Shape-ups with Kinetix Response SRT
Now's a good time to purchase these if Kim K.'s Super Bowl ad made you even the littlest bit curious about just how much of a good idea it is to trade your real-life trainer for a pair of sneakers.
As you may know, this isn't Kim Kardashian's first foray into hawking shoes. She's also the co-founder and spokesmodel for ShoeDazzle, a style service that gives you a customized selection of shoes, handbags, and jewelry handpicked just for you each month.
Credit: WENN / FayesVision