What was initially designed to simply provide protection and comfort for our feet has now become a symbol of social status.
Just a few years back, women and men alike spent thousands on luxury handbags that used to signify status among the wealthy. But today, status symbols have changed.
Shoes have now replaced handbags as the new "it" accessory. According to data released by market research company The NPD Group in 2019, consumers are spending more on shoes than on expensive handbags.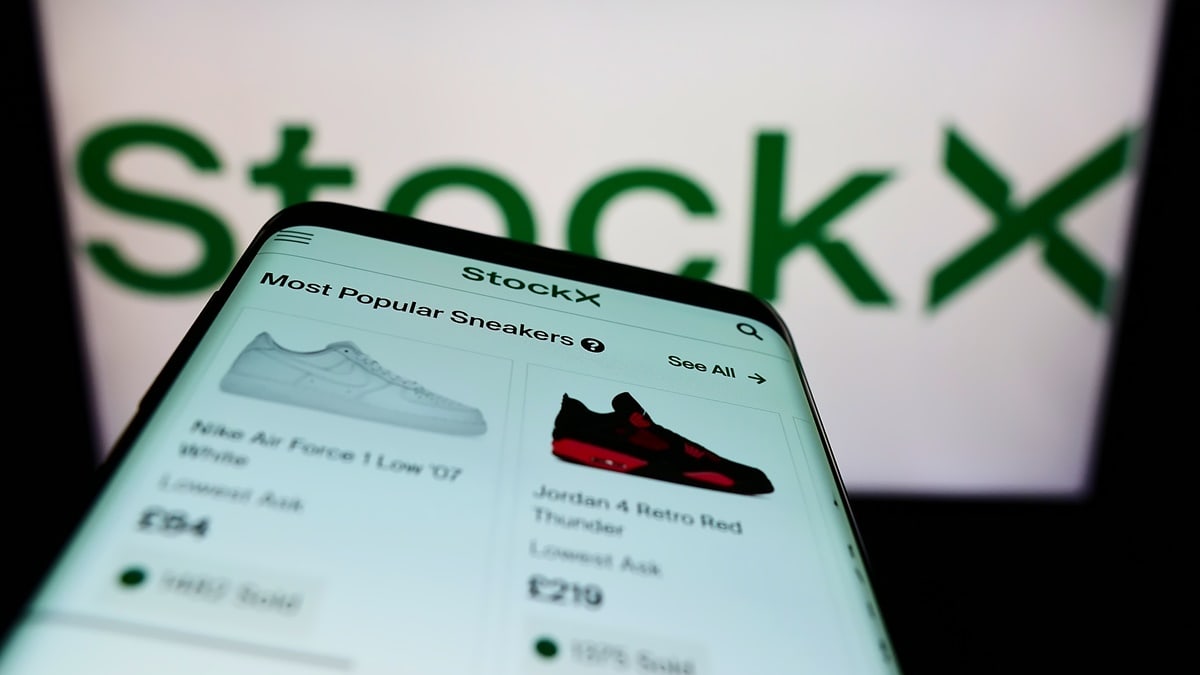 StockX is one of the most popular marketplaces for luxury sports shoes and sneakers (Credit: T. Schneider / Shutterstock)
"It's not just about the statement bag anymore, now, thanks to expanded accessibility, the statement shoe is also an area of focus and investment for consumers," NPD Group chief industry advisor Marshal Cohen said in a statement.
"Nearly half of the online luxury fashion dollar sales come from footwear, which has the highest average annual spend per buyer and annual purchase frequency. The average online luxury footwear spend increased 4 percent to $794, and purchase frequency also increased slightly to 1.6 times per year."
For the sneakerheads, there's nothing more exciting than shopping for new pairs of kicks, not to mention scoring the hottest and rarest shoes on the market.
While sneakers normally cost hundreds or thousands of dollars, others are priced way more than a car at Goat and StockX.
With sneaker companies releasing updated classics and limited editions in collaboration with high-profile artists, celebrities, and other popular brands, prices for exclusive pairs can go really high, especially on the secondary market.
If you're curious or would like to add another pair to your sneaker collection, check out the 23 most expensive sneakers in the world below.
23. Nike Air Foamposite One Sole Collector, $6,000
Everyone thought the Nike Air Foamposite would ruin the footwear industry when it first dropped in 1997. Using plastic-based materials instead of leather and rubber, the technology was unique compared to the traditional footwear design during that time.
Released in only one colorway, the Air Foamposite One was inspired by a beetle—not the Volkswagen, but the actual bug. The logo-less shoe features a synthetic, seamless upper crafted from a liquidized foam material that's then poured into molds.
The Nike Air Foamposite didn't sell during its first release but it's now worth $6,000
While many thought the sneaker was designed for Penny Hardaway, the shoe's designer Eric Avar revealed that the Air Foamposite One was designed with Scottie Pippen in mind.
While meeting with Penny to discuss the Nike Air Penny III, Eric brought an early sample of the Foamposite.
He wasn't sure about showing it to him, but Penny saw it in his bag. Eric said: "He leaned over, looked into the bag, and said, 'What is that?' He reached in, grabbed it and he says, 'This is my next shoe.'"
The Air Foamposite didn't sell that much when it was first released because of its futuristic design and hefty price tag. It retailed for $180, which was steep for the mass market in the 1990s.
Its popularity among basketball players, however, increased its sales. Today, the Air Foamposite One is being sold for $6,000, which is actually cheap compared to the rest of the shoes on this list.
22. Nike Yeezy 2 Red October, $8,000
Before partnering with Adidas, Kanye West debuted his Air Yeezy line with Nike in 2009.
But even before the Nike Yeezy 2 was made available to the public, the rapper was no longer on good terms with the footwear giant.
The Air Yeezy 2 Red October was Kanye West's last collaboration with Nike
The Nike Yeezy 2 Red October was a surprise release when Nike exclusively dropped them on their website in 2014. Although there was no advance notice, the Red October sold out on the very same day it was released.
Only 200 pairs were produced and each originally retailed for $245. Nike and Kanye never released them again, and they are now being sold for about $8,000 on the secondary market.
21. Vlone x Nike Air Force 1 High, $8,000
The Vlone Air Force 1 is a collaboration between Nike and Vlone, A$AP Rocky and A$AP Bari's streetwear label.
It debuted during Paris Fashion Week and only 20 pairs were made, which were reportedly raffled off at Nike Paris in June 2017.
The Vlone Air Force 1 Collection was limited to 20 pairs
While many wanted a wider release, Nike immediately severed its ties with the brand a month later, following sexual assault allegations against A$AP Bari.
If you happen to come across a pair of the Vlone AF1s, they can hover around $8,000.
20. Chanel x Pharrell x Adidas NMD Hu, $10,000 – $12,500
Chanel and Pharrell's partnership with Adidas is one of the most expensive collaborations in the market.
Only 500 pairs of the Chanel x Pharrell x Adidas NMD Hu were released to the public in 2017 and they were made available via a random draw.
With only 500 pairs produced, the Chanel x Pharrell x Adidas NMD Hu is now worth $10,000 on the resale market
The resale value went up to $32,000 after 120,000 people pre-registered on chanelatcolette.fr for the chance to purchase one of the 500 pairs. It's almost 30 times the original retail price of about $1,160.
If you're lucky enough to find a pair of these shoes, they could set you back over $10,000.
19. Nike SB Dunk Low London, $14,000
Exclusively released during the White Dunk: Evolution of an Icon event in London in the early 2000s, the SB Dunk Low London features an embroidery of the 200-mile long River Thames on the side heels and a contrasting gray suede upper that represents the city's dark weather.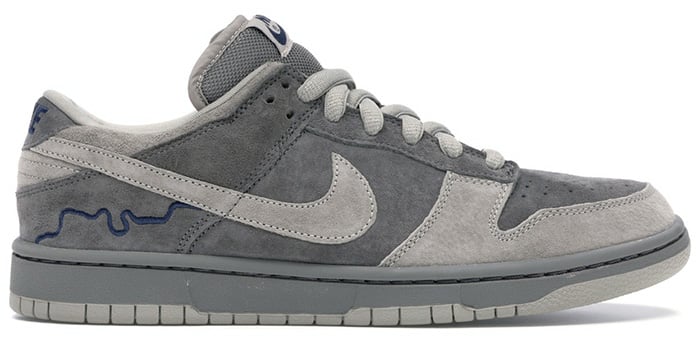 The Nike SB Dunk Low London is inspired by the city's darker weather
Only 202 pairs were made and offered for $65. Today, the London SB Dunk can go for as much as $14,000.
18. Nike Dunk SB Low Staple NYC Pigeon, $16,000
The NYC Pigeon caused quite a stir when it was released in 2005. Due to its limited numbers, an eager crowd of sneakerheads immediately gathered outside Jeff Staple's Reed Space shop in Lower East Side.
They caused a scene, and the situation escalated so that police had to intervene to keep things in order.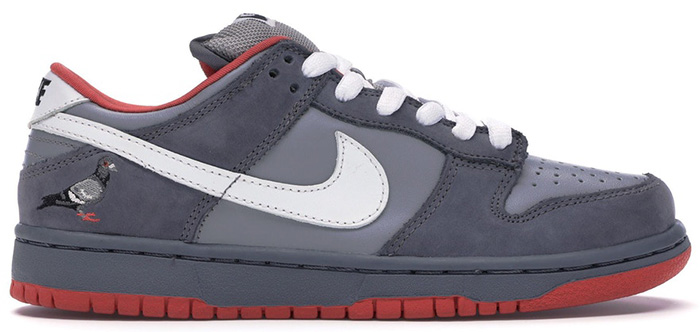 Only 150 pairs of the NYC Pigeon were produced, causing a riot outside Staple's shop when it was released
With only 150 pairs released worldwide, they are considered one of the rarest models of the Dunk SB line. And although Jeff released other pigeon-themed SBs, sneakerheads still prefer to get their hands on the original.
Inspired by pigeons in New York, these sneakers feature a stitched pigeon logo on the side heel and a gray pigeon-like colorway with a hint of orange on the outsole and insole.
The Pigeon was originally sold for $200, but 15 years later, they are now worth $16,000 on the secondhand market. A signed version of these sneakers was auctioned off at Sotheby's for $25,200.
17. Air Jordan 4 Undefeated, $15,000 – $20,000
Undefeated was the first sneaker boutique to collaborate exclusively with Jordan Brand. This resulted in the Air Jordan 4, which debuted in 2005.
Designed after the MA-1 fighter pilot flight jacket, the military-looking shoe features olive nubuck upper with black and orange accents.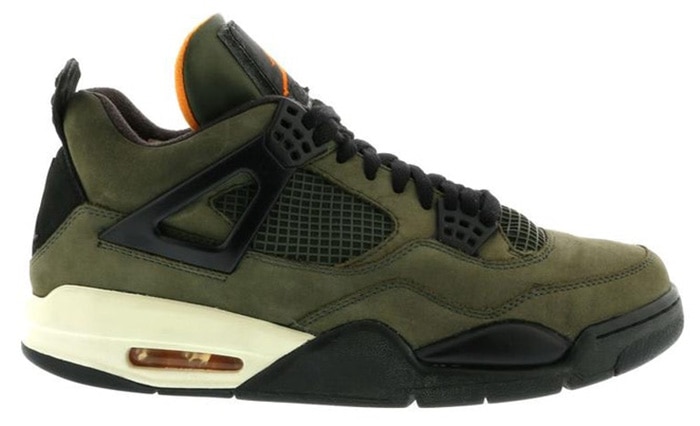 Inspired by the MA-1 fighter pilot jacket, the Air Jordan 4 Undefeated now sells for up to $20,000 on the resale market
This collaboration was limited to 72 pairs and released via an online auction and in-store raffle. The rest of the pairs were later distributed to friends and family.
Given how rare this is, the Air Jordan 4 Retro Undefeated has gone for $15,000 to $20,000 on the resale market.
16. Air Jordan 12 Retro OVO White, $20,000
First released in 2014, the Air Jordan 12 OVO is a collaboration between the Jordan Brand and rapper Drake's clothing label, October's Very Own, hence the name.
Drake and Jordan Brand released a white and gold retro colorway of the Air Jordan 12 OVO
Two years later in 2016, Drake and the Jordan Brand once again teamed up to release a white/gold retro colorway of the Air Jordan 12 OVO, which retailed for $225.
It has a clean white leather upper with stingray leather on the mudguard, gold accents, and the OVO logo on the translucent sole.
It's difficult to find this limited-edition release as they were produced as gifts for Drake and his group. One lucky fan, however, received a pair from Drake himself at a Toronto Raptors game. Later, the said fan managed to sell his kicks for $20,000
15. Concepts x Nike SB Dunk Low Yellow Lobster, $25,000
Due to a rare genetic mutation, finding a yellow lobster is one in 40 million. This was the concept of the Nike SB Dunk Low Yellow Lobster.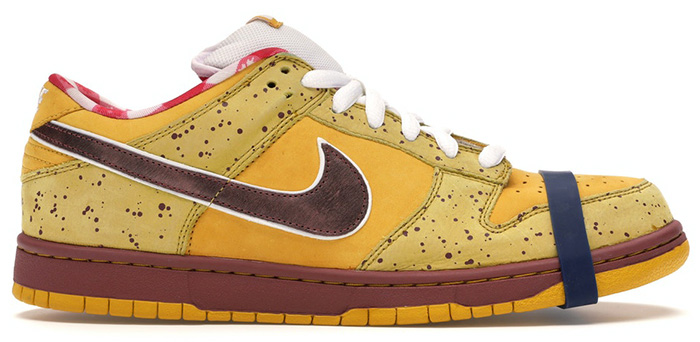 As rare as a yellow lobster, only 34 pairs of this Concepts and Nike collaboration were produced
Only 34 pairs of these yellow sneakers were produced, and they never made it to retail. Instead, they were given to friends and family.
Considered a collector's item, this rare sneaker can go for up to $25,000 or probably more on the secondary market.
14. Macklemore x Air Jordan 6 Cactus, $25,000
The year 2014 was certainly one of the best years for rapper Macklemore. Aside from winning the Grammy for Best Rap Album for The Heist, he also scored a collaboration with Air Jordan.
The partnership resulted in one of the most expensive Air Jordans—the Macklemore x Air Jordan 6.
The Air Jordan 6 Cactus is a collaboration between Air Jordan and rapper Macklemore
Only a total of 23 pairs were created, which consisted of 11 pairs of Cactus or green suede and 12 pairs of Clay or red suede colorways. These very limited pairs were given exclusively to friends and family.
The Macklemore x Air Jordan 6 Cactus is so rare that if you ever find it on the resale market, it could cost you $25,000.
13. DJ Khaled x Air Jordan 3 Grateful, $25,000
The Air Jordan 3 Grateful was released as part of a promotional campaign for DJ Khaled's album of the same name in 2017.
A limited number of pairs were given away to random people who pre-ordered his album. The rest? They were given to DJ Khaled's friends and family.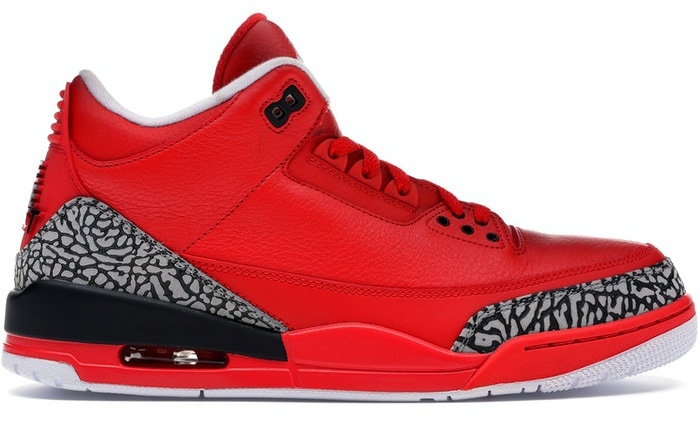 Fans had to pre-order DJ Khaled's Grateful album for a chance to win a pair of the Air Jordan 3 Grateful
The Air Jordan 3 Grateful comes in university red, black, and cement gray colorway with classic elephant print detailing. DJ Khaled's trademark catchphrase, We the Best, is placed in black lettering on the heels just behind the white Jumpman logo.
A few months after its release, the Grateful 3s were already selling on the secondary market for $25,000.
12. Eminem x Carhartt Air Jordan 4, $30,000
Since partnering with the footwear giant in 2003, Eminem has already put together his own collection of Nike collaborations that include a variety of silhouettes—from Air Max to Air Jordan to Air Force 1.
Eminem, Carhartt apparel, and Nike collaborated to create the Air Jordan 4 in honor of Shady Records' 15th anniversary
But of all his collaborations with Nike, the most coveted is the Air Jordan 4, which was released in 2015 and created in partnership with US-based apparel company Carhartt.
Designed to commemorate the 15th anniversary of the Detroit rapper's Shady Records, the Jordan 4s feature a black twill upper with chrome lace tabs, Eminem's backward E logo, and Jason Voorhees mask on the heel panels.
This silhouette was produced exclusively for Eminem's select friends and family, while another 10 pairs were auctioned off for charity on eBay.
11. Kanye West x Louis Vuitton Jasper, $30,900
Expect things to be really expensive when it's from Louis Vuitton and Kanye West. Take, for example, the Jasper sneakers.
Aside from becoming part of the expensive collaboration between the hip-hop mogul and the French luxury fashion house, the Jasper features premium suede and leather upper and a 24K gold shoelace ring.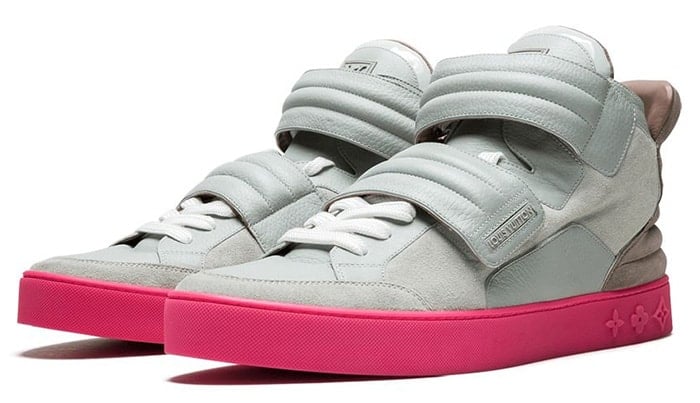 Made from premium suede and leather with a 24k gold ring, the Jasper now sells for $30,900
This luxurious take on high-top sneakers is believed to be named after Kanye's personal barber, Ibn Jasper.
Originally priced at $1,140, the Jasper dropped as a limited release in 2009. A decade later, the Jasper still sells for thousands of dollars. You can get them for $30,900 at Farfetch.
10. Nike Air Mag Back to the Future 2016, $35,000
In 1988, Nike shoe designer Tinker Hatfield was asked to design a shoe for the Back to the Future II movie, set in the then-futuristic year of 2015.
Marty McFly's 2015 Nike shoe comes to life with the Nike Air Mag
Two decades later, Nike turned the movie prop into a reality with the release of the Nike Air Mag, a limited-edition replica of the shoe featured in the sci-fi film.
Only 1,500 pairs were produced and auctioned off on eBay in 2011, and proceeds were donated to The Michael J. Fox Foundation. Online sales ranged between $2,300 and $9,959. Ten additional pairs were sold exclusively by Nike at live auctions around the world.
On October 21, 2015, the same date that Marty McFly visited the future in the 1989 movie, Nike unveiled a new version of the Nike Mag, this time with auto-lacing technology as first seen in the film.
Only 89 pairs were released a year later via a paid raffle on October 4, 2016. This rare shoe has sold for no less than $35,000.
9. Futura x Nike Dunk High Pro SB FLOM, $63,000
An acronym for "For the Love of Money," this Nike Dunk High Pro SB collaboration features different currencies from around the world, designed by graffiti artist Futura.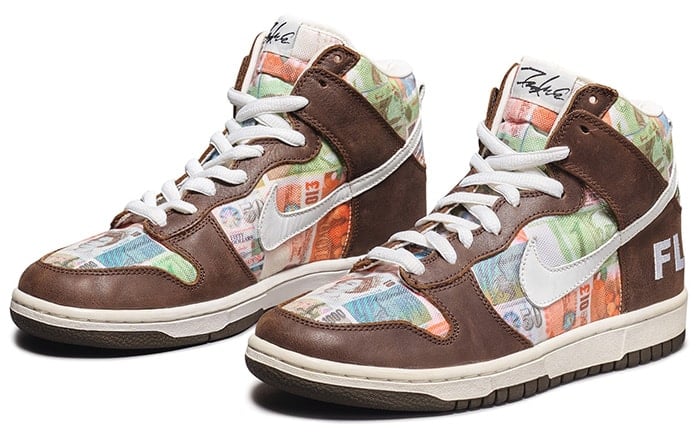 The Nike Dunk High Pro For the Love of Money features currencies designed by Futura
Released in 2005, they're one of the hardest to get sneakers ever, with only 24 pairs produced. Each was given to a friend or family member, except for three pairs that were raffled off.
Considered one of the rarest SB Dunks, the FLOM fetched $63,000 via Sotheby's Cult Canvas auction in September 2020.
8. Nike Dunk SB Low Paris, $25,000
Like the SB Dunk Low London, the Dunk Low Pro SB Paris was made for the White Dunk traveling art exhibition.
Paying homage to its host city, Paris, the shoe features a canvas overlay of art by French painter Bernard Buffet. It also has a tan suede base and a cardinal red logo swoosh.
The SB Dunk Low Paris showcases art by French painter Bernard Buffet
Only 202 pairs of these kicks were produced. They were supposed to be raffled off at the Paris stop of the tour, but due to the high volume of people who wanted to get their hands on a pair, the raffle was canceled.
The Dunk SB Low Paris was instead sold at select stores in the city, including Opium and Colette.
While London is fetching $14,000 on the secondhand market, Paris goes for over $25,000.
7. Air Jordan 11 Derek Jeter, $40,000 – $51,500
To commemorate his retirement in 2017, New York Yankees legend Derek Jeter teamed up with the Jordan Brand to release a navy velvet Air Jordan 11, featuring his jersey number "02" on each heel.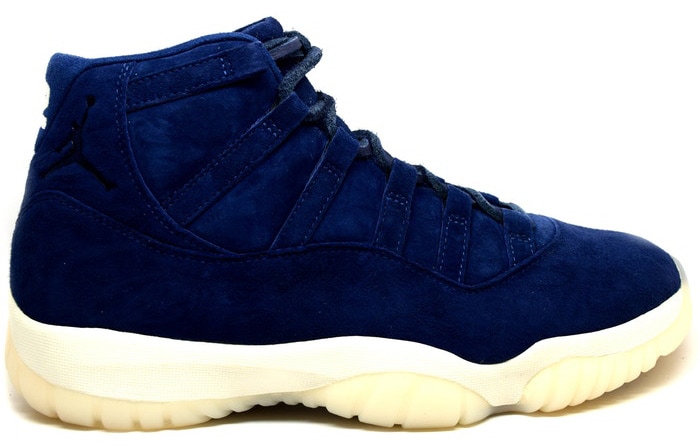 The Air Jordan 11 Derek Jeter commemorates the professional baseball shortstop's retirement in 2017
The Air Jordan 11 Derek Jeter is limited to only five pairs, which were auctioned off at a pop-up shop near Yankee stadium.
As one of the rarest, if not the rarest, sneakers ever produced, it's nearly impossible to get them. But if you do find them on the secondary market, they could cost you $40,000 to $51,500.
6. Air Jordan 12 Flu Game, $104,000
Game 5 of the 1997 NBA Finals was one of Michael Jordan's greatest games. Before the match between Chicago Bulls and Utah Jazz, MJ wasn't feeling well and was diagnosed with a stomach virus or food poisoning.
Despite feeling weak and having flu-like symptoms, Jordan stepped on the court, played 44 minutes, and lead the Chicago Bulls to a 3-2 series lead over Utah Jazz. He finished the game with 38 points, 7 rebounds, 5 assists, 3 steals, and 1 block.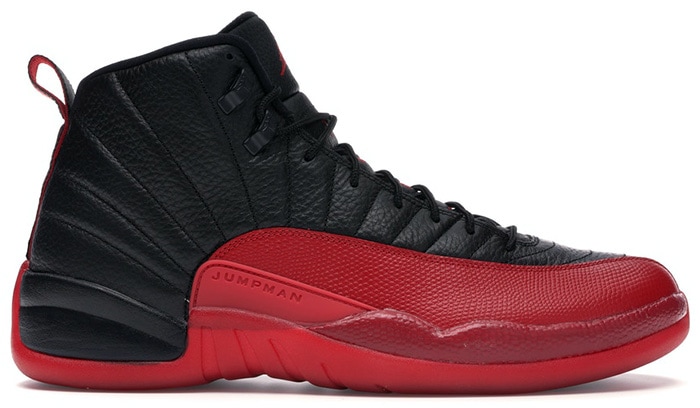 The now-iconic Air Jordan 12 was the shoe that Michael Jordan wore in Game 5 of the 1997 NBA Finals, also known as the Flu Game
During the epic game, he had on a pair of black and red Air Jordan 12, which we now know as the Flu Game shoe.
Preston Truman, a former ball boy for the Utah Jazz, reportedly asked for Michael Jordan's sneakers before the game started. MJ agreed and signed the kicks for him.
Sixteen years later, in 2013, Preston put up the shoes worn by Michael Jordan for auction, fetching $104,000.
5. Buscemi 100MM Diamond, $132,000
Buscemi is an American-based fashion brand known for its luxury, expensive footwear designs. Combining top-quality craftsmanship with premium materials, Buscemi's shoes are worth every penny.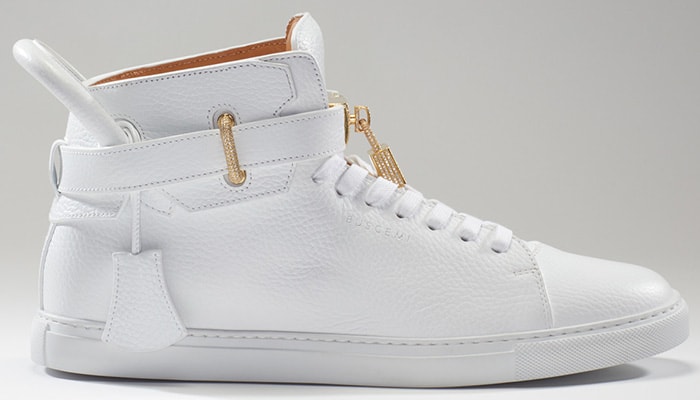 Embellished with a total of 11.50-carats of diamonds, the Buscemi 100MM sneakers retailed for $132,000
The brand's most expensive shoe silhouette yet is perhaps the Buscemi 100MM Diamond sneaker. Released in 2016, this white tumbled leather shoe is loaded with 11.50-carats of diamonds, set in 18-karat gold hardware.
This luxurious high-top sneaker was sold for a whopping $132,000.
4. Converse Fastbreak worn by Michael Jordan, $190,373
Another Michael Jordan sneakers made history after fetching $190,000 at an auction in 2017, breaking the previous record set by the game-worn Air Jordan 12 Flu Game that sold for $104,000 in 2013.
The Converse sneakers that Michael Jordan wore when he bagged the gold medal at the 1984 Olympics
Who would have thought that a pair of Converse could fetch as much? It's neither rare nor made from quality expensive materials.
The Converse Fastbreak sneakers were worn by Michael Jordan when he won the 1984 Summer Olympics in Los Angeles. They're believed to be the last shoes that MJ wore when he was still an amateur.
3. 1972 Nike Waffle Racing Flat Moon Shoe, $437,500
The Nike Waffle Racing Flat Moon Shoes set a world record for the most expensive sneakers sold at an auction at that time. Only 12 pairs were made for runners at the 1972 US Olympic Trials, and less than that exists today.
An unworn Moon Shoe from 1972, showing the first waffle sole designed by Bill Bowerman
One pair, which was never worn, was sold to Canadian businessman and shoe collector Miles Nadal for a staggering $437,500 at Sotheby's New York in 2019.
Considered a historical artifact in the history of sports, the Moon Shoe is a handmade running shoe designed by Nike co-founder Bill Bowerman using a waffle iron. It was made by pouring rubber into the mold, creating the first prototype of the waffle sole traction pattern—Nike's first innovation as a brand.
2. Air Jordan 1 High OG Chicago (1985), $560,000
It all started with the Air Jordan 1 High Chicago—the shoe that paved the way for the success of many basketball player shoe collaborations that we see today.
In 1984, Nike gave Michael Jordan his own signature line of shoes, the Air Jordan, as part of their deal.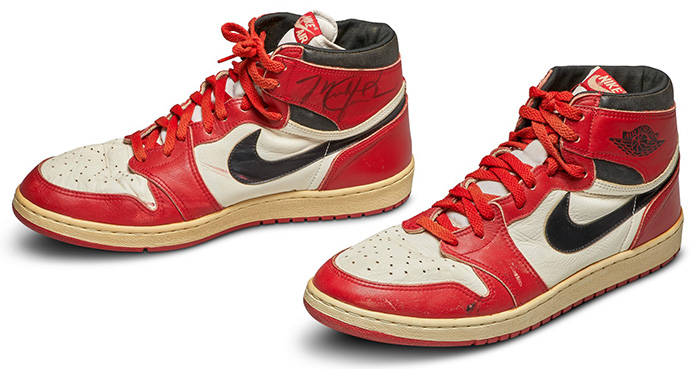 Michael Jordan's signed Air Jordan 1 High OG Chicago was sold for more than half a million dollars
His agent, David Falk, told the ESPN-Netflix documentary: "When I negotiated the Nike deal, I said to them, 'you're a small company, if you want Michael Jordan, he's got to have his own shoe line.'"
He added that Nike expected to sell $3 million worth of Air Jordans in four years, but they were able to make $126 million in just a year.
The deal that gave rise to the sneaker culture produced the Air Jordan I, which is considered the most iconic design in streetwear and basketball history.
Designed by Peter Moore, the Air Jordan I features the Chicago Bulls' team colors done in full-grain leather material. Aside from the Swoosh logo, it also boasts the original Air Jordan Wings logo on the ankle collar.
Michael Jordan's game-worn Air Jordan 1s from 1985 fetched $560,000 at an auction by Sotheby's in May 2020. The shoes are mismatched in size because MJ wore a size 13 on his left foot and 13.5 on his right during his career. They also have Michael Jordan's signature on the right shoe.
1. Solid Gold OVO x Air Jordan 10, $2,000,000
The most expensive sneaker on this list is this $2-million Solid Gold x OVO Air Jordan 10.
Drake, a prominent figure in the music industry, tapped mixed-media artist Matthew Senna to design the shoe in 2016.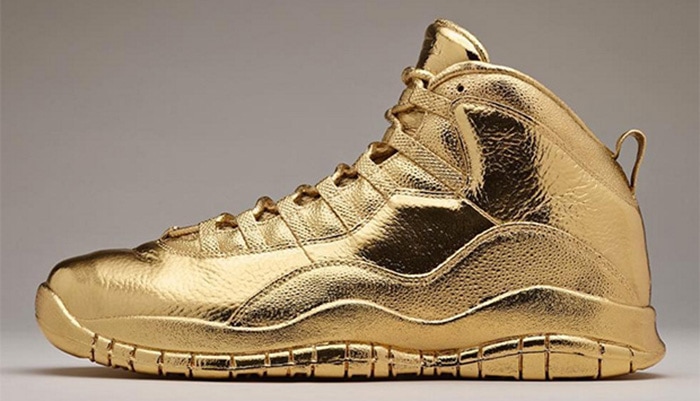 Drake's 100-pound Air Jordan 10 dipped in 24k solid gold by artist Matthew Senna
Literally dipped in 24k solid gold, the shoes are said to weigh a total of 100 pounds (each shoe weighs 50 pounds).
And although covered in gold, they still feature every detail of the original Air Jordan 10—from the sole to the structure to the Jumpman logo on the heels.