We've all been there – you head to the shops to buy some new shoes and set your heart on the perfect pair, only to find they're sold out in your size. The heartbreak is real!
You've probably wondered whether it's because your size is so popular that it's always sold out or so rare that shops don't keep many of your sizes in stock. It's hard to know where you sit on the foot scale. So, what's the average shoe size for men?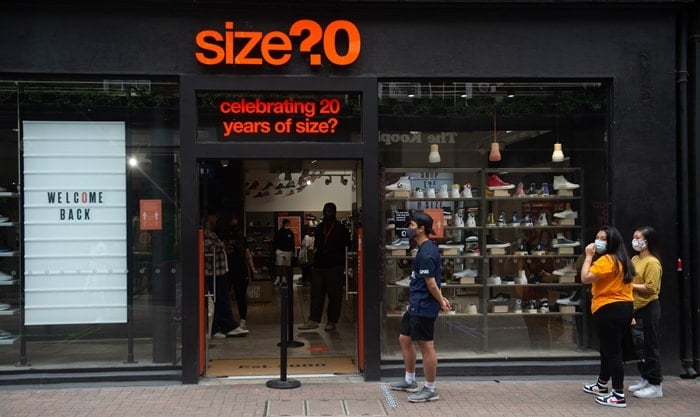 People queueing up outside of the Size? shoe store in Carnaby Street, London, England, on June 15, 2020 (Credit: WENN)
When it comes to feet, everyone's different. They come in a variety of different sizes, shapes, and appearances. You might be flat-footed, while your identical twin could have a high arch. Even if a shop stocks your size, it can still be tricky to find a good fit if you have a particularly wide or narrow foot.
Interestingly, the average shoe size varies a lot between different countries. If you've ever wondered whether you have small, medium, or big feet, keep reading!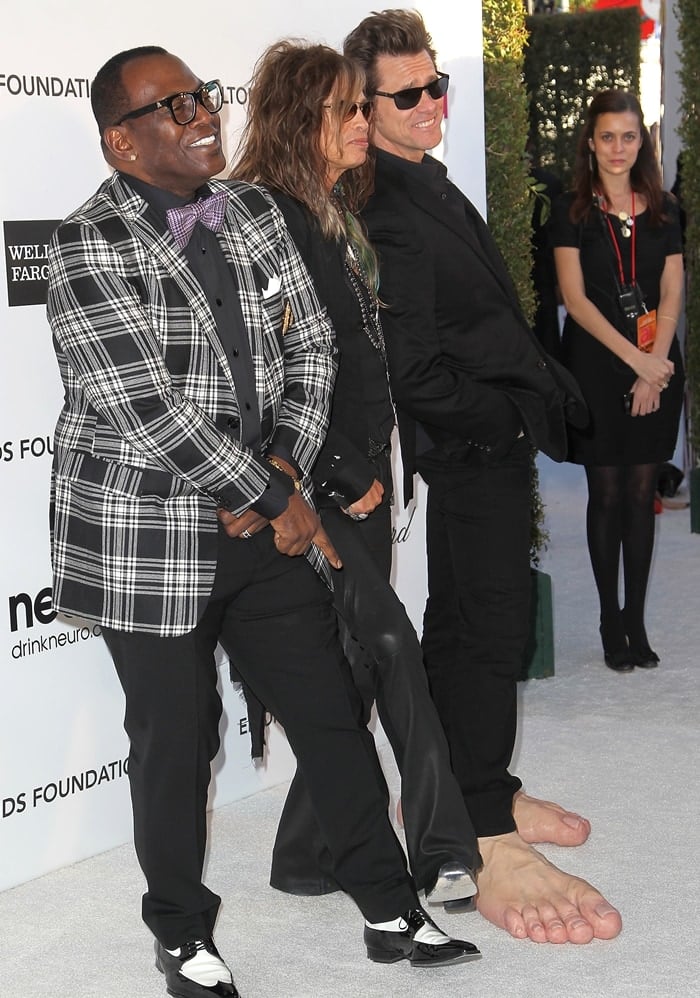 Jim Carrey shows that he has much bigger feet than Randy Jackson and Steven Tyler (Credit: WENN)
Don't worry, we've got your back. Read on to find out the average male foot size, how to measure your feet, how to maintain healthy feet, where to find shoes in less-common sizes, and which celebrities have the same size feet as you.
What is the most common shoe size for US males?
According to a 2014 report from the American Academy of Orthopaedic Surgeons, the average foot size for men in the US is 10.5. This falls right in the middle of the international average, which is between 9 and 12 (when converted to US shoe sizing).
How to Measure Foot Size
An estimated one in five people currently wears the wrong shoe size. Not only is this uncomfortable, but it will give you bad posture, blisters, and cramps.
The best way to ensure you're wearing the right size shoes is to measure your feet properly.
An interesting fact you might not realize is that your feet are bigger at night! This is caused by swelling from standing up, walking around, and running daily errands. Therefore, it's better to measure your feet at night to allow a little extra room for a comfortable fit all day long.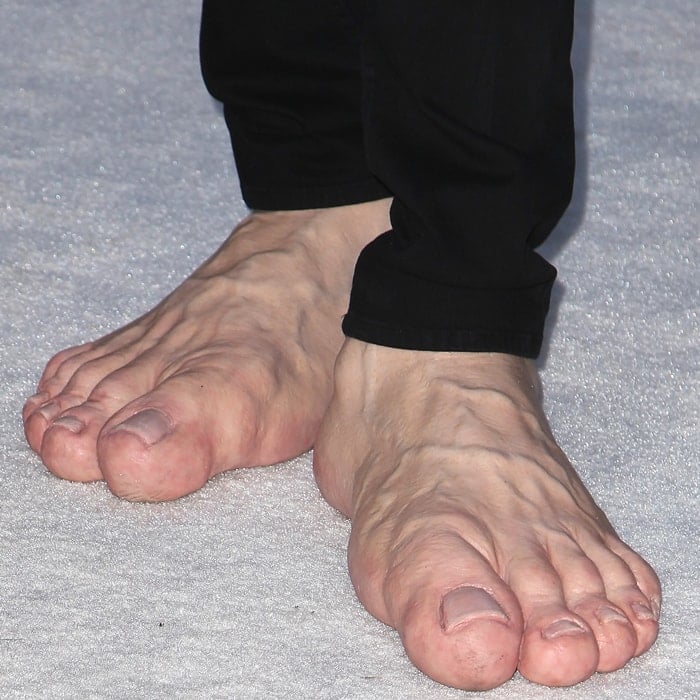 Jim Carrey wears enormous prosthetic feet to Elton John's 2013 AIDS Foundation Academy Awards Viewing Party (Credit: WENN)
The most accurate way to measure your shoe size is to use a Brannock Device. This is a special device used to measure the length, width, and arch length of the foot. If you've ever been to a specialist shoe shop, you'll probably recognize one.
You can buy a Brannock Device on Amazon, or you can walk into any good shoe store and measure your feet there.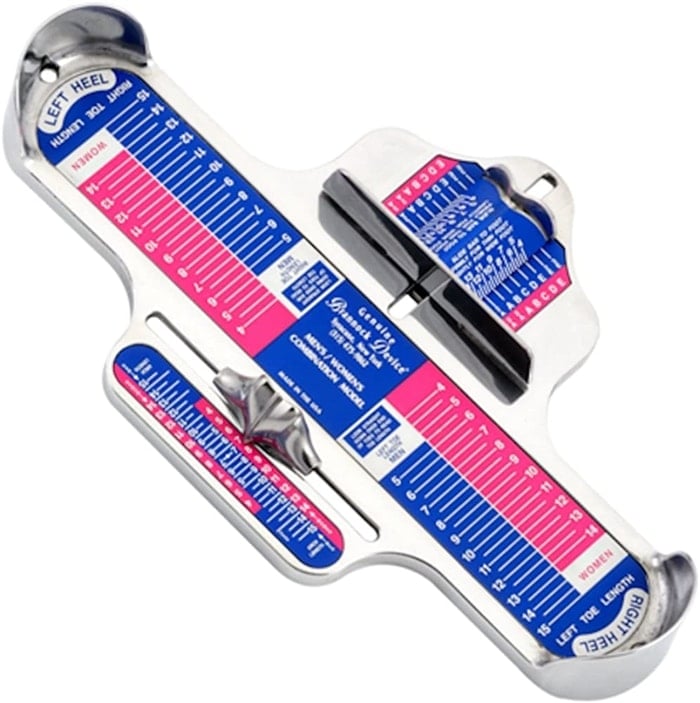 Invented by Charles Brannock, the Brannock Device is the standard foot-measuring tool for the world's footwear industry
Alternatively, you can measure your foot with a ruler. Place a ruler on the floor and step on it with your heel at zero. Step flat and measure where your toe ends. When we talk about shoe size, we are often referring to the length, but the width is also important for a perfect fit.
Most shops only stock one standard width, but some specialist shops sell narrow and wider fits.
How is shoe size related to height?
There is a correlation between height and shoe size. Our feet need to hold us up and support our height and weight. Taller people typically have bigger feet than shorter people, although this isn't the case for every person.
Throughout history, the average height has steadily increased as humans have evolved and the quality of life has improved. People are getting taller, and as a result, the average foot size is increasing.
For an American man over the age of 20, the Centers for Disease Control and Prevention (CDC) claims the average height is currently 5 feet 9 inches. The average woman measures 5 feet 4 inches.
Danny DeVito, whose short stature of 4 ft 10 in (147 cm) is the result of multiple epiphyseal dysplasia (Fairbank's disease), wears shoe size 9 (US). He is posing with his daughter, American actress Lucy Chet DeVito, at the premiere of FX's "It's Always Sunny In Philadelphia" Season 14 at TCL Chinese 6 Theatres on September 24, 2019, in Hollywood, California (Credit: WENN)
Generally speaking, the taller a man is, the bigger his foot size will be. However, age and genetics will also have an impact on your shoe size.
The average shoe size for men between 5'6″ and 5'9″ is a size 10. The average shoe size for those who are between 5'10" and 6'2″ is 11.5.
How is foot size related to general health?
A common misconception is that shoe size is an indication of health. But is it true that the bigger your shoe size, the healthier you are.
Although this can be the case, it's certainly not a definitive indicator. Research has shown that prolonged malnutrition during the developmental years can have an impact on height and shoe size. Yet, ill health isn't the only reason a person may be shorter with smaller feet and someone taller with larger feet isn't necessarily healthier than average.
When do feet stop growing?
Our feet usually stop growing after puberty, at around 16 years old. However, you may find your shoe size increases a little more as you age. Those with extraordinarily large feet have reported continuous, steady growth. These cases are usually a result of genetics.
Some people find their shoe size increases a little with age. This is usually due to weight gain and loss of ligament mobility, which essentially flattens out your feet.
Celebrity Feet: The big, the small, and the average
As you can imagine, many taller celebrities have larger shoe sizes.
Shaquille O'Neal, the legendary basketball player, stands at 7'1″ inches tall, and his basketball shoes are a whopping size 22!
Pro-wrestler turned actor/producer Dwayne "The Rock" Johnson, who is 6'5″, wears a size 14. Tom Welling, from the show Smallville, is 6'3″ and also wears a size 14 shoe.
Zac Efron is 5'8″ and wears a 9.5, whereas actor Tom Cruise is 5'7," and wears a 9. Despite Matilda actor Danny DeVito's small stature at 4'10", he also wears a size 9.
Famous Aussie actor, Liam Hemsworth, wears a size 13, but his brother, Chris Hemsworth, is an 11.
On the other end of the spectrum, there are male celebrities with shoe sizes smaller than average. They often wear height-increasing elevator shoes – the push-up bras of menswear!
Dwayne Johnson, posing with Lauren Hashian at the Premiere Of Sony Pictures' "Jumanji: The Next Level" on December 9, 2019, in Hollywood, California, wears a shoe size 14 (US) (Credit: WENN)
Shoe shopping for those not-so-average shoe sizes
The struggle is real for those who have significantly bigger feet than average.
For those with feet as big as Shaquille O'Neal's, it's almost impossible to find suitable shoes in regular stores.
American basketball player Shaquille O'Neal, whose shoes are a size 22, posing with American artistic gymnast Gabby Douglas at the 13th annual Harold & Carole Pump Foundation Gala at The Beverly Hilton Hotel on August 9, 2013, in Beverly Hills, California (Credit: WENN)
Record-breaking shoe sizes
According to the Guinness Book of Records, the world's biggest living feet belong to Jeison Orlando Rodríguez Hernández – standing at 1.31ft long!
The biggest feet ever recorded belonged to Robert Wadlow, who wore a size 37 in US sizing. This is over 3x times bigger than the average men's shoe size in the US, so you can imagine just how big they were!
Both Robert and Jeison had to have their shoes custom-made – I bet you've never come across a size 37 in Foot Locker!
Where to buy bigger than average shoe sizes?
If you're looking for larger shoe sizes, sports brands are a safer bet than regular fashion stores. Athletes like basketball players are typically taller than average and have bigger feet. According to the National Basketball Association (NBA), the average shoe size for a professional basketball player is 14.
Nike offers the largest size, up to a men's size 22. Adidas has shoe sizes up to size 21.
American professional basketball player Brook Lopez wears a size 20 shoe and stands at 7 ft 0 in (2.13 m) (Credit: WENN)
Unfortunately, for those with bigger feet, large sizes are not always readily available. That's unless you're a famous basketball player like Shaq and can get custom sizes gifted, or you developed your own line of athletic footwear like The Rock!
Bigger sizes are not commonly found in stores and must be ordered online. As there's less demand, you won't find every style in the shops available in your size. As annoying as it is, men with larger feet need to be more proactive and flexible when shoe shopping.
Try shopping online or visit specialty retailers that sell shoes and clothes for taller men. Shopping with a retailer specializing in larger shoe sizes can be very helpful and save you from disappointment when your size is unavailable.
Sometimes there are a limited number of pairs in these sizes, which means they sell out quickly!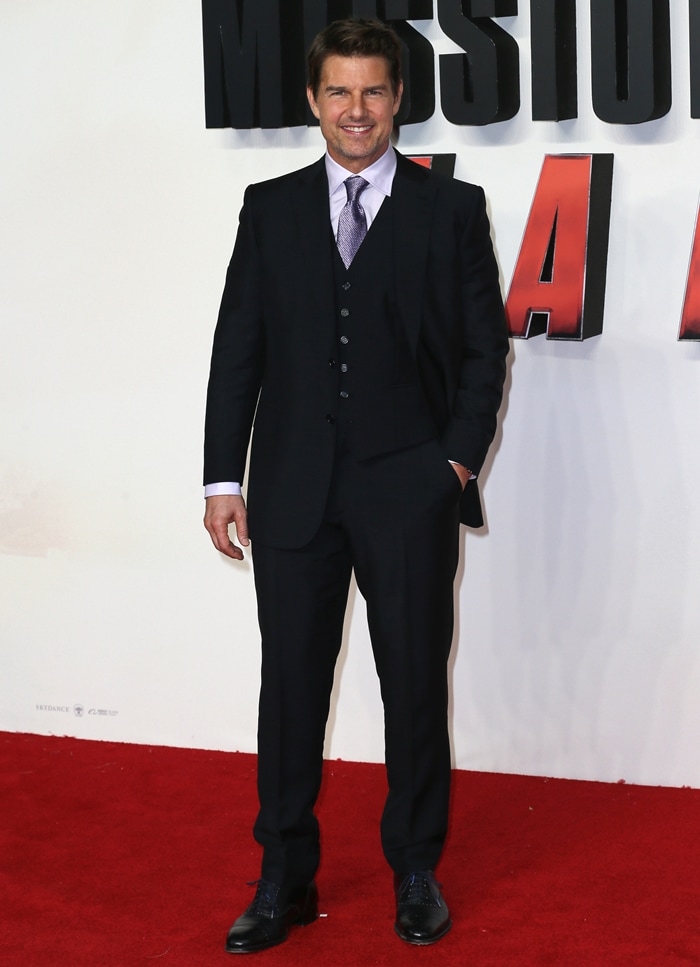 One of the shortest actors in Hollywood and believed to use height-increasing shoes, Tom Cruise's real height is 5ft 7 in (170cm) and he wears a shoe size 9 (US) (Credit: WENN)
Those with smaller-than-average feet have it easier. The smallest men's size available is a US 6, but men with a smaller foot size can find shoes in the children's section.
Many great designers make kids' shoes in the exact same style as adults. A huge perk is that kids' sizes are significantly cheaper, so you'll save a lot of money on your foot wardrobe!
For those with special widths, there are limited options as well. Some brands, like New Balance, specialize in shoes in a variety of widths.
If you find your shoe size is frequently unavailable – there isn't an easy explanation for why; it largely depends on the size of your foot.
Your average shoe store will carry more standard sizes and fewer pairs of those less common sizes.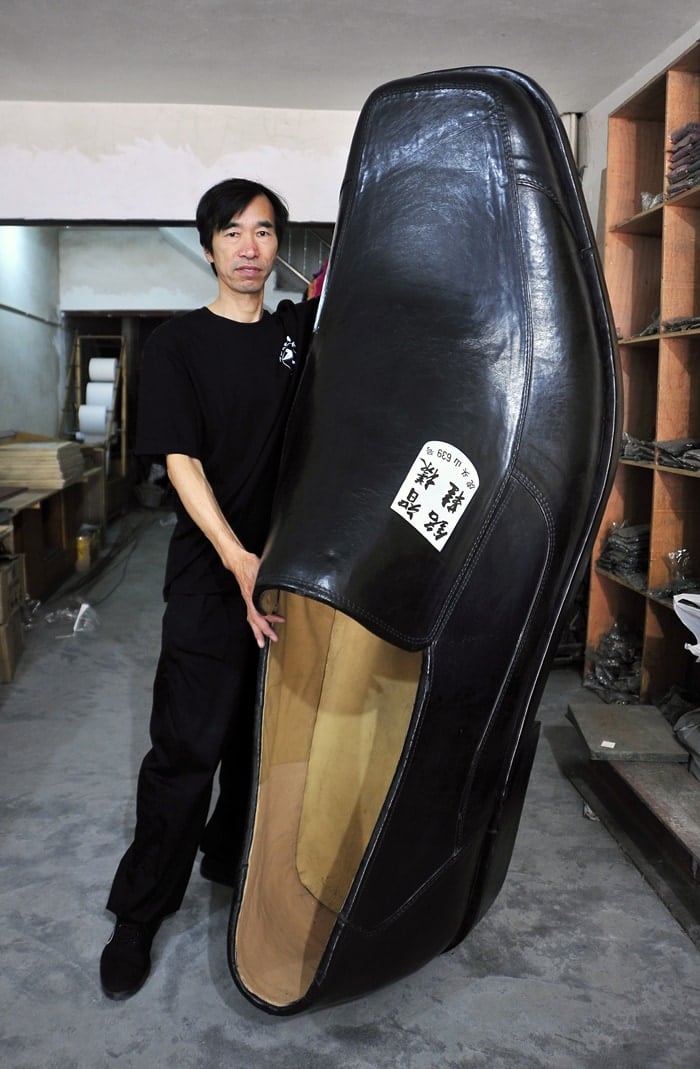 Shoe designer Chen Mingzhi makes shoes in a wide variety of sizes to cater to every eventuality and has created both oversized and pocket-sized shoes (Credit: WENN)
If you find a pair in your size online that you love but aren't sure if they will fit, go to a store and ask if they have a similar style in your size that you can try on for reference. You can then go online and order the shoes feeling more confident.
Average or not, shoe shopping can be hit or miss. So, to boost your chances of finding a perfect fit, be sure to measure your foot and don't end up part of the 20% wearing the wrong size!
Credit: Avalon / WENN / FayesVision / RHS / PNP / Instar / Mario Mitsis